For affiliate links and as an Amazon Associate I earn from qualifying purchases.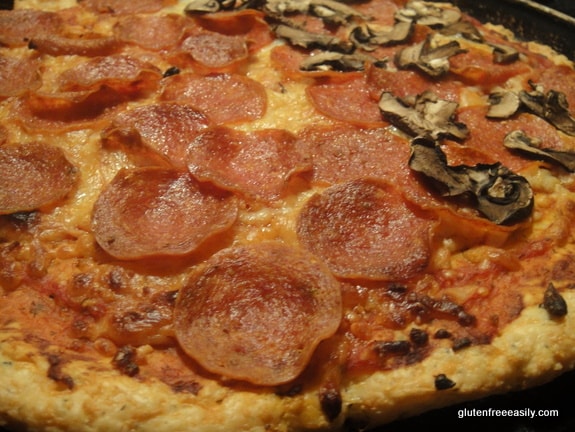 Last month, I participated in Sea's (Book of Yum) Adopt A Gluten-Free Blogger event. It was my first time participating. I enjoyed it so much that I've vowed to adopt another gluten-free blogger as often as possible. This monthly event really is a fun way to share other great gluten-free blogs and spread awareness, which, of course,  was Sea's intention. Last time, I adopted Pete and Kelli Bronski of No Gluten, No Problem.  I ended up making three of their recipes, including homemade pasta (my first time!) topped with shrimp marinara sauce, and brownies for dessert. Let me tell you … it was a very successful adoption! You can read my post here.
I wasn't sure I could participate in this month's event with lots going on here at gfe (I know … preaching to the choir). But here I am, once again squeaking in under the wire. This month I've adopted Kate Chan of Gluten Free Gobsmacked. I've been following Kate at Gluten Free Gobsmacked as long as I've been reading gluten-free blogs, so it's been several years now. After being "gobsmacked" with her celiac diagnosis shortly before her wedding, Kate got busy making great gluten-free food. She started her blog in November 2005. In the blogging world, that's true longevity! Lucky for all of us, that means there are many, many wonderful recipes and posts at her site.
Kate was one of several gluten-free bloggers who encouraged me to start my own blog. Kate's a sweetheart, very kind and helpful. She made a point of commenting on my very first post, Waiting. Her words were cheerful, encouraging, and supportive—that's the essence of Kate.
She and her "Love" were blessed with their Chicklet a little over a year ago, and soon they'll be welcoming another new family member. I'm so thrilled for them all! Of course, all of this means there's been a lot of joy and excitement in Kate's house, and with a little one, much to keep all busy. Also being a full-time teacher, Kate has little free time, but somehow she always gives us, her loyal readers, just enough of her wonderful posts and recipes to tide us over.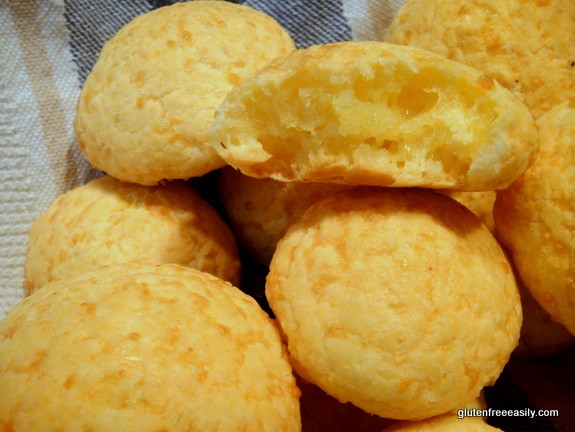 It was Kate's post back in January on Pao de Quejo—homemade Chebe bread, as she called it—that really got my attention.  Her photo of her cheese rolls just made you wish you could reach through the screen and grab one. And, the recipe … well, it was not difficult at all, and it could be made pretty inexpensively, too. Tapioca flour (which is downright cheap if purchased at one's local Asian market), cheese, eggs, butter, baking powder, and seasonings. (I just used a teaspoon of pizza seasoning versus dill and chive.) You mix all together, roll into balls, and bake. See complete recipe at Kate's site.
I picked up a bag of tapioca flour at the Asian market and went to work. (While Kate recommends using a stand mixer, I have used both my hand mixer and just a wooden spoon with no problems. Just be sure to mix until all ingredients are fully incorporated.) In just a few minutes, we were enjoying these amazing cheese rolls. They are firm on the outside, but have a chewy, cheesy middle. Delightful, really. Son cruised through just as I pulled them out of the oven; he was so happy. I delivered some to mom and dad as part of their soup-of-the-month basket; they raved over them. The texture and the flavor of these rolls is just terrific, and again they are so easy to make.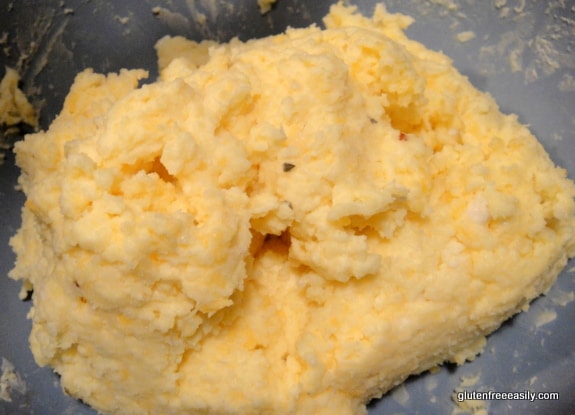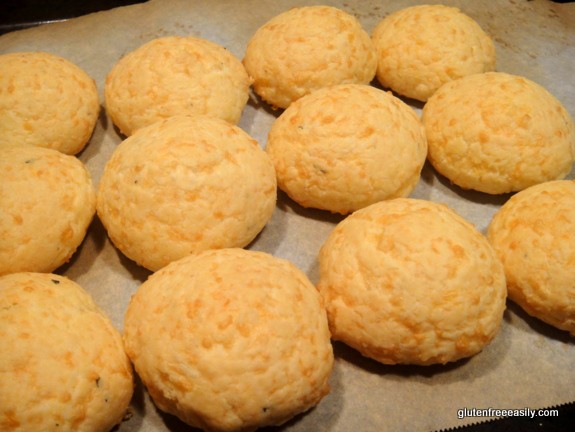 When I went back to Kate's site to get the cheese rolls recipe, I discovered she had posted an update to her post. She had also used the dough to make pizza crust. Well, of course, I had to try that, too. So the next day, I quickly made another batch of the dough, rolled it on parchment paper into a 12-inch circle, and topped it with some pizza sauce, a little mozzarella, pepperoni, and mushrooms. Oh my heavens, this pizza was great! As most of you all know, I'm a big proponent of flourless and crustless as much as possible, and therefore adore my flourless pizza recipe. However, it was actually fun to make a pizza with a crust again. That's especially true when the dough requires no kneading, rising, etc. Just dust your rolling pin with a little tapioca flour and roll your circle. It will be pretty thin, but don't worry, it will rise with baking and taste fabulous. Prebake crust for about 15 minutes, and then top with your favorite sauce and toppings, and bake about 15 to 20 minutes more. See Kate's post and update notes. Remember that because there is plenty of cheese in the crust, you don't need to add much as topping. (That's true, too, for my flourless pizza recipe.) Note: Kate actually recommended using less cheese in the dough when making pizza, but, again, I found leaving the dough recipe "as is" and just using less mozzarella as topping worked fine for us.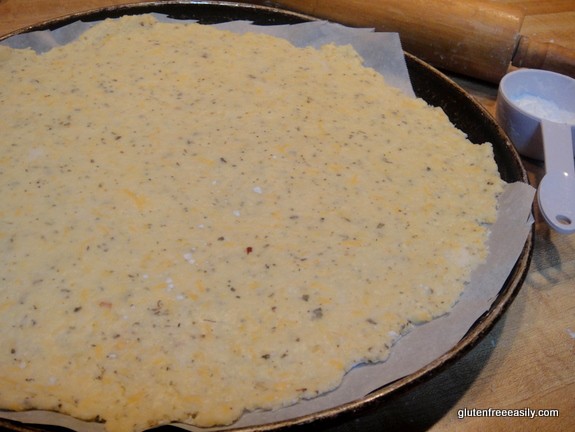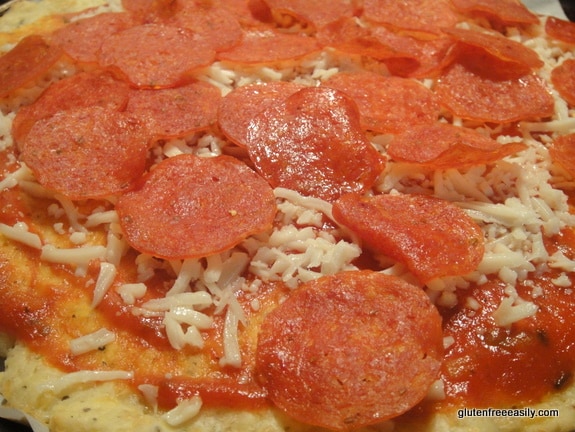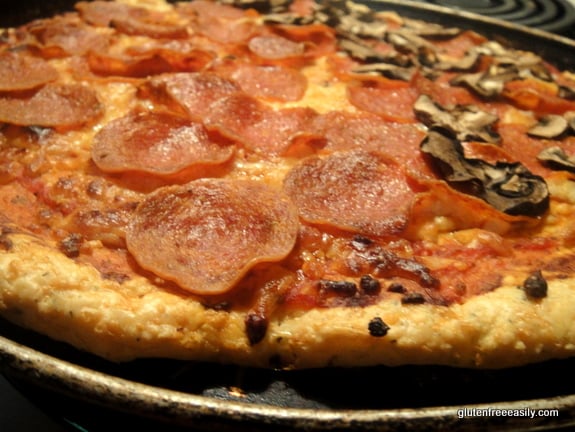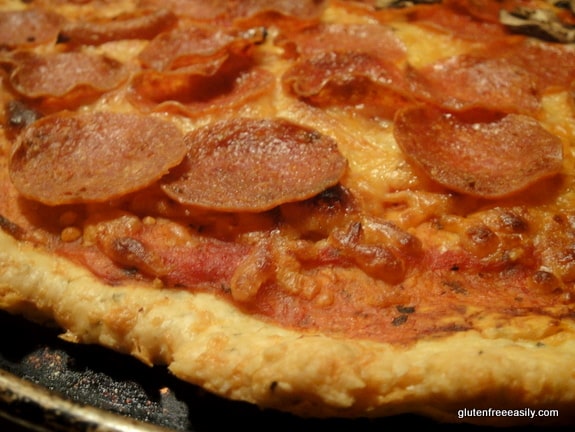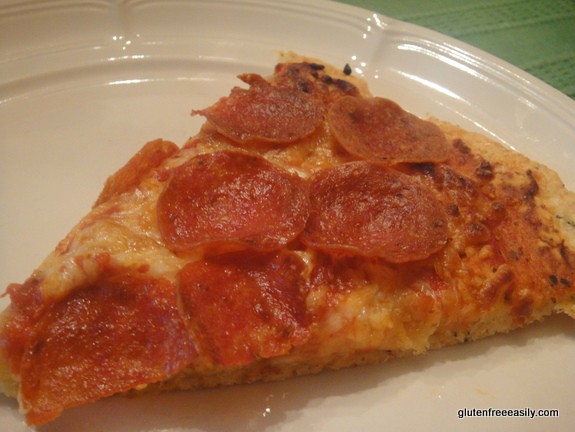 This pizza is such a winner. It's delicious and very filling. One 12-inch pizza made two meals for the two of us. Because I'm eating dairy free now, I'm not indulging in Kate's pizza (or cheese rolls) right now. But, I can live vicariously through all of you. Please make your own versions and report back. Email me a photo if you like, and I'll add it to this post (or a separate one if we get a lot of reader-submitted photos). Recipes like these from Kate are just further proof that there is no deprivation in the gluten-free diet. And, cooking/baking gluten free does not have to be difficult or expensive.

Be sure to check out Kate's post on the Food Revolution. I don't know about you, but I can't get enough of these Food Revolution posts. I love hearing everyone's personal stories and their thoughts on ways to continue Jamie Oliver's Food Revolution. And, remember that the 30 Days to a Food Revolution event (30 days, 30 different bloggers) is still going on over at Diane's (The Whole Gang). Just check her site every weekday for the latest post with thoughts, a recipe, and tips on eating real food!
A few other ideas from Gluten Free Gobsmacked …
~~One of Kate's posts that is really helpful to folks starting on a gluten-free diet is here. Kate's approach is the gfe one, so, naturally (pun intended!), I love it!
~~Several gfe readers and my Facebook friends have expressed an interest in lunch ideas. Kate has just that information for you. In fact, it's one of her most popular posts. See all her ideas here.
~~Do you miss crossants? Kate has a recipe for you. Yes, gluten free. Mother's Day indulgence perhaps? Kate shows you how to make them here.
~~Have leftover rice and are uninspired to use it? Then you must try Kate's Cinnamon or Cocoa Calas recipes.
Enjoy, and Happy Mother's Day to all! I truly believe there's a mothering spirit in most of us … whether we're female or male, or even whether our babies are human or furry.