For affiliate links and as an Amazon Associate I earn from qualifying purchases.
Doesn't Harvest Trail Mix sound wonderful? It is and today (August 31) is National Trail Mix Day!
This trail mix is so simple. Yet so satisfying. It's gluten-free Harvest Trail Mix, of course.
That's important to know because many trail mix recipes—and certainly, most ready-made trail mixes—are not gluten free. They include gluten-full foods like unsafe oats (always use certified gluten-free purity protocol oats—although I'm even skipping those for now due to these recent testing results which show a huge jump in gluten in oat products labeled gluten free (and even some certified gluten-free purity protocol oat products have tested gluten-full)), pretzels, cracker pieces, and bagel chips.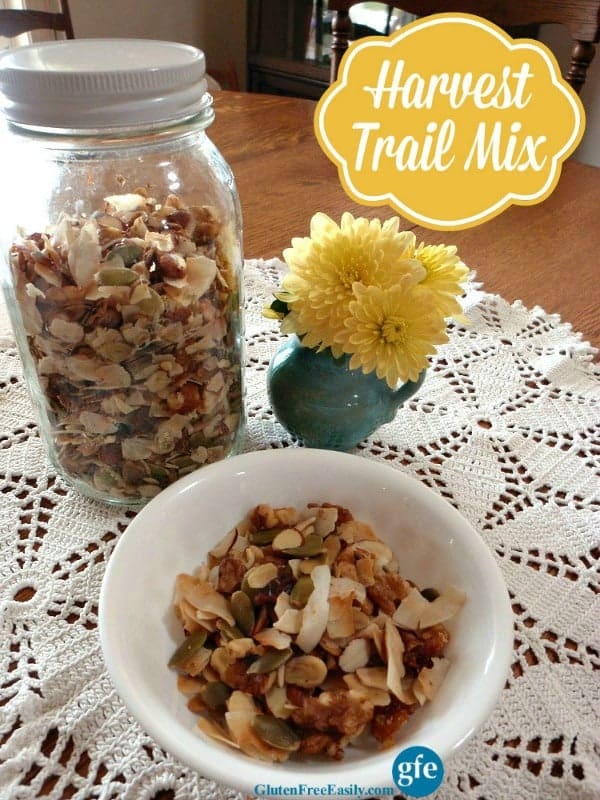 When I first made this trail mix, I was headed out for a blogging retreat in the mountains with my good friend Linda (formerly Gluten-Free Homemaker) and wanted something healthy with a protein boost to snack on during my road trip and in between our meals.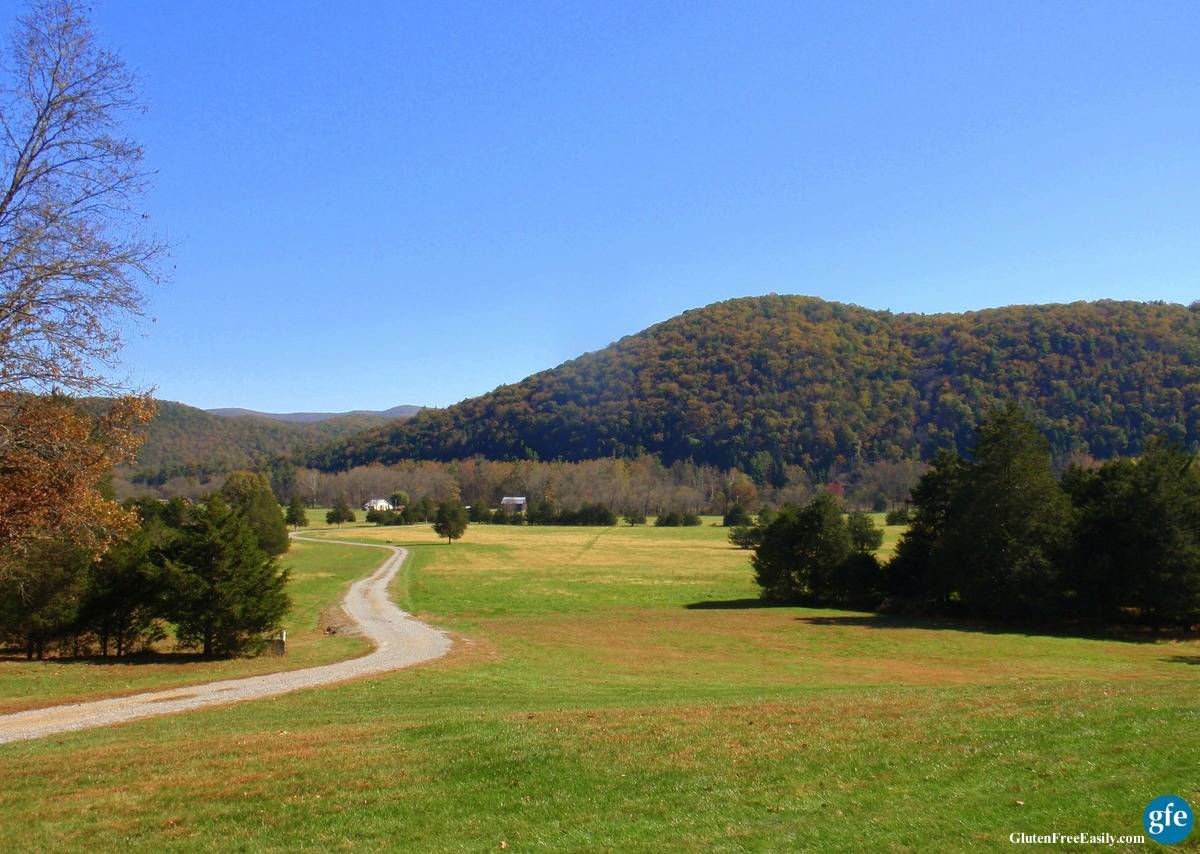 A Harvest Trail Mix came to mind. I thought about the ingredients I had on hand that would make a tasty snack concoction—raw pumpkin seeds, walnuts, sliced almonds, unsweetened coconut flakes, Medjool dates (which were nice and chewy as I'd had them for a while), coconut oil, and honey.
I came up with this trail mix recipe. I loved it and Linda loved it.
The coconut flakes, Medjool dates, coconut oil, and a wee bit of honey (which is added after baking the other ingredients) give this mix just the right amount of sweetness. I am sure I will make this mix again and again.
In fact, Linda later told me that she started making this trail mix for her own family. Often. As they also loved it.
She reported that her family likes it made with more honey so don't hesitate to up the honey if you and yours decide you like it just a little bit sweeter.
In addition to being ideal for road trips and vacations, this snack mix would also be great to pack for hiking and camping. Add some of this trail mix to a bowl and add milk and you'll have a tasty breakfast. With some banana slices added to that bowl, you'll have a terrific breakfast!
Feel free to sub in other seeds and nuts and even add in small amounts of other dried fruits, like cranberries and blueberries, per your own preferences. I think that pretty much any of these combinations are going to yield a very tasty and filling Harvest Trail Mix. Note that if you increase the total amount of mix significantly, you may need to add both more coconut oil and more honey.
Other Gluten-Free Snack Ideas and More
~ 50 Healthier Gluten-Free Nut-Free Lunchbox Treats here at gfe
~ Coconut Date Energy Balls from Everyday Gluten-Free Gourmet
~ How to Recover from Being Glutened from gfe and your favorite gluten-free resources
~ Keto Mini Corn Dog Muffins from Elana's Pantry
~ Roasted Wasabi Almonds from A Year of Slow Cooking
~ Sweet and Crunchy Snack Mix and Classic Spicy Snack Mix here at gfe
~ Sweet Ginger Sriracha Roasted Cashews from In Johnna's Kitchen
Harvest Trail Mix Recipe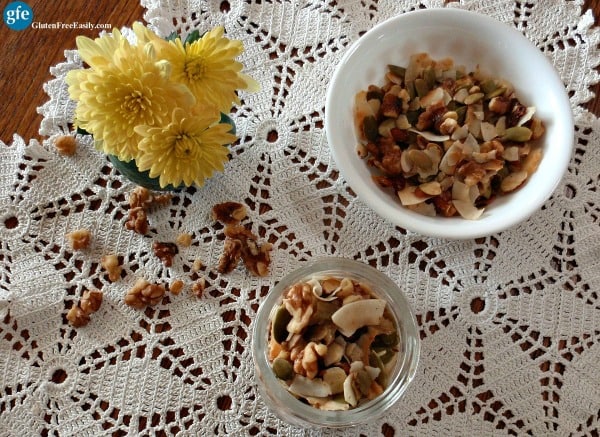 Yield: About 1 quart jar
Harvest Trail Mix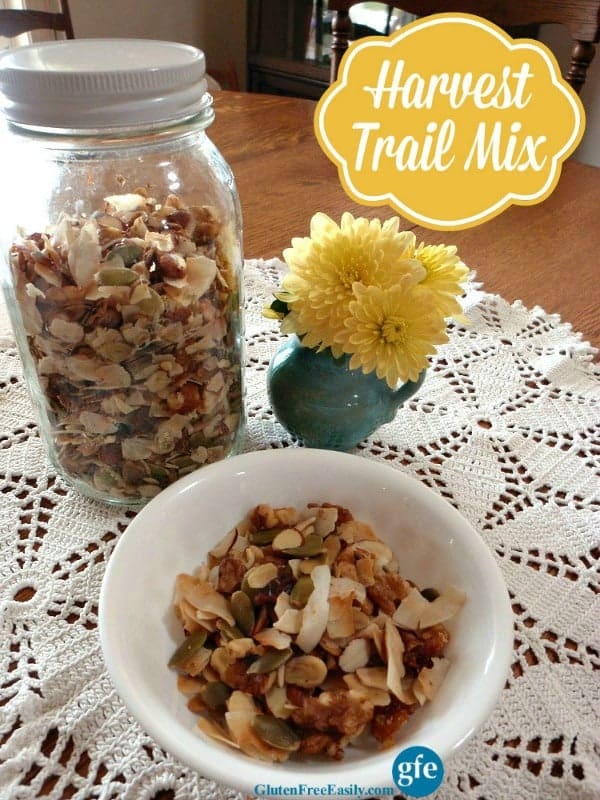 This Harvest Trail Mix is so simple, yet so satisfying! You'll want to have it with you whenever you're leaving home---for hiking, for road trips, for lunch at school or work, etc.

Prep Time 5 minutes

Cook Time 20 minutes

Inactive Time 10 minutes

Total Time 10 minutes
Ingredients
1 cup raw pumpkin seeds (also known as pepitas)
1 cup walnuts, halves or chopped
1 cup sliced almonds
1 ¼ cup unsweetened coconut flakes (I use Let's Do Organic] or [Tropical Traditions)
5 Medjool dates, pitted and chopped (or torn into pieces)
Scant ¼ cup of coconut oil, liquefied (read notes, I use this brand)
½ tsp honey (note: not added until after baking; more can be added to taste; use maple syrup for vegan option)
Instructions
Preheat oven to 275F.
Line a very large baking sheet with aluminum foil or parchment paper.
In a large bowl, add all the ingredients except for the honey. Mix well.
Spread out ingredients on baking sheet.
Bake 20 minutes, stirring halfway through baking time.
Remove baking sheet from oven. Immediately add honey and stir well. Let cool about 10 minutes.
Store in a sealable container. Munch and enjoy!
Notes
Feel free to sub in other seeds and nuts, and I'm sure that using maple syrup instead of honey would be equally delicious.

Small amounts of dried fruit such as cranberries and blueberries would also be nice.

If you increase the total amount of dry ingredients significantly, you may need to add more coconut oil and more honey.

I used a dry measuring cup to measure my coconut oil. You might get by with even less coconut oil if sticking to my recipe ingredients and amounts. Try starting with 3 tbsp and see if after stirring all looks moistened. If so, that might be all you need.

Originally published October 25, 2015; updated August 31, 2023.