For affiliate links and as an Amazon Associate I earn from qualifying purchases.
These Oatmeal Cookies are His 'n Her Oatmeal Cookies. Gluten-Free Oatmeal Raisin Cookies for Him. Gluten-Free Oatmeal Chocolate Chip Cookies for Her. You can thank Mr. GFE for the Oatmeal Raisin Cookies and you can thank me for the Oatmeal Chocolate Chip version. And you can thank Ricki of Diet, Dessert and Dogs for the His 'n Her approach. I totally swiped that concept from her His 'n Her Grain-Free Pizza recipe. (Don't those pizzas look great?)
Truthfully, I've always made two versions of Oatmeal Cookies for us. Well, sometimes I've actually made three versions. I simply reserve some of the cookie dough to leave plain or add chocolate chips to versus adding raisins. I've never thought of it as a "his 'n her" kind of thing before, but after Ricki's post, I will from this point on!
When I was buying Craisins recently to make Kathi's Great Salad for our support group meeting, I saw the raisins on the next shelf and decided to pick up some to make Mr. GFE his favorite cookies. I left the box on the kitchen counter to remind me to make them.
Yes, I need a reminder because, again, Oatmeal Raisin Cookies are not my favorite. Mr. GFE on the other hand just about does back flips for Oatmeal Raisin Cookies. And admittedly—and sadly—it's been a very long time since I have made any for him. That was evidenced by his reaction when seeing the raisins on the counter. His face lit up and he spoke excitedly.
Mr. GFE: "Raisins!!? What are the raisins for?" (He was excited, but skeptical. After all, I could have been planning on using them in a savory recipe or making something for someone else.)

Me: "I'm going to make some Oatmeal Raisin Cookies for you."

Mr. GFE: "Really? When."

Me: "Soon."

Mr. GFE: "I can't wait."
Over a week passed, but I finally made the Oatmeal Raisin Cookies—and only that version—for Easter. My mom hosted our Easter dinner this year and she told me to bring cookies only, as there would just be a small group of us. I made my Almond Coffee Chocolate Chip Cookies (subbing coconut sugar for the sugar and roasted cocoa nibs for the chocolate chips—nice!) as well. Both kinds of cookies were appreciated!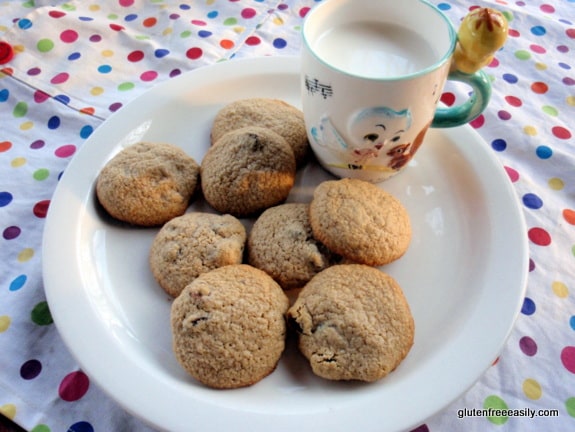 After our meal and lots of "visiting" with each other, we all started packing up leftovers before we headed home. We always share holiday meal leftovers with each other. Our niece's boyfriend had raved over the Oatmeal Raisin Cookies so I packaged the remaining eight cookies for him to take home.
Oh, boy, that was a mistake. Mr. GFE was not happy. There was some grumbling followed by unpleasant silences on the ride home.
A few days later, I made another batch, this one His 'n Her style, with about a fourth of the cookies as Oatmeal Chocolate Chip Cookies, so there was plenty of the Oatmeal Raisin variety for Mr. GFE. He was happy, but before he grabbed one to retreat to watch some television, he still had to get in his two cents on my earlier infraction.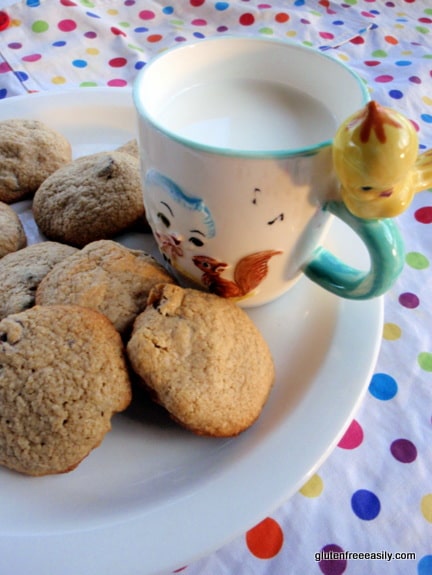 Mr. GFE: "I don't believe you should be giving these things away like you do."

Me (chuckling): "You are acting like I gave away your dog!"

Mr. GFE (mumbling … mouth partially full as he walked away): "Well, it's almost as bad."
A few minutes later …
Me: "How are the cookies?"

Mr. GFE: Good!
After this third cookie, he offered more of a review.
Mr. GFE: "They're delicious when they're warm and the raisins are just (pausing to search for the right word) … succulent!"
Ah, sweet success and a happy Mr. GFE! Here's the recipe below. Longtime gfe readers will recognize this recipe as a very slight adaption of my very popular Flourless Oatmeal Cookies recipe. Remember I'm all about making things easy, so I'm one who rarely believes in reinventing the wheel.
To make these cookies, I simply used certified gluten-free purity protocol oat flour versus gluten-free oats. I typically use safe ready-made oat flour but feel free to make our own oat flour by running your gluten-free oats through the food processor or dry container of your Vitamix until it reaches flour consistency.) The resulting cookie using oat flour versus oats is obviously far less chewy, but still very pleasing.
Which will you choose? Gluten-Free Oatmeal Raisin Cookies? Or Gluten-Free Oatmeal Chocolate Chip Cookies? Or maybe some of each? Whatever your decision, enjoy!
More Gluten-Free Cookie Recipes Plus Some Helpful Discussions
~ Banana Chocolate Chip Cookies
~ Grieving Gluten: The Five Stages of Loss of Gluten Plus A New One
~ How To Recover After Being Glutened
~ Witch Hat (and Hocus Pocus) Cookies
Gluten-Free Oatmeal Raisin Cookies and Oatmeal Chocolate Chip Cookies Recipe
Yield: 18 two-inch cookies
Gluten-Free Oatmeal Raisin Cookies (or Oatmeal Chocolate Chip Cookies)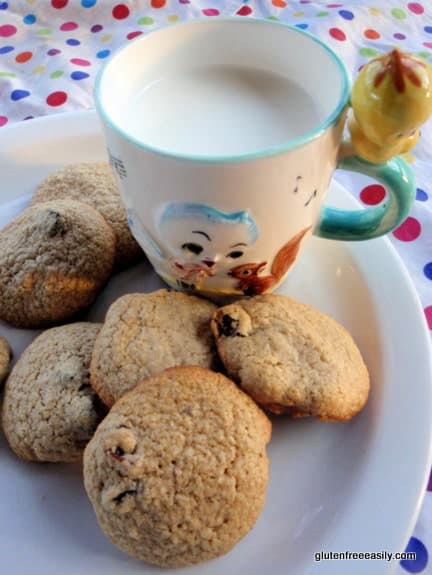 The most difficult thing about making these delicious gluten-free Oatmeal Cookies is deciding whether you want to add raisins or chocolate chips, or make some of each type of cookie. For many of us, that decision won't be difficult at all!
Ingredients
1/3 cup unsalted butter (dairy free will work; I like soy-free Earth Balance in the pink tub)
1 1/2 cups certified gluten-free purity protocol oat flour
1/2 cup granulated sugar
1/4 cup brown sugar, firmly packed
1/8 tsp sea salt
1 tsp vanilla extract
1 egg
1/2 cup raisins; gluten-free chocolate chips; finely chopped nuts; or, combination of all these ingredients that equals no more than 1/2 cup total (optional)
Instructions
Melt the butter and set aside to cool slightly. Place oat flour in a medium-sized bowl. Stir in both sugars and the salt.
In a medium-sized bowl, whisk together the melted butter, vanilla extract, and egg. Stir this egg mixture into the oat mixture and add chocolate chips, raisins, and/or nuts. Stir until mixed well.
Chill the dough about 30 minutes.
Preheat oven to 350ºF. Meanwhile, prepare a baking sheet by lining with parchment paper.
Chilled dough may still be somewhat soft. Form the dough into 1-inch balls and place on the baking sheet about 2 inches apart. Flatten each ball slightly with fingers.
Bake for about 10 minutes or so until cookies look mostly done.
Cool well on the baking sheet (about 10 minutes) before attempting to remove, using a spatula.
Notes
I use this brand of oat flour, but feel free to make our own oat flour by running your gluten-free oats through the food processor or dry container of your Vitamix until it reaches flour consistency. I have not made these cookies using coconut sugar versus white sugar and brown sugar yet, but it should work fine. If you want a flatter, larger cookie, chill your dough a few minutes less. Store cookies in a sealed container to prevent cookies from drying out.
Originally published April 10, 2013; updated September 5, 2022.