This post may contain affiliate links. If you purchase through them, your cost will stay the same, but gfe will receive a few cents for every dollar spent. Thanks for supporting gfe!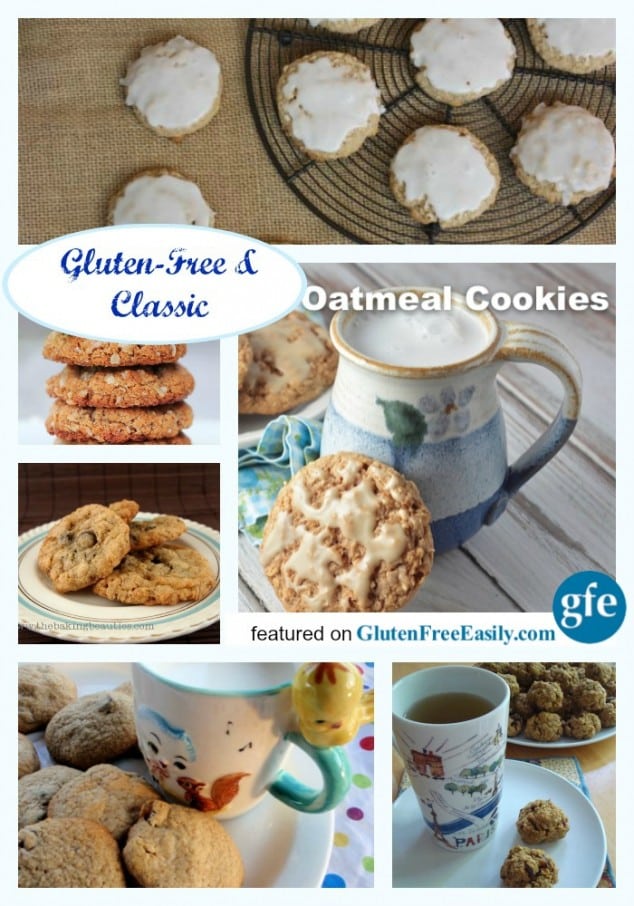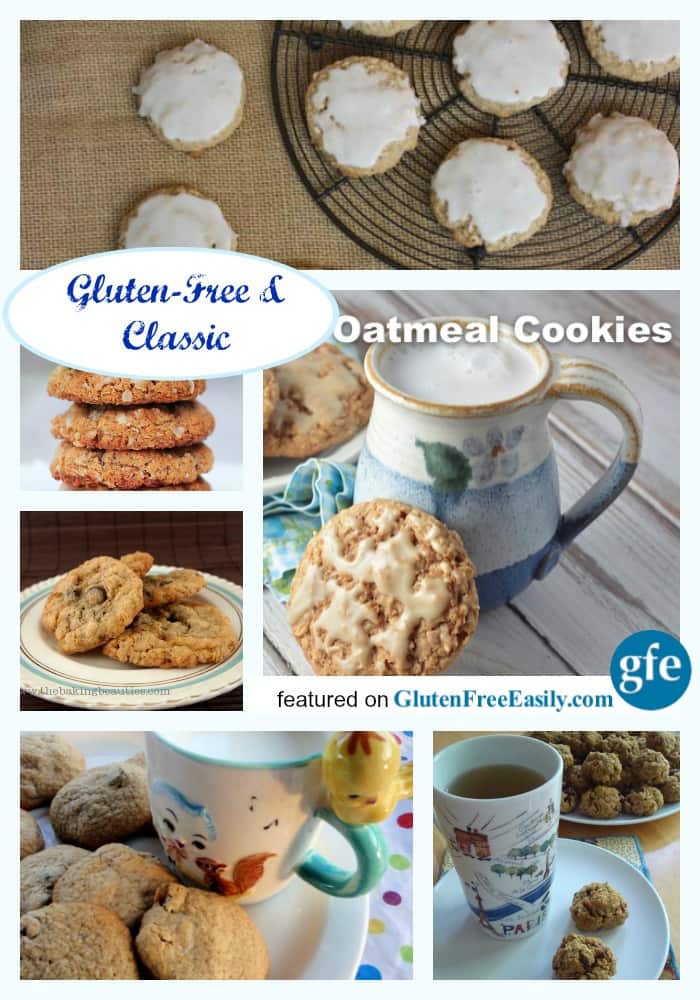 This week in addition to observing National Blueberry Pie Day with 20 Gluten-Free Blueberry Pie Dessert Recipes, another fun food day was observed—Oatmeal Cookie Day! I've updated my earlier, "short" roundup of gluten-free oatmeal cookie recipes to include many more Gluten-Free Oatmeal Cookie Recipes from your favorite bloggers.
You'll find basic oatmeal cookie recipes, fancy oatmeal cookies recipes, oatmeal bars, and more—from "just gluten free" to vegan to paleo, and everything in between. There are even grain-free and paleo "oatmeal" cookie recipes for those who don't eat oats (or any other grains), but still want that oatmeal taste and texture in a cookie.
Be sure to use the oats that are safe for those of use who eat gluten free for medical reasons–such oats are known as purity protocol oats. It's simply not enough to buy certified gluten-free oats any longer as many companies that sell oats are using mainstream oats which are highly contaminated with gluten-full grains and then trying to remove the gluten. Complete removal is impossible and testing an extraction or two does not adequately show the contamination. Read more here.
By the way, many who cannot tolerate certified gluten-free oats have found that they can successfully substitute quinoa flakes in most recipes. Note that quinoa flakes have a slightly stronger flavor than oats.
Almond Chocolate Double Coconut No-Bake Cookies from Gluten Free Easily ~ gluten free, dairy free, egg free, vegan
Apple Oatmeal Breakfast Cookies from Lynn's Kitchen Adventures ~ gluten free (use gluten-free option), grain free, egg free, refined sugar free, vegan
Bakery Style Oatmeal Cookies from Go Dairy Free ~ gluten free, dairy free, egg free, vegan
Banana Oatmeal Breakfast Cookies from Lynn's Kitchen Adventures ~ gluten free (use gluten-free option), vegetarian
Banana Oatmeal Chocolate Chunk Cookies from Free Range Cookies ~ gluten free, dairy free, egg free, vegan
Big Fat Oatmeal Cookies from Gluten Free Canteen ~ gluten free, dairy free, vegetarian
Blueberry Oatmeal Cookies from Wheat Free, Meat Free ~ gluten free, vegetarian
Chocolate Chip Oatmeal Cookie Dough Balls from Go Dairy Free ~ gluten free (use gluten-free option), dairy free, egg free, refined sugar free, vegan
Chocolate Chip Oatmeal Cookies from Gluten-Free Homemaker ~ gluten free, vegetarian, with dairy-free option
Chocolate Chip Oatmeal Cookies from She Let Them Eat Cake ~ gluten free, dairy free, egg free, refined sugar free, vegan
Chocolate Coconut Oat Banana Breakfast Cookies from Petite Allergy Treats ~ gluten free
Chocolate Coconut Oat Squares from Gluten-Free Palate ~ gluten free, dairy free, egg free, vegan
Chocolate No-Bake Cookies (Raggedy Robins) from Gluten-Free Homemaker ~ gluten free, egg free, vegetarian, with dairy-free, vegan options
Chocolate Toffee Cranberry Oatmeal Cookies from In Johnna's Kitchen ~ gluten free, dairy free, vegetarian
Cinnamon Apple Oatmeal Cookies from Raia's Recipes ~ gluten free, vegetarian, with dairy-free option
Cinnamon Roll Oatmeal Breakfast Cookies from Lynn's Kitchen Adventures ~ gluten free (use gluten-free option), vegetarian
Coconut Oatmeal Chocolate Chip (or Raisin) Cookies from Gluten Free Easily ~ gluten free, dairy free, vegetarian
Double Chocolate Nut Butter Oaties from Gluten Free Easily ~ gluten free, dairy free, refined sugar free, vegetarian, with egg-free options
Flourless Oatmeal Cookies from Gluten Free Easily ~ gluten free, vegetarian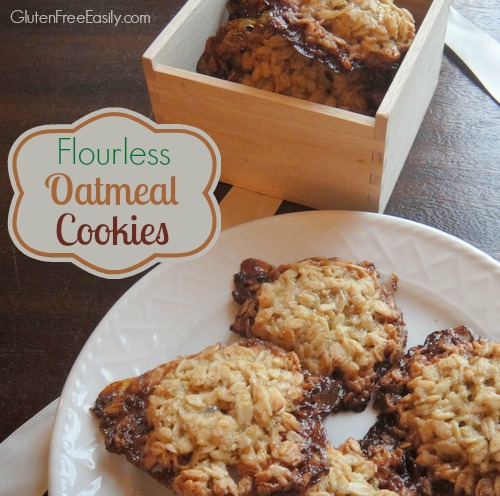 "Grab-and-Go" Oatmeal Breakfast Bars from Allergy Free Alaska ~ gluten free, dairy free, refined sugar free, vegetarian
Grain-Free No-Oatmeal Cookies from Against All Grain ~ gluten free, grain free, dairy free, refined sugar free, paleo, primal
Granola Bars from Gluten-Free Homemaker ~ gluten free, dairy free, egg free, refined sugar free, vegetarian, with vegan option
Granola Oatmeal Cookie Bars from Cook IT Allergy Free ~ gluten free, dairy free, with egg-free, nut-free, vegan options
Granola Cluster Cookie Bites from Gluten Free Easily ~ gluten free, dairy free, egg free, refined sugar free, vegan, with grain-free option
Healthy Oatmeal Cranberry Breakfast Cookies from Go Dairy Free ~ gluten free (use gluten-free option), dairy free, egg free, vegan
Iced Oatmeal Cookies from Lynn's Kitchen Adventures ~ gluten free, vegetarian
Magic Oat Bars from Gluten Free Easily ~ gluten free, egg free, vegetarian, with dairy-free option
Maple-Glazed Oatmeal Cookies from Angela's Kitchen ~ gluten free, dairy free, vegetarian
Monster Bars from Celiac in the City ~ gluten free, vegetarian
N'Oatmeal Cookies rom Paleo Parents ~ gluten free, grain free, dairy free, refined sugar free, paleo, primal
No-Bake Chocolate Peanut Butter Oatmeal Cookie Bars from Lynn's Kitchen Adventures ~ gluten free, egg free, vegetarian
No-Bake Cherry Oatmeal Cookies from The Healthy Apple ~ gluten free, dairy free, egg free, refined sugar free, vegan
Oatmeal Almond Butter Cookies from Chocolate-Covered Katie ~ gluten free (use gluten-free options), dairy free, egg free, vegan
Oatmeal Breakfast Bars from Fearless Dining ~ gluten free, dairy free, refined sugar free, vegetarian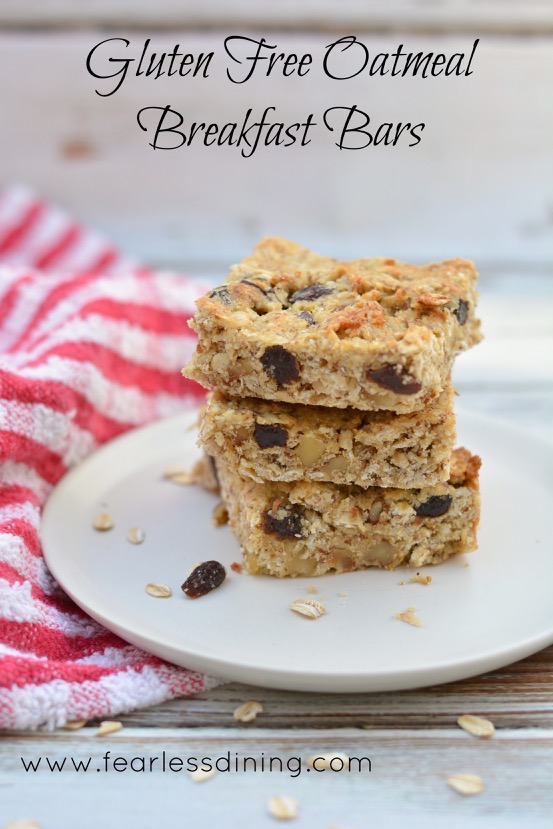 Oatmeal Chocolate Chip Breakfast Cookies from The Big Man's World ~ gluten free, dairy free, refined sugar free, vegetarian
Oatmeal Chocolate Chip Cookies from Gluten-Free Goddess ~ gluten free, vegetarian, with egg-free option
Oatmeal Cookies with Jujube (Chinese Red Date) Butter from Tasty Eats At Home ~ gluten free (apple butter or strawberry jam can be substitute for the jujube butter)
Oatmeal Cream Pies from In Johnna's Kitchen ~ gluten free, vegetarian
Oatmeal Lace Cookies from Better Batter ~ gluten free, vegetarian
Oatmeal Marble Squares from Gluten Free Easily ~ gluten free, vegetarian, with dairy-free option
Oatmeal Chocolate Chip Cookies or Oatmeal Raisin Cookies from Gluten Free Easily ~ gluten free,
Oatmeal Date Jumbo Cookies from ChaCha's Gluten-Free Kitchen ~ gluten free, vegetarian
Oatmeal Heart Cookies from Nourishing Meals ~ gluten free, dairy free, egg free, vegan, with refined sugar-free option
Oatmeal Raisin Cookie Dough Bites rom Gluten-Free Palate ~ gluten free, dairy free, egg free, vegan
Oatmeal Raisin Cookies from GF Jules ~ gluten free, vegetarian, with dairy-free option
Oatmeal Raisin Cookies from No Gluten, No Problem ~ gluten free, vegetarian
Oatmeal Raisin Raw Protein Cookie Bites from Go Dairy Free ~ gluten free (use gluten-free option), dairy free, egg free, vegan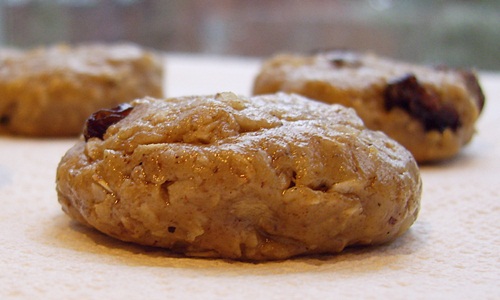 Paleo Chocolate Chip "Oatmeal" Cookies from The Paleo Mom ~ gluten free, grain free, dairy free, refined sugar free, vegetarian, paleo, primal
Peaches and Cream Oatmeal Breakfast Cookies from Lynn's Kitchen Adventures ~ gluten free (use gluten-free option), vegetarian
Peanut Butter and Jelly Thumbprint Quinoa Oat Cookies from Jeanette's Healthy Living ~ gluten free, dairy free, vegetarian
Peanut Butter Chocolate Chip Oat Bars from Gluten-Free Homemaker ~ gluten free, vegetarian
Peanut Butter Oat and Quinoa Cookies from Simply Quinoa ~ gluten free, dairy free, refined sugar free, vegetarian
Peanut Butter Oatmeal Breakfast Cookies from Lynn's Kitchen Adventures ~ gluten free, vegetarian
Peanut Butter Oatmeal Fudge Bars (Revel Bars) from My Gluten-Free Kitchen ~ gluten free, egg free, vegetarian
Pumpkin Hemp Oatmeal Cookies from Tasty Eats At Home ~ gluten free 
Pumpkin Pie Oatmeal Bars from Free Eats ~ gluten free, dairy free, egg free, vegan
Pumpkin Pie Oatmeal Cookies from Gluten Free Canteen ~ gluten free, dairy free, vegetarian
Pumpkin White Chocolate Cranberry Oatmeal Cookies from My Gluten-Free Kitchen ~ gluten free, vegetarian
Soft, Chewy, Melt in Your Mouth Gluten Free Oatmeal Raisin and Walnut Cookies from The Whole Gang ~ gluten free, dairy free, egg free, vegan
Swirled Chocolate Chip Cranberry Oatmeal Cookies from My Gluten-Free Kitchen ~ gluten free, vegetarian
Thin Crisp Oatmeal Chocolate Chip Cookies from Faithfully Gluten Free ~ gluten free, vegetarian
Other Oatmeal "Cookie" Recipes
Oatmeal Cookie Apple Crisp from Go Dairy Free ~ gluten free (use gluten-free option), dairy free, egg free, vegan
Oatmeal Raisin Cookie Granola from Gluten Free Easily ~ gluten free, vegetarian