For affiliate links and as an Amazon Associate I earn from qualifying purchases.
Somewhere I read that today was National Granola or National Granola Bar day. Ah, the power of suggestion. Suddenly I wanted granola. In a fierce way. Specifically, I wanted granola clusters. I used to love cereal that contained clusters of oats, nuts, and brown sugar. It's rare for me to eat cereal now. I don't usually find it to be the best food to fuel my day, so I decided to turn my granola "need" into Granola Cluster Cookies. I know … I went from saying cereal wasn't healthy enough to start my day to cookies. Not your expected progression, but these cookies really are healthy enough to put in a cereal bowl and cover with milk (dairy or non-dairy, of course) if you wish. I haven't done that with the first two batches of these cookies because Mr. GFE and I just enjoyed nibbling on these cookies, one or two at a time. We mostly like pulling off small pieces of these cookies for "little bites" versus eating them the way one traditionally eats a cookie. Hence, the final name of gluten-free Granola Cluster Cookie Bites.
This recipe is gluten free, dairy free, refined sugar free, and vegan (if you like), with grain-free and nut-free options, too. However, you can make the recipe with one or two eggs if you prefer—I made a version like that and it is more "cookie like"—but honestly, we liked the egg-free version just as well, if not better. The first photo shown is the egg-free version. The second photo shows the version made with eggs. Oh, and for the record, Mr. GFE says that the only thing these treats need is some raisins. He's the raisin lover in the family. I am not. But you could certainly add some raisins if you'd like. (See additional possibilities for variations on this recipe in the Notes section.)
I noted on my gfe Facebook page that these cookie bites aren't the most photogenic. Some gfe readers disagreed and were quick to request the recipe, so here you go!
Gluten-Free Granola Cluster Cookie Bites
Yield:
Gluten-Free Granola Cluster Cookie Bites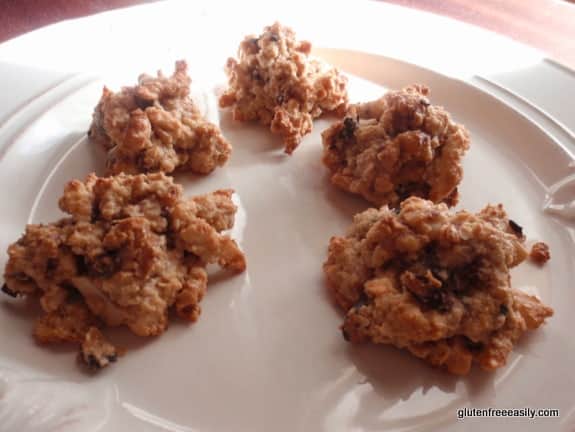 If you love granola, you're going to love getting your granola fix via these wonderful granola cluster cookie bites. They're gluten free, dairy free, and refined sugar free, but totally delicious!
Ingredients
about 9 Medjool dates, pitted
¾ cup maple syrup
1 tsp vanilla extract
¼ cup coconut oil, liquefied
1 ½ cups certified gluten-free purity protocol oats or quinoa flakes (I used quinoa flakes; see notes)
1 ½ cups chopped nuts (of your choice; I used blanched slivered almonds and chopped walnuts)
2/3 cup almond flour
1 ½ tbsp coconut flour
¼ cup roasted cocoa nibs or chocolate chips (optional)
Instructions
Preheat oven to 350 degrees Fahrenheit. Line large baking sheet with parchment paper.
Chop dates fairly well. (I used my kitchen shears for this task.) Add chopped dates to large mixing bowl and add maple syrup and vanilla extract. Stir so that the date pieces are covered. Set aside.
Toast oats (or quinoa flakes) and nuts, if desired. (See notes for additional guidance.)
Add coconut oil, oats (or quinoa flakes), nuts, and all other ingredients to the mixing bowl that you set aside earlier. Mix until all ingredients are incorporated. Let batter sit for at least 5 minutes or so until it thickens and "sets up" some naturally.
Drop dough by rounded tablespoonful onto prepared baking sheet. Use fingers to press batter into mounds if necessary. The cookies can be placed close together as they will not spread when baked.
Bake for about 12 minutes until cookies are set and fairly golden brown.
Cool on baking sheet another minute or two. Remove with spatula to cool.
Makes about 2 dozen 2-inch cookies.
Notes
You might wish to toast your oats and/or nuts before adding them to your cookie batter. Toasting definitely adds more flavor to some such ingredients, but not others. On the flip side, the toasting also makes some ingredients less absorbent. As I stated, I opted for quinoa flakes in this recipe and wanted them to absorb and bind well with the other ingredients, so I preferred not toasting them. If you need a nut-free version, seeds, such as sunflower seeds and pepitas, should work in place of nuts, if necessary. I think this recipe could be made with all nuts (and/or seeds) versus oats or quinoa flakes, but I have not yet tried that version. If you wish to add some raisins, include those in the oats (or quinoa flakes) or nuts/seeds measurement. I don't think that you want to go over the total of 3 cups for that measurement. If you want a cookie with more protein, you can certainly make the recipe with one or two eggs if you like—I made a version like that and it is more "cookie like"---but honestly, we liked the egg-free cookies just as well. The latter has more maple flavor. However, the cookies that include eggs do hold together a bit better and perhaps have more of a typical cookie consistency than the vegan version.