For affiliate links and as an Amazon Associate I earn from qualifying purchases.
This gluten-free Stovetop Chicken Chili recipe is one that I recently rediscovered in my recipe box and I'm so glad that I did! I made it a few weeks ago when I had a very small amount of leftover chicken that I wanted to turn into a meal for the three of us.
t was such a hit that I made it again a few days ago–this time with a little more chicken added. It's quick, easy, and delicious.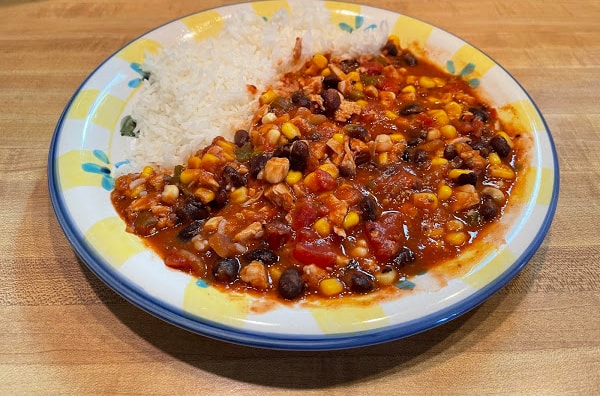 The first time around I wasn't sure I should give it a try because I only had a little over a single cooked chicken breast but when I discovered I also had all of the other ingredients (ones that I call "pantry ingredients"), it was game on!
And I was so happy when having a little less chicken than called for did not negatively impact the results.
Do you ever take a moment to revisit the recipes in your recipe box (well, if you still have a physical recipe box) or in your cookbooks? Or perhaps ones that you've saved online?
I will confess that I've spent a lot of time over the years writing down recipes, clipping recipes from magazines, flagging recipes in cookbooks, or bookmarking recipes online that piqued my interest. I often did that activity to pass the time when I was put in situations where I was in waiting mode was unable to do other things, usually when I had access to nothing else except cookbooks or magazines.
That's how I've ended up with lots of recipes that I've never actually made or only made once and planned to tweak the second time around. Whenever that second time came.
Periodically, I cull such recipes, asking myself what the chances are that I'll ever make them. Recipes with lots of steps and/or expensive or hard-to-find ingredients invariably get ditched.
I always wonder why I kept such recipes at all. Did I think I was someone else? Someone who liked difficult and complicated recipes? Haha.
This recipe was simple and could be assembled and ready to eat quickly–if I did it my way.
The original recipe called for the initial time on the stove and then a couple of hours of slow cooker time but the slow cooker time was really not needed. This chili is ready to eat after all the ingredients are combined in a deep skillet (or pot) and heated through.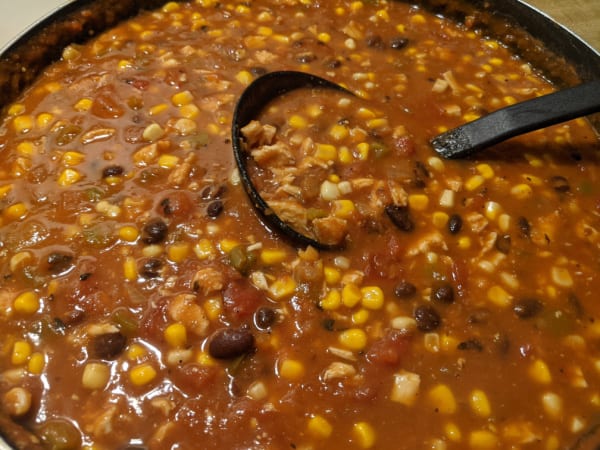 I will confess that I wasn't prepared to be impressed with this chicken chili because I've tried the much-loved white chicken chili a few times over the years and despite others' rave reviews, I always end up thinking "meh."
I have the same lack of enthusiasm for white pizza—which now that I think of it also usually means a chicken and white sauce topping—so I guess I have finally determined that personally, I prefer to stick to the classic tomato-based versions of those two beloved recipes.
This chili recipe uses a pantry ingredient that has not always excited me. Refried beans. I happened to have some on hand because I had purchased some to make this really fun recipe.
Well, I'm happy to say that refried beans really shine in this recipe. Or perhaps more accurately, they quietly do the critical work to make the overall chili recipe taste really good.
The refried beans immediately give a thick and creamy consistency to the chili that is just perfect. It's the kind of consistency that usually only comes from hours of cooking ingredients slowly at low temperatures.
The refried beans also provide a very understated but delicious flavoring.
You'll notice that there are no additional seasonings that are typical for chili required in this recipe. For example, there's neither chili powder nor cumin included.
We think the recipe is great on its own. However, that may be because we use both spicier salsa and the more flavorful fire-roasted tomatoes so I noted such seasonings as optional in the recipe because you may decide that you prefer to add them.
I enjoyed my chili with some Parmesan topping in a soup mug. Son made a platter of his chili with a sprinkle of Parmesan and a dollop of sour cream (both of which were Follow Your Heart's dairy-free versions) plus tortilla chips and jasmine rice.
He delightedly said his meal had a very Chipotle vibe! His girlfriend J went big on the chili with jasmine rice combo. And as you would probably expect, we enjoyed the leftover chili just as much the next day.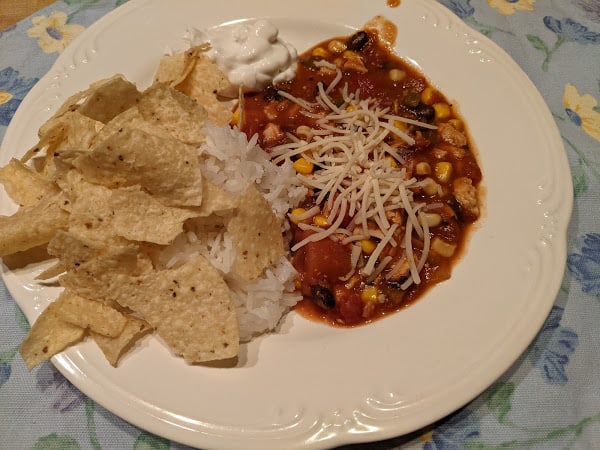 A note on the rice. J brought her rice cooker to my kitchen a year ago and we've used it several times each week.
A rice cooker is not an appliance that I ever thought that I'd need or enjoy using but I truly love this tool! It makes up to 3 cups of perfectly cooked rice.
J taught me to rinse the rice (twice, ideally) for less starchy, better-tasting rice. You add the rice and the same amount of water plus a pinch of salt to the rice cooker's non-stick cooking pot, close the lid, and then simply click the button for white rice or brown rice.
The rice cooker does the rest, beeping when the rice is ready. It's kind of like a miracle in my opinion. J said her mom bought her her very own rice cooker when she went off to college.
We've made rice for an easy side dish pretty much any evening rice sounds good to us but it's also been perfect for those recipes that specifically call for rice. Dishes such as jambalaya, shrimp creole, fried rice, chicken a la king, and catfish etouffee.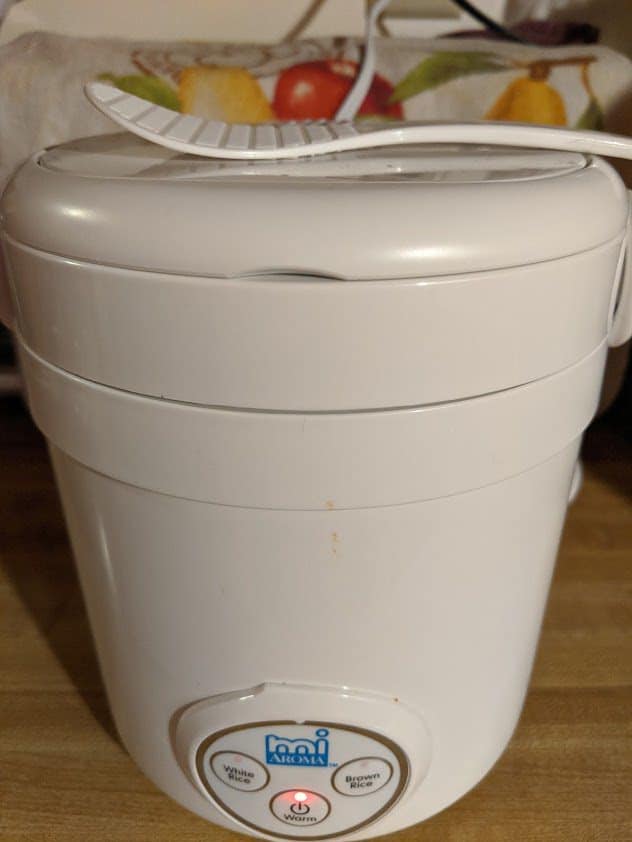 I know that many use their Instant Pots for cooking rice as well as most recipes that they formerly cooked in a slow cooker. And while we use our Instant Pot when we want to make more than 3 cups of rice, we both think that using this rice cooker to make 3 cups or less of rice is easier overall using the rice cooker.
J buys 20 pounds of jasmine rice (a brand that's imported from Thailand) every several months. For me alone, that much rice would be way too much to conquer in a reasonable time. But with the three of us eating, we just opened our third bag in a little over a year.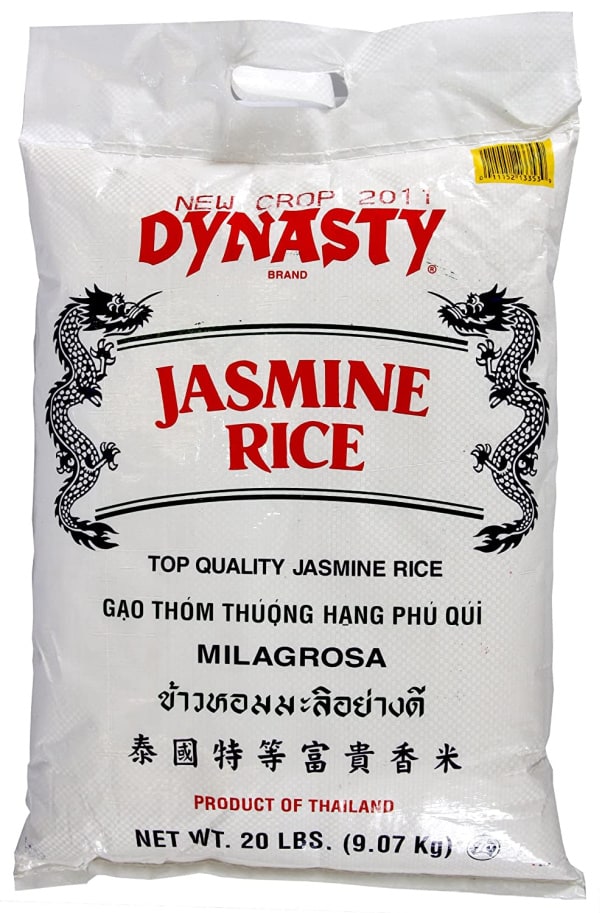 You probably noticed that this recipe is a gfe recipe. This means that it follows my Gluten Free Easily—gfe—approach. If you don't know about my gfe approach and still struggle with gluten-free living and perhaps are tired of having to buy so many products and spend so much money, please consider it.
Living gfe means you focus on real foods, whole foods (for example, meat, seafood, fruit, vegetables, and cheese), that are naturally gluten free, first and foremost. Supplement those foods with some mainstream gluten-free processed ingredients–such as the chicken broth, salsa, canned corn, and canned beans in this recipe.
Dishes and meals that follow the gfe approach tend to be healthier, taste the same as they always did—meaning no weird flavors or textures—because they are the same as they always were.
And even better, they cost the same as they always have. No gluten-free "surcharge" and no gluten-free specialty ingredients needed. Just everyday ingredients that you have in your fridge or pantry.
Gluten-free specialty products–the ones with the ingredients that are new to you and others as well as the heftier price tags—are used on occasion with the gfe approach, but not every single day.
Think gluten-free flours, gluten-free flour mixes, ready-made gluten-free treats, and other processed/packaged products like pizza, frozen entrees, etc.
Stop the madness and get off the non-stop merry go round—the one that's actually not so merry. Read more on the benefits of living gfe at The Top 10 Reasons to Live GFE.
Now on to this different and delicious gluten-free Stovetop Chicken Chili recipe!
Stovetop Chicken Chili Recipe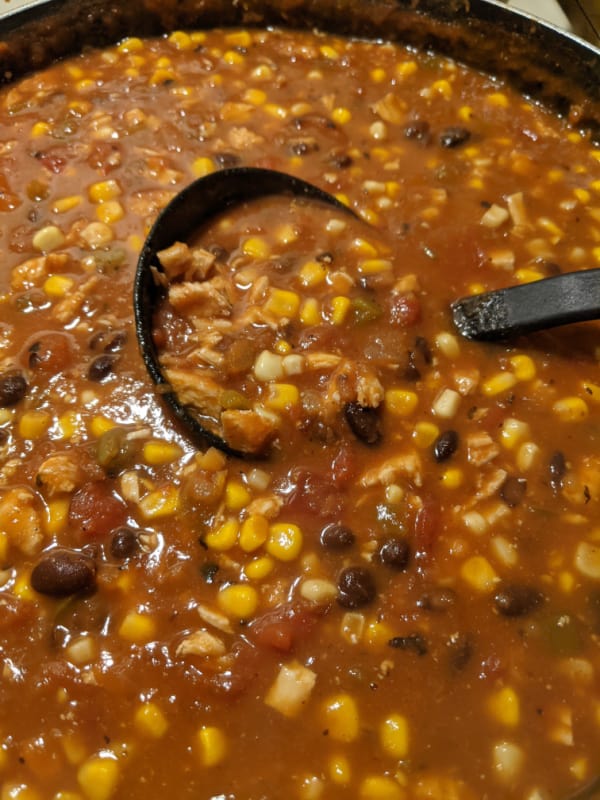 Yield: 6 to 8 servings
Stovetop Chicken Chili (Not White)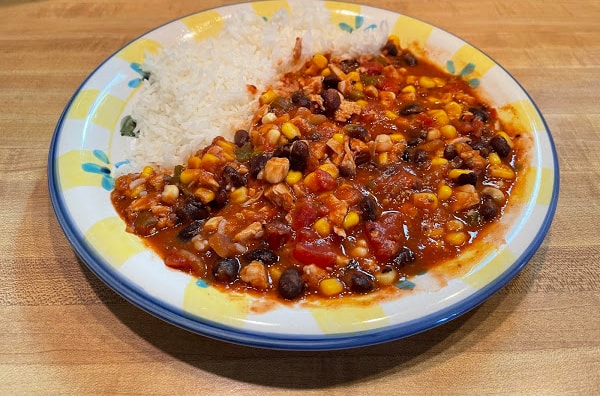 This Stovetop Chicken Chili comes together quickly, is made with pantry ingredients, and is delicious!
Ingredients
2 to 4 cooked boneless chicken breasts, chopped or shredded into bite-size pieces (see notes)
1 ½ to 2 cups chicken broth (use the upper amount if you're including more chicken breasts; I add double the amount of chicken base to the boiled water to create my broth)
1 15-ounce can diced tomatoes (we like the fire-roasted diced tomatoes)
1 16-ounce jar salsa (of desired heat level; we like medium)
1 15-ounce can corn, drained (or equivalent amount of frozen corn)
1 15-ounce can black beans, drained
1 15.4-ounce can refried beans (ensure that it's gluten free) or 2 cups homemade refried beans
Optional toppings/sides
Mexican blend of shredded cheese or other grated/shredded cheese of choice
Sour cream
Gluten-free tortilla chips
Cooked rice
Instructions
Add chicken broth, diced tomatoes, salsa, refried beans, corn, and black beans to a deep skillet or pot. Stir and heat on medium low to medium heat about 15 to 20 minutes---stirring frequently to prevent ingredients from sticking to the pan and burning.
Add chicken to the mixture and continue heating about 5 minutes more until mixture is heated through.
Serve as is or with a sprinkling of cheese, a dollop of sour cream, tortilla chips and/or rice.
Notes
If you don't have leftover cooked chicken, you can easily boil the chicken in water in the pan or skillet that you'll be using to make your chili. That way you'll get both your cooked chicken and your chicken broth. I'd still suggest adding some gluten-free chicken bouillon to the resulting water to create a more flavorful broth though. 
I usually find this recipe flavorful enough just as it is but feel free to add some chili powder, a pinch of cumin, etc. if you like.
Originally published April 6, 2021; updated February 11, 2022.