This post may contain affiliate links. If you purchase through them, your cost will stay the same, but gfe will receive a few cents for every dollar spent. Thanks for supporting gfe!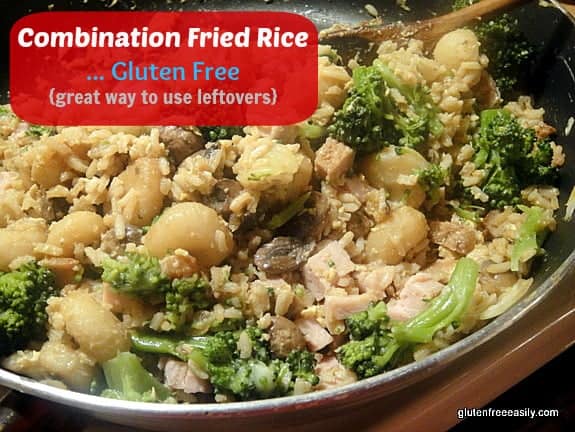 The lovely Iris (The Daily Dietribe) is hosting this month's Go Ahead Honey, It's Gluten Free event. This monthly roundup in which alternating hosts choose the theme was founded by the creative and healthy Naomi of Straight Into Bed Cake-Free and Dried. Iris chose the theme Chinese Lantern Festival. She asked us to make a favorite Chinese dish that worked for our own food sensitivities. My "go to," favorite Chinese dish of Combination Fried Rice immediately came to mind!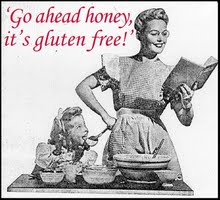 When I hosted last month's Go Ahead Honey event with the theme Dishes So Simple, No Recipe Required … in other words, non-recipes, I shared my Saucy Cheesy Chicken Veggie Pasta Skillet Supper as my entry. As I stated then, most of the time, that's truly the way I cook. I also said I'd be sharing a five-day series called September Skillet Suppers. Well, here we are at the tail end of September, so if I'm going to do that I better get with it, huh? If all goes well, I'll honor that promise but I've had a run of bad luck with deleted photos that I mentioned earlier and more recently, missing recipes. So my fingers are crossed that they'll all turn up, but this series might just overlap into October. In any regard, consider this my first post in my Skillet Supper Series and yet another non-recipe!
In the days before I went gluten free, Mr. GFE and I loved eating Chinese food. Many of our favorite "date memories" are of eating out at Chinese restaurants where the staff knew us by name and served our drinks right after we walked in. As boring as it may sound, Combination Fried Rice was usually my "go to" dish. Mr. GFE's favorite was Combination Lo Mein. We're easy to please, but while I still pick up Chinese carry-out for Mr. GFE on the way home from a late meeting or appointment, safe gluten-free Chinese food for me is harder to come by. Gluten-full soy sauce is often used freely in Chinese restaurants and more and more Chinese restaurants seem to be adding gluten-full flour to sauces in dishes. Even if one specifies "no soy, no flour please," the risks are there. But the good news is that most Chinese dishes are simple to make at home. Certainly Fried Rice and Lo Mein fit into that category. (For the ones that are a bit more difficult, you'll want to take a look at Laura B. Russell's The Gluten-Free Asian Kitchen, which I talked about here.)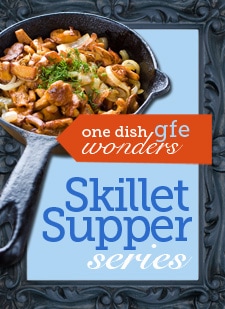 While there are basic elements to Fried Rice—namely, rice, onion (preferably green), oil, eggs—one can also use this non-recipe to clean out the fridge or freezer of bits of meat and veggies. That's what I always do, plus I hit up my pantry for a few more ingredients like canned water chestnuts and bamboo shoots. If you order Combination Fried Rice at a restaurant, you'll get a mixture of beef, chicken, ham (or other pork), and some sort of seafood (sometimes it's fake seafood, so that's a concern as well, as artificial crab contains gluten). The vegetables included are often carrots, peas, corn, mushrooms, and green and/or red peppers. Seasonings may simply be ginger and soy sauce (or tamari)—be sure the latter is gluten free. (Coconut aminos are a good soy-free substitute, too.) Mr. GFE is heavy handed on his soy sauce/tamari so I never add any while cooking; we just season individually. But really there are no rules when you are doing the cooking! And while Chinese food implies a wok, a large, deep skillet works just as well. Enjoy!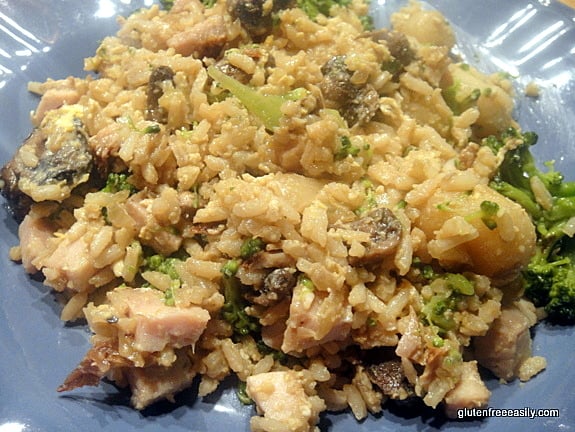 Combination Fried Rice Recipe
Combination Fried Rice
Grab some leftovers from your fridge and a few items from your pantry and you can be enjoying this delicious gluten-free combination fried rice in short order!
Ingredients
A couple of tablespoons of oil of your choice (I use extra virgin olive oil or coconut oil)
About one large onion, chopped (or equal amount of chopped green onion)
About half of a green or red pepper, if desired, chopped
About 2 cups or more of cooked rice (I like to cook extra rice and then freeze it to use later for fried rice, soup, jambalaya, etc.)
One can sliced water chestnuts, drained
One can bamboo shoots, drained (optional)
About 1 cup of fresh mushrooms (when my mushrooms are "heading south," I sauté them in oil and freeze and then pull them out for dishes like this)
About 1 to 2 cups or more of other vegetables of your choice (carrots, peas, corn, broccoli, etc.)
About 1 to 2 cups of cooked meat and/or seafood of your choice (chicken, ham, pork, shrimp) (optional, may omit for a vegetarian or vegan dish)
A couple of tablespoons of gluten-free soy sauce or tamari, or soy-free, refined sugar free coconut aminos
About 3 eggs, beaten (optional, may omit for a vegan dish)
Instructions
Add oil to skillet and heat on medium-high, adding onions and pepper cooking a few minutes until onion is soft.
Reduce heat to medium and add rice and other vegetables, stirring often for about 5 minutes.
Stir in meat and seafood, stirring a few minutes.
Drizzle beaten eggs into mixture in skillet and stir well, distributing eggs throughout. Cook until eggs are visibly done, about 5 minutes more.
Stir in soy sauce until well blended.
Makes 4 or more servings
Courses Entree, Main Dish