For affiliate links and as an Amazon Associate I earn from qualifying purchases.
Today I'm sharing how to make gluten-free Homemade Sloppy Joes without a mix. When we were growing up, we never ate Sloppy Joes. When I transitioned to apartment living and cooking on my own, I became quite fond of Sloppy Joes. They were an easy and great skillet supper. A pound of ground beef, a package of Sloppy Joe mix, and a package of hamburger buns and I was good to go.
My roommates and I loved our occasional Sloppy Joes. After Mr. GFE and I got married, we'd eat Sloppy Joes occasionally, but the coloring of the ingredients in the Sloppy Joe mix and, therefore, the actual Sloppy Joes that resulted seemed to be getting more and more unreal.
Sort of that mix between bright red and Dayglow orange, you know? It didn't really look appetizing and would actually stain your spatula when you scraped the last bits out of the skillet. Hmm.
Then I found a recipe (somewhere … I have no idea where honestly) that included ground beef, onions, green pepper, ketchup, chili sauce, and Worcestershire sauce. We quickly decided that we preferred leaving out the green pepper, but we were very good with the other ingredients.
I was far happier keeping my pantry stocked with chili sauce than I was with the very unreal packages of seasoning mix. I didn't make Sloppy Joes often, but sometimes they provided a quick and satisfying meal. Sometimes we ate them with chips, sometimes fries, or sometimes veggies or a salad.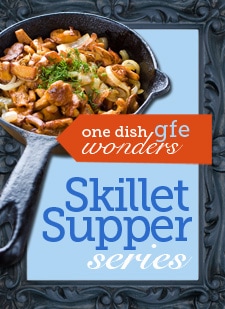 But guess what? I eventually discovered that chili sauce contains high fructose corn syrup (HFCS). I'm not sure if it was present when I first started using chili sauce to make my Sloppy Joes, but it's there now. And no matter how much the corn industry (or medical "professional"—uh hum—who dogmatically repeats that "sugar is sugar" in article after article) wants me to think otherwise, I know that HFCS is not a healthy ingredient.
Of course, all processed sugars are bad for us (check out Heidi's latest post), but I digress. A bit. So I set out to make these Sloppy Joes free of processed ingredients as much as possible. What is chili sauce made from? Tomatoes, sweetener, vinegar, and seasonings. I don't know about you, but I always have those ingredients in my pantry. And I love it when I get to choose exactly what I want in my food!
Worcestershire sauce can be a bit more complicated. Heidi shared her homemade corn-free Worcestershire sauce and I am sure that it is fantastic. However, for the purpose of this recipe, I took quite a bit simpler route with a little help from the web. I searched for substitutes for Worcestershire sauce and found one suggestion to use a combination of dry mustard, hot sauce, and honey in its place. That combo sounded good to me, so I used that idea in my recipe. It works perfectly fine in this case!
Proper Sloppy Joes have a mixture of tangy and sweet. We think I've nailed how to make gluten-free homemade Sloppy Joes without a mix. To us, it tastes just right! If you're a Sloppy Joe fan, I hope you'll agree.
In fact, Mr. GFE raves over these Sloppy Joes every time I make them. This is yet another recipe that he thinks that I should market or sell in a restaurant. I laugh when he says these things and remind him that I only cook for those I love.
If he gets to take a Sloppy Joe for lunch, he's practically ecstatic! He also prefers his Sloppy Joe with a slice of cheddar cheese or some shredded cheddar on top. (Since he has a microwave at work, I make a little Sloppy Joe "kit" for him—Sloppy Joe filling, cheese slice, and bun in individual containers, and a spoon for preparation.)
Sometimes I like to top my Sloppy Joe with some cheese, too. A sprinkle of Daiya dairy-free cheddar-style shreds or "cheesy" Majestic Garlic Spread does the trick for me.
As a funny side note, whenever I make these, Mr. GFE always smiles and asks, "Now are these Sloppy Joes or Untidy Samuels?" He says that Untidy Samuels is what he and his siblings always called them when his mom made them. They thought that name sounded so funny. It turns out that expression came from the tv show, Family Affair. A reader shared the back story in the comments below. The children asked for Sloppy Sams and proper Mr. French called them Untidy Samuels. If you eat these flavorful sandwiches, what do you call them?
How to Make Gluten-Free Homemade Sloppy Joes Without a Mix (Sloppy Joes Recipe)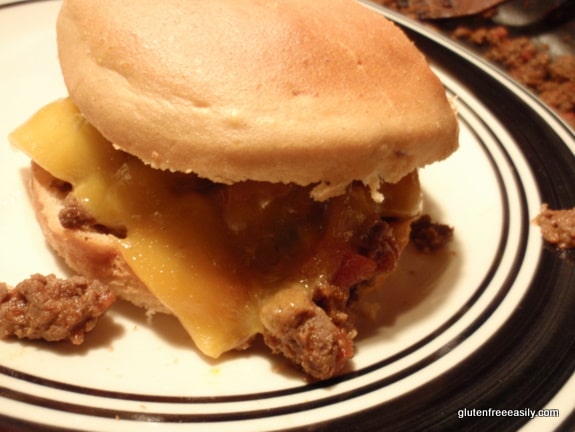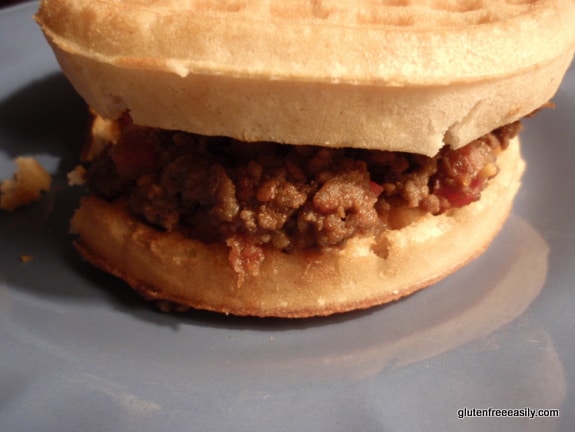 Yield:
Sloppy Joes That Don't Come from a Can or a Package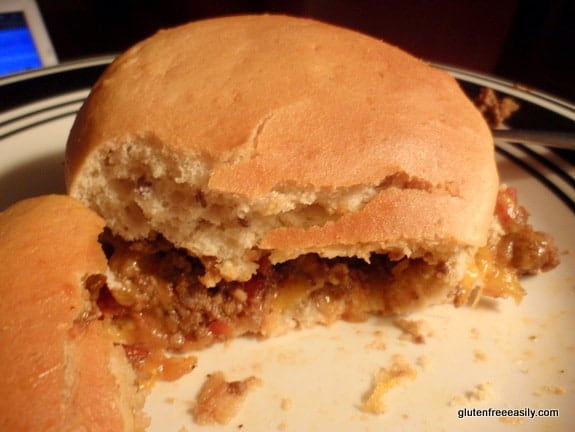 Ingredients
1 pound ground beef (we use ground venison; see notes for using ground turkey)
14 ounces of diced tomatoes, undrained (petite cut works best; see notes)
Half an onion (about ½ cup), chopped
¼ cup brown sugar (or same amount of coconut/palm sugar or slightly less of honey, molasses, or agave)
½ tsp salt
½ tsp black pepper
¼ tsp cinnamon
¼ tsp allspice
¼ tsp cloves
2 tsp garlic cloves, minced
½ tsp chili powder
1 ¼ tsp hot sauce
¼ tsp dry mustard
½ tsp honey (omit if already using one of the liquid sweeteners vs brown sugar)
½ cup gluten-free, HFCS-free ketchup
½ tsp vinegar (optional, see notes)
Instructions
Brown ground beef in large, deep skillet. Drain and then return to skillet.
Stir in other ingredients, mixing well. Bring to a boil and reduce heat to a simmer, using medium-low to medium heat. The mixture will reduce to proper Sloppy Joe consistency after about 15 minutes on medium heat, but you must stir frequently. If simmering at medium-low, stir occasionally for about 20 to 30 minutes. You can probably guess that I use the quicker method. I do use a skillet screen over my skillet to keep that beautiful, naturally red sauce from flying everywhere. Stirring can be a great task for a child (if you have one around) or even a partner (it can be an easy way to spend some time together), but I stir now and again while doing other chores in my kitchen.
Serve in a bowl with tortilla or potato chips or on a gluten-free hamburger bun (the one shown is on a Rudi's hamburger bun) or gluten-free waffle.
Notes
If using ground turkey, you might want to add more seasoning or a bit more salt as turkey is fairly bland. If you use regular diced tomatoes in this recipe versus petite diced tomatoes, you can use your kitchen shears to make the chunks smaller so they'll cook down better. I drain the liquid into the skillet and then just cut "wildly" into the can of tomatoes. (Be careful of the sharp can rim.) If you want to be more exact in your cutting, you can empty them into a bowl to cut more uniformly-sized pieces. Using ketchup in this recipe gives the Sloppy Joes a richer taste and better texture, but it can be omitted and they'll still be quite good. The small amount of vinegar does add a tad of tanginess, but it may be left out if you prefer. If you don't have any onion and/or garlic on hand (or family members who shy away when they see the real stuff), you may substitute about ½ tsp to one tsp each of onion powder and garlic powder (depending upon your personal tastes), respectively. Some folks may abhor the idea of eating Sloppy Joe without bread, but doing so will really let you know the quality of the meat you are using (buns can cover a lot of flaws!), plus you'll tend to eat less meat with that serving method.
Originally published September 27, 2011; updated June 9, 2020.