For affiliate links and as an Amazon Associate I earn from qualifying purchases.
I love it when food not only tastes good, but it sounds good, too. Dishes that sound festive or exotic often have more appeal to me. Like Jambalaya, Tabbouleh, and this Etouffee. Gluten-free Catfish Etouffee, to be exact.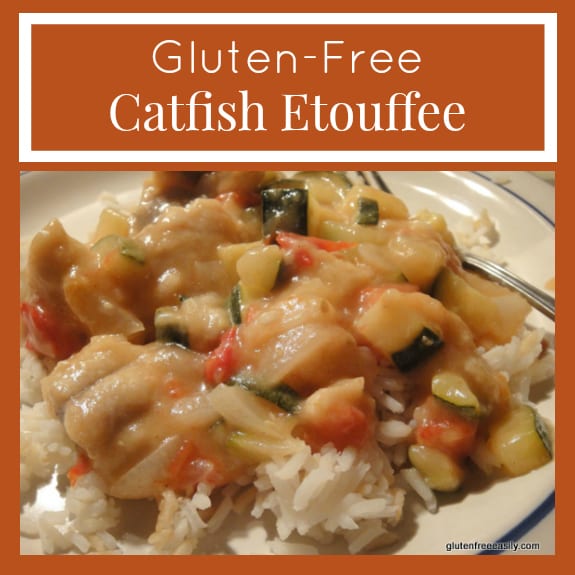 An etouffee—pronounced A-too-FAY—is a type of stew in which generally shellfish is smothered in a seasoned vegetable mixture and served with rice. I've mentioned before that a good friend of ours, Jack, likes to fish for catfish in his spare time and always catches more than he can possibly eat by himself.
We are always equally well stocked with venison from family members and friends who hunt. So we do some casual bartering from time to time. Mr. GFE will show up with some packages of catfish from Jack. Then for Mr. GFE's next visit to Jack, I hand him some packages of ground venison as he heads out the door. It's a great system!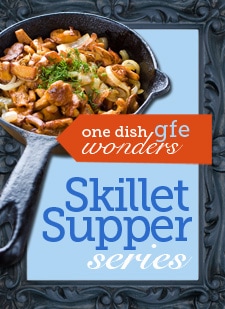 While usually, I fry the catfish (using the same cornmeal breading that I used on these Southern Fried Oysters and this Fried Calamari), I really wanted to try something different and out of the blue, etouffee popped into my head.
I searched online and found a fairly simple recipe on a Cajun website. A few changes here and there—including the addition of zucchini and tomatoes (so often my "go-to" fresh veggies)–and we were enjoying this delicious new dish, gluten-free Catfish Etouffee! You can enjoy this dish any time but be sure to also remember it when Mardi Gras rolls around.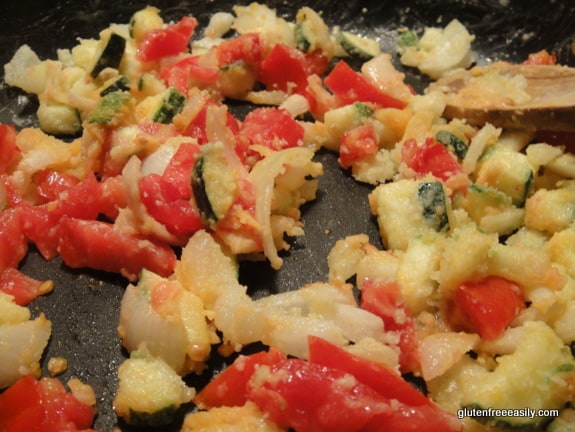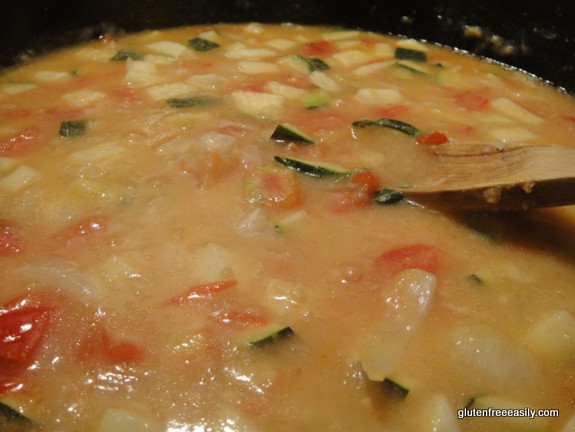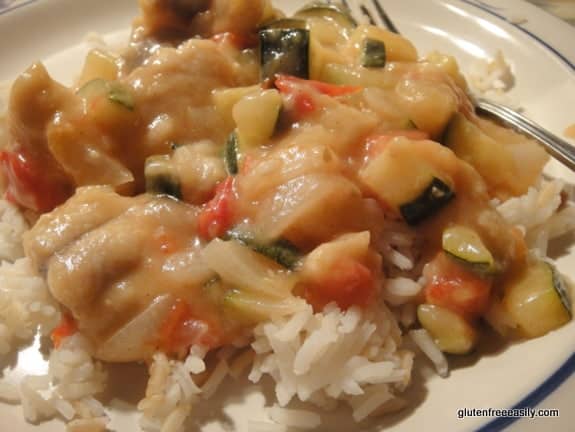 A few other posts in the gfe Skillet Supper Series:
A few other fabulous gluten-free skillet suppers and/or seafood dishes:
Gluten-Free Catfish Etouffee Recipe
Yield: 5 - 6 servings
Catfish Etouffee (Gluten Free)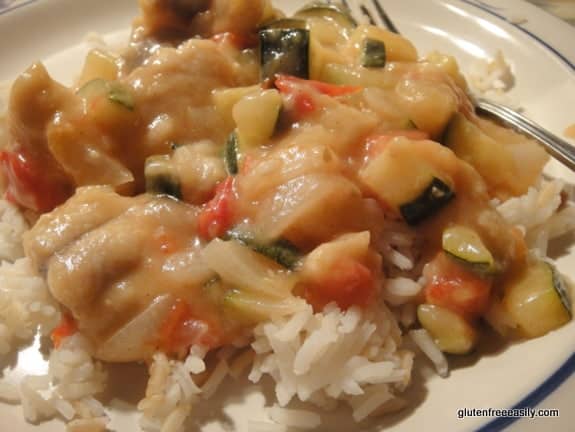 While etouffee---a dish found in both Cajun and Creole cuisine--- is typically served with shellfish, this gluten-free Catfish Etouffee will still make all the etouffee lovers happy! Enjoy it any time but be sure to also remember it on Mardi Gras.

Prep Time 5 minutes

Cook Time 40 minutes

Total Time 40 minutes
Ingredients
2 tbsp olive oil
1/3 cup gluten-free flour mix (I use my Two-Ingredient Flour Mix)
1 cup onions, chopped in large chunks
1 cup zucchini, chopped
2 tomatoes, chopped (I used Roma tomatoes)
2 – 3 cloves, garlic, chopped or minced
2 cups chicken broth (or vegetable broth)
1/8 tsp Cayenne pepper
1/8 tsp black pepper
1 tsp sea salt
dash of Tabasco (optional)
1 – 2 lbs catfish pieces (or similar fish, nugget sized)
Instructions
Heat olive oil on medium-high in large, deep skillet about half a minute or so. Add flour and cook until mixture thickens and turns into a roux, which will only take a few minutes. Stir frequently. (Be careful not to overcook.)
Add vegetables and sauté 10 – 15 minutes, stirring often.
Add broth. Stir and simmer about 5 minutes.
Add seasonings and catfish; continue cooking over medium heat for about 20 minutes or until sauce is reduced to "gravy" consistency.
Serve over rice.
Notes
Recipe adapted from www.cajun-recipes.com.

A lighter flour mix works best. I used my Two-Ingredient Gluten-Free All-Purpose Flour Mix.

Other vegetables may be used depending upon your personal preferences and what you have on hand.

If you wish to use another fish, it's best to use one that is similar in thickness and heartiness. If you use a fish that's lighter in flavor and texture, do not add fish until about halfway through final cooking time.

Originally published September 29, 2011; updated February 28, 2022.