For affiliate links and as an Amazon Associate I earn from qualifying purchases.
With St. Patrick's Day upon us, are you thinking all things Irish and/or all things green? Maybe Corned Beef, Shamrock Shake, Irish Soda Bread (or Irish Brown Bread), and some delicious green desserts (including those that are not of Irish origin) are on your mind. Well, if you want to try an excellent main dish, one that the whole family will love, add this gluten-free Shepherd's Pie with Whipped Cauliflower Topping to your St. Paddy's Day menu. Or plan to make it on another day soon.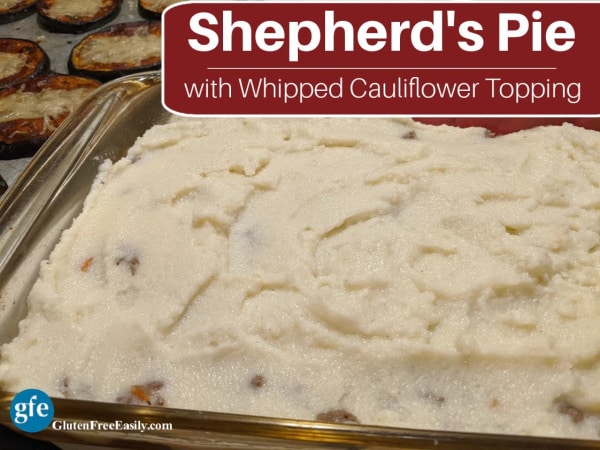 I honestly never thought that I liked Shepherd's Pie. To be honest, the recipes that I've had previously were kind of boring. They got the job done but I didn't really look forward to eating them. That's not the case at all with this Shepherd's Pie with Whipped Cauliflower Topping recipe from the recently published Cauliflower Power cookbook.
Cauliflower Power Cookbook
Cauliflower Power: 75 Feel-Good, Gluten-Free Recipes Made with the World's Most Versatile Vegetable by Lindsay Grimes Freedman of The Toasted Pine Nut is a delightful cookbook! As you would expect, it has all kinds of recipes that feature cauliflower. "Determined to convert even veggies loathers, Lindsay explores cauliflower's capabilities with recipes ranging from falafel to queso to brownies!" She really does that in her cookbook and by all reports, all of her recipes really work and are delicious.
Lindsay started exploring using cauliflower in recipes when her husband was diagnosed with Type 1 Diabetes. She went on to create healthier recipes in every category using cauliflower. Recipes that her whole family, including her young sons, love! And I can see why.
While I have numerous recipes in my complimentary copy of Cauliflower Power flagged to make, during this unusual time we are only getting one head of cauliflower about once a month or every six weeks (via our bi-weekly produce boxes). Because we are completely smitten with the Shepherd's Pie and can't wait to make it every single time that we get cauliflower, we have not yet ventured out to the other recipes.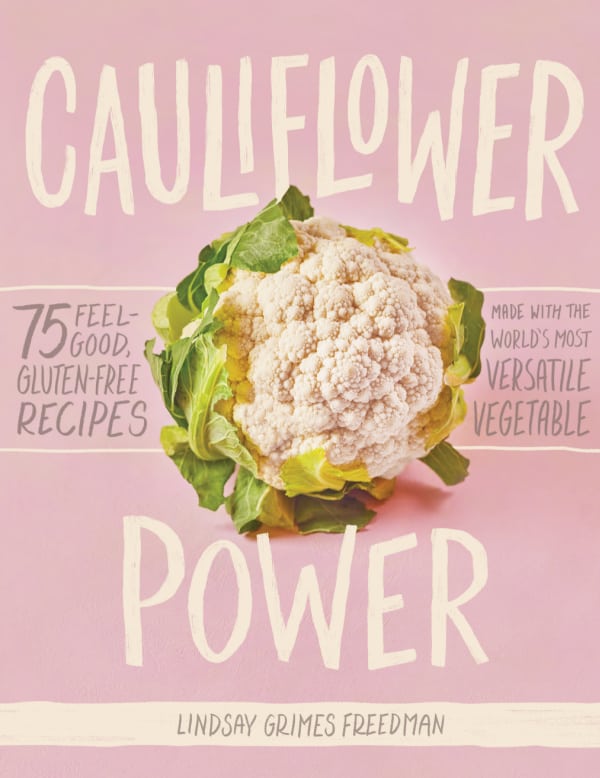 But Seeded Sandwich Bread, Everything Bagels, Cheesy Cauliflower Rice Balls, Sweet and Sour Cauliflower, and Cinnamon Chocolate Scones are just some of Lindsay's recipes that are on our to-make list for the happy day when we have as much cauliflower on hand as we'd like. Oh, and there are also muffin recipes! You all know about my love of muffins! Use the "Look Inside" feature on Amazon to check out all the other recipes in the Cauliflower Power cookbook. I find that feature really helpful in deciding if a cookbook will be one that I will appreciate and use.
This gluten-free Shepherd's Pie with Whipped Cauliflower Topping recipe is full of flavor and so satisfying. We always look forward to getting cauliflower in our Misfits Market produce box so we can enjoy it once again.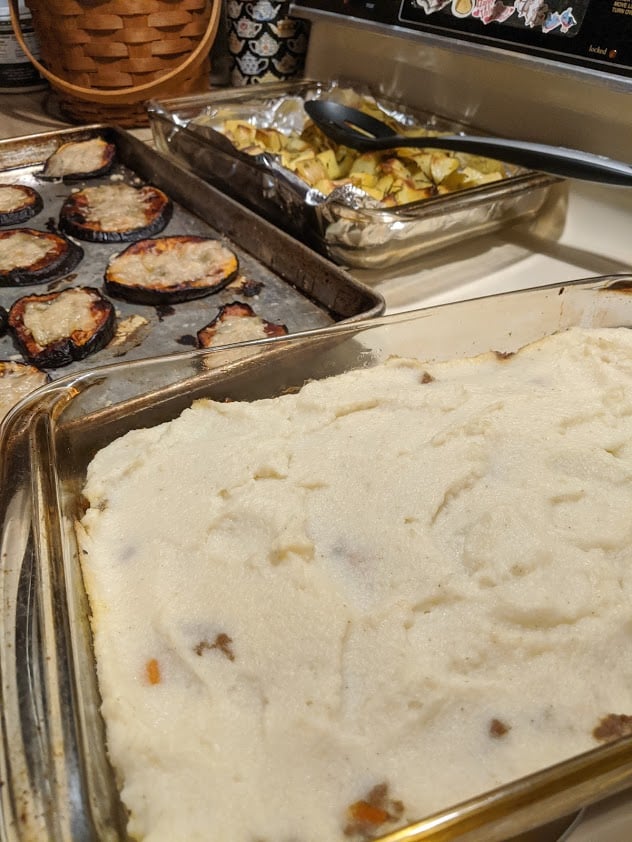 When it comes to cauliflower, we occasionally eat cauliflower rice or steamed cauliflower and always enjoy it but we're mashed potato lovers and before this recipe, we really hadn't gone out of our way to eat mashed cauliflower/whipped cauliflower instead of mashed potatoes. However, if we were given a choice of mashed potatoes or cauliflower to top this Shepherd's Pie, we'd choose the cauliflower every time.
The whipped cauliflower is the absolute ideal topping for this pie. It's creamy and luscious and complements the flavors of the pie filling. Mashed potatoes would be too heavy but Lindsay's whipped cauliflower topping is simply perfect.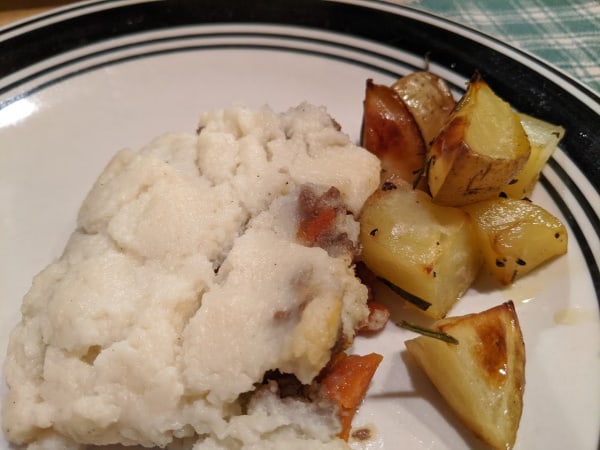 Because of that veggie-based topping and the other vegetables included in this Shepherd's Pie, this recipe makes a fantastic one-dish meal. I'm all for that! Bonus … as mentioned in the recipe itself (below), Shepherd's Pie is another clean-out-the-fridge recipe. You can add leftover "bits" of whatever veggies you have on hand (such as corn, peas, and/or lima beans) before you add the ground beef to the recipe. You can actually see peas in Lindsay's photo of one version of her Shepherd's Pie above the recipe.
Giveaway of Cauliflower Power Cookbook
UPDATE: This giveaway is closed. Congratulations to the two winners and thanks to all who entered!
Gluten-Free Shepherd's Pie with Whipped Cauliflower Topping Recipe
Here's Lindsay's terrific recipe with my own notes on how I made it in parentheses.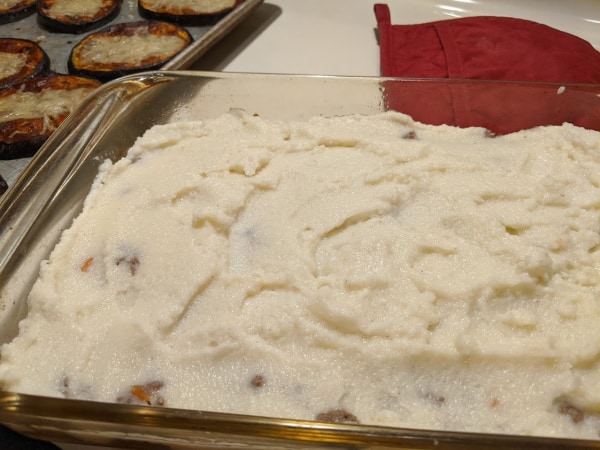 Yield: 4 servings
Gluten-Free Shepherd's Pie with Whipped Cauliflower Topping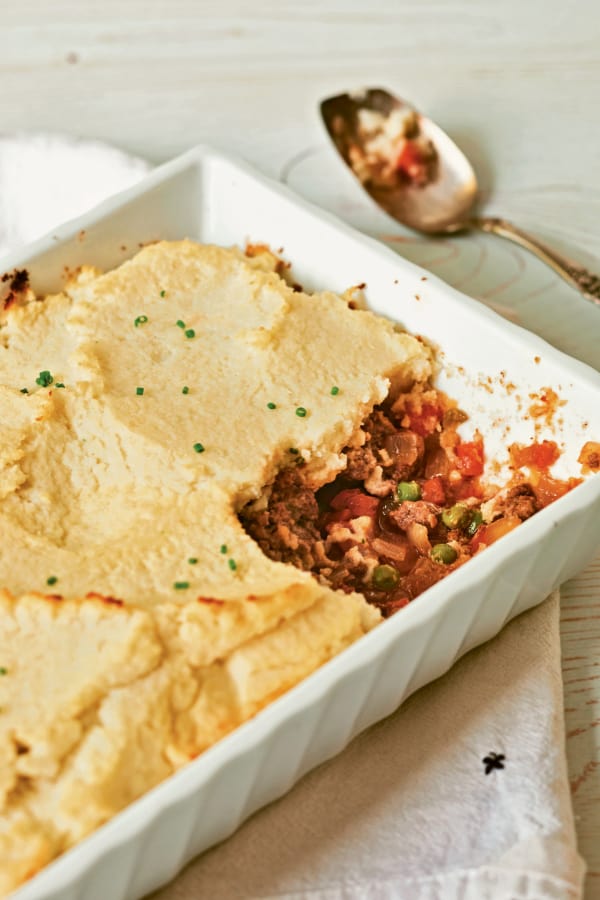 From Lindsay: "A hearty shepherd's pie loaded with meat and vegetables is the perfect cozy winter dish. Shepherd's pie also makes an awesome end-of-the-week meal because you can use whatever veggies you might have left in your fridge from the week. Add in some corn kernels, chopped celery, sweet potato cubes, peas—you name it! Here the lightened-up mash on top is made with cauliflower. It creates a creamy and fluffy layer that bakes up just like traditional potatoes."

Prep Time 15 minutes

Cook Time 50 minutes

Total Time 1 hour 5 minutes
Ingredients
For the Topping
3 cups (405 g) cauliflower florets (I have made this recipe with both slightly less and more cauliflower---because that's what I had on hand—and adjusted the amount of the other topping ingredients and it worked fine.)
3 tablespoons ghee, unsalted butter, or refined coconut oil (I used soy-free Earth Balance)
2 garlic cloves, minced
¼ teaspoon sea salt
¹⁄8 teaspoon freshly ground black pepper
For the Filling
2 large carrots, coarsely chopped
2 tablespoons ghee, butter, or coconut oil (I use soy-free Earth Balance)
1 sweet onion, coarsely chopped (I use whatever type of onion I have on hand)
2 garlic cloves, minced
1 pound (454 g) grass-fed ground beef
1 tablespoon ketchup
1 tablespoon gluten-free soy sauce or gluten-free tamari (I used soy-free Coconut Aminos)
½ teaspoon sea salt
1 tablespoon gluten-free barbecue sauce
2 tablespoons chopped fresh chives (I omit these)
Instructions
Preheat the oven to 350°F (180°C). Position one oven rack in the middle and another just below the broiler.
Fill a large pot with water and bring it to a boil over high heat. Add the florets and boil for 3 to 5 minutes, until they are easily pierced with a fork.
While the cauliflower is cooking, start the filling: Heat the 2 tablespoons ghee in a large skillet over medium heat. Add the onion and garlic. When the onion starts to soften, about 5 minutes, add the carrots. Continue to cook for about 10 minutes, stirring occasionally, until the onion is browned and translucent and the carrots are easily pierced with a fork.
Add the ground beef to the pan. Use a spatula to break it up into small pieces. Cook for about 5 minutes, until the meat is browned and no longer pink. Add the ketchup, soy sauce, barbecue sauce, and salt to the pan and stir.
Once the sauce incorporates into the dish and reduces, about 3 minutes, remove from the heat.
Make the topping: When the cauliflower is tender, drain it and place it in the food processor with 3 tablespoons ghee, garlic, salt, and pepper. Process for 1 minute. Use a rubber spatula to scrape down the sides and process for another 30 seconds, until the cauliflower mash is completely smooth and creamy.
In an 8 by 8-inch (20 by 20 cm) square casserole dish, spread the cooked meat and vegetable filling evenly over the bottom. (I use a 9 x 13 pan for larger but thinner slices.) Use a spatula to spread the cauliflower puree on top of the meat.
Bake for 20 minutes, until the edges are golden brown. Switch to the broiler setting and broil on high for 2 minutes to get the entire top of the pie golden brown. Sprinkle with fresh chopped chives and serve. (I skip the chives as they're not an ingredient I usually have on hand.)
Scoop the shepherd's pie into bowls or plates and enjoy immediately. Leftovers can be kept in an airtight container in the fridge for about a week.
Notes
Excerpted from Cauliflower Power by Lindsay Grimes Freedman (Artisan Books). Copyright © 2019.

Originally published March 16, 2021, updated March 7, 2021.