For affiliate links and as an Amazon Associate I earn from qualifying purchases.
A good while back, one of my longtime gfe readers and good friend Susan Cross Johnson shared that she had finally perfected a gluten-free version of her mother's Irish Soda Bread. She described her gluten-free Irish Soda Bread in such an appealing way and it looked great!
So I reached out to Susan and asked if she'd like to do a guest post to share her recipe and some of her personal story with all of us. Thankfully, she agreed!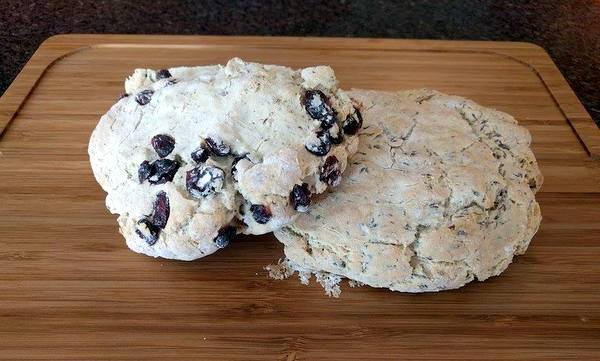 With St. Patrick's Day a week away, I thought this was the perfect time to share her gluten-free Irish Soda Bread recipe. Don't be misled by the "Irish" label and St. Patrick's Day timing though. This bread is one that's worth making all year long.
Plus, Susan shares three other variations of her bread recipe—a slightly sweeter breakfast bread, an Italian-style loaf suitable for serving with pasta dishes, and a festive holiday version. It's clear that you really can enjoy this bread all year long.
Susan also shares some of her personal gluten-free story in her introduction before her recipe post. I am so grateful to her for sharing both and I am certain that you will be as well.
Other's personal stories always resonate with us because we recognize parts of our own journeys in them. And another terrific gluten-free bread recipe? Well, we all need that! So now, I'll turn the floor over to Susan.
Susan's Personal Gluten-Free Story
I think my journey to going gluten free mirrors that of so many others. I had been feeling pretty awful for years, but no one could pinpoint a reason for my lack of energy, stomach pains, and migraines. I think I was tested for everything else first and eventually for celiac, for which I also tested negative.
Seven years ago I was sent to an allergist and finally got an answer. I am allergic to wheat, MSG, and artificial sweeteners.
The difference between how I felt prior to living GF and after is like night and day. I had so much more energy and just felt all around healthier and happier.
I was feeling a little sorry for myself the day the allergist gave me my answers until my husband, Frank, called me and let me know wine is gluten free. Thank God for Frank. The man just gets me.
I began by eliminating a majority of foods that most people take for granted, and after a while learned that I could live without convenience foods. Frank and our kids were really great about being guinea pigs for some pretty oddball recipes.
I found gfe and Shirley when I decided I couldn't live on meat and veggies alone and NEEDED a decent cookie. One recipe for peanut butter chocolate chip cookies and I was hooked.
I can tell you my husband and three, now adult, children were happy that I had started baking again. These days we make homemade breads and cookies and pretty much anything we can dream up.
Like many families, my allergies are not the only issue we contend with at meal times. Our middle son has a soy intolerance and mold allergies and our daughter has been a vegetarian for about 4 years.
It's been interesting and educational figuring out how to make meals to satisfy everyone and still stay within the restrictions. I have found many products I didn't even know existed prior to my allergy diagnosis and now keep as staples (coconut aminos, anyone?). Creativity and a willingness to embrace the crazy keep me mostly sane.
Many times I have heard people say they couldn't live without bread. It surprises many when I say I count myself lucky. I was diagnosed with Fibromyalgia a year and a half ago. After some reflection, I have come to the realization my journey with food allergy made me more persistent when I knew something wasn't right. I have a better understanding of how to listen to what my body is telling me and how to get doctors to dig deeper instead of writing my issues off.
Not every day is a great day, but I have so many more good days than bad! I have a choice to make the best of what each day gives me or not. I choose to Embrace the Crazy!
The Back Story on This Gluten-Free Irish Soda Bread
I've never been much of a bread eater, which I suppose made my transition from standard foods to gluten free a bit easier. There is one bread that I was mourning for years though—my Mom's Irish soda bread. Mom made soda bread only once a year and I would look forward to it for months. She found the recipe in the newspaper and started making it for my Dad to go with the traditional corned beef and cabbage (one of the few meals we kids were not required to eat—thanks, Mom).
I was pretty picky as a kid, but the raisins and caraway seeds tucked into this dense, yet still soft bread, were amazing. When I went gluten free because of a severe wheat allergy, soda bread became a personal mission for me. Not the tall loaves that mimic standard bread, but the flat round loaves that almost look like soft biscotti when cut.
I spent 6 years trying and failing every year to make a passable gluten-free substitute for my childhood favorite. Last year was the year! Maybe the gluten-free gods took pity on me, or the stars were in alignment, but most likely it was years of trying and failing. I've learned a lot about what types of GF flours to use for different recipes, how to add extra moisture to some and when an extra egg is really, really important. Failures are just learning what not to do, right? I learned A LOT in 6 years.
To make Mom's recipe gluten free and still get the flavor and texture of the original I worked out the following recipe, which admittedly included some significant changes to the gluten-full version. I have made this recipe countless times now and it makes me happy every time. I hope you enjoy this recipe as much as we do!
Other Recipes That Would Be Perfect for St. Patrick's Day Celebrations
~ Dijon Corned Beef in the Slow Cooker from Stephanie O'Dea
~ Gluten-Free Recipes for St. Patrick's Day from Elana's Pantry
~ Green Mint Desserts from here at gfe
~ Healthy Shamrock Shake from here at gfe
~ Over 30 Gluten-Free Key Lime Pie Recipes from here at gfe
~ Top Ten Low-Carb Recipes with Cabbage from Kalyn's Kitchen (all recipes appear to be gluten free, but always double check gluten-free status of ingredients)
Gluten-Free Irish Soda Bread Recipe
Yield: 2 loaves
Gluten-Free Irish Soda Bread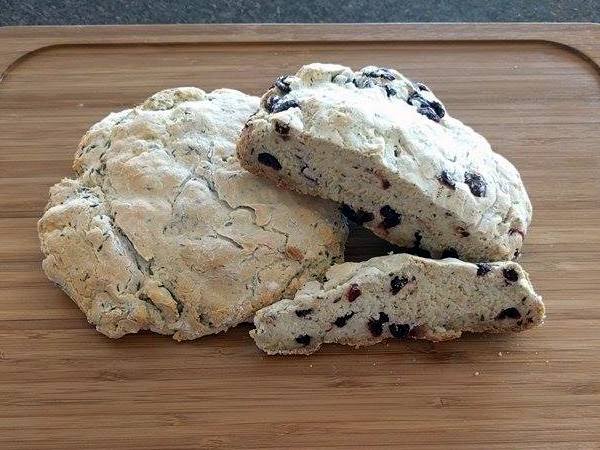 Susan says: "I was pretty picky as a kid, but the raisins and caraway seeds tucked into Mom's dense, yet still soft Irish Soda Bread, made it amazing. I have made my gluten-free version countless times now and it makes me happy every time. I hope you enjoy this recipe as much as we do!" 
Ingredients
1 1/2 tsp xanthan gum
1/2 tsp salt
1 tbsp caraway seed
1/2 tsp baking soda
up to 1 1/2 cups buttermilk, warmed (divided)
3 tbsp sugar
1 pkg active dry yeast
2 tbsp butter, melted
3/4 cup seedless raisins (dark raisins, not golden raisins)
Instructions
Preheat oven to 350F. Line baking sheet with parchment paper and lightly flour the surface.
In a stand mixer, combine flour, xanthan gum, salt, caraway seeds, and baking soda.
Mix 1 cup buttermilk with sugar and yeast and let sit 10 minutes. Add butter.
Turn mixer on low with bread hook attachment.
Slowly pour buttermilk mixture into flour until incorporated. Do not over mix.
Add the raisins and enough additional warmed buttermilk to make the dough slightly sticky.
Turn dough out onto the baking sheet with the lightly floured parchment paper liner.
With floured hands separate the dough into two balls and gently press into a disk about 1 1/2 inches in thickness. DO NOT KNEAD or handle it too much.
Cover and let rise 20 minutes in a warm place.
Bake at 350F for 30 minutes until slightly browned.
Remove from oven and let cool on wire rack.
Notes
I have experimented with some different flavors as well. Substituting brown sugar and cinnamon for the white sugar and caraway seed, respectively, with raisins makes a nice breakfast bread. Changing the caraway seed and raisins out in favor of Italian seasoning (or some individual Italian seasonings such as basil and oregano) and garlic makes a nice side for pasta. My favorite substitution so far for the caraway seeds and raisins combination is probably orange peel and dried cranberries. It is a tasty combination that makes a nice holiday bread.
Gluten-Free Mama's Coconut Blend Flour, All-Purpose Flour Mix is the only gluten-free flour mix that I have used in this recipe. If you use another gluten-free flour mix successfully, please let us know in the comments.
I have not tried margarine as we don't use it in my house. Likewise, I don't use artificial sweeteners, but I'm sure honey or agave nectar would probably be fine to sub for the sugar.
Shirley here:
Many thanks to Susan for her generosity in sharing her personal story and this beautiful and tasty gluten-free Irish Soda bread—with additional variations, no less! (I confess that I love that two of them are raisin free.) Which variation will you try first?
If you're looking for more wonderful gluten-free bread recipes, be sure to check out my gluten-free bread recipes page.
Originally published March 10, 2017; updated November 28, 2021.