For affiliate links and as an Amazon Associate I earn from qualifying purchases.
Today I'm sharing some super delicious gluten-free Pumpkin Chocolate Chip Donuts with you all. Can you tell just how delicious they are by looking at them? I thought so!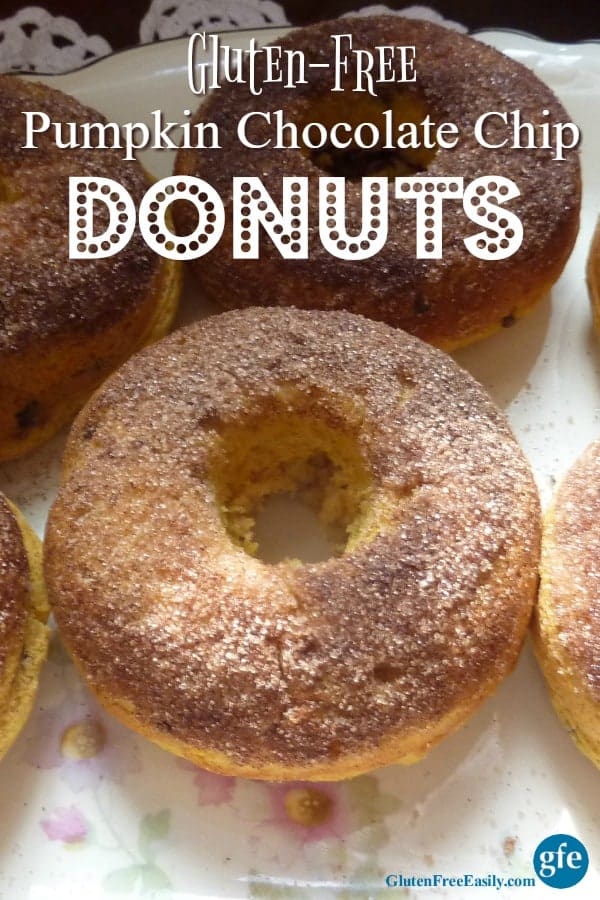 Before we get excited about donuts though, I wanted to tell you about the incredible 15th-century Italian art that I recently viewed. Outstanding art is so humbling and moving, as well as uplifting.
One doesn't have to be an artist to find inspiration in art. I love the fact that viewing art also takes you outside yourself.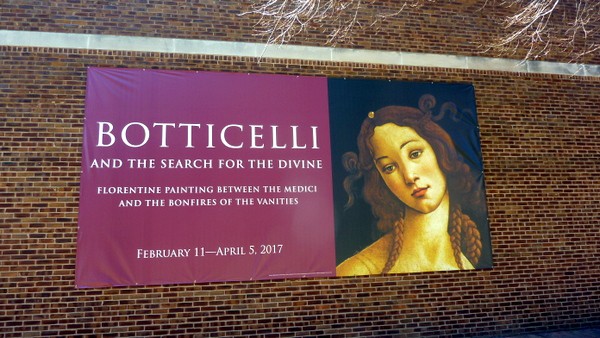 I went to the Sandro Botticelli exhibit, Botticelli and the Search for the Divine, at the Muscarelle Museum at the College of William and Mary. Subtitled "Florentine Painting Between the Medici and the Bonfires of the Vanities," this show was an impressive display of Botticelli's works with some pieces by his master, Fillippo Lippi, and a few others also included.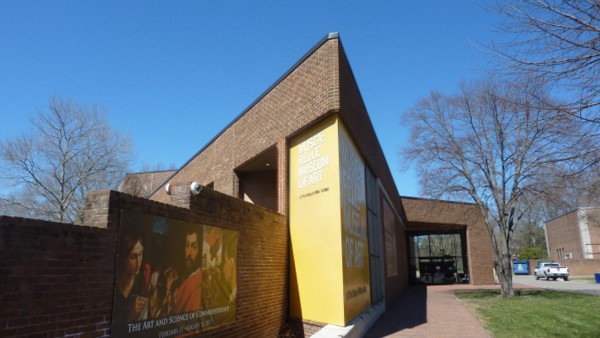 I viewed the exhibit with one of my dearest friends. The only thing better than seeing such great art on your own is viewing it with a loved one.
Enjoying it together and comparing notes afterward always makes the whole experience better I think. It also makes the event " last longer" because you can remember it more vividly and discuss the experience with your viewing partner many times over the years.
The very first piece we saw, Madonna and Child by Filippo Lippi, was actually my favorite. Lippi was the master who Botticelli trained under, going on to become a master himself.
This painting was tempera on a wood panel and painted about 1466 to 1469. The colors were so vivid and the figures seemed actually luminescent. The photo can't begin to capture this painting's beauty because of the glare of lighting on the glass that protected it, but I hope it gives you an idea.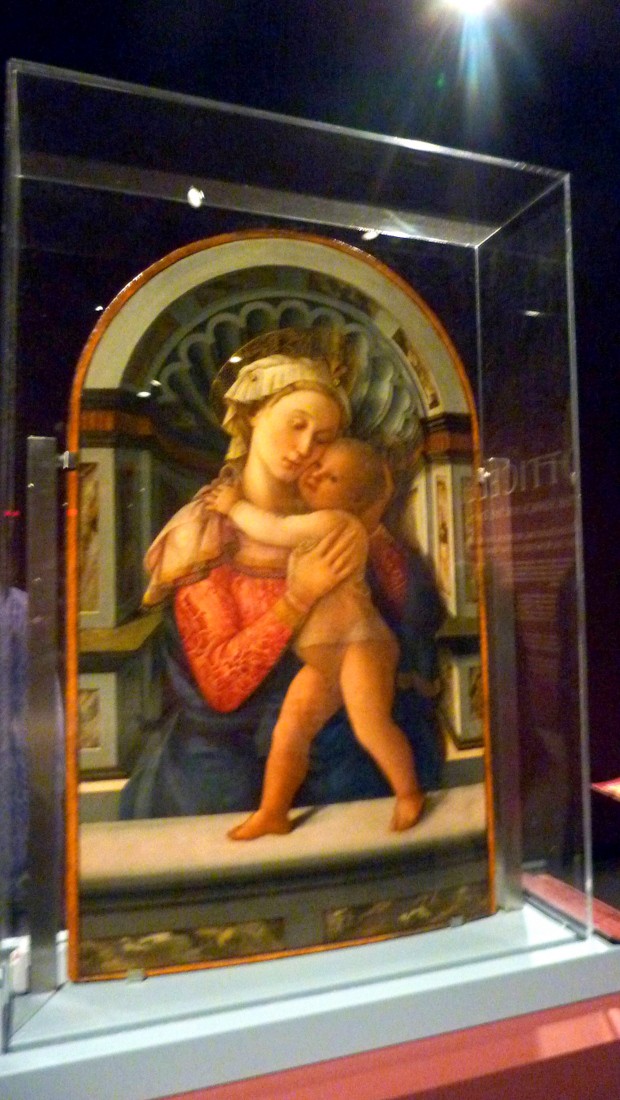 There were several Madonna and Child paintings, plus Botticelli's acclaimed Venus (part of which is shown in the banner for the exhibit above). All of the works shown were from the 1400s with most being tempera on wood panels.
How does that type of art survive for over 600 years? I am in awe every time I see such amazing art. I know there will never be another period of time where so much astounding art is produced.
After viewing the Botticelli exhibit, we went to a local restaurant, Food for Thought, that specializes in serving the gluten free. I'll save that experience for another post but—spoiler alert—it was a great one!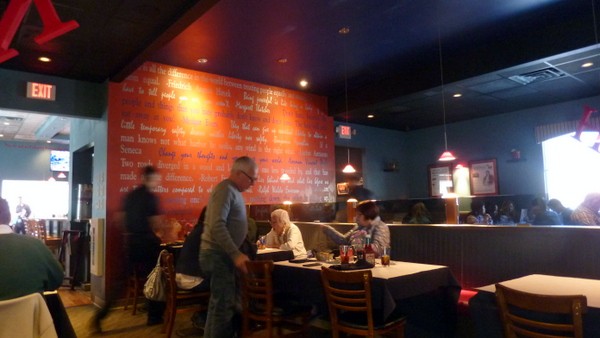 Now let's get to those gluten-free Pumpkin Chocolate Chip Donuts, shall we?
Gluten-Free Pumpkin Chocolate Chip Donuts
I'll repeat myself. I made gluten-free Pumpkin Chocolate Chip Donuts and they were super delicious. Oh, that sounds a bit hokey and is a "no no" since bloggers are supposed to be more creative and not use the word "delicious" all the time, but these donuts really are super delicious.
I didn't even have to create a whole new recipe. I simply used my friend Johnna's (In Johnna's Kitchen) Ricotta Donut Holes recipe and made a few minor changes.
Most of you know that I don't believe in reinventing the wheel. I love using both recipes and ingredients that are available and tweaking them as needed.
It all started when Johnna came for a visit. She mentioned that Margaret of MI Gluten-Free Gal had reported that she had made her fried Ricotta Donut Holes as baked Ricotta Donuts. The next thing we knew Johnna was buying ricotta cheese and making the baked version for us. The results? Divine!
I discovered leftover ricotta in the fridge after she departed. I decided to use it to make more baked donuts. Right beside the ricotta in my refrigerator was my Pumpkin Butter. I thought that pumpkin donuts would certainly be wonderful. I also thought that some mini chocolate chips would be a nice addition to the donuts.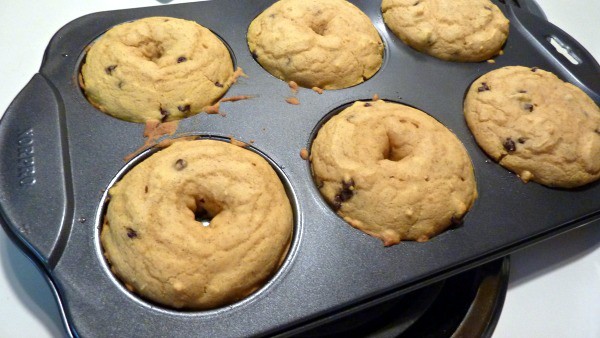 It turns out I was right on both counts. These gluten-free Pumpkin Chocolate Chip Donuts turned out absolutely amazing!! Really. They were simply divine.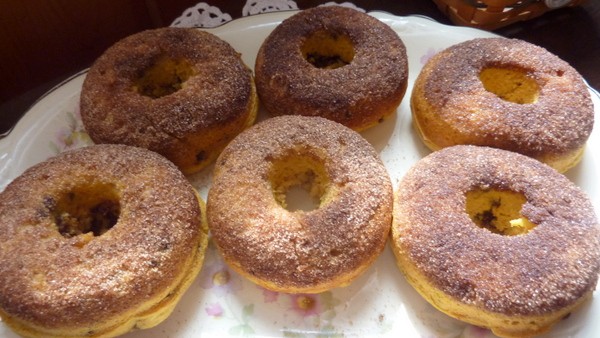 Mom and I each had one after I warmed them in the microwave. I left two donuts for her so she could enjoy one later and give the other one to my gluten-free aunt. Mom loved these donuts as much as I did and reported that my aunt raved over hers as well.
Mr. GFE and I each enjoyed another warmed donut for dessert that evening. What a lovely sweet treat after our meal!
Why are these donuts so good? They have a light pumpkin chocolate chip slightly cheesecake taste accented by cinnamon-sugar. It might sound like a wacky combination of ingredients, but I assure you that it's a perfect one!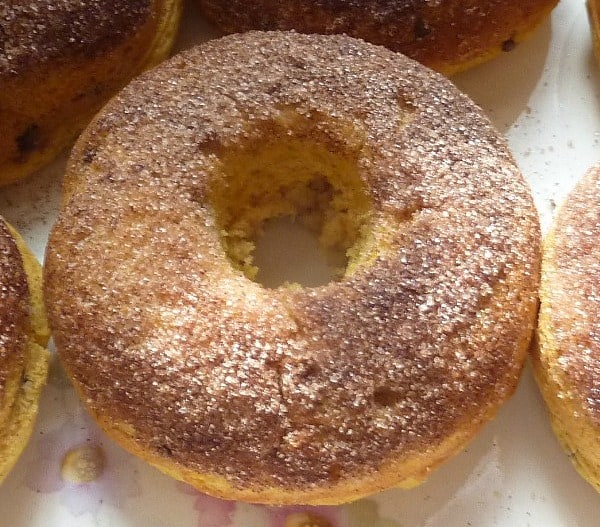 If you will be eating these donuts later, I recommend warming them in the oven or in the microwave as these donuts really impress when they're warm.
That said, I have no problem packing some for our road trip today. We'll warm them in the sun a bit before enjoying them. Or not. Either way, I know they will not disappoint!
Gluten-Free Pumpkin Chocolate Chip Donuts Recipe
Yield: 6 donuts
Gluten-Free Pumpkin Chocolate Chip Donuts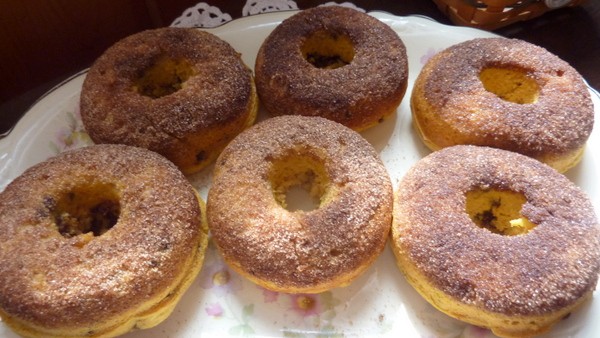 These Pumpkin Chocolate Chip Donuts are so good! They have a light pumpkin chocolate chip slightly cheesecake taste accented by cinnamon-sugar. It might sound like a wacky combination of ingredients, but I assure you that it's a perfect one!

Prep Time 5 minutes

Cook Time 10 minutes

Inactive Time 5 minutes

Total Time 20 minutes
Ingredients
1 cup gluten-free flour mix (I use my Two-Ingredient Gluten-Free Flour Mix)
2 tsp baking powder
1/4 tsp sea salt
3/4 cup ricotta cheese
1/4 cup pumpkin butter, ready-made or homemade
2 large eggs
1/4 cup mini chocolate chips
2 tsp vanilla bean paste (or vanilla extract, although vanilla paste adds a richer vanilla flavor)
2 tbsp coconut oil (more if dipping both top and bottom of donuts)
1 tbsp cinnamon
2 tbsp white granulated sugar
Instructions
Preheat oven to 350F.
In a large mixing bowl, whisk together flour, baking powder, and sea salt.
Add ricotta cheese, eggs, pumpkin butter, chocolate chips, and vanilla bean paste.
Mix until well combined. I mix with a wooden spoon.
Allow batter to sit a few minutes.
Spoon the batter into a well-greased donut pan.
Bake for about 10 to 12 minutes. Test for doneness with a toothpick.
For cinnamon-sugar coating, mix cinnamon and sugar in a small bowl (but one large enough to dip a donut). Melt coconut oil (or other light oil) and dip the "uglier" top of the donuts (or both top and bottom, if you wish) first into the coconut oil and then into the cinnamon-sugar mixture.
Cool long enough for donuts to firm up just a bit.
Notes
If eating later, I recommend warming in the oven or in the microwave as these donuts really impress when they're warm. That said, I have no problem eating them at room temperature when warming is not an option. 

Recipe adapted from In Johnna's Kitchen's Ricotta Donut Holes.

Originally published April 9, 2017; updated September 15, 2020.