For affiliate links and as an Amazon Associate I earn from qualifying purchases.
At this time of year, I used to indulge in a McDonald's Shamrock Shake. It was sweet, creamy, and minty and that made it very desirable to me. Until I went gluten free and started looking at the ingredients in every product I consumed or used. Doing that eventually led to the creation of this Healthy Homemade Shamrock Shake.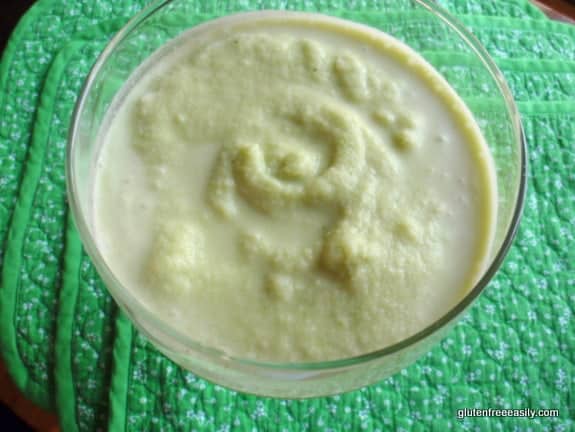 The following listing shows the current ingredients in a McDonald's Shamrock Shake. (Note: This information comes directly from McDonald's website under the nutrition info on the Shamrock Shake.)
McDonald's Shamrock Shake

Vanilla Reduced Fat Ice Cream: Milk, sugar, cream, corn syrup, natural flavor, mono and diglycerides, cellulose gum, guar gum, vitamin A palmitate. CONTAINS: MILK

Shamrock Shake syrup: High fructose corn syrup, corn syrup, water, sugar, natural flavor, xanthan gum, citric acid, sodium benzoate (preservative), yellow 5, blue 1. (May contain small amounts of other shake flavors served at the restaurant, including egg ingredients when Egg Nog Shakes are available.)

Whipped Light Cream: Cream, nonfat milk, liquid sugar, contains 2% or less mono and diglycerides, carrageenan, whipping propellant (nitrous oxide). CONTAINS: MILK
Do you still want that McDonald's Shamrock Shake? I know I don't.
I shared this info on my gfe Facebook page and one reader summed it up as "'corn and preservatives." Yeah, pretty much. And while a McDonald's Shamrock Shake is gluten free, as you can see it does contain dairy, sugar (the worst kind in my opinion—that same high fructose corn syrup that's discussed in the television ads that try to convince us that "sugar is sugar", which apparently even the FDA had some issues with, but probably not for the reason you'd expect), artificial flavors and colors, and lots of other, well, chemicals. Not what I want to consume.
So I created my own version of the Shamrock Shake, which is gluten-free, dairy-free, refined sugar free, corn-free, paleo, and vegan, but oh so good! Only four ingredients and they're all real ingredients! Incidentally, this shake is a slight variation of my Mint Chocolate Chip Ice Cream … which would also be wonderful to make for St. Patrick's Day.
Hope you have lots of fun on St. Patrick's Day, find your pot of gold, tip back a great gluten-free beer, etc. Hmm, what is one really supposed to say on St. Patrick's Day? Maybe "YUM!" and "Drink up!" when it comes to my Healthy Homemade Shamrock Shake! Enjoy!
Yield:
Healthy Homemade Shamrock Shake (Gluten Free, Paleo, Vegan)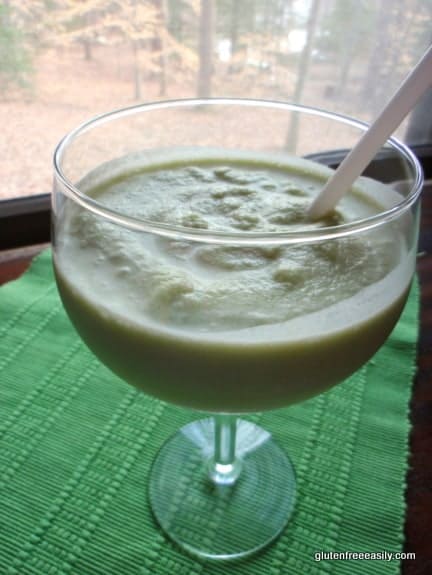 Many of us have loved Shamrock Shakes from childhood but when examining the ingredients have been less than thrilled. This Healthy Homemade Shamrock Shake satisfies the craving without questionable ingredients and it's naturally gluten free, paleo, and vegan. A win-win for everyone!
Ingredients
2 3/4 cups full-fat coconut milk, chilled
2/3 cup maple syrup (more or less, to taste)
1/4 cup fresh baby spinach (be sure to discard the stems)
2 tsp peppermint extract (or 1 tbsp peppermint schnapps for a still "mild," but adult version)
Instructions
Mix ingredients in blender until there are no visible particles from the spinach leaves. Pour mixture into the pre-frozen tub of your ice cream maker. Set blender pitcher aside.
Churn for about 10 to 15 minutes. Check consistency at 10 minutes; churn additional minutes if needed.
If you accidentally freeze too much and don't get enough of a shake consistency, spoon mixture back into blender and blend on high for about 30 seconds. Pour into desired size glasses and serve, with spoon or straw.
Makes one massive shake (worthy of two straws!), about two 2-cup servings, or about 4 smaller servings.
Notes
I've learned from my fellow bloggers and my own experimentation that adding alcohol to ice cream ensures creaminess and less crystallization.

The beauty of making ice cream without eggs is that you can keep sampling your mix until you get a taste that you like before you add the mixture to the ice cream maker.

If you don't have an ice cream maker, you might try this method for making ice cream from David Lebovitz.

This recipe makes a shake that's a perfect green color—a natural green color, I might add. Unfortunately, the lovely shade of green doesn't really come through in the photos.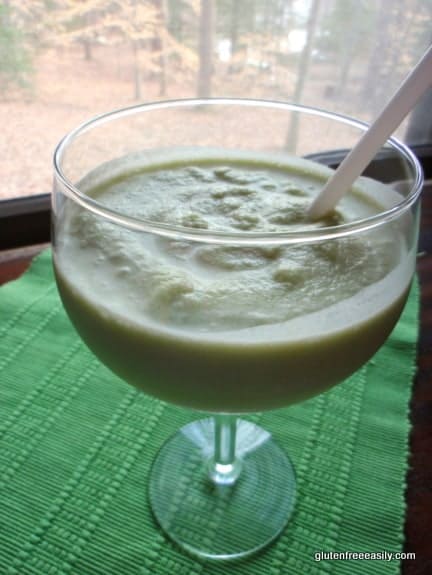 Originally published March 16, 2012; updated February 20, 2018.