For affiliate links and as an Amazon Associate I earn from qualifying purchases.
Cookbook author Elizabeth Barbone asked me to join several other food bloggers in the How to Cook Gluten-Free "Pizza and Pasta Cookalong"—a launch of her new cookbook, How to Cook Gluten Free: Over 150 Recipes That Really Work. Part of the deal was getting to share some of Elizabeth's recipes with you all. It didn't take me long to settle on her Gluten-Free Goulash recipe, which she calls Upstate Goulash, and her gluten-free Powdered Sugar Donut Muffins. But I'll get back to those in a minute.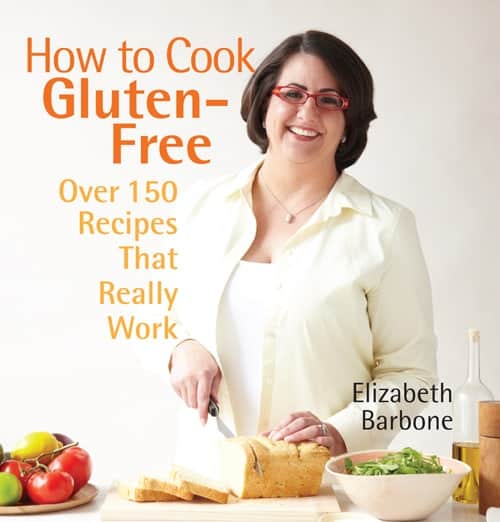 You may recall that I wrote about Elizabeth here previously on gfe, when I shared her appearance as the guest speaker for my support group's open house. As I recounted then, Elizabeth and I met on Twitter and literally just a few tweets later, she had volunteered to travel from her home in upstate New York to do a bread-making demo for my group in Virginia. To be honest, I am still amazed that Elizabeth did that!
I love helping launch new gluten-free cookbooks and I told Elizabeth that I definitely "owed her one." I mean she lugged her pretty purple KitchenAid mixer, breadmaker, etc. and actually baked bread for us in her hotel room for goodness sake! So of course I agreed to participate in the "Pizza and Pasta Cookalong."
You can read more about Elizabeth and her culinary background in my post linked above or at her site, glutenfreebaking.com, but the most important info is that Elizabeth is known for her baking expertise and easy-to-make gluten-free recipes. Her first cookbook, Easy Gluten-Free Baking, was strictly focused on baking. With How to Cook Gluten Free: Over 150 Recipes That Really Work, Elizabeth covers all categories of gluten-free recipes.
In the brief excerpt of her new cookbook that all of the "cookalong" members received, there were recipes for Grapefruit and Avocado Salad, Citrus Vinaigrette, No-Rise Pizza Crust, Roasted Tomato Pizza, Powdered Sugar Doughnut Muffins, and Upstate "Goulash." I decided on Upstate Goulash because as I've noted before, there are few dishes that make Mr. GFE's eyes light up more than those which include pasta.
Elizabeth's recipe gluten-free goulash recipe is not the Hungarian version that's full of paprika and more. Hers is an easy pasta/tomato/cheese casserole type dish that many mean when they say "goulash." I was out of tomato sauce but Mr. GFE readily agreed to pick some up at the grocery store for me when I told him why I needed it!
I could have gotten him to pick up cheddar cheese as well, but instead opted to use a mix of the Colby Jack and mozzarella that we already had on hand and that I needed to use. There was a pound of cooked ground venison in the freezer, so I thawed that out to use in place of the ground beef in Elizabeth's recipe. We had no gluten-free macaroni, but I had gluten-free penne and went with that.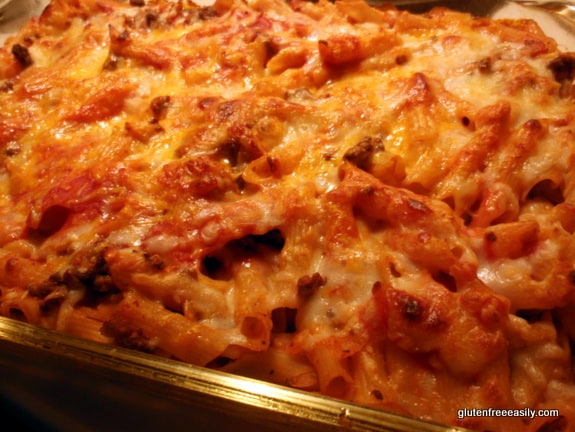 In very short order, we were enjoying a simple and satisfying meal! While this recipe clearly features basic ingredients as you can see—olive oil, onion, garlic, and tomato sauce—when combined with the pasta and topped with cheese, it makes for a terrific dish. Heidi (Adventures of a Gluten-Free Mom) even made one version without cheese and her family was still quite happy. She says she'll add a few chopped greens to her non-dairy version next time.
I agree with Heidi; some greens would work very nicely with these flavors. I could even manage to incorporate some baby spinach in this dish without Mr. GFE noticing. When zucchini is in season, some chopped zucchini would also be a great addition. An alternate non-dairy topping like toasted bread crumbs or almond flour would work well, too.
Although I did not get to make the other recipes that were shared, Elizabeth has graciously allowed me to share any of the other recipes from the excerpt of her book. As I stated, I have selected the gluten-free Powdered Sugar Donut Muffins. I think I see a grain-free, dairy-free, refined sugar-free version of these in my future! Maybe even for my upcoming March Muffin Madness week at the end of the month. (Yes, while you're all watching basketball games, I'll be baking all kinds of muffins! Of course, I'll share with you. You can enjoy a muffin while you're watching the game! Double March Madness, huh?)
Last, if the pizza piqued your interest be sure to visit Sarah (Celiac in the City) for her review. Oh, and she made Elizabeth's Powdered Sugar Doughnut Muffins, too. Spoiler alert … she loved them!
Gluten-Free Goulash Recipe (aka Upstate Goulash)
Elizabeth's Gluten-Free Goulash recipe, which she calls Upstate "Goulash," is shown below. You can find the recipe for the Powdered Sugar Doughnut Muffins here.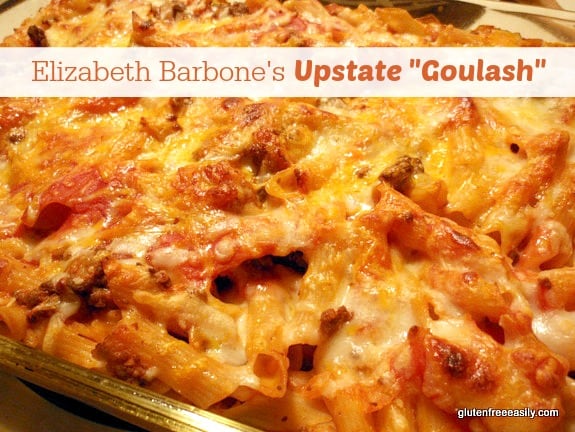 Yield: 8 to 12 servings
Upstate "Goulash"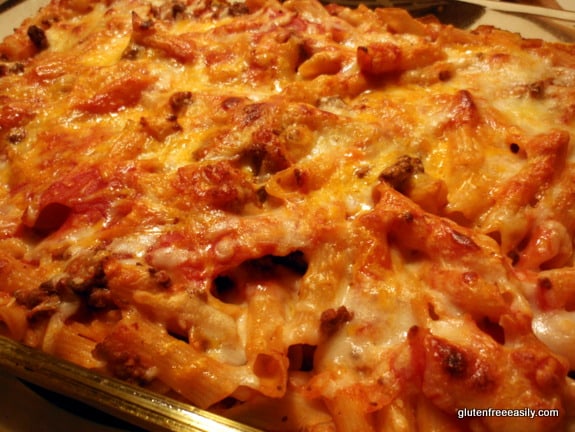 Most goulash recipes are a mish mash of leftovers from the fridge. This time you actually get a recipe. One that works every time! And it's delicious, because beef, cheese, noodles, tomato sauce ... what's not to love?
Ingredients
Gluten-free nonstick cooking spray
Salt
1 pound gluten-free elbow macaroni (I used gluten-free penne)
2 tablespoons olive oil
1 medium onion, finely diced
1 clove garlic, minced or put through a garlic press
1 pound ground sirloin (90 to 92% lean) (I used ground venison—our "go to" ground meat)
1 can (28 ounces) tomato sauce
6 ounces cheddar cheese, grated (about 1 1/2 cups) (I used a mixed of Colby Jack and mozzarella because I had that on hand)
Instructions
Adjust oven rack to the middle position and preheat the oven to 375F. Lightly spray a 13- x 9-inch baking dish with nonstick cooking spray.
Fill a large (5 1/2-quart) pot three-quarters full with water. Cover and bring to a boil over high heat. Set a colander in the sink for draining the pasta. When the water reaches a boil, add 1 tablespoon salt and the pasta. (Set a timer for 10 minutes.) Stir with a wooden spoon for about 30 seconds, then stir occasionally while the pasta cooks. (For a how-to on cooking pasta, see page 105.)
In a large (12-inch) nonstick frying pan, heat the oil over high heat until hot and shimmering but not smoking. Add the onion. Cook, stirring frequently with a wooden spoon, until the onion is soft, about 3 minutes. Add the garlic and 1/2 teaspoon salt. Cook, stirring frequently, until soft and aromatic, about 45 seconds.
Add the ground beef and cook, breaking up the clumps with a wooden spoon or heatproof spatula, until thoroughly cooked and browned, about 4 to 5 minutes. If desired, remove and discard any excess fat. (For a how-to on cooking ground meat, see page 44.)
Stir three-quarters of the tomato sauce into the beef. Lower the heat to low.
After about 10 minutes of boiling, check the pasta for doneness. Drain the pasta in the colander and return it to its pot over very low heat.
Add the meat sauce to the pasta and stir with a wooden spoon to combine. Pour into the prepared baking dish. Top with the remaining tomato sauce and sprinkle evenly with the cheese.
Bake, uncovered, until the cheese is golden brown and the sauce is bubbling, about 25 minutes.
Notes
Recipe reprinted with permission from Elizabeth Barbone and Fair Isle Press
Giveaway
UPDATE: This giveaway is now closed. The winners have been contacted. Thanks to all who entered!
Disclosure: Thanks to Elizabeth and her publisher, Fair Isle Press, I will receive three copies of How to Cook Gluten Free: Over 150 Recipes That Really Work. One will go to my support group library; our members will be thrilled! The other two will be given away to gfe readers; that's "you guys." (Hey, Elizabeth, isn't that an expression from upstate New York? Update: Oh, no wait, reader Edie just corrected me … it's "yous guys" … I'd like to say that was a typo, but it wasn't. Clearly, I can't talk Northern. Sigh.)
Originally published March 14, 2012; updated October 10, 2021.