For affiliate links and as an Amazon Associate I earn from qualifying purchases.
Because things keep working against me on getting a year-end, new year kick-off post up, today I'm bringing home a recipe from a guest post that I did over at The Daily Dietribe for Iris a few years back—gluten-free Oatmeal Marble Squares.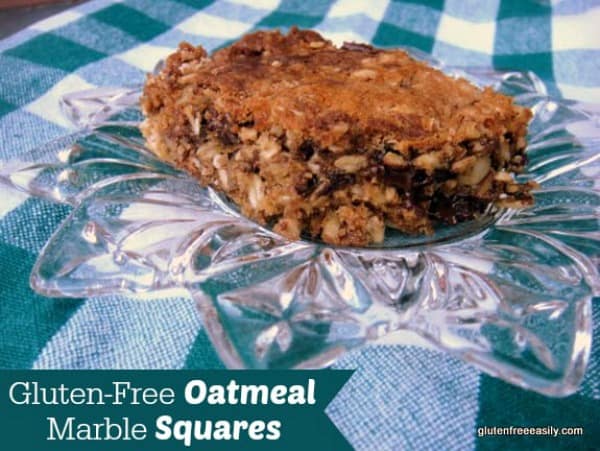 I tend to use oatmeal more in the cooler months. There are other gluten-free oatmeal breakfast dishes here on gfe like Oatmeal Brulee and simple pleasures like Flourless Oatmeal Cookies.
Occasionally, there are even more indulgent treats like gluten-free Magic Oat Bars. Of course, oatmeal provides more nutrition, and "sticks to your ribs"—as my grandma used to say—for when the body needs more fuel to face the harshness of cold weather. And I love baking once the heat of the oven becomes a plus factor!
The following recipe, gluten-free Oatmeal Marble Squares, is another crowd-pleaser that uses oats. These are chewy and gooey and well, just wonderful!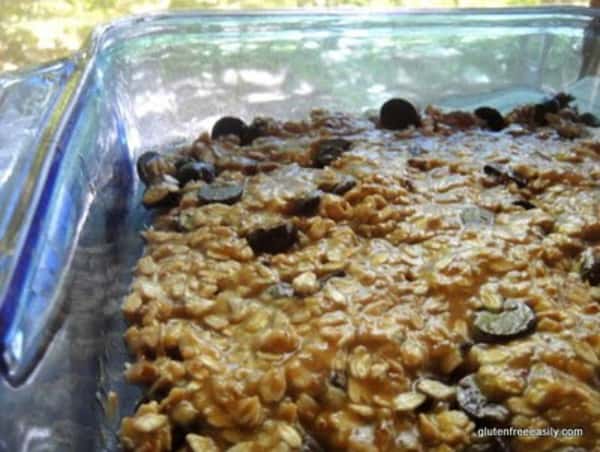 Mr. GFE's former boss, Robert, would do flips over the original version (gluten-full version) of this recipe. (Because he was hubby's former boss, he's never tried my gluten-free version.) We had all gone to a concert together and I'd made these squares for our tailgate party.
Robert ended up eating most of them. He did so quite unabashedly, too. He raved about them so much that I sent the few that were left home with him.
After that, if Mr. GFE had a work function that included food, I'd make these treats for him to take in … every time. I even sent in some out of the blue on occasion.
The fact that Mr. GFE was going to be requesting vacation leave on the spur of the moment a few days later (to better work with my own schedule) had absolutely nothing to do with my kindness. Seriously. It was pure coincidence. Uh huh … Yes, these are bribe-worthy treats, even for covert bribing, if you will.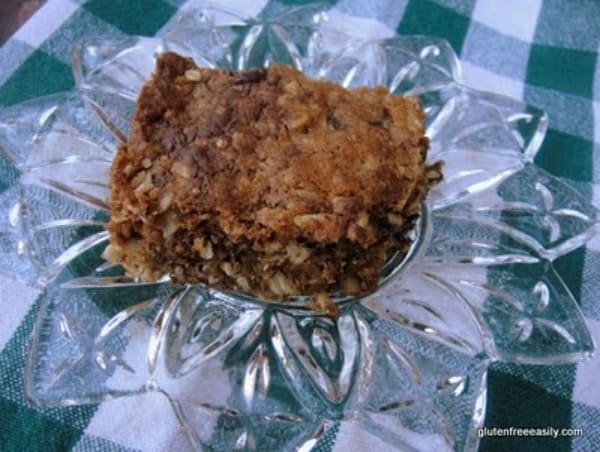 More Wonderful Gluten-Free Oatmeal Recipes
~ Flourless Oatmeal Coconut Cookies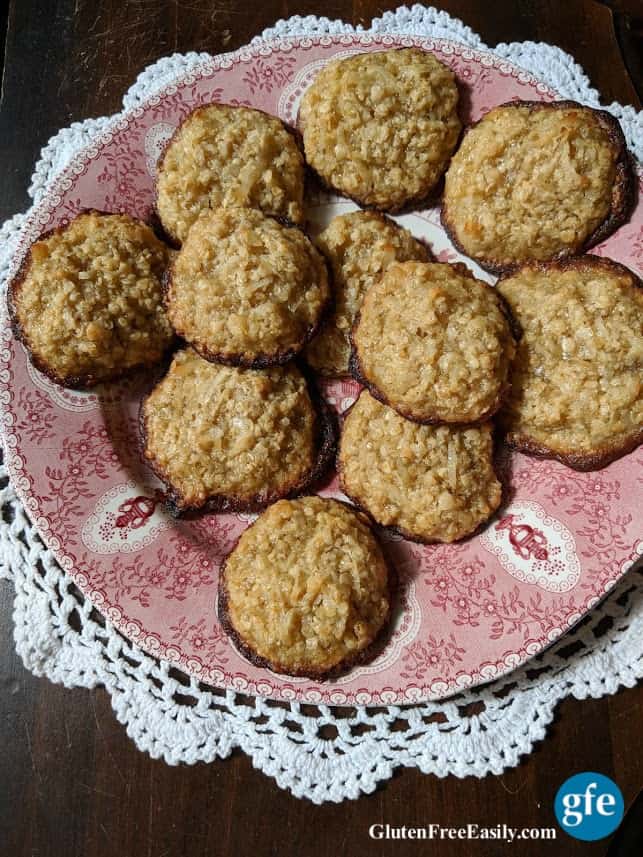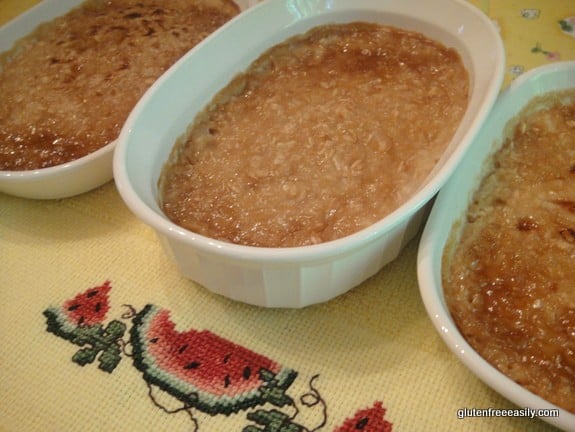 ~ Over 60 Gluten-Free Oatmeal Cookie Recipes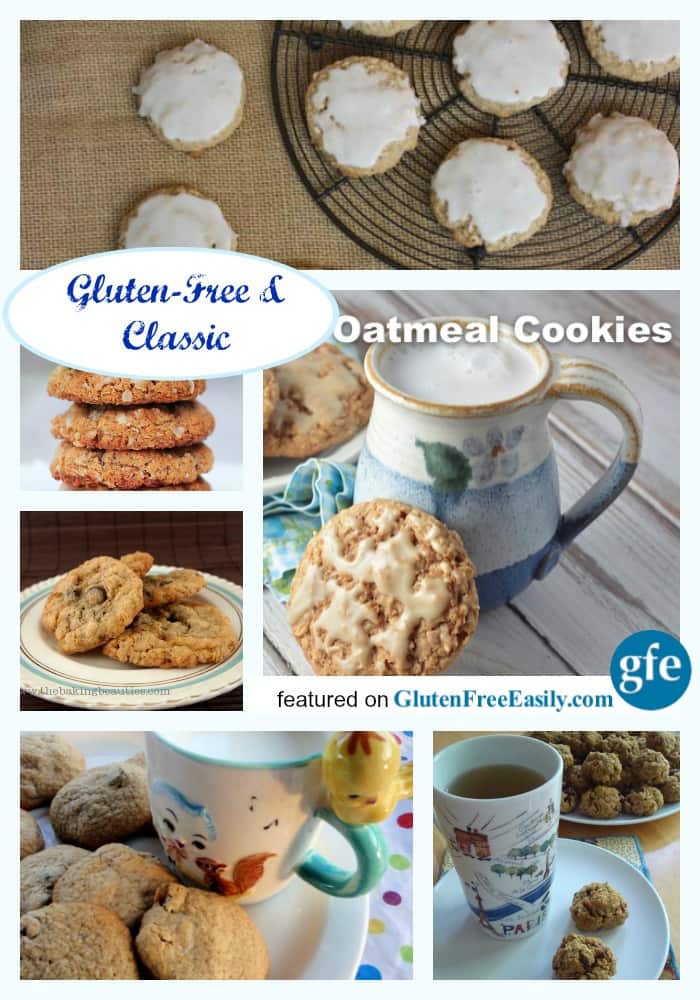 ~ Strawberry Oatmeal Muffins from She Let Them Eat Cake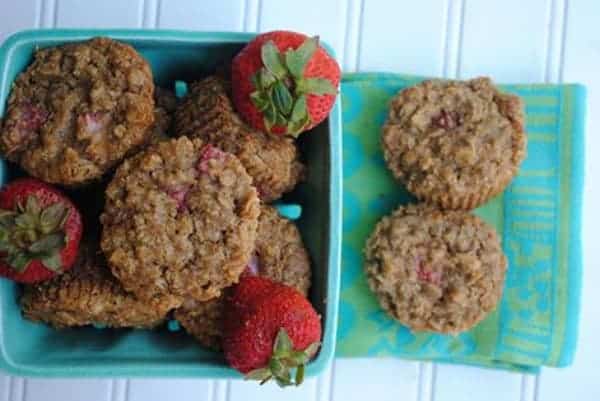 Gluten-Free Oatmeal Marble Squares Recipe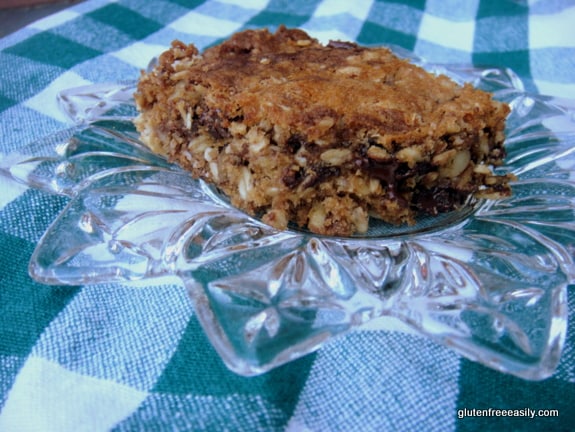 Yield: 9 to 12 servings
Gluten-Free Oatmeal Marble Squares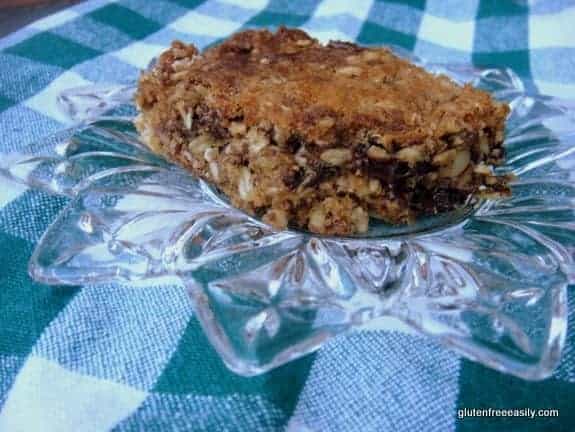 These gluten-free Oatmeal Marble Squares are ooey gooey delicious and hearty at the same time.
Ingredients
3/4 cup gluten-free flour mix (I use my Two-Ingredient Gluten-Free Flour Mix)
1/2 tsp baking soda
1/2 tsp salt
1/2 cup butter, softened (dairy or non-dairy; or substitute ¼ cup coconut oil plus 2 tbsp extra virgin olive oil)
heaping 1/3 cup granulated sugar (or substitute heaping 2/3 cup coconut sugar or for both the granulated sugar and brown sugar)
heaping 1/3 cup brown sugar
1/2 tsp vanilla extract
1 large egg
1 cup uncooked oats (certified gluten-free purity protocol oats; regular or quick)
1/2 cup chopped nuts (or seeds, like sunflower seeds or hemp seeds)
1/2 to 1 cup semi-sweet or dark chocolate chips (dairy or non-dairy)
Instructions
Preheat oven to 375 degrees Fahrenheit.
In a large bowl, combine butter, sugars, and vanilla extract. Beat until creamy.
Mix in egg.
Add flour, baking soda, and salt. Mix well.
Stir in oats, chocolate chips, and nuts.
Spread into a greased 13 x 9 inch glass baking pan using a spatula. Mixture will not be very thick at all.
Bake 5 minutes, then remove from oven and slightly drag the back of a spoon over the surface in a swirl design to create a marble effect.
Return to the oven and bake about 10 minutes longer. Total baking time should be about 15 minutes. Test if these bars are done by using a toothpick.
Let cool and cut into small squares.
Notes
Marbling: While it's fun to hold true to the name and produce the marble effect using a spoon, sometimes I just skip that part. The taste is just as delicious, although the appearance may not be quite as novel.
Oats: If you are gluten-free for medical reasons, it's imperative that you eat oats that are certified gluten-free purity protocol oats. (You can see a listing of purity protocol brands on Gluten-Free Watchdog.)
Sometimes I use the oats "as is"; sometimes I run them through the food processor or my mini-chopper to make them more like quick oats. Quick oats do bind a bit better with the other ingredients, which results in a more dense square, and are slightly less chewy.
Flour: I have used all types of combinations for the small amount of gluten-free flour required in this recipe. I've used my standby Two-Ingredient Gluten-Free Flour Mix, but I've also used a mix of white rice flour, brown rice flour, and cornstarch. However, my favorite recent combination includes ¼ cup of almond flour.
Fat: In my opinion, coconut oil is not as flavorful in baking as one would expect; that's why I also used some extra virgin olive oil in the second version. Coconut oil is usually substituted one-for-one for the amount of butter, but a lesser amount of olive oil is usually substituted for butter. I love using olive oil to make recipes dairy free (like in my Perfect Pound Cake and Mediterranean Chocolate Cake). In addition to giving one a quick alternative to dairy, it also provides both amazing flavor and moistness.
Gum: Finally, no xanthan gum is required for this recipe.
Recipe adapted from an older Nestle's Toll House Cookbook
Originally published January 6, 2012; updated February 28, 2022.