For affiliate links and as an Amazon Associate I earn from qualifying purchases.
Linda at Gluten-Free Homemaker had the theme of chocolate for the month for her Gluten-Free Wednesdays event. I never came up with anything chocolate to share as I was pretty busy with our Home for the Holidays … Gluten-Free Style event. Then I remembered this Classic Freezer Fudge recipe that you make in the microwave and then chill in the freezer.
It's a naturally gluten-free recipe that you can make in just a few minutes. I found the recipe in one of my recipe boxes and then looked in my pantry to see if I had any confectioners' sugar. Luckily, way in the back, I found some.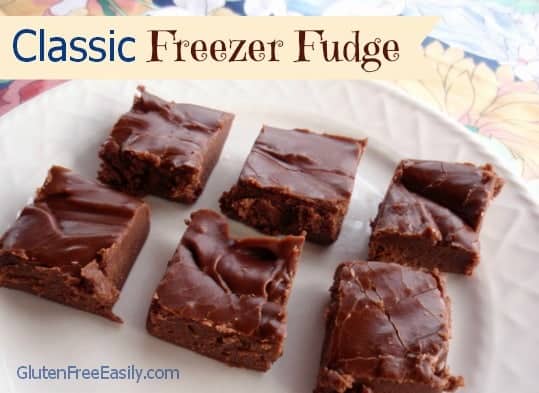 Admittedly, this recipe doesn't fall into the "healthy" category. It's pure indulgence. It calls for a whole box of confectioners' sugar. I had slightly less than that on hand, but I decided it would be more than enough. I also had some eggnog and I've always wanted to make eggnog fudge.
Most eggnog fudge recipes are similar to peanut butter fudge recipes in that they are no longer "chocolate focused," but are super sweet and pale in color. Eggnog fudge is usually the exact color of eggnog with marshmallows and/or white chocolate coming into play.
I decided to simply substitute eggnog for the milk in this recipe, but you can just as easily use milk (dairy or non-dairy) instead. I really liked the addition of the eggnog though.
This fudge doesn't taste like eggnog to me, but it does taste even creamier than I remember and I'm sure the eggnog factor helped with that. It's been a very long time since I made this recipe, but I'm so glad I remembered it!
Some of you always want to know what Mr. GFE thinks when I make a recipe. Well, Mr. GFE pronounced this fudge "Excellent!" but here's more of what he had to say.
Mr. GFE: "It's awful good, but your fudge is always good. It's creamy, not crunchy." (My mom's fudge is crunchy, and I LOVE that fudge, too, but Mr. GFE does not.)

Me: "Can you guess what I put in it?"

Mr. GFE: "Honey?"

Me: "No, I put eggnog in it."

Mr. GFE: "Og nog?" (Og nog is what Son always called eggnog when he was a little guy.)

Me: Yes, og nog.

Mr. GFE: "Your fudge tastes better than these chocolate-covered raisins!" (He had just grabbed some chocolate-covered raisins before I reminded him of the fudge I'd made. Now that's a compliment! Mr. GFE's weakness is chocolate-covered raisins and he received some in his Christmas stocking at his mom's house.)

Mr. GFE (going back for another piece of fudge): "It's delicious. Og nog fudge. Who would have thought?" (He was marveling and chuckling at the same time.) "It doesn't taste like og nog. It's awful creamy though."
So there you go … Mr. GFE's review. Make some of this fudge and share your review with us all. It will only take you a few minutes to make a pan full. I'll wait. With a piece of this fudge in hand, of course.
Oh, two more things … first, I got this recipe in for Linda's Gluten-Free Wednesdays chocolate challenge after all—woohoo! Second, you can use milk instead of egg nog for this recipe–dairy or non-dairy.
Update! I also love this fudge made with full-fat coconut milk but honestly, I don't think there's a bad way to make this recipe. Except perhaps with skim milk. I would not use skim milk in this recipe.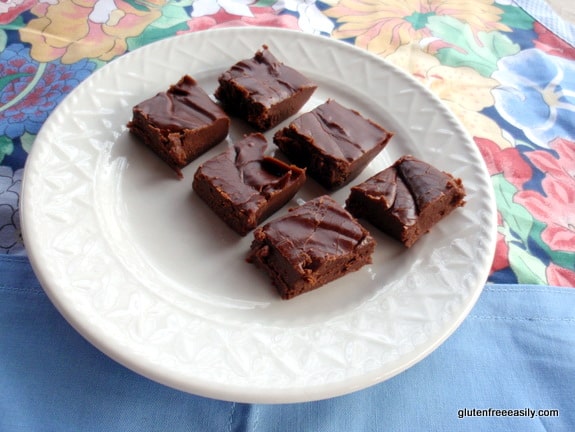 More Fudge Recipes That Deserve Your Consideration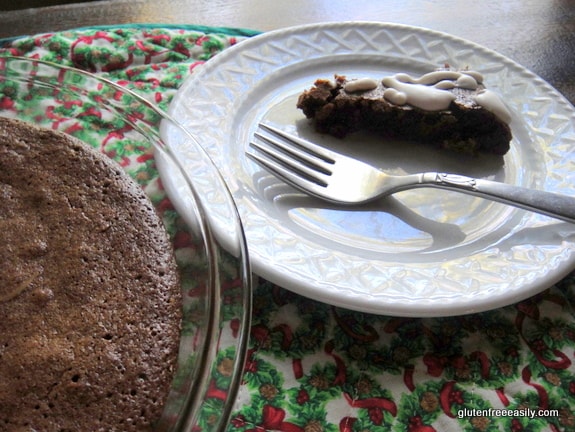 ~ Peanut Butter Hot Fudge Cake (Slow Cooker)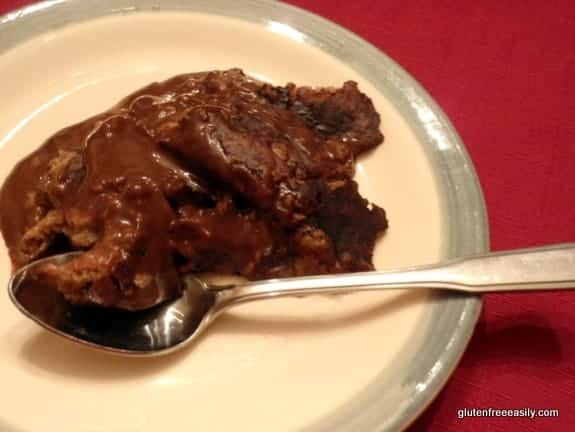 ~ Triple Chocolate Double Bacon Freezer Fudge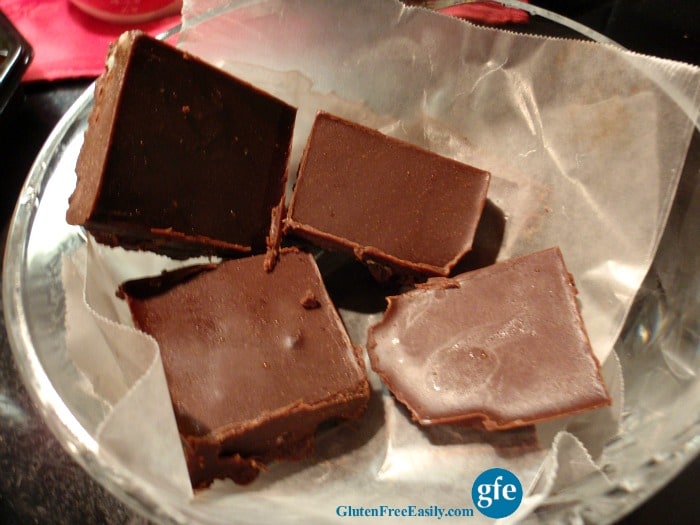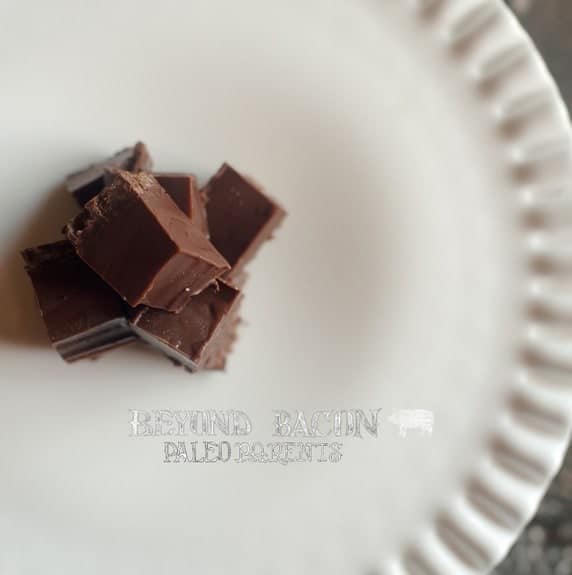 ~ White Chocolate Candy Cane Fudge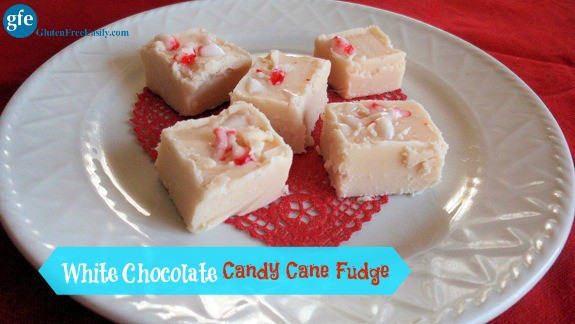 Classic Freezer Fudge Recipe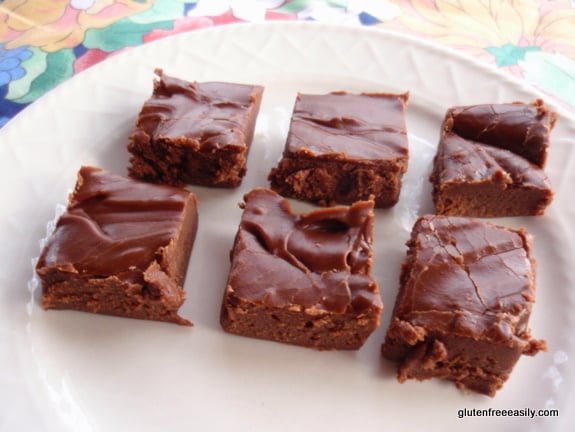 Yield: Makes about 36 squares (1 ½-inch). (Those are "two-bite" size if you are not being piggish.)
Classic Freezer Fudge (Naturally Gluten Free)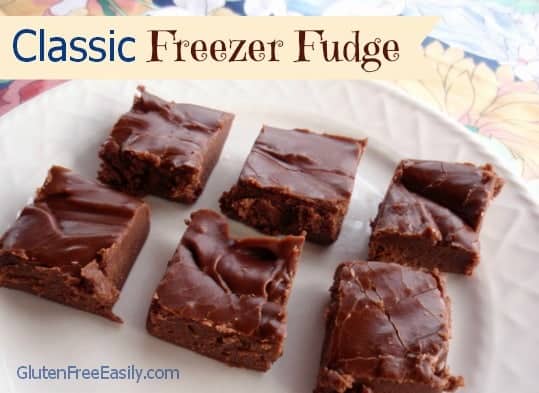 This freezer goes from microwave to freezer to mouth in just a few minutes and it's so good!

Prep Time 1 minute

Cook Time 3 minutes

Inactive Time 15 minutes

Total Time 19 minutes
Instructions
Lightly grease an 8-inch square pan (or line with parchment paper). Set aside.
Combine first three ingredients in a large microwave-safe glass bowl.
Add melted butter and stir some. Add milk (or egg nog) and stir again. Mixture will seem lumpy and will be hard to stir; that's okay. Stir until ingredients are at least well incorporated.
Microwave on HIGH uncovered for about 2 ½ minutes, stirring at 1-minute intervals. Each time you stir, you will see the lumps disappear and the fudge get smoother.
Remove from microwave oven and stir in vanilla extract.
Spread into prepared pan.
Place uncovered in freezer for 15 minutes.
Cut into small squares with a sharp knife and serve.
Notes
You can use one of the non-dairy milks (I like this one) or one of the new egg-free, vegan "eggnogs." If using a thinner non-dairy milk like rice milk, use slightly less to ensure your fudge is thick enough to set up. This fudge is divine right out of the freezer. It will still be good after sitting for several minutes but will soften quite a bit if left out for a long time. It doesn't actually melt, but you'll want to keep it cool for serving. (A chilled plate and/or ice pack underneath can be helpful.) Any remaining fudge can be stored in an airtight container in the refrigerator.

Originally published December 29, 2011; updated July 4, 2023.