For affiliate links and as an Amazon Associate I earn from qualifying purchases.
Fudge. Oh, the delight of good fudge! Now, how about Triple Chocolate Double Bacon Freezer Fudge? Doesn't that sound fabulous? It is! Melt-in-your-mouth, rich, dark chocolate bacon fudge. This will be a fantastic Valentine's Day gift for your sweethearts if they can never get enough of either chocolate or bacon!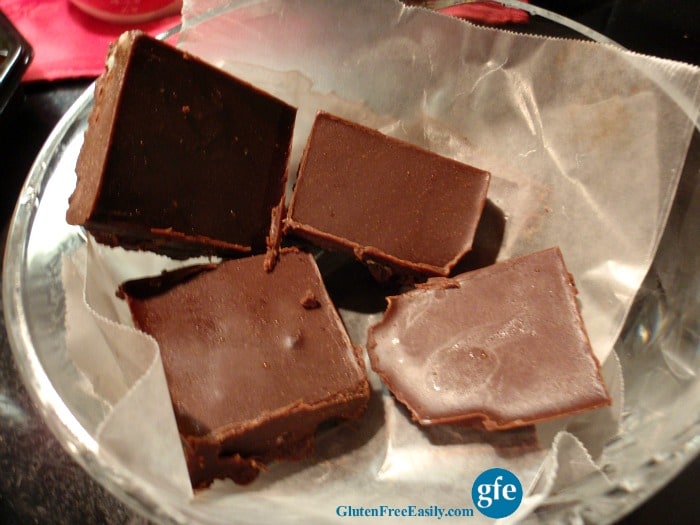 I made this Triple Chocolate Double Bacon Freezer Fudge for a dear friend's Christmas Eve celebration. It's an adaptation of Real Everything's (formerly Paleo Parents) Triple Chocolate Freezer Fudge, a paleo-friendly fudge recipe, which is in their second cookbook, Beyond Bacon: Paleo Recipes That Respect the Whole Hog.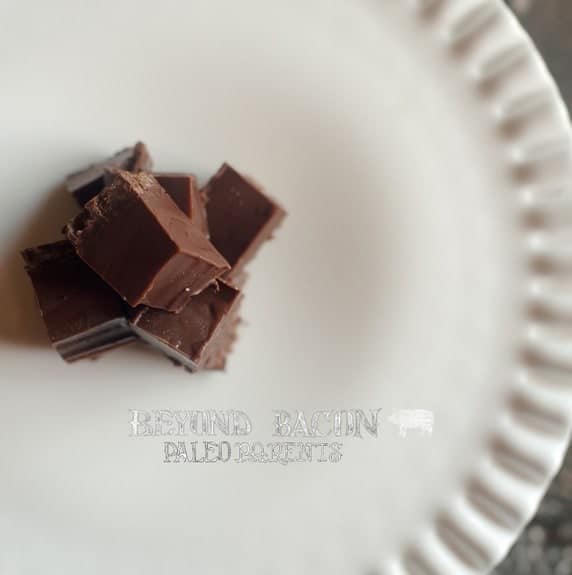 I've made Stacy and Matt's version before using butter instead of lard and the results were outstanding. However, this time I decided to make a bacon-centric version. I started by actually adding some bacon pieces—cooked and finely chopped, of course. The first time I made my bacon version I also used some of bacon fat in place of only part of the butter. The second time I made the recipe, I wanted a dairy-free version, so I used mostly extra virgin coconut oil in place of butter, but I mixed in some bacon fat. I've also made the recipe by using Earth Balance soy-free buttery sticks as part of the fat. I like the little bit of buttery flavor that ingredient adds to the non-dairy version.
Either way, as you can imagine, this recipe gives you some very indulgent fudge. A little goes a long way, but because this recipe is semi-sweet and/or dark chocolate based with less sweetener than in most fudge recipes, it does not seem overly rich. In fact, my friend's mother told me—with clear disappointment—that she had been expecting a sweeter fudge.
Her comment didn't bother me because I know that we all have our individual preferences. Plus, as I was leaving the holiday celebration with some of the remaining fudge, four friends protested and blocked my way as they each grabbed another piece. I reassured them that I'd left more fudge with the hostess, so they finally did let me leave in peace—with a few pieces for us to enjoy at home later.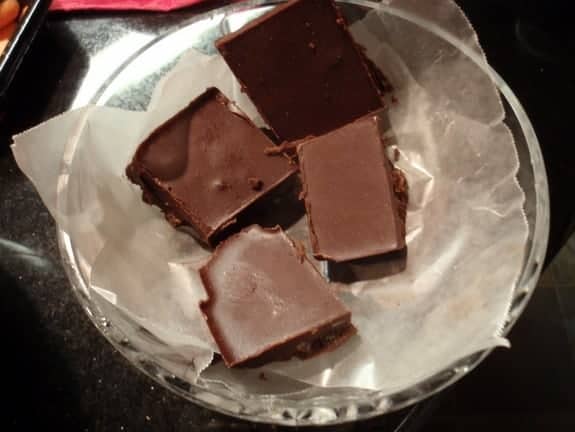 But if you like a sweeter fudge—a more traditional fudge—you'll want to make my Classic Freezer Fudge or White Chocolate Candy Cane (or Andes Mint) Fudge.
If you're vegetarian or vegan, you could even use Phoney Baloney Coconut Bacon—again finely chopped—in this recipe. You'll want to the skip the bacon fat as well for that version, of course, using coconut oil or butter (dairy or nondairy, as needed) instead. If you're skeptical, I'll readily admit that I've enjoyed recipes that use Phoney Baloney made by vegetarian friends (like these Bourbon Bacon Chocolate Chip Cookies) and it's a wonderful ingredient!
In closing, make this fudge for the one you love for sure. Hey, that could be you, right?
More Valentine's Day Recipes for Your Sweetheart(s)
~ 50 Ways to Leave Your Lover Satisfied with Chocolate
~ Chocolate POMerdoodle Ice Cream
~ Flourless Chocolate Sparkling Cookies
~ Molten—and Un-Molten—Chocolate Cake
~ Over 100 LOVE-ly Gluten-Free Valentine's Day Dessert Recipes
Triple Chocolate Double Bacon Freezer Fudge Recipe
Yield: 12 to 16 pieces
Triple Chocolate Double Bacon Freezer Fudge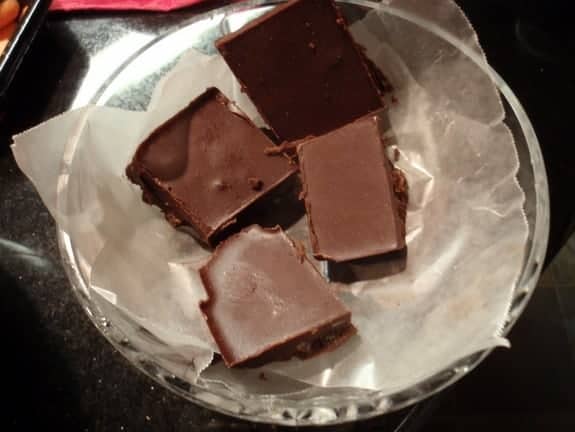 Two favorites---chocolate and bacon---come together in this fabulous Triple Chocolate Double Bacon Freezer Fudge. Rich, indulgent, melt-in-your-mouth goodness!

Prep Time 5 minutes

Cook Time 5 minutes

Inactive Time 1 hour

Total Time 1 hour 10 minutes
Ingredients
1 ¼ cup of semi-sweet or dark chocolate chips or pieces
½ cup butter (see notes for substitutions)
½ cup bacon fat (aka bacon grease; see notes for substitutions)
2 tbsp raw cacao powder
1 tbsp granulated sugar (or coconut sugar)
2 pieces of bacon, cooked, drained, and chopped finely (with fat reserved; see notes for substitution)
Instructions
Line 8 x 8 baking dish with parchment paper.
Sprinkle 1/3 cup chocolate chips over bottom of baking dish, spreading out evenly. (Note that the chocolate chips will not completely cover the bottom of the baking dish, but that is okay.)
Get a double boiler going and melt 1 ¼ cups chocolate chips or pieces, stirring continuously.
Stir in butter, bacon fat, cacao powder, and sugar until thoroughly combined. Stir in bacon pieces.
Pour mixture into baking dish.
Place baking dish in freezer and chill one hour.
Remove fudge by lifting parchment paper. Cut fudge into squares; smaller pieces are best.
Serve cold so keep in the freezer until about 10 minutes before serving. If fudge softens too much while serving, simply return to the freezer for a few minutes.
Notes
I create my own double boiler by adding water to one medium-sized pot until it's about 2 inches deep and then heating it to boiling; reducing the heat to low, and then inserting another pan inside the first pan. I then add the ingredients to the second pan and follow instructions as directed.

I prefer using Equal Exchange Bittersweet, Semi-Sweet Chocolate Chips, or Enjoy Life Dark Chocolate Morsels for the bottom layer---the black bottom layer, so to speak---of this fudge.

Whenever I use liquefied coconut oil in place of butter, I use slightly less than I would of butter. Coconut oil is lighter in nature (in both taste and weight) and using a slightly lesser amount works better for me, so if you're substituting coconut oil for all or part of the butter and bacon grease, use just under the amount in the recipe.

While some prefer Expeller Pressed Coconut Oil because of its lack of coconut flavor, I don't recommend it in this recipe. I feel you need some flavoring in the fat in this recipe. Note that even when using Extra Virgin Coconut Oil, I don't really taste the coconut, but I am also a coconut lover, so keep that in mind. I've also made this recipe using Earth Balance soy-free buttery sticks as part of the fat amount.

Phoney Baloney Coconut Bacon is a great option for those who are vegetarian or vegan and still love the flavor of bacon.

Recipe adapted from Real Everything (formerly Paleo Parents).

Originally published January 16, 2016; updated June 29, 2021.