For affiliate links and as an Amazon Associate I earn from qualifying purchases.
I made these gluten-free Mini Cheesecakes for Mother's Day. Some might call them Individual Cheesecakes or Cheesecake Cupcakes. Aren't they cute?
They're also delicious; everyone loved them! Bonus … they are super easy to make as well.
Plus, as you can see, because they were individual cheesecakes, I was able to make four different variations. Plain, chocolate chip, salted caramel, and strawberry jam. However you can make whatever variations you like and as many as you would like!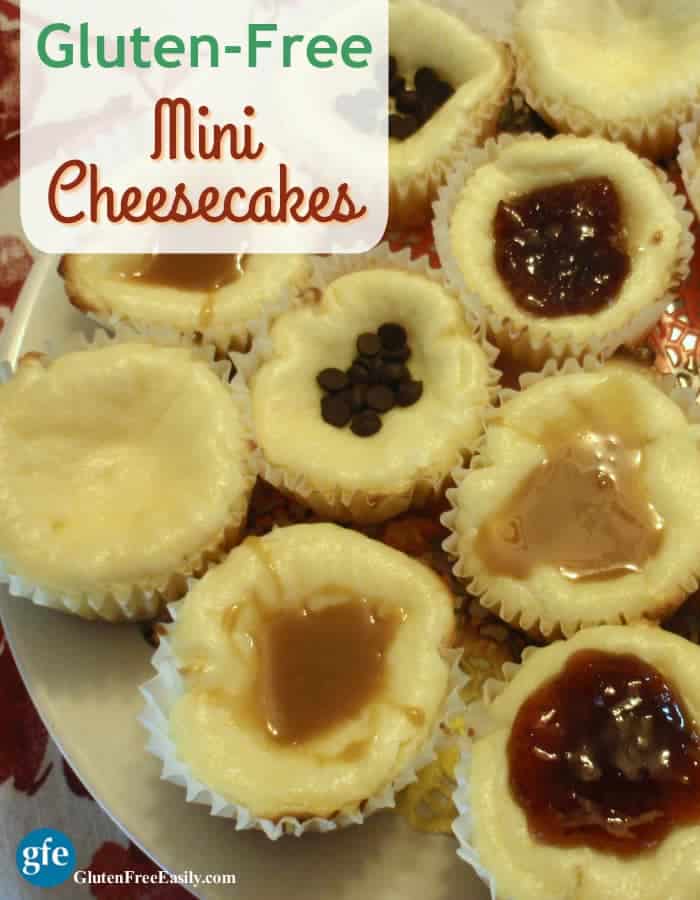 These Mini Cheesecakes aren't as dense or even quite as tart as a traditional New York-style cheesecake. Instead they are lighter in taste and weight.
Traditional cheesecake can be a super heavy dessert, so I think that both these factors are quite an improvement. (By the way, I also have a Crustless Lemon Cheesecake Pie recipe that is lighter than a traditional cheesecake as well and we love it.)
I've actually been making Mini Cheesecakes for years. I used to make these mini cheesecakes using a gluten-full vanilla wafer as the base prior to going gluten free.
All the other ingredients in this recipe are naturally gluten free. So substituting gluten-free shortbread cookies for vanilla wafers to create gluten-free mini cheesecakes was pretty easy.
The shortbread cookies are larger than vanilla wafers so I broke off a portion of each shortbread cookie to get a somewhat close fit for the bottom of the cupcake liner. Then I went a step further and crushed the cookie with my fingers and evenly spread out the crumbs so that the cookie would provide not only a base for the cupcake, but would also sort of "meld" with the filling to form a tastier bottom layer. This approach worked well.
When I shared a photo of my gluten-free individual cheesecakes online, my friend Johnna (In Johnna's Kitchen) commented that I'd made my own gluten-free cheesecake platter. The implication was that there was no need for an ALDI cheesecake platter.
I hadn't planned the platter part of the equation, but I realized that she was right and my recipe had actually been intended to be a substitute of sorts for an ALDI LiveGfree cheesecake platter.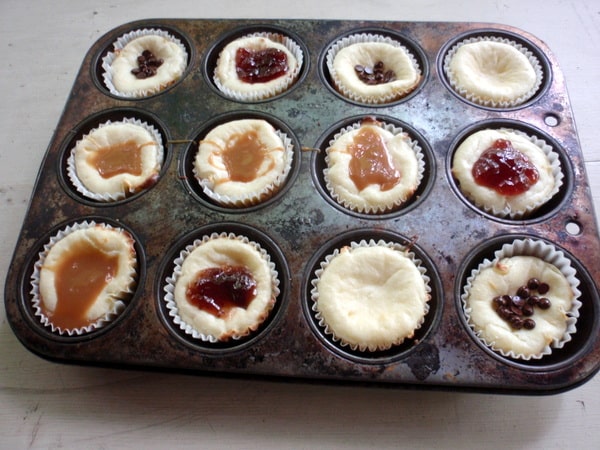 The Back Story on These Gluten-Free Mini Cheesecakes & More
Honestly, I didn't have any plans to make cheesecake for Mother's Day until my mom started talking about picking up an ALDI LiveGfree gluten-free cheesecake platter for our family celebration. By the time Mother's Day actually arrived, ALDI had actually pulled its gluten-free cheesecake because of the conflicting information of "certified gluten free" and "may contain wheat."
This year when the ALDI LiveGfree gluten-free cheesecake appeared in ALDI stores, it stated "gluten free" and bore the gluten-free certification label from GFCO as it did last year, but it also showed "may contain wheat." You should know that statements like "may contain wheat," "made on equipment that also processes wheat," and "this product was produced in a facility that also has wheat" are completely voluntary.
More importantly, such statements are not regulated. "Not regulated" means there are no criteria, no guidelines, and no policing of such statements. I've read that only a small percentage of companies actually use such statements.
The Food Allergen Labeling and Consumer Protection Act, which went into effect in January 2006, requires that the label of a food that contains an ingredient that is a "major food allergen" (or contains protein from such an allergen) declare the presence of the allergen in the manner described by the law. The eight major food allergens covered under the FALCPA are milk, eggs, fish, shellfish, tree nuts, peanuts, wheat, and soybeans.
The allergens may be identified in the ingredients listing or in the "Contains" statement. Some manufacturers identify the allergens in both places, but it's only required in one or the other, so it's very important that you read the whole label.
But because this law only requires companies to label when a product contains these ingredients in their formulation and not when the product is made in a facility that also processes that ingredient or when the product is processed on equipment used to make other products that contain that ingredient, the law falls short. Because such statements are voluntary and not regulated, that means that they really have no value whatsoever.
Yet I know folks who still use these statements as the basis for deciding to consume products. They are more likely to consume products labeled gluten free that have no warning labels than they are to choose a gluten-free product with a warning label, yet one is not necessarily safer than another.
However, the absence of a warning label does not mean the absence of an allergen. Not at all. It simply means that the manufacturing company has decided to opt out of such voluntary labels.
Others will choose a product that states "This product was produced in a facility that also has wheat" over a product that states "made on equipment that also processes wheat." They think that shared equipment is more of a concern than a shared facility. But, again, because these statements are voluntary and not regulated, they have no value. To drive home how dangerous it can be to place any trust in these types of statements, I'll reiterate some information that I have shared before here on gfe.
When the Food and Drug Administration (FDA) was collecting input for use in developing its standard for "gluten-free" status on a product, the Food Allergy & Anaphylaxis Network (FAAN) presented data that showed that a higher percentage of products that stated they were "made in the same facility as products containing peanuts" actually contained peanuts than products that were labeled "processed on equipment also used to process peanuts." Although the allergen studies were in regard to the peanut allergen versus "wheat," the top 8 allergen that we are concerned about it because it contains gluten and therefore, is our primary concern, this data was an eye-opener to many who thought they had been making the better choice. Obviously, FAAN's intent in sharing this information with the FDA was to show how meaningless food labels can be as well as the scope of the food allergen issues within food manufacturing. Unfortunately, you can no longer find this information on the public side of the FDA website, as it was removed when the gluten-free labeling rule was finalized.
SnackSafely does a lot of really good work in this area and has a great graphic reminding us of the realities when it comes to such labeling. As Dave Bloom of SnackSafely states, the FALCPA labeling can tell you when a product is not safe, but it can't tell you if a product is actually safe.
For those of us who are focused on gluten in products, it should be simpler. We thought it would be simpler. Most of us thought that the implementation of the gluten-free labeling rule by the FDA would solve most of our problems when it came to choosing safe, truly gluten-free products. We knew that the FALCPA fell short and thought that the gluten-free labeling regulation would "fill in the rest of the cracks."
However, because more and more manufacturers (such as General Mills) are offering products that are not truly gluten free per the current FDA ruling and/or per our medical needs, our need for research before consuming "gluten-free" products is more critical than ever. For example, using lot mean testing to get its less than 20 ppm "compliant" values and using mainstream sorted oats versus purity protocol oats. These issues exist without FDA intervention and resolution.
So when the ALDI gluten-free cheesecake sampler, which is a product certified gluten-free by GFCO also showed "may contain wheat," some of us got very concerned. Understandably so. When ALDI began getting inquiries on the apparent disconnect, their representatives stated to some consumers that their gluten-free cheesecakes were produced on shared lines—lines shared with gluten-full cheesecakes. They said the lines were thoroughly cleaned and added that as their products were certified gluten free by GIG's Gluten-Free Certification Organization (GFCO), there should be no concerns for gluten-free consumers.
However, many in the gluten-free community were not happy with this explanation. I was among that group. My and others' feelings didn't change when we were reminded that such statements are "allowed" by the FDA. Yes, such statements are allowed, but that doesn't necessarily make such a situation desirable or right.
We were urged to contact manufacturers and inquire about their processes when conflicting labeling was present. What? I was contacting manufacturers when I first went gluten free in 2003. Over a decade later and we're still being given the same direction? This is the progress we've made? That is simply unacceptable.
When we see a gluten-free product that is certified gluten free by the GFCO, why should we have to worry at all about gluten? I maintain that we should not, but the reality is that several GFCO-certified products have tested gluten-full over the years—gluten full to above 20 ppm. That occurrence is despite the fact that the GFCO says that it certifies all the products in its program to be gluten free less than 10 ppm. Subscribers to the Gluten-Free Watchdog independent testing program are fully aware of this fact because of the individual product testing reports that have been shared with them.
Recently we've also been looking at other certification programs much more closely as products they've certified also don't follow their own standards or the FDA rulings. The Celiac Support Association (formerly Celiac Sprue Association) certified Royal Asia Glass Noodles with Vegetables as gluten free even though the product contained soy sauce that included wheat as a sub-ingredient.
Earlier the Gluten-Free Certification Program (GFCP) certified the ALDI LiveGfree Granola Bars, which contained malt extract (a form of barley, which constitutes gluten, of course) as gluten free. (These bars, which were originally made by Sam Mills, were reformulated to remove the barley because of the Gluten-Free Watchdog's and other community members' efforts.) To be clear, per the FDA rule on labeling products "gluten free," neither of these situations are allowed. (That holds true even if the product tests gluten free to less than 20 ppm.)
While I know that there's little in life that's "foolproof," I don't think we should have to worry that a product "may contain wheat" or any form of gluten when it's certified gluten free. If so, what exactly is the point of gluten-free certification? When we're eating gluten free for medical reasons (e.g., celiac, non-celiac gluten sensitivity), we need to be eating strictly gluten free and, therefore, we need to take all such labeling concerns very seriously.
When I and some other advocates spoke out expressing concern and dismay about the ALDI cheesecake being certified gluten free but also having the "may contain wheat statement," many folks in the gluten-free community were angry that the question was being raised at all. They said they were fine with the conflict.
When ALDI decided to pull the product because of the confusion and concerns, these gluten-free individuals got even angrier, describing the folks standing up for safe, gluten-free food standards as
"communists"

"conspiracy theorists"

"pitch fork and torch wielding"

"having an agenda against food manufacturers"

"living under a rock"

"dippy doos"

"idiots"
and far worse.
I am not making those terms up or exaggerating in any way. Those words—and others that are not shareable on a family-friendly blog—were actually used on social media. The sad truth is that many would rather throw rocks at the true gluten-free advocates in our community, the ones questioning manufacturers and seeking safety than they would question the companies offering "gluten-free" products–or the bloggers promoting such "gluten-free" products.
How completely disheartening and disturbing it has been to see the gluten-free community become increasingly divided over the last several months. The gluten-free community used to stand together and look out for each other. Now more and more it seems that gluten-free folks don't want to know if foods labeled gluten free are questionable. You might think that the folks who don't want to know or don't care are gluten-free "faddists" whose health does not depend upon a strict gluten-free diet and who, in fact, eat gluten free for one meal and "gluten full" for another meal.
However, that is not the case. The group of folks who are upset when companies are questioned and called out for questionable labeling and products actually includes many individuals with celiac disease or other medical conditions that require them to eat strictly gluten free. They make a point of identifying themselves as non-faddists. If a cake is labeled "gluten free," they want to eat it! No questions asked. End of discussion.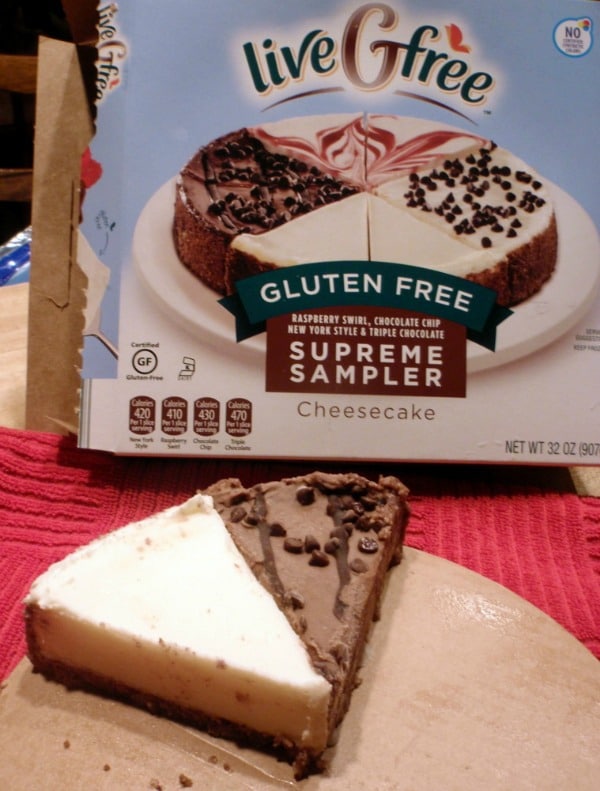 Truth be told, when the ALDI LiveGFree gluten-free cheesecake platter came out last year, I bought one for Mr. GFE and me to sample and enjoy. I ate a slice and thought it was delicious. Mr. GFE was also pleased with the ALDI cheesecake. I even shared my excitement and review on my gfe Facebook page.
Then I ate another slice the next day and another slice a few days later. Each time, the cheesecake tasted delicious, but I felt just a little off—and increasingly so. After eating the last slice, I hiccupped and burped a lot. Those can be two early signs that I've been glutened. It could mean glutened "minimally" if symptoms don't progress beyond that, but for me, it has come to mean that I was glutened nonetheless.
Remember that one's reactions to gluten can change over time, particularly as one eats strictly gluten free. I guessed then that there was some type of gluten cross-contamination (aka cross contact) with the ALDI cheesecake platter. However, there was no indication that cross-contamination could be a possibility on the labeling—at least none that I recall and I usually pay close attention to labeling.
Some might ask why I did not follow up and publicly share my reaction to the ALDI cheesecake. As my friend Linda (Gluten-Free Homemaker) recently shared, some of us are much more sensitive when it comes to gluten exposure and I am definitely one of them. That makes it hard to know when I should publicly share my own gluten reactions to any products.
With the rule for gluten-free labeling stating that less than 20 ppm is acceptable, is it right for me to always share my reactions as a super sensitive individual? I don't always share them on social media, but I do think my reactions can be "an early warning sign" for others and I do share them with close gluten-free friends.
While I typically react quickly and after one sampling of a gluten-free product, other gluten-free friends might not realize they are having issues until they've been eating the product repeatedly. Some might not have any "visible" reactions at all and at least one previous study showed that gluten exposure did not show up in follow-up blood work of those with celiac disease for quite some time.
For the record, I applaud ALDI for pulling its LiveGfree cheesecake sampler. I hope ALDI will change its processing to make these cheesecake samplers on dedicated lines. If ALDI does that, I will try their cheesecake again. To date, when issues of concern on its gluten-free products have been raised with ALDI, they have done the right thing each time. I very much appreciate that.
I don't have a simple "takeaway" for you in this post. I just want to raise these concerns and hope that you all will think about them and make better choices and, most importantly, heed the concerns of fellow members of the gluten-free community. More than ever, it's clear that "it takes a village" when it comes to keeping us all safe and informed. I for one am very grateful to all the folks who continue to surface each and every concern on products labeled "gluten free."
I will continue to show that gratitude and my support for these folks for the work they do. The true advocates in our community advocate without compensation except the rare "thank you." For example, Tricia Thompson of Gluten-Free Watchdog has not taken a salary since the inception of the program in 2011. Subscription fees go solely to testing products, the website, etc. Despite receiving no salary for the Gluten-Free Watchdog work, Tricia works day in and day out to ensure that the critical information gets out to the entire gluten-free community, not just to paid subscribers.
Advocacy work is tiring and never ending, and as I've shared today, recently advocacy work is degrading and infuriating given the feedback—i.e., the resistance to the sharing of concerns and the name calling—from all too many in the gluten-free community. I sincerely hope we can begin to recognize our true advocates, appreciate their motivation in keeping us all safe and gluten free (and heed their warnings), and more importantly, appreciate these individuals themselves, lest these committed advocates decide that the hassle is no longer worth it and step away from the gluten-free community. I've already seen a good number of the advocates step away over the last several years. If things continue as they're going, soon there might be no true advocates left.
Gluten-Free Mini Cheesecakes Recipe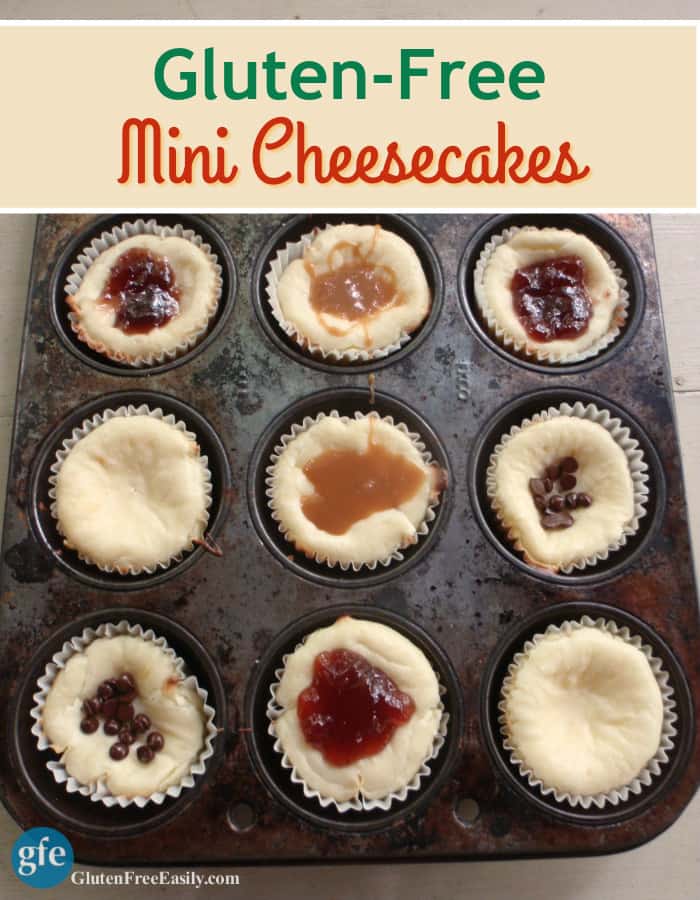 Yield: 12 mini cheesecakes
Gluten-Free Mini Cheesecakes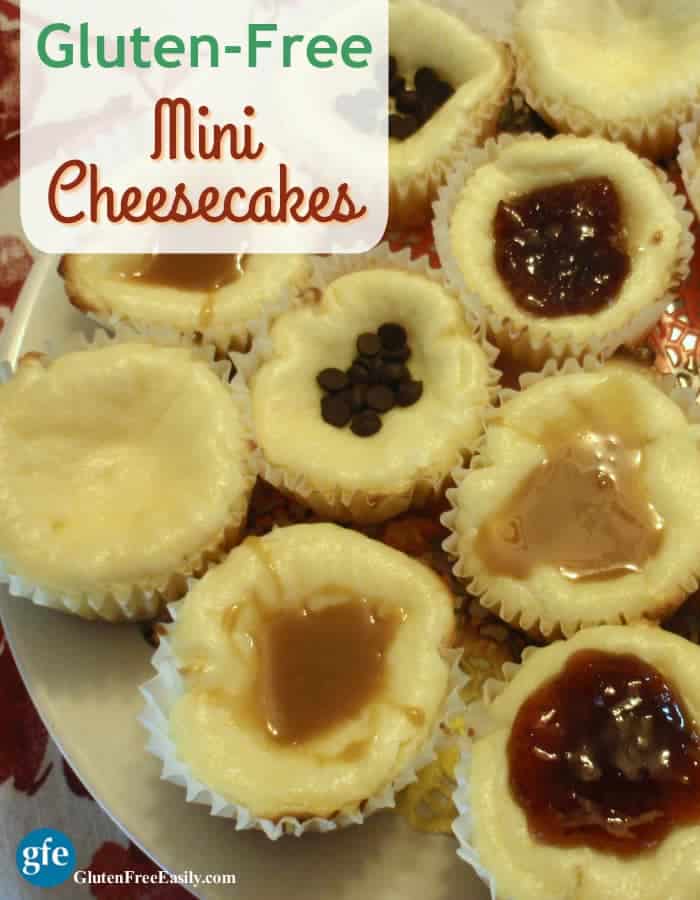 You might never make a full-size cheesecake again, once you discover how easy it is to make these gluten-free mini cheesecakes and how easy it is to top them per individual preferences!

Prep Time 10 minutes

Cook Time 20 minutes

Inactive Time 10 minutes

Total Time 10 minutes
Ingredients
Batter
2 packages/blocks cream cheese (8 ounces each), softened
¾ cup granulated sugar
2 large eggs
1 tsp vanilla extract (I use my homemade vanilla extract)
Crust
Toppings
Caramel ice cream topping, jam, chocolate chips, cherry pie filling, sliced almonds, etc.
Instructions
Preheat oven to 350F. Line muffin tin with baking cups.
Break off cookies until they fit in bottom of the baking cups. Set aside the pieces you've broken off to use for the last three cheesecakes.
Using your fingers, crush the remaining cookie right in the baking cup until it is finely "ground" and evenly spread out the crumbs.
In a large mixing bowl, cream sugar and softened cream cheese. Add in eggs and vanilla extract. Using a hand mixer, mix all well.
Spoon mixture into baking cups, filling all evenly---to about ¾ full.
Bake 20 to 25 minutes. (Important: If you find that your cheesecakes are browning too quickly, lower oven temperature to 325F for the last 5 to 10 minutes.)
Remove cheesecakes from oven.
If you have a topping that you want to melt slightly (e.g., chocolate chips) or an ingredient that needs to stick to the cheesecake (e.g., sliced almonds); add the topping immediately after removing the cheesecakes from the oven. Otherwise, cool cheesecakes completely before topping and then refrigerate until serving.
Notes
Cheesecakes will rise during baking and then sink toward the end of baking time. The indented tops make an ideal reservoir for your toppings.

You can use almost any gluten-free cookie to make your cheesecake "base." If you would rather not purchase cookies and/or want a grain-free option, you can use finely ground nuts (or ground seeds---such as sunflower seeds or pumpkin seeds) as the base of your individual cheesecakes. If you sprinkle a little more than a teaspoon of nuts/seeds into each of the baking cups, you'll need a total of about 1/3 cup of finely ground nuts.

I was pressed for time when I made this recipe, so I placed my cheesecakes in the freezer to cool them more quickly before our celebration. If you read gfe all the time, you know that this is a frequent cooling tactic of mine!

Originally published June 4, 2016; updated December 5, 2021.