For affiliate links and as an Amazon Associate I earn from qualifying purchases.
Oh, how happy I am to bring you this beautiful and divine Paleo Sweet & Sour Chicken (or Shrimp or Fish) recipe. It comes from my friend Andrea Wyckoff's Pure and Simple Paleo: A Low Starch Cookbook (unfortunately, this publication is no longer available). (Update: Sadly, Andrea passed away in 2021.)
You might know Andrea from her website Forest and Fauna and her previous site, Betty Rawker. If you don't know Andrea, you should! She's a delightful person and shares outstanding recipes using pure and simple ingredients.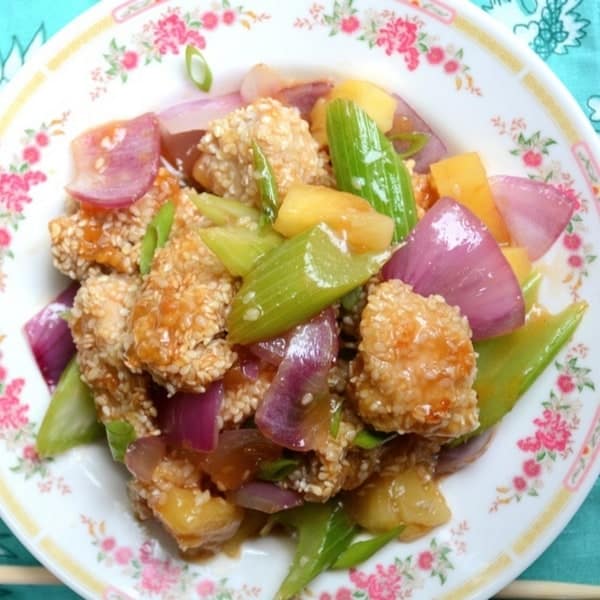 Andrea also gets quite creative with unique ingredients at times and I love that! While I always encourage simplicity as well as basic ingredients with my gfe approach, knowing how to get creative with unique ingredients can be extremely helpful when one has additional food intolerances.
However, not everyone has the time or perhaps the aptitude to test out such ingredients and create successful recipes using them. Having someone like Andrea do that special work for us is invaluable!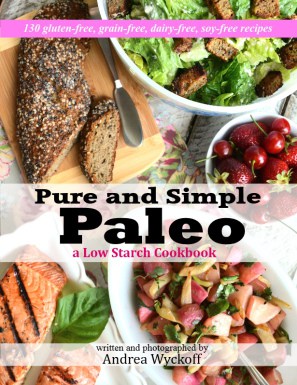 On both her blog and in her cookbook, you'll find excellent—and super appealing—recipes that actually work. In her cookbook, I'm talking recipes like Donuts, Almond Flour Pancakes and Waffles, Bacon Brittle, Super Seed "Honey Wheat" Baguette, Tahini Buns and Bread, Macadamia "Mac" Mayo, Hummingbird Cake, Black Forest Cake, Key Lime Pie, Rich Vanilla Ice Cream, and so much more. There are 130 recipes in her cookbook! They're all grain-free, gluten-free, dairy-free, nightshade-free, corn-free, soy-free, paleo, and low starch.
Andrea eats paleo, low starch, and "more free" because of her health conditions. Here's an excerpt from her About page where she shares some of her personal story:
"I have found that a diet rich in pure and simple foods has been my saving grace in my fight against a really crappy disease I have called Ankylosing Spondylitis (AS), which is an inflammatory driven auto-immune arthritis that also came packaged with colitis, yeehaw! This wretched disease fused a large portion of my spine into what is called bamboo spine, and it also gave me the gifts of osteoporosis, kyphosis, and scoliosis by the time I was in my early 30's.
So all of the recipes you will find on this site are actually ones that I have found to be anti-inflammatory and effective in fighting this disease too! That means grain free, soy free, refined sugar-free, and a good chunk are also vegan, many are "raw", and just about all can be called "paleo" too. And all of my recipes are very low in starch. Check out kickas.org for more info on the link between starch and ankylosing spondylitis. Changing my diet has been the most effective treatment against AS and colitis that I have ever tried! I have created this website to share my favorite recipes and adventures with you and hope that you enjoy them as much as I do!!"
Andrea's personal health journey is compelling and inspiring. It's her words at the beginning of her book that move me the most and make me want to fully explore her cookbook and eating philosophy:
"I wrote this book for the girl I was eight years ago, the girl who was lost in a sea of raging pain."
Please happily note Andrea's use of the past tense. The power of dietary changes can be nothing short of phenomenal. However, even if you're simply looking for outstanding gluten-free or paleo recipes, her Pure and Simple Paleo: A Low-Starch Cookbook is a terrific choice!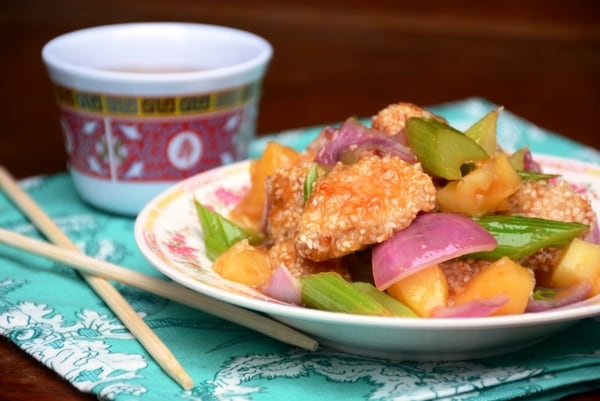 Now that you know a little bit more about Andrea's personal story, her site, and her mission, and you've drooled over the previous photos of her gluten free and paleo Sweet & Sour Chicken (or Shrimp or Fish) recipe, here's the recipe with her introduction and one more gorgeous photo. Although this recipe is titled Paleo Sweet & Sour Chicken, as I mentioned early on and have also indicated by my notes in parentheses, there are alternatives to using chicken.
I think that any gluten-free pescetarian reading will appreciate knowing that shrimp or fish can be substituted for the chicken. Alos, as a fan of chickpeas and often subbing them for chicken in recipes, I think using chickpeas will probably give you a very nice vegetarian/vegan version of this recipe. That version would not be paleo, of course, but I am sure that it would be delicious!
I see myself trying out all these versions because I've always savored sweet and sour recipes. However, you choose to make Andrea's recipe, enjoy!
More Gluten-Free Sweet & Sour Recipes
~ Polynesian Sweet and Sor Sausage Stew
~ Sweet & Sour Chicken (Paleo, Allergy Free)
Paleo Sweet & Sour Chicken (or Shrimp or Fish) Recipe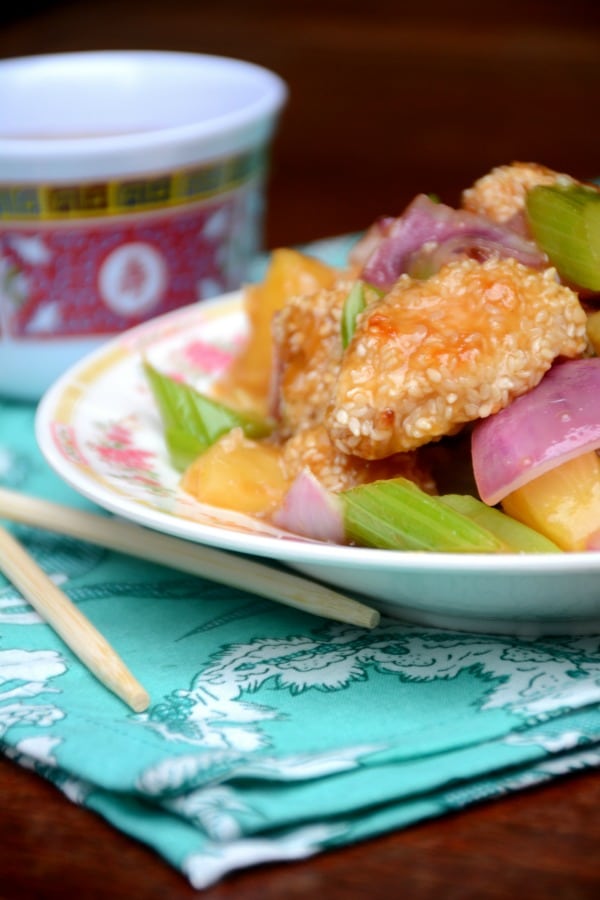 From Andrea: This Paleo Sweet & Sour Chicken (or Shrimp or Fish) can be served on its own (that's how I enjoy it!), over a plate of sautéed cauliflower rice, or you can use the sautéed shredded Napa cabbage from my Egg Roll in a Bowl recipe. You can also purchase starch-free "Miracle Rice" to serve with this dish. I tell you how to adjust this meal for 100% Starch Free in the Notes section of the recipe. You can easily omit the sesame seeds as many of my recipe testers still enjoyed this dish without them. Last, the leftovers make a great lunch when reheated the next day.
Yield: 2 - 4 servings
Paleo Sweet and Sour Chicken (or Shrimp or Fish)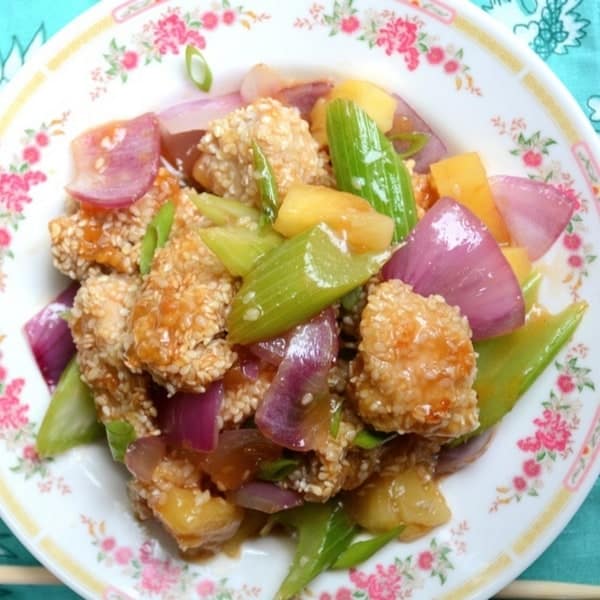 Pure and simple--and divine--Paleo Sweet and Sour Chicken (or Shrimp or Fish) with not very many ingredients, but several options to make this recipe work exactly the way you like.

Prep Time 15 minutes

Cook Time 25 minutes

Total Time 40 minutes
Ingredients
Chicken (or Alternatives) and Veggie Ingredients
1 pound boneless chicken thighs or breast meat (or 1 pound of either shrimp or fish)
3/4 cup white hulled sesame seeds, optional
1 to 2 cups pineapple chunks
1 small red onion
3 stalks celery
1 teaspoon oil for cooking
Garnish Ingredients
2 green onions, chopped
a pinch sea salt
Cucumber, broccoli; optional
Sweet and Sour Sauce Ingredients
1/2 cup apricot jam (or 1/3 cup honey plus pineapple juice; see notes for other options)
3 tablespoons (or more) rice vinegar (or coconut vinegar or lime juice)
2 tablespoons coconut aminos, optional
1 teaspoon toasted sesame oil, optional
Instructions
Preheat oven to 375F.
Cut chicken into small chunks.
Dredge the chicken in sesame seeds and then set onto a baking sheet lined with parchment paper.
Bake chicken for 20 minutes. While chicken is cooking, cut fruit and veggies into chunks.
Sauté fruit and veggies in a little oil over medium heat for 5 to 10 minutes.
While fruit and veggies are cooking, mix the sweet and sour sauce ingredients together in a small dish, adjust vinegar and sweetness to taste.
At the last minute toss in half of the sweet and sour sauce into the veggie and fruit mixture you are cooking. (Set remaining sauce aside.) Stir well, and then transfer the veggies onto a serving plate.
Add the remaining sweet and sour sauce to the pan and stir in cooked chicken to get a nice glaze on it.
Pour the chicken over the fruit and veggies and serve. Garnish with a pinch of sea salt and sliced green onions.
Notes
If using fish in place of chicken, the baking time might be closer to 10 to 15 minutes until the fish is thoroughly cooked and flaky. I use apricot jam that is made with only apricots, fruit juice, and pectin. If you are on a zero starch diet and want to omit the apricot jam you can try using 1/3 cup honey and a splash of pineapple juice instead. Or instead of using jam, you take 1/2 cup of dried apricots, chop them up, and soak them in a little pineapple juice for an hour and use a blender to create the sweet and sour sauce with the remaining ingredients. You may need to double the sauce ingredients for a large batch or if you want your dish to be extra saucy.

Originally published June 7, 2016; updated October 23, 2022.