For affiliate links and as an Amazon Associate I earn from qualifying purchases.
Do you need an adorable treat for Halloween? After all, it's only a week away. I heartily recommend these adorable gluten-free Witch Hat Cookies. Aren't they cute? They're also absolutely delicious!
A rich flourless chocolate cookie, a little bit of frosting, a Hershey's Kiss, and a few colorful sprinkles are the perfect combination in these Witch Hat Cookies.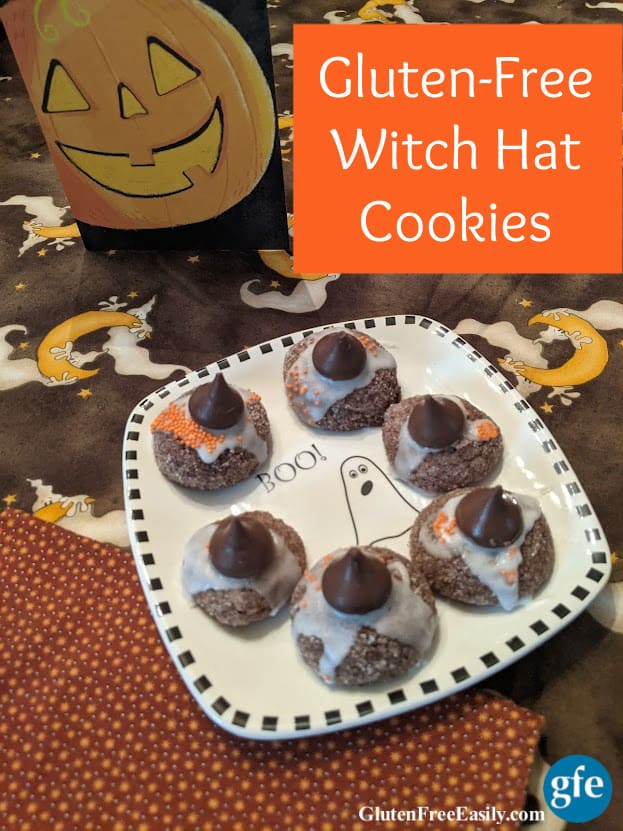 Gluten-Free Witch Hat Cookies and Hocus Pocus Cookies
For the record, there are several versions of witch hat cookies. I'm familiar with—and a fan of—two of them. There's the recipe that I am sharing today that uses the original Hershey's Kiss as the cone part of the hat and another version usually called Hocus Pocus Cookies, which are made using ice cream cones. The pointy cones that we call sugar cones, to be exact.
I don't have ready access to gluten-free sugar cones so I choose to make the Hershey's Kisses version. However, I will tell you about the Hocus Pocus version in case you'd like to give them a try yourself.
My friend Katie Chalmers, the author of Mommy, What Is Celiac Disease? (a truly wonderful book!) and g-free kid shared her rendition of Hocus Pocus Cookies many years ago on Facebook. It was actually back in 2011, before her sweet twin girls grew up!
Katie said: "My version literally took just a few minutes to make four of these desserts. I used the peanut butter cookies I wrote about in my previous post, frosted them with Pillsbury chocolate frosting, filled the gluten-free cones up with ice cream, placed them on the cookies and put sprinkles around the edges. Super easy, and WOW, were they good!"
Part of the hocus pocus factor with these cookies is that you get to immediately flip the top off the witch's hat, eat the ice cream cone, and then eat the base of the hat, the delicious decorated cookie. Definitely a delicious treat overall!
If you want to make the gluten-free Hocus Pocus Cookies as Katie made them, use my quick and easy Flourless Peanut Butter Cookies and choose frosting, sprinkles, ice cream cones, and ice cream that are all gluten free and safe.
Making Hocus Pocus Cookies doesn't have to be a big production. You can make exactly enough cookies—not one more—for your family as Katie did. I promise that your family will be thrilled with this Halloween dessert! And one Hocus Pocus Cookie per person will be just the right number.
After I shared Katie's post way back when, my friend Diane (The Whole Gang) used my Flourless Sparkling Chocolate Cookies to make the Hocus Pocus Cookies as a treat for a Halloween school event for her son (who was then in high school). She reported that the Hocus Pocus Cookies turned out great and were very well received!
Because Diane sent her Hocus Pocus cookies with her son to school (if I recall correctly), I don't think she actually filled the ice cream cones with ice cream. So, as you can see, when it comes to Witch Hat-type Cookies, you have quite a few options.
Back to My Gluten-Free Witch Hat Cookies Made with Hershey's Kisses
As Diane had, I used my Flourless Sparkling Chocolate Cookies as the base. Admittedly, I was going for the chocolate-and-more-chocolate effect. Both for appearance and taste! It's a win-win for sure.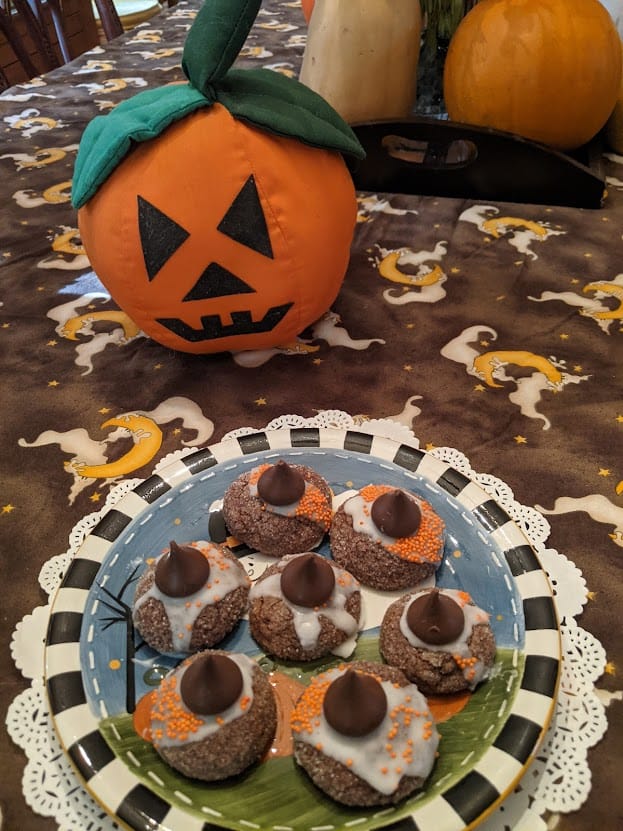 The key fact that you need to know ahead of time is that the dough for these particular cookies needs chilling for several hours. Preferably overnight or all day, although you can cheat and cut the chilling time some by placing the dough in the freezer for an hour or so. (You longtime gfe readers know that I frequently cheat with the help of my freezer.)
If you're really short on time, you can use this other recipe of mine for Flourless Chocolate Cookies instead. A whole batch can be made in about 15 minutes. Total. No dough chilling is needed for this recipe but these cookies will work great as the base for Witch Hat Cookies as well.
I used a homemade powdered sugar frosting—it's simply powdered sugar and water—but you can use another gluten-free recipe or store-bought frosting that's gluten free.
For sprinkles, I used some gluten-free orange sprinkles—for the traditional "black" and orange effect—but you can use your favorite color or multi-colored sprinkles of course.
These cookies are really yummy! The frosting softens the bottom of the Hershey's Kisses so they turn out wonderfully melty at the base. Because the cookies themselves are soft and intensely chocolate, the combination of the cookies, frosting, sprinkles, and Hershey's Kisses with the melty bottoms, these cookies are a rich and indulgent treat.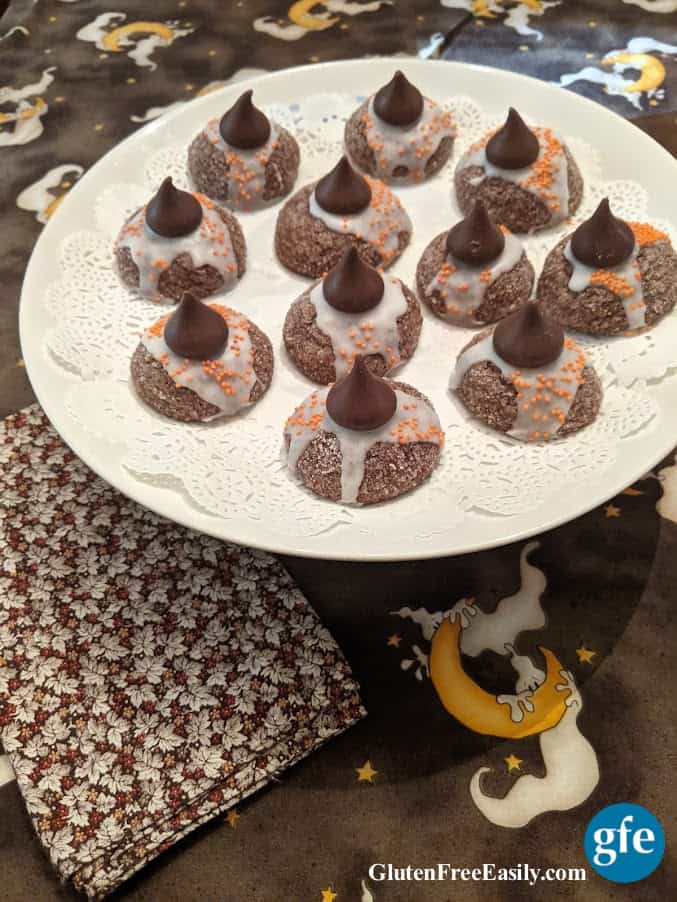 That means a single cookie is very satisfying! So, if you're making these cookies to serve at an event, one cookie per person is really sufficient. I think you, and the lucky folks with whom you'll be sharing these gluten-free Witch Hat Cookies, will enjoy them very much! Please report back!
Some More Fun and Delicious Gluten-Free Halloween Ideas
~ Gluten-Free Sugar Cookies for Halloween
~ Halloween Cut-Out Cookies with Royal Icing
~ Katie's Dipped and Decorated Halloween Marshmallows (No recipe needed. Simply melt some chocolate chips, dip your marshmallows and decorate them with toppings before the chocolate hardens. Ensure all ingredients are gluten free of course.)
~ Keto Spider Web Chocolate Bark
~ Over 25 Last-Minute Gluten-Free Halloween Treats
Gluten-Free Witch Hat Cookies Recipe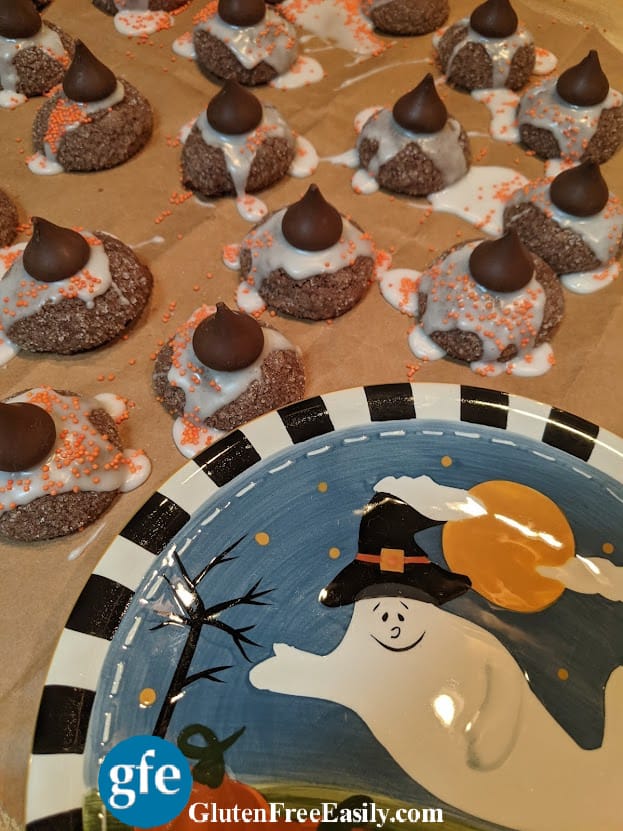 Yield: About 24 cookies
Gluten-Free Witch Hat Cookies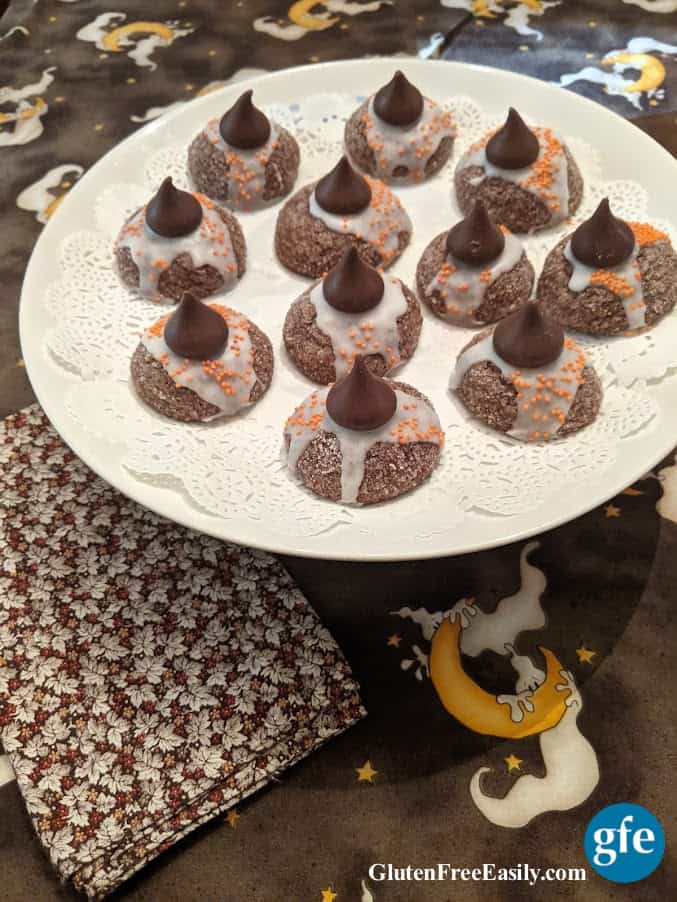 These gluten-free Witch Hat Cookies are easy to make, delicious, and a completely whimsical and wonderful way to celebrate Halloween.
Total Time
6 hours
30 minutes
Ingredients
Cookie Ingredients
8 ounces chocolate chips (semi-sweet or dark chocolate)
3 tbsp butter (or dairy-free equivalent), room temperature or softened (but not melted)
2 large eggs
1/3 cup granulated sugar (plus more to roll cookie dough in)
3/4 cup finely ground almond flour (I use Honeyville or Wellbee blanched almond flour)
about 24 Hershey's Kisses
about a tablespoon of sprinkles
Frosting Ingredients
1 cup powdered sugar
1 tbsp plus 1 tsp water
Instructions
Cookie Instructions
Melt chocolate in a double boiler and stir in the butter.
Stir in sugar.
Beat in eggs one at a time.
Continue beating until eggs are very light. Gently stir into the chocolate-butter mixture.
Add almond flour, combining well, but gently.
Cover and refrigerate overnight (or six hours in your refrigerator—you can also expedite matters by placing batter in the freezer for an hour or so).
Preheat oven to 325F degrees.
Form into 1-inch balls and roll in bowl of granulated sugar.
Place on parchment-lined baking sheets.
Bake for 10 to 12 minutes or until set.
Cool slightly before removing from baking sheet.
Frosting Instructions
In a bowl, combine powdered sugar and water, stirring with a large spoon.
Stir until combined and smooth.


Witch Hat Cookie Assembly Instructions
While cookies are cooling, start setting up your decorating assembly line.
Unwrap the Hershey's Kisses so they're ready to go.
Place sprinkles in a small bowl (with a spoon beside it if you plan to use a spoon versus your fingers to apply sprinkles).
Although you have set up an assembly line, you are going to complete each cookie as you go. Otherwise, your frosting will harden before you can add all the Hershey's Kisses or sprinkles. You definitely don't want that to happen. Therefore, follow these instructions for each cookie, one at a time. First, spoon a dollop of frosting in the center. Immediately place Hershey's Kiss in the center on top of the frosting. Use a spoon or your fingers to add sprinkles to the frosted section of the cookie. Move on to the next cookie. Repeat.
Notes
If your frosting hardens too much while you're working with it, add a very small amount of water---a little at a time---until the frosting is the right consistency once again.
Originally published October 26, 2021; updated February 22, 2022.