For affiliate links and as an Amazon Associate I earn from qualifying purchases.
I expect you fellow owners of spiral vegetable slicers will recognize the "worms" in this Creepy Crawly Worm Soup. Are you having a light bulb moment right now?
I came to this idea purely by accident. After my gluten-free blogger friends had visited for "my
gfe
retreat" this summer, I found a bag of veggies in the freezer. It contained pieces of zucchini, yellow squash, and carrots that they had saved from our vegetable noodle making. We had enjoyed an amazing meal of raw vegetable noodles topped with raw sauce on our last evening of the
gfe
retreat.  They had saved the parts of the veggies that were not immediately useable so I could use them to make soup stock later. Included were several zucchini "middles"—the tubular/cylindrical remnants of zucchinis that had been spiralized into noodles, aka "zoodles."
A few weeks ago I made a delicious soup with all those veggies. I dumped everything into the pot "as is."  I didn't do any further chopping of those veggies, because I was also adding other chopped veggies and meat and was simply adding those saved veggie parts to add flavor to the broth. As the soup simmered, the zucchini middles floated up to the surface as I stirred. Their outer surface appeared ridged and almost segmented. I couldn't help but notice that they looked a lot like big green caterpillars. They definitely looked a little creepy, but tasted delicious, of course. My mind went to Halloween and this Creepy Crawly Worm Soup was born. I say worms because people seem to be far more creeped out by worms than caterpillars.
While I offer you a very simply and tasty (yum, worms!) recipe today, think of this soup as more of a concept than a strict recipe. I selected a base that makes the "worms" stand out and be seen more clearly. But you can include worms in any type of soup as long as the color and thickness of your soup base does not "hide" the worms. A contrasting color, broth-based soup, versus a thick, creamy soup of a similar color, is going to work the best. You want the worms floating on top of the soup or clearly being seen as you stir and, ideally, you want at least one "worm" per person.
It's not necessary, but I did use my knife to "round" one end of the zucchini middles to make them look more "caterpillar-ish," "worm-ish." Because you will be using zucchinis that vary in length and because some of the middles might break off if the person making the zoodles has his/her hand in the wrong place at the wrong time, the "worms" will vary in size.
Uh hum … please remember not to block the space where the caterpillar emerges from it's egg case—I mean slicer. 😉 The varying lengths will be perfectly okay though because it makes the assortment of worms look more real. And while these worms are surprisingly pretty sturdy, if you stir too hard, they might break. Again, that's okay because it makes them decidedly more creepy looking!
While it would be terrific to include the zoodles and the "worms" in the same soup, the worms won't stand out if you do that, so I chose to save our zoodles for another meal. (We enjoyed some of ours topped with a dairy-free cream sauce and Coconut Popcorn Shrimp Cakes.) Many thanks to Mr. GFE for making the zoodles and, therefore, for providing the Creepy Crawly Worms for this soup!

I planned to include this recipe in Paleo Parents Annual Halloween Recipe Roundup, but missed the deadline. (With no kids at home, these types of events sneak up on me.) However, Paleo Parents, now writing at Real Everything, still let me participate!
Even after Halloween passes, I think you will still get many—
young and old
—who will love this soup! This Creepy Crawly Worm Soup is a great way to get everyone to eat more zucchini; eat a tasty, healthy soup; and just have some silly fun!
Creepy Crawly Worm Soup (Tomato Zucchini Soup) Recipe
Yield:
Creepy Crawly Worm Soup (Tomato Zucchini Soup)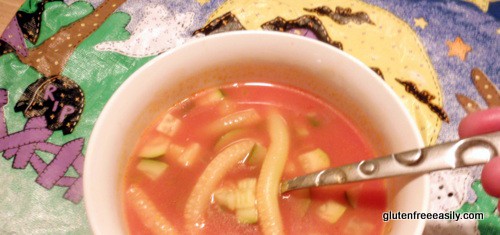 Creep everyone out with this tasty soup that's full of worms---or caterpillars. Choose whichever will creep your diners out the most! LOL
Ingredients
About 3 ½ - 4 cups vegetable or chicken broth
About 2 cups red or green salsa of desired spiciness (I use homemade chunky salsa or organic salsa, mild or medium in spiciness. Mild will be the best option for many children.)
About 2 cups finely chopped zucchini, with peel on for presentation
Zucchini "worms," as many as you would like to add
Instructions
Add broth to large pot and stir in salsa.
Heat to boiling.
Add chopped zucchini and reduce heat so soup is at a simmer.
Cook about 5 to 10 minutes (or longer if you wish) until zucchini is as soft as you like. Add "worms" the last few minutes of cooking. If your worms are frozen, you can add them at the same time that you add the chopped zucchini.
Notes
To make a more substantial meal, feel free to small amounts of additional veggies, meat (e.g., cubed cooked chicken or turkey), or seafood if you like, but don't add so much that you overshadow the worms. The "worms" need to be easily seen. If you make zoodles often, save your "worms" in the freezer each time until you get enough to make Creepy Crawly Worm Soup for your family. You can easily double or triple the amounts in this recipe to feed a larger crowd. If you are serving this soup to individuals who don't care for spiciness at all, you can adjust the proportions of broth and salsa so that the salsa serves to simply add flavor versus much spiciness. Serve this soup with Paleo Bread or Vegan Sweet Potato Biscuits.
Originally published October 30, 2013; updated October 27, 2017.