For affiliate links and as an Amazon Associate I earn from qualifying purchases.
Inspiration for my gfe recipes can come from many places. That was definitely the case with this Gluten-Free Overnight Pumpkin Pie French Toast Casserole.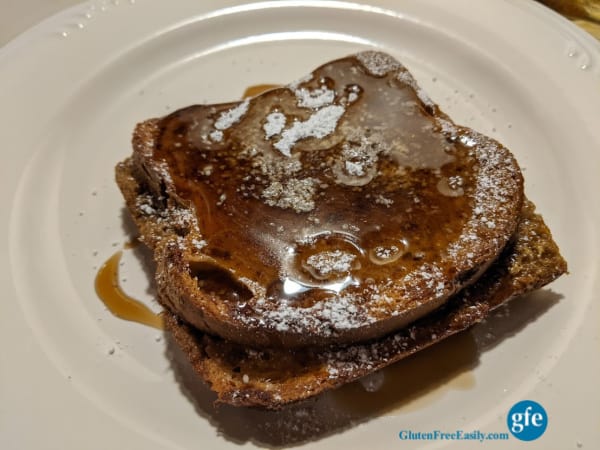 By the way, I hope you'll indulge me by allowing me to share even more pumpkin recipes. Celebrating all things pumpkin is a given during Fall, right? It's just one of the things that I and so many others love about Fall, but it's definitely one of them. A big one!
I know I just shared my updated collection of gluten-free pumpkin pie recipes and have another updated pumpkin recipe collection coming soon. But today it is all about this pumpkin version of French toast!
And not just "regular" French toast but an overnight casserole that makes preparing French toast so much easier. Especially for those times when you really want to get a special meal on the table without a lot of fuss. For this reason, French Toast casseroles always make a perfect breakfast for overnight guests!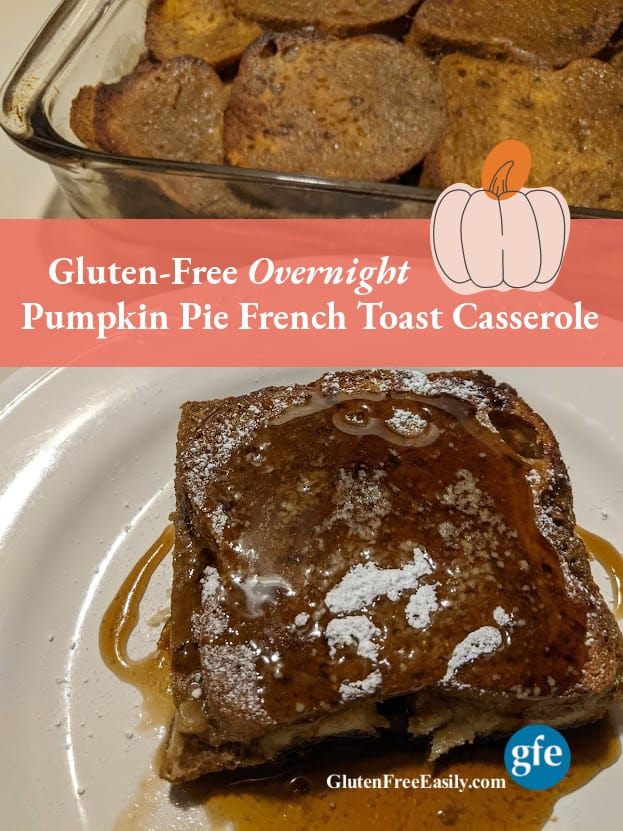 I first saw a recipe for Pumpkin Pie French Toast in my Misfits Market newsletter. The recipe was not gluten-free so it didn't call for gluten-free bread but all the other ingredients in the recipe were gluten free and gluten-free bread could be easily substituted.
Next, I came across this brilliant Starbucks Pumpkin Spice Sauce from Wheat by the Wayside. Made of sweetened condensed milk, pumpkin puree, and pumpkin pie spice, a tablespoon of this sauce added to a cup of coffee results in your own homemade Pumpkin Spice Latte. Yes, the much-loved PSL!
If you're a Pumpkin Spice Latte fan, you should definitely check Katie's sauce recipe out because one batch of her sauce is equal to the price of a single Starbucks Pumpkin Spice Latte, yet it will allow you to make 36 PSLs. Yes, 36! Add to that the fact that Starbucks is gluten cross-contact central—and frankly, they don't pretend to be otherwise—this method of making PSLs is a stellar option for those of us who live gluten free! But I digress, just a bit.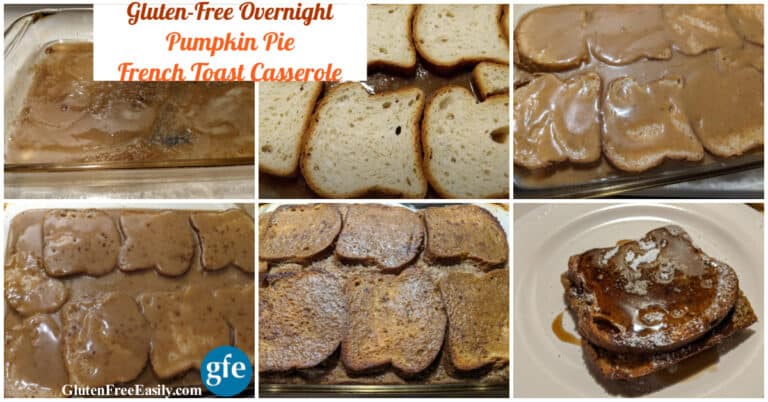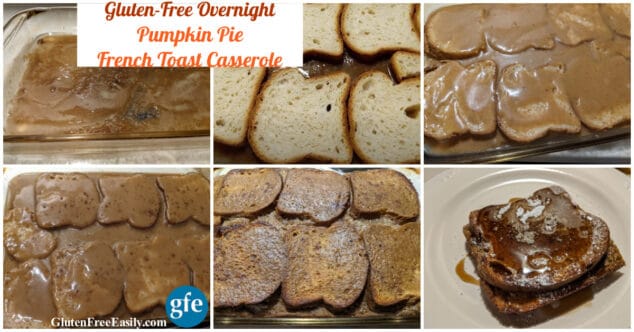 With inspiration from both of those recipes and my own original Gluten-Free Overnight French Toast Casserole, I came up with this gluten-free Overnight Pumpkin Pie French Toast Casserole. I feel like the pumpkin flavor is not over the top. It's mild, which is just right in my opinion and the resulting Gluten-Free Overnight French Toast Casserole is delicious!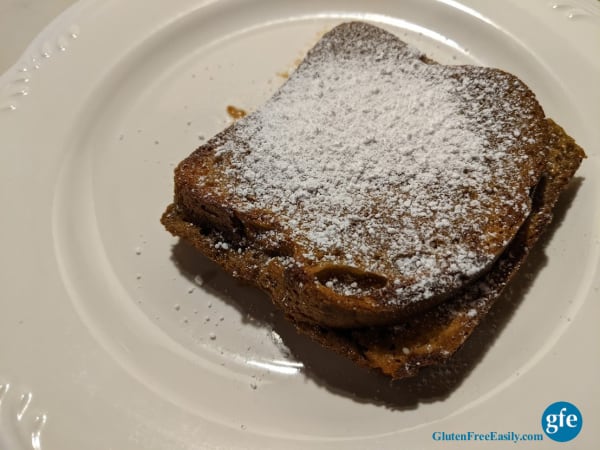 More Company-Worthy Gluten-Free Breakfast Recipes
~ Apple-Cinnamon Volcano Pancake
~ Buttermilk Biscuits from Everyday Gluten-Free Gourmet
~Pumpkin Cinnamon Rolls from Fearless Dining
~ Starbuck-Inspired Pumpkin Streusel Cream Cheese Muffins from In Johnna's Kitchen
~ Volcano Pancake (also known as Oven Pancake, Puff Pancake, and Dutch Baby)
Gluten-Free Overnight Pumpkin Pie French Toast Casserole Recipe
Yield: 8 servings
Gluten-Free Overnight Pumpkin Pie French Toast Casserole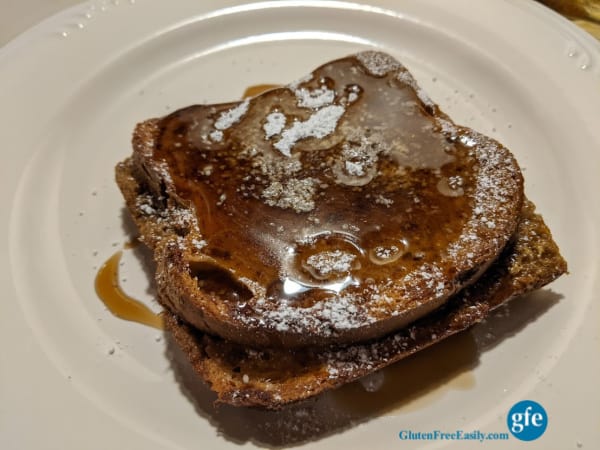 This Gluten-Free Overnight Pumpkin Pie French Toast Casserole is easy to make and has a mild and delicious pumpkin pie flavor.

Prep Time 10 minutes

Cook Time 35 minutes

Additional Time 6 hours

Total Time 6 hours 45 minutes
Ingredients
½ cup butter (dairy or non-dairy), melted (or slightly less than ½ cup coconut oil, liquefied
½ cup light brown sugar (coconut sugar also works)
one loaf of your favorite gluten-free sandwich bread, about 16 slices (or 8 slices of gluten-free French bread, cut into one-inch slices)
6 large eggs
1 can (14 ounces) sweetened condensed milk, not evaporated milk (I used this sweetened condensed coconut milk)
½ cup canned pumpkin puree (not canned pumpkin pie mix) or pumpkin butter (see notes)
1 tbsp pumpkin pie spice (omit if using pumpkin butter)
1 ½ tsp vanilla extract
Maple syrup, honey, and/or powdered sugar, for serving
Additional pumpkin pie spice (or cinnamon) for sprinkling on casserole before baking, if desired
Instructions
Melt butter in a 9 x 13 baking dish. (I cut the butter into slices and pop the pan in a conventional oven at 400F or microwave oven for a minute on HIGH until the butter melts. Watch carefully with either method.)
Add brown sugar to baking dish. Stir into butter until mixed.
Place 8 slices of bread in the bottom of the baking dish.
In large bowl, mix eggs, sweetened condensed milk, pumpkin puree, vanilla extract, and pumpkin pie spice, beating well.
Pour half of the mixture over the bread slices in the baking dish. (If using gluten-free French bread, you can pour all of the mixture over the slices at this point.)
Add the remaining slices of bread.
Pour remaining egg mixture over the bread in the baking dish.
Cover and refrigerate overnight. (Or for 6 to 8 hours. I assemble this casserole in the morning---at least by noon---when we want to enjoy it for "brinner.")
Bake covered at 350F for 35 to 45 minutes. (Check at 35 minutes.)
Sprinkle casserole with powdered sugar if you like and serve with maple syrup or honey. We like a mixture of honey and melted butter as our "syrup." Or even a dollop of whipped cream/topping. (I like this dairy-free whipped topping or my homemade whipped cream, especially the cinnamon version.)
Notes
I made this recipe dairy free for us by using soy-free Earth Balance Buttery Spread and Nature's Charm sweetened condensed coconut milk.

For prettier results, use your bread "heels" (ends of the loaf) on the bottom layer.

If you wish to use gluten-free French bread and don't have a ready-made option, you'll find some terrific French bread recipes here and here.

If using pumpkin butter instead of pumpkin puree, you may wish to reduce the amount of light brown sugar used.

I like to add the powdered sugar to individual servings unless I'm serving the casserole to be consumed in one sitting. That's because the powdered sugar does tend to dissolve (and disappear) on the surface of the casserole after a few minutes.

If you can't eat all of the casserole at one sitting, it may dry out a little in the fridge, but it is nothing that a tad more maple syrup, buttery honey topping, and/or whipped cream can't fix! I do think the casserole is more flavorful the next day but the pumpkin flavor is not any stronger. If you would like more of a pumpkin pie vibe, you can sprinkle a little more pumpkin pie spice on the leftover servings if you like.

Originally published October 20, 2021.