This post may contain affiliate links. If you purchase through them, your cost will stay the same, but gfe will receive a few cents for every dollar spent. Thanks for supporting gfe!
Yes, we're almost at 4th of July, our Independence Day in the U.S. And our friends to the north just celebrated Canada Day. Clearly it's that wonderful time of year called summer. The time of year when fun, food, fireflies, favorite swimming holes, and long sunny days all combine to make you feel you've been given a fabulous gift. To celebrate we want the tastiest and prettiest 4th of July recipes!
While Thanksgiving is my favorite holiday, 4th of July is probably my next favorite. Both are focused on the fun and meaningful combination of food, family, and friends—not necessarily in that order.
Instead of creating a new recipe or sharing a new recipe roundup, I've decided to update this gluten-free recipe roundup that will give you all the tastiest and prettiest 4th of July recipes for the holiday, or for summer in general!
Tastiest and Prettiest 4th of July Recipes by Category
~ Drinks ~
~ Kim's (Cook IT Allergy Free) 5-Minute Watermelon Strawberry Slushie … sooo refreshing!
~ Or my Raspberry+ Smoothie
~ Or my super simple Good Morning Sunshine! Smoothie
 ~ Or my "high-octane" Crab Claws (shown previously) or Frozen Watermelon Margaritas
~ Or Sarah's The Only Margarita You Will Ever Need
~ Starters/Sides ~
~ My Cucumber Chickpea "Bruschetta"  … these bites are loved by all!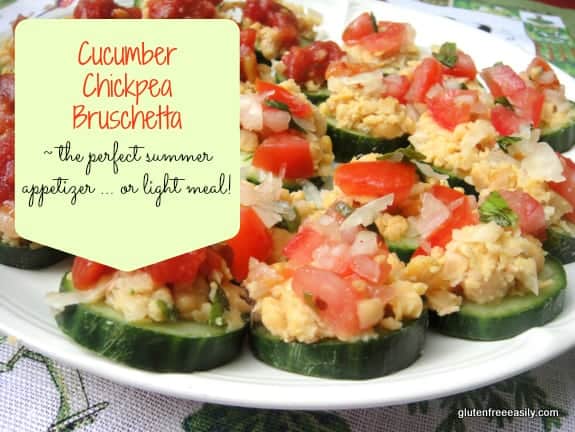 ~ Or these naturally gluten-free Garden-Free Herbed Cucumber "Flower" Bites (cucumbers cut into flower shapes with yummy topping) are pretty awesome, too.
~ Diane's (The Whole Gang) Guaco Tacos are such great finger food, but you can easily make a meal from these gluten-free, grain-free, dairy-free, and easily vegan, flavorful delights!
~ Who doesn't want to know How to Cook Perfect Corn on the Cob? This recipe is from Alisa of Go Dairy Free.
~ Love quinoa? Then Zoe's (Z's Cup of Tea) Quinoa Fritters might be your perfect side.
~ Maybe you're looking for a great salad as a side, or your "main." Hallie rounds up 101 Summer Salads.  I was so tickled that she included my Pulled Chicken Salad with Lime Cilantro Dressing. Another favorite of mine for summer is this Fresh Zucchini Toss.
~ For more salad recipes, you'll want to check out Danielle's (Against All Grain) Go Ahead Honey It's Gluten Free roundup of Seasonal Salads. Yes, even salads can be some serious "eye candy," especially when Amber's Candy Cane Beet, Strawberry, and Black Plum Salad with Ginger Lemon Honey Dressing is involved.  Don't just indulge in amazing salads like these when eating out; make one at home for a festive and healthy 4th!
And there's always Pasta Salad …
~ Like Linda's (Gluten-Free Homemaker) Southwestern Pasta
~ Or Amie's (The Healthy Apple) Pasta Potato Salad
~ Main Dishes ~
~ My Gluten-Free Beer Can Chicken; there's still no gluten-free beer that comes in a can, but there's an easy solution for that "deficiency" in the market. UPDATE! There are several gluten-free beers that come in a can now, but my method is still an easy solution if you don't have access to such brands.
~ Ribs say 4th of July to many. Mr. GFE and Son vote for ribs ANY time! How about these Barbecue Country-Style Ribs from Shockingly Delicious shared on Kalyn's Slow Cooker from Scratch blog?
~ Or these Oven-Baked Spare Ribs (perhaps if you're in the Northwest … or Australia; probably not a good idea if in the Northeast during our current heat wave).
~ Love pork, but think ribs are too messy? Try my Slow-Cooked Pork Butt, Also Known as the World's Easiest and Best Pulled Pork … at least by my family and friends.
~ Heidi's (Adventures of a Gluten-Free Mom) Homemade Barbecue Sauce would work well for all the pork recipes I've mentioned, but then there's barbecue chicken, too. I do love barbecued chicken!
Or for a Few More Vegetarian/Vegan Options:
~ Try Johnna's (In Johnna's Kitchen) Faux Pulled Pork. I can personally vouch for this recipe and Heather just did a review here. Look at Heather's photos; you would swear that you're eating pulled pork. I'm not a vegetarian, but I loved that I could eat Johnna's super tasty barbecue and not have that heavy "I want to go to sleep" feeling afterwards.
~ Son and I are nuts over my Blackened Black Bean Burgers. Seriously. I'd eat them over a regular burger any day.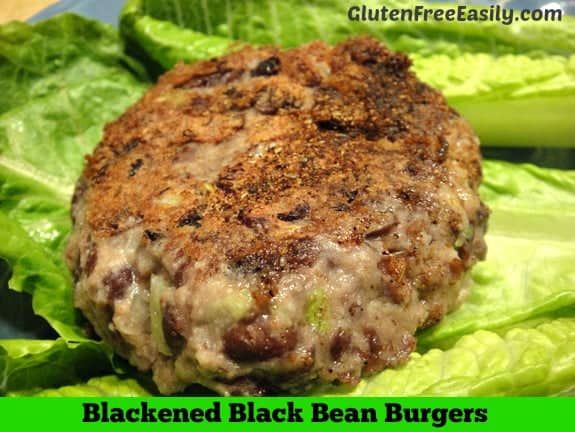 ~ Then there are Alyssa's (Simply Quinoa) Vegetarian Black Bean Quinoa Burgers, Johnna's (In Johnna's Kitchen) Sweet Potato Veggie Burgers, and Ricki's (Ricki Heller) Vegetarian Veggie Burgers That Are Made from Vegetables.
~ Desserts ~
Oh, how we love our desserts, don't we? They are without a doubt the most abundant—and most popular—recipes on blogs. I think you'll enjoy all of the following. Not all at once, of course.
~ Lynn's (Lynn's Kitchen Adventures) Red, White, and Blue Fruit Salad; Red, White, and Blue Kabobs; or Star-Studded Blueberry Pie
~ Jeanine's (Faithfully Gluten Free) No-Bake Strawberry Ice Cream Cake. Although Jeanine included some balsamic vinegar in this recipe, she says you can leave it out if you wish.
~ Are you looking for frozen dessert? My Watermelon Sherbet is so refreshing. When you ask who wants watermelon for dessert and all the heads go up and down, pull out this treat and surprise them instead.
~ If peaches are more your thing, how about Peach Sorbet? Or Crustless Peach Pie or Peach Upside Down Cake?
~ Or how about the classic Neopolitan combo like in this Raw, Vegan & Paleo Neapolitan Cake from Unconventional Baker?
~ What starts out blue, but ends up purple? The answer is Ricki's (
Ricki Heller
)
Blueberry Ice Cream
. There's more frozen lusciousness with this one, so I don't think anyone will mind that its hue is not blue and doesn't fit the typical patriotic color scheme.
~ Speaking of blueberries, how about my Blueberry Honey Pie with Honey Whipped Cream? This pie is one of my most favorite gfe recipes! Guess what? It's "no bake." (I love you, too.)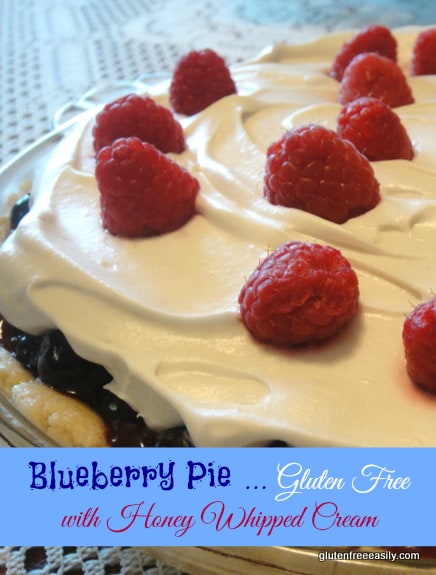 Truthfully, I simply adore pies and tarts. Here are a few more gorgeous and delicious options!
~ Alta's (Tasty Eats At Home) Strawberry "Cheesecake" with Almond-Macadamia Crust. Just look at it!
~ Danielle's (Against All Grain) Stunning Berry Tart. Oh my.
~ Stephanie's (Hope for Healing) Fresh Strawberry Coconut Custard Pie. As wonderful as it sounds.
~ Or how about Ali's (Nourishing Meals) Raw Berry Tart with a Coconut Pastry Cream Pastry? A work of art that I'd like to eat piece by piece.
~ Or Amber's (The Tasty Alternative) Strawberry-Studded Chocolate Tart?
Thankfully, we will never run out of amazing gluten-free desserts! (That's worth celebrating all by itself.)
~ How about Maggie's (She Let Them Eat Cake) Chocolate Chocolate Cookies turned into Ice Cream Sandwiches?
~ If you want a no-bake treat, try Arman's (The Big Man's World) Healthy No-Bake Ferrero Rocher Bites.
~ Or Megan's (Allergy Free Alaska) Real Food Strawberry Marshmallows or speaking of marshmallows how about Johnna's (In Johnna's Kitchen) Campfire Cones?
~ You also can't go wrong with Linda's (Gluten-Free Homemaker) Chocolate-Covered Strawberries, her Angel Food Cupcakes, her Angel Food Cake, or her Carrot Cake.
~ Mary's (
Gluten-Free Spinner
)
Dreamy Carrot Cake
 … soooo dreamy!
The challenge of gluten-free desserts is not that we don't have enough choices, it's making the choice on which one to make!
Now don't you agree that those are the tastiest and prettiest 4th of July recipes?
Happy Canada Day, Happy 4th of July (or Independence Day, if you like), and Happy Summer to All!
p.s. If you're eating at a group event for the holiday or any time soon, don't forget to follow these rules to stay safe. Here are some more great guidelines from AndreAnna (Life As A Plate) specifically geared to summer. As always, please remember that ANY gluten is too much gluten for someone who is eating gluten free for medical reasons; enjoy the tasty and good times with friends, but stay vigilant.