For affiliate links and as an Amazon Associate I earn from qualifying purchases.
It's day 4 of SSS—Suite of Sweets for Sweethearts! When I shared My First Raw Pie I mentioned that one of the other recipes I planned to make later was a Raw Pecan Pie. I like pecan pie. A lot. It can be a bit intense though—a jolt of sweetness–so it's not a pie that I make very often. I did make a Crustless Pecan Pie for Thanksgiving that my family loved and a few gfe readers have really enjoyed as well. However, this Raw Pecan Pie appealed to me because it's naturally gluten free and dairy free. Plus, it takes its sweetness from dates, and honey, if used, which also makes it refined sugar free. If no sweetener or agave nectar is added, this pie will also be vegan.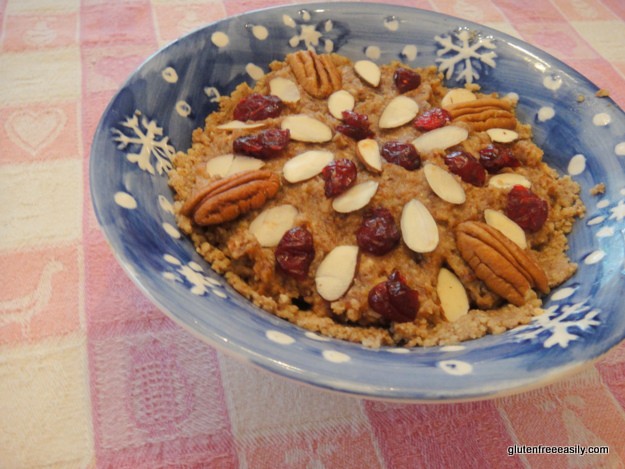 Like the first raw pie I made, this one has a great taste. It really pretty much tastes like what you expect a pecan pie to taste like … just not over-the-top sweet. Instead, it's just sweet enough for my taste. And, once again, I was impressed that I could actually cut this raw pie into slices like a traditional baked pie. A small piece is more than enough, because this pie is delightfully dense and filling, although it doesn't taste "heavy" in any way. I would have a hard time choosing between this raw version and my baked Crustless Pecan Pie. This pie is healthy enough to eat for breakfast and that's just what I am going to do! (Incidentally, offering a piece for breakfast may be a way to get your raw food skeptics to give it a try.)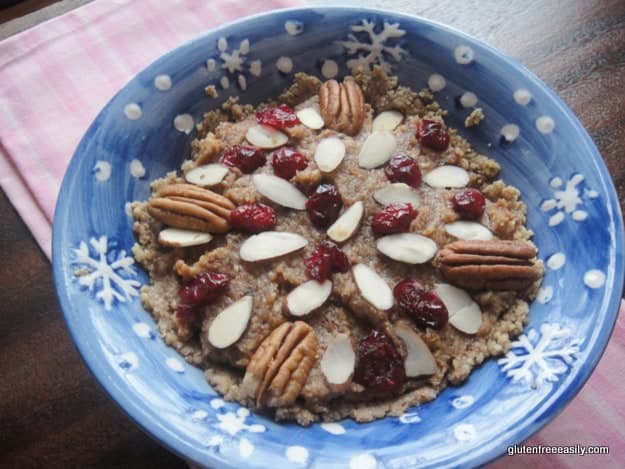 Raw Pecan Pie Recipe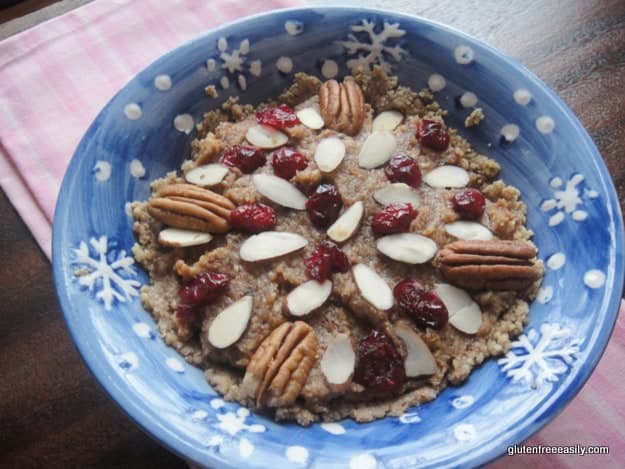 This raw pecan pie is no bake, gluten free, dairy free, egg free, refined sugar free, and vegan .... and it tastes amazing!
Ingredients
Crust
1 cup pecans, frozen
2 tbsp coconut oil (liquefied)
1 tsp honey (optional; agave nectar or coconut nectar may be used. I did not use either and using agave nectar does make this pie non-raw I believe.)
Filling
1 cup pecans
½ cup medjool dates, pitted
2 tbsp honey (optional; agave nectar or coconut nectar may be used; but either sweetener is optional. I did not add either and using agave nectar does make this pie non-raw I believe.)
A few dashes of ground cinnamon
1/3 cup water (may use less if dates are very juicy)
Instructions
For crust:
Place 1 cup of frozen pecans in food processor; process 15 to 30 seconds, until mostly ground. (Should not be finely ground, should have a few small pieces still.)
Add coconut oil and honey (or other sweetener, if used). Process a few more seconds until the pecans and coconut oil are blended.
Press into 5-inch pie plate (or similar serving dish).
For filling:
Soak medjool dates in 1/3 cup of water for 10 minutes, stirring after 5 minutes.
Add dates, pecans, and water (after the 10 minutes have passed) to food processor.
Process 15 to 30 seconds or so, slowly adding honey (if used).
Pour filling into crust. Garnish with pecan halves, etc., if desired. Serves 4.
Notes
Freezing the pecans is supposed to make them bind better with the shortening to make a more viable crust. I'm not sure if that's really necessary. I froze my pecan halves fairly quickly by spreading them out on an uncovered cookie sheet in the freezer. However, you can try them without freezing and just process with the coconut oil a shorter amount of time. I liquefied my coconut oil just by having the small amount in a bowl on top of my stove while I baked something else. Melted butter (dairy or non-dairy) can be used instead of coconut oil. (Of course, with the addition of dairy butter, this pie would neither be dairy free nor vegan.) In the filling, ½ cup of raisins and ½ cup pecans can be added instead of 1 cup of pecans.
Finally, I used sliced raw almonds and dried cranberries for garnish.Pie crust adapted from recipe from About.com. Filling adapted from a recipe included in newspaper article attributed to Beth Wood, Creators.com.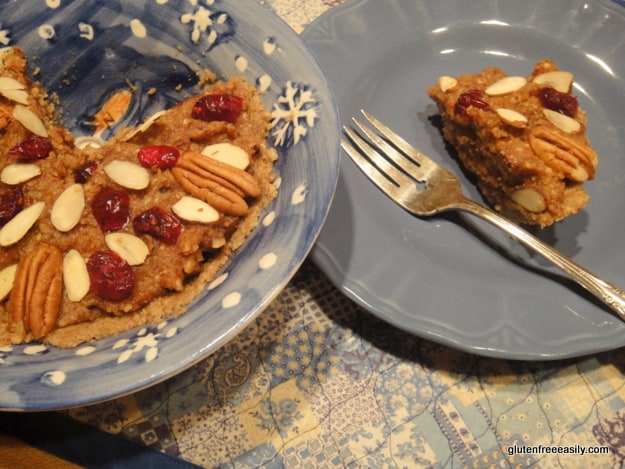 Enjoy your day off from baking! Be sure to check out previous Suite of Sweets for Sweethearts entries:
~ Surprise Mint Chocolate Chip Ice Cream
~ Cinnamon-Sugar Crusted Almond Popovers
Here are some more gluten-free pecan pie recipes you'll want to check out: