This post may contain affiliate links. If you purchase through them, your cost will stay the same, but gfe will receive a few cents for every dollar spent. Thanks for supporting gfe!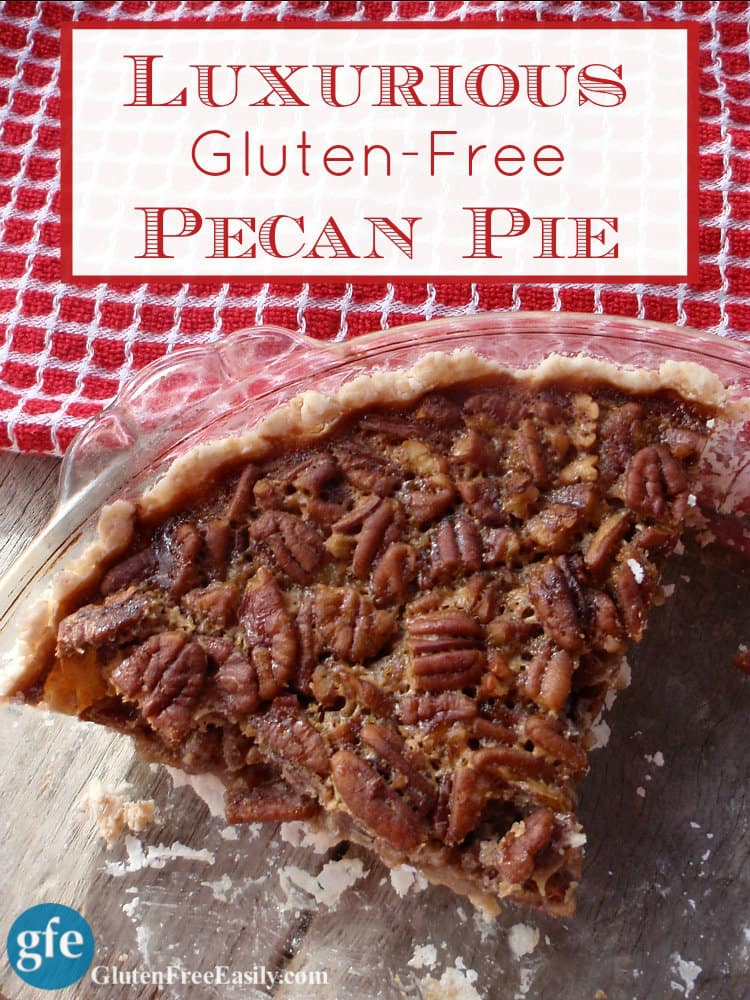 Two days after Thanksgiving, I posted about this gluten-free Luxurious Pecan Pie—with the photo above—on the gfe Facebook page:
"LUXURIOUS PECAN PIE … my new gluten-free pecan pie has been going fast since I took this photo. Only one piece left now. Mr. GFE, Son, and I might be fighting over it after lunch. Do you want this recipe? Sooner or later?"
Here are some of the replies:
"This impatient NY'er wants it yesterday! Lol"

"Sooner!"

"Yes!! Sooner!"

"You have to ask??? Seriously. Want it now!!!"

"Sooner … pleeeeeze!"

"Yes!! I want it sooner, please!"

"That looks amazing, Shirley!"
Such a positive response to a new recipe always makes me happy and I have to admit this pecan pie is my new favorite! It gives you the classic pecan pie taste but also offers a bit of creaminess. The sugary factor is not screaming out, and somehow the pie just tastes "softer."
Before I shared on Facebook, Son volunteered his own review.
Son:  "The pecan pie is amazing! That crust is amazing!"

Me: "What do you like best about it?"

Son: "Well, I love the crust, and the pecans kind of break away from the creamy filling and give you a smooth velvety finish."
Clearly Son loves it. I love it. Mr. GFE loves it. And so did everyone else when I served it at Thanksgiving. While I'm not sure that "smooth velvety finish" is typically a term applied to pies, I'll take it! And I hope you'll take a piece of this pie, too!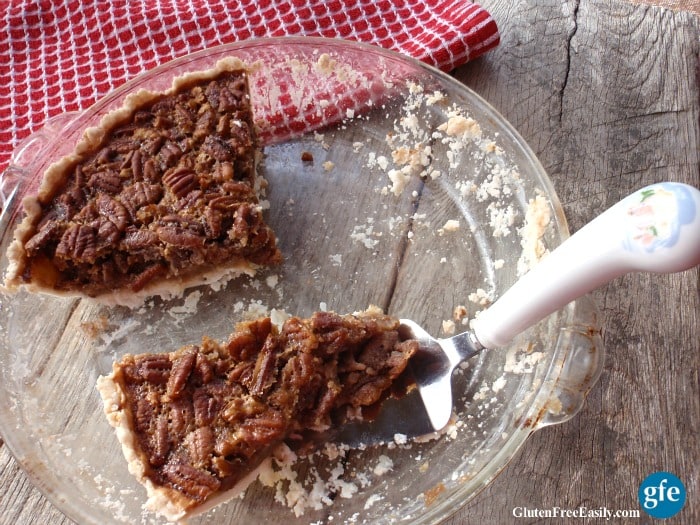 Print
Luxurious Pecan Pie
A pecan pie that's "softer" and creamier!
Ingredients
3 eggs
3/4 cup of full-fat canned coconut milk (or heavy cream)
1/3 cup of maple syrup (or honey)
2 ½ tablespoons vanilla extract
1 cup of light brown sugar
1/8 teaspoon salt (I use sea salt)
2 tablespoons of butter (dairy or non-dairy), melted
2 cups of pecans pieces (pieces that are smaller than halves)
Instructions
Preheat oven to 350F. Have pie pan with unbaked pie crust ready to go. (I use my No-Roll, Never-Fail, Press-In Pie Crust.)
In large bowl, beat eggs well. Mix in remaining ingredients.
Pour into prepared crust and bake about 45 minutes, or until crust is browned and pie is slightly puffy.
Cool to room temperature before serving. As pie cools, pie will deflate and firm up.
Courses Dessert