For affiliate links and as an Amazon Associate I earn from qualifying purchases.
What's a girl to do when she has sweet potatoes that she bought for a savory dish that she never got around to making and now the sweet potatoes are "expiring"? Well, make this Crustless Gluten-Free Sweet Potato Pie, of course!
There's no need to "re-invent the wheel" for this pie either. I simply used my recipe for "Best Ever Gluten-Free Pumpkin Pie" (which was actually the dairy-free version of my original Crustless Pumpkin Pie that reader/blogger Raye Ann of In the Heart of the Home created).
I substituted baked sweet potato for the pumpkin puree and increased the pumpkin pie spice. Oh my, we have a winner! This crustless gluten-free version of Sweet Potato Pie gets the gold! It doesn't even matter what the competition is!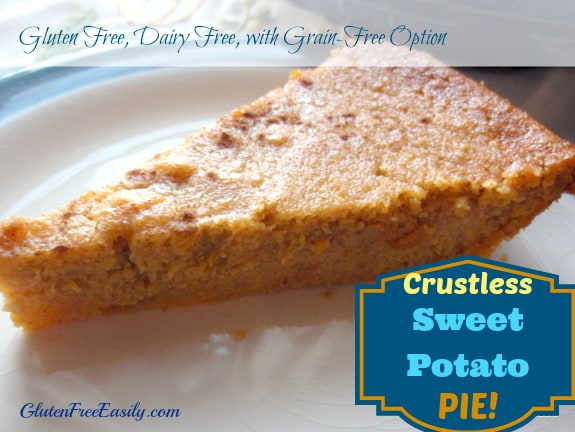 Incidentally, one song lyric about sweet potato pie has always stuck in my head "Sweet potato pie, and I shut my mouth." It's from the country group Alabama's Song of the South. I really know nothing else about the band Alabama or their music, but that lyric is right on.
I haven't made sweet potato pie since going gluten free. Well, I haven't made it in decades actually.
I used to make it all the time when we were first married because my father-in-law grew sweet potatoes and was always generous with them. We looked forward to a paper sack full of his sweet potatoes and my sweet potato pie that would soon follow.
At the time, neither Mr. GFE nor I were fans of sweet potatoes in any form except in sweet potato pie. When gluten-free living became my new normal, sweet potato pie—and truth be told, most baking—went out the window for me and for a good while.
But "sweet potato pie and I shut my mouth" are words I'm happy to reunite with! I think you'll be saying the same—this pie is some seriously good stuff—although you probably will not utter these words with the same Southern accent as I do. However, whether you're Southern or not, I think you'll enjoy this Crustless Gluten-Free Sweet Potato Pie!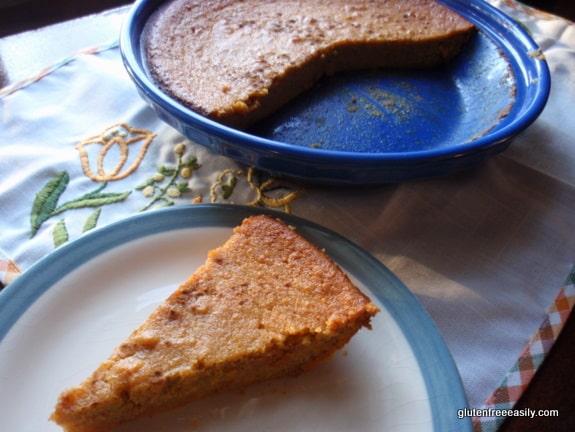 Crustless Gluten-Free Sweet Potato Pie Recipe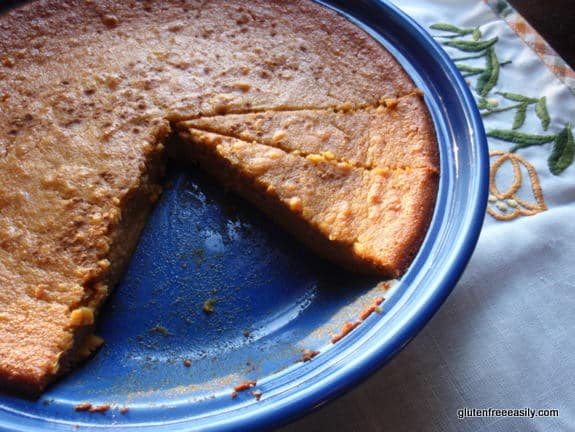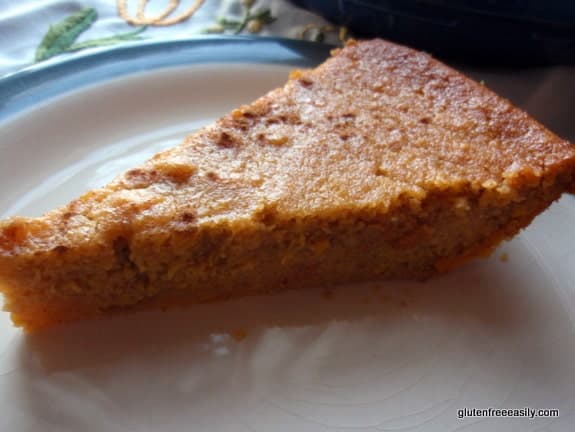 Yield: 8 to 10 slices
Crustless Gluten-Free Sweet Potato Pie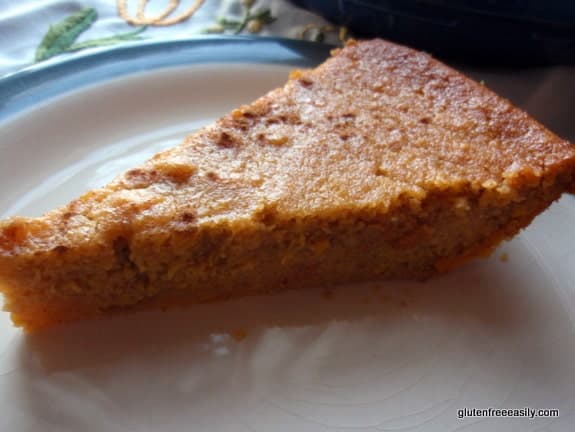 Okay, this is really a dessert, but it's fabulous for breakfast as well! If you've always been a pumpkin pie fan but unsure about sweet potato pie, give this a go. You might decide you like sweet potato pie even more!
Instructions
Preheat oven to 425F degrees. Grease pie plate and set aside.
In large bowl, beat eggs slightly and then mix in remaining ingredients (all using a hand mixer).
Pour/spoon filling into pie plate.
Sprinkle with cinnamon, if desired. Bake 15 minutes.
Reduce oven temperature to 350F degrees. Bake until knife or toothpick comes out clean, about 30 to 45 minutes longer. (Check at 30 minutes.)
Notes
Individual spices may be substituted for the pumpkin pie spice. I'd suggest about 1 tsp ground cinnamon, ½ tsp ground ginger, ½ tsp ground nutmeg, ½ tsp ground allspice, and about 1/8 tsp ground cloves (or similar proportions for using less or more flavoring).
Substituting coconut sugar for the granulated sugar will also work fine. I personally prefer granulated sugar in this recipe though.
Some readers have also used flax gel eggs successfully in this recipe.
Originally published December 28, 2011; updated February 1, 2020.