This post may contain affiliate links. If you purchase through them, your cost will stay the same, but gfe will receive a few cents for every dollar spent. Thanks for supporting gfe!
While everyone has his or her own idea of the ideal Chocolate Chip Cookie, for National Chocolate Chip Cookie Day, I thought I'd share some of my favorites at the moment. They run the gamut … traditional Toll House-style gluten-free cookies … rum-enhanced cookies that conjure visions of Johnny Depp … a double chocolate chip quinoa combo … traditional "real deal," but grain-free chocolate chip cookies … bourbon- and bacon-enhanced chocolate chip cookies … and finally chocolate chip-speckled meringues and coconut chocolate chip macaroons.
Sometimes the very best thing one can do to any cookie recipe is to add chocolate chips, don't you think? Go ahead and find your new favorite chocolate chip cookie recipe! Do you like thick and chewy chocolate chip cookies? thin and crispy chocolate chip cookies? light and airy chocolate chip cookies? Do you need grain-free chocolate chip cookies? Or dairy-free chocolate chip cookies? I've got them all for you!
Gluten-Free Chocolate Chip Cookie Recipes for National Chocolate Chip Cookie Day (and Every Day)
~ Brown Sugar Chocolate Chip Cookies from Gluten Free Easily (that's me!)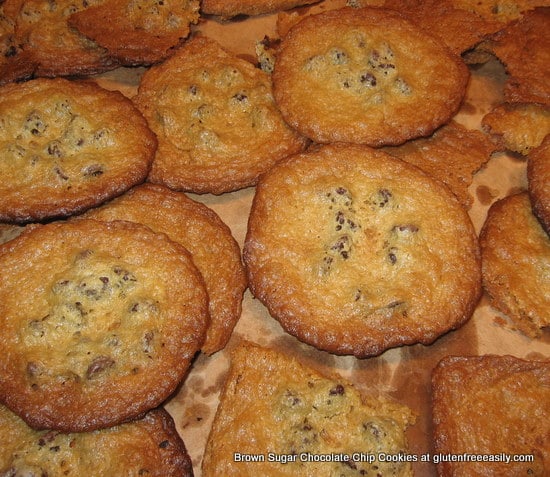 ~ Toll House Style Chocolate Chip Cookies from Allergy Free Alaska
~ Captain Jack's Chocolate Chip Rum Cookies from The Whole Gang
~
Real Deal Chocolate Chip Cookies
from
Against All Grain
~ Bourbon Bacon Chocolate Chip Cookies from In Johnna's Kitchen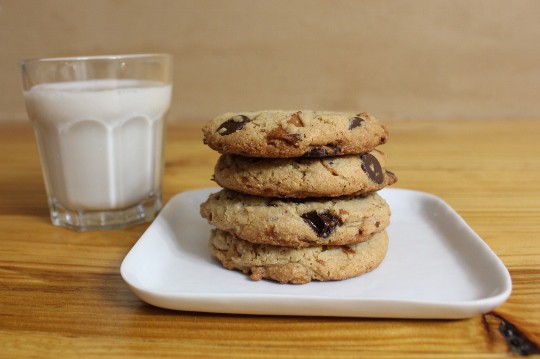 ~ Chocolate Chip Meringues from Angela's Kitchen
~ Coconut Chocolate Chip Macaroons from Gluten Free Canteen
Which cookies will you try on National Chocolate Chip Cookie Day? Try one recipe then and try the rest throughout the year, because we all know that chocolate chip cookies rule—and gluten-free chocolate chip cookies are no different!