For affiliate links and as an Amazon Associate I earn from qualifying purchases.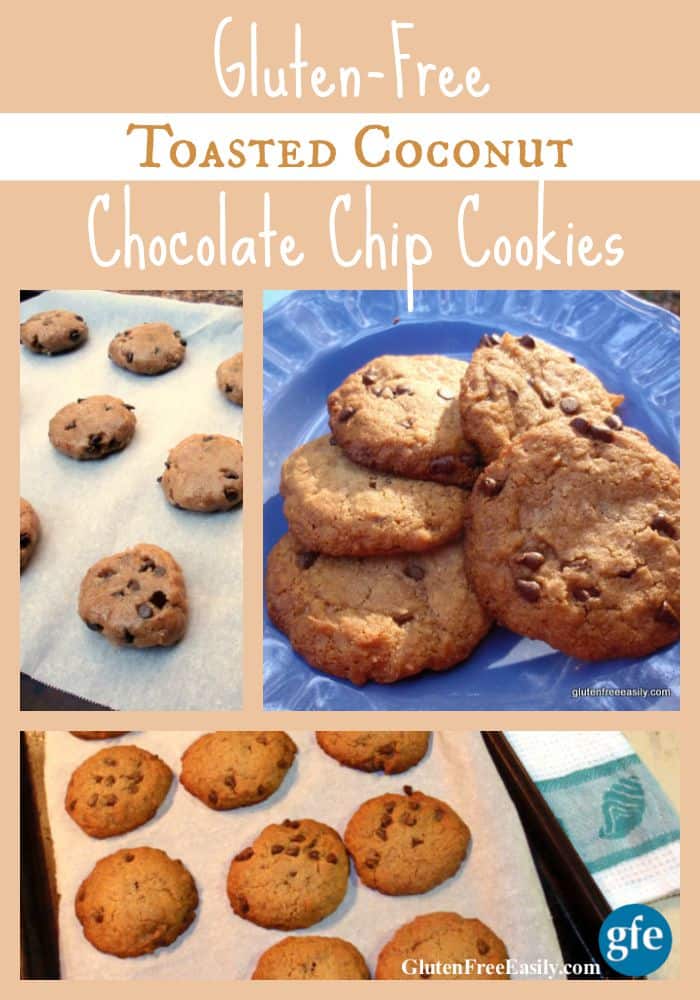 I wonder how many times the word "love" is uttered when it comes to food. I suspect we direct it more to food than we do to the special people in our lives. Specifically, when it comes to desserts. Desserts perhaps with chocolate and your other favorite ingredients. Those other ingredients would include coconut and honey for me. And almond flour.
I could go on and on. And what about the textures? Creamy, velvety, silky all call my name. Chewy and dense often "speak to me," especially in this recipe. I know I'd readily say I love these cookies and this is only Version 1. Yes, Version 2 is already dying to be made, but Version 1 had to be shared first. So I admit it I'm often saying that four-letter word "love" when it comes to food.
I think love is actually appropriate when it comes to these "Samoa"-taste Cookies. We all remember the Girl Scout Samoa cookies, don't we? They were certainly my favorite, again because of all those ingredients, tastes, and textures I love so much. While the Girl Scout cookies are literally off the table for those of us who are gluten free, we can still enjoy newly created gluten-free variations of them or cookies that use those tastes and textures for inspiration. (Be sure to read about some of the best at the bottom of this post!)
While these cookies look very much like a traditional chocolate chip cookie, they are completely different. Give these a go and see what you think. Maybe you could love these cookies and your loved ones by sharing them with them all. Whatever your individual approach on love when it comes to baked goods and important folks in your life, I think these are a great starting point for some Samoan gluten-free, grain-free, and vegan goodness!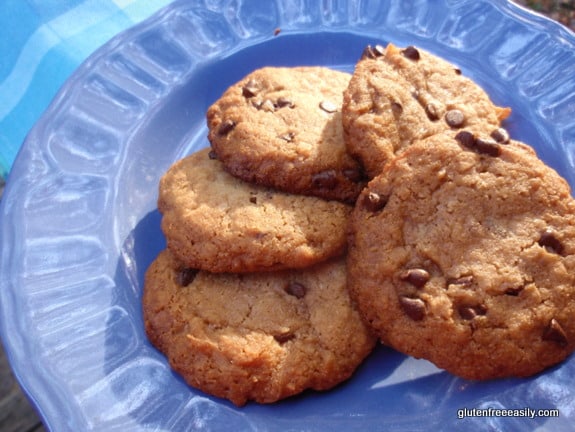 Yield: Makes about 15 cookies 2 1/2 inches in diameter
Toasted Coconut Chocolate Chip "Samoa"-Taste Cookies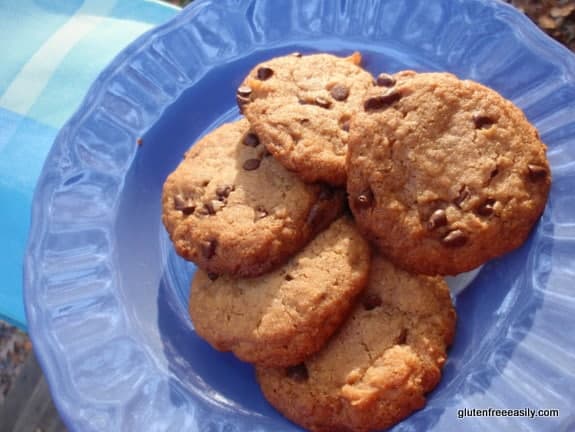 Inspired by Hannah Kaminsky's Vegan Coconut Drop Cookies for VegNews.
Ingredients
¾ cup shredded coconut/coconut flakes
¾ cup almond flour, packed (I prefer Honeyville blanched almond flour)
2 tbsp coconut flour, sifted (may be optional; see notes)
1 tsp baking powder
¼ tsp sea salt
¼ cup brown sugar (or coconut or palm sugar)
Slightly less than 1/3 cup agave nectar (or exactly 1/3 cup honey)
2 tbsp coconut oil, liquefied
Instructions
Preheat oven to 350 degrees Fahrenheit. Line one baking sheet with parchment paper.
Spread coconut flakes on a baking sheet. Bake for about 3 minutes, being sure to stir every minute to prevent the flakes from burning. (Note that a few flakes on the edges may actually burn or darken too much. Those can be discarded.)
While toasting coconut flakes are in the oven and/or cooling after toasting, mix other ingredients adding one by one in large bowl, stirring after each addition.
Once all ingredients have been added (including cooled, toasted coconut flakes), the mixture will be very thick and you may need to use your clean hands to finish incorporating all of the ingredients.
Roll cookie batter into balls, slightly less than walnut sized. Place on the parchment lined-baking sheet.
Using the bottom of a glass or a metal spatula, press balls down slightly to about ½-inch to ¾-inch thickness.
Bake for about 8 minutes or so. Outer edges should be brown, and middles should be non-glossy, but not very brown.
Cool on baking sheets for 10 minutes. Cookies will continue baking/setting up during this time, so do not skip this step. Remove from baking sheet to wire rack or serving plate to cool additionally as needed.
Notes
I always pack my almond flour in the cup, so I'm sure to get the same measurement each time. These cookies might harden over time … perhaps more than you'd like. I actually like the ultra chewiness of them that way and/or even enjoy dunking them in my tea or a glass of almond milk. However, if you find these cookies hardening too much and you would prefer that they stay soft, add a small piece of apple to your container and leave the lid on. Also, omitting some or all of the coconut flour will produce a softer cookie—most likely more of a drop cookie, which will require a tablespoon measure for placing the batter on the baking sheet—because coconut flour absorbs the liquid in recipes.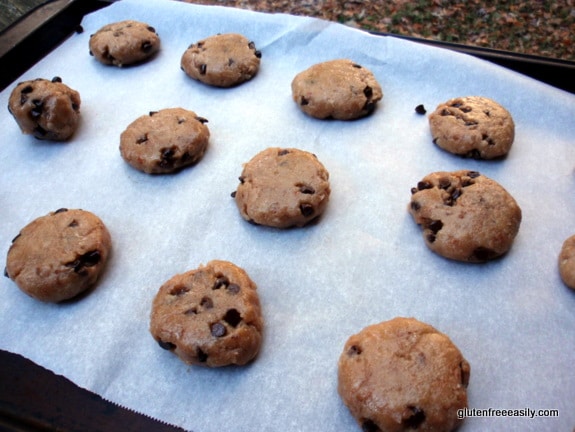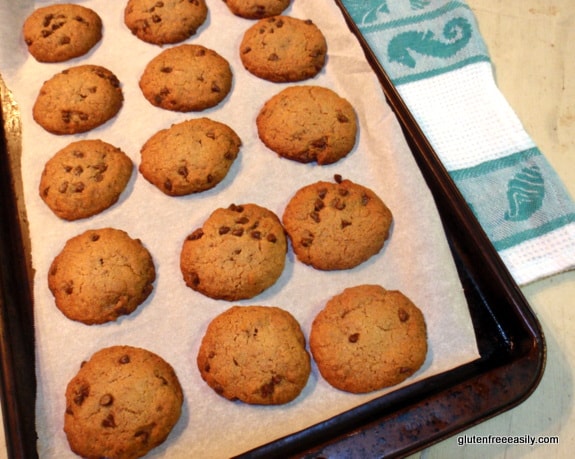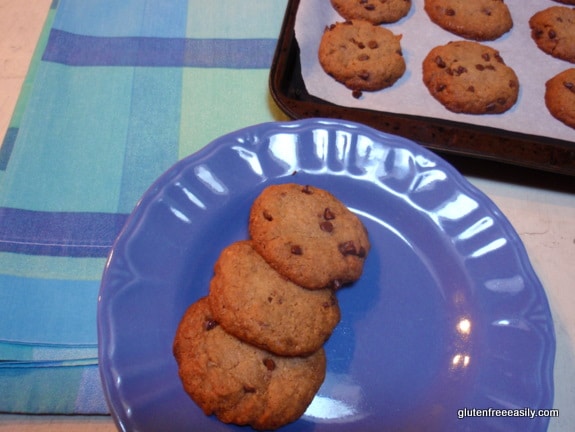 I wouldn't call these cookies Samoa "knock-offs"—they just offer a similar taste and texture—but if you are looking for gluten-free Girl Scout knock-offs, they do exist …
Bonus:  Check out my Top 10 Best Gluten-Free Girl Scout Cookie Knockoff Recipes and Girl Scout Cookie-inspired treats!