For affiliate links and as an Amazon Associate I earn from qualifying purchases.
These delightful Flourless Gluten-Free Coconut Macaroons have two main ingredients. Sweetened condensed coconut milk and shredded coconut.
A little salt and both vanilla extract and almond extract complete the ingredients list for these sweet and chewy cookies. You can use all vanilla extract and skip the almond extract if you like but I will say that I really enjoy the flavoring that it adds to these macaroons.
The original recipe, simply called Coconut Macaroons, came from the cookbook of the church of my childhood. My notes in the front show that Mom gave the cookbook to me in 1979.
We all know this kind of cookbook, right? Plastic spiral binding. Old school recipe sections such as Appetizers, Pickles, Relish; Soups, Salads, Sauces, Dressings; Main Dishes, Meat, Seafood, Poultry; Main Dishes, Cheese, Egg, Spaghetti, Casserole … You get the picture.
Plus, boilerplate sections such as Equivalents, Weights, and Measures; Substitute Ingredients; Everyday Herb Guide; Stain Chart; and First Aid, and Miscellaneous Information; Six Easy Steps to Perfect Pie; and Quantities to Serve 100 People (you need that info for church potlucks, right?!).
This particular cookbook does not even have the name of our church on the cover. It simply has a generic "Favorite Recipes From Our Best Cooks" cover. The church name is only shown on the title page with a photo—a black and white one—of the church, with the service hours on the back side of the title page.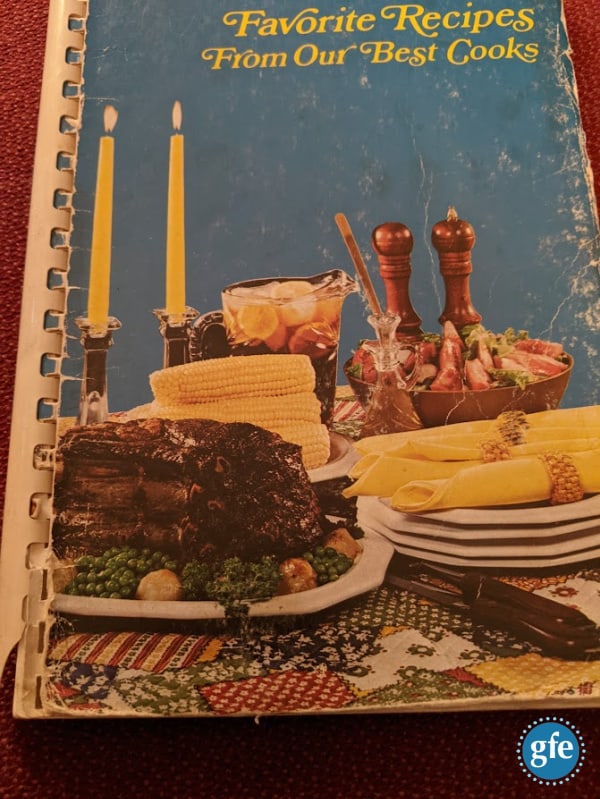 Every time I open one of my old church cookbooks (or similar cookbooks from local organizations), it's like a trip down memory lane. Memories of so many individuals come in a constant stream as I flip through the pages.
There are recipes included that are from family members (including close relatives and distant relatives), neighbors, other family friends, and some who were prominent in the community at the time of the cookbook's publication.
Most of the folks who contributed to this cookbook are no longer with us. Their recipes however remain gems and are a fine legacy.
Many recipes in such cookbooks are gluten full but almost as many are naturally gluten free—meaning no gluten-free specialty ingredients are needed. That was the case with these Flourless Gluten-Free Coconut Macaroons.
Yay! I absolutely love naturally gluten-free recipes! Most of you reading already know that of course.
I also love flourless recipes and this recipe obviously fits that category as well.
Even the gluten-full recipes in these cookbooks can often be easily "converted" to gluten free. My Two-Ingredient Gluten-Free Flour Mix has been a great aid for me when it comes to converting baked good recipes.
The Latest on Gluten-Free Products That Contain Oats (Spoiler Alert: Personally, I'm Saying No)
Speaking of my flourless recipes, the caramelized edges of these Gluten-Free Coconut Macaroons remind me very much of my Flourless Oatmeal Cookies.
Admittedly, I'm not making those cookies right now or anything made with oats because I'm not currently consuming oats based on the recent testing results of gluten-free products that contain oats that showed 35% of gluten-free products contained gluten. This report was compiled and provided by Gluten-Free Watchdog, which shares "unbiased reporting of state-of-the-art gluten-free food testing data for consumers."
Read that bolded text above again. And then please click over and read the article on Gluten-Free Watchdog to get the full picture. You'll also want to follow GFW on Facebook and/or Instagram as well.
A better than one-in-three chance of getting glutened is not a chance I want to take. I sincerely hope you do not want to take that chance either.
Yet Another Van's Gluten-Free Waffles Recall for Undeclared Wheat
Along those lines, if you are one who eats Van's gluten-free waffles, you should know that they recently had another recall due to undeclared wheat.
I reported on a recall of Van's waffles back in 2018. The waffles in that recall were recalled because wheat-based gluten-full waffles were placed in gluten-free packaging. Note that Van's sells both gluten-free and gluten-full products.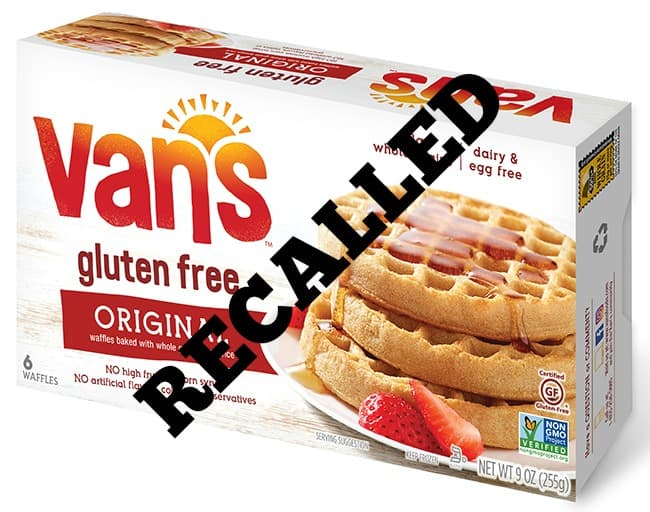 In that post, I also referenced an earlier Van's recall in 2009—it was their gluten-free pancakes that time. In that case, they had placed wheat-based, gluten-full pancakes in gluten-free packaging.
It's not 100% clear to me that that is what happened this time as no explanation of any sort was given—either by the FDA or Van's—but for a company that produces both gluten-full and gluten-free waffles, it seems almost certain that it did.
Do you see a pattern here?
You might think, "Well, that's not too bad. They only have issues every 5 years or so. I'm going to keep eating them."
That's your choice and your right to continue patronizing Van's of course but I stopped eating all Van's products after the 2018 product recall.
I had not known about the 2009 incident until the 2018 recall. If I had known, I almost certainly would have stopped eating Van's products in 2009.
Finally, let me also point out that Van's has made no public statement or apology about this recall just as they did not with previous recalls. That's absolutely inexcusable.
More Ways to Safely Satisfy Your Need for Frozen Gluten-Free Waffles
If you want to enjoy gluten-free waffles on a regular basis, you don't have to buy gluten-free frozen waffles. Instead, you can make a batch and freeze them to pop in the toaster later.
It's so easy to do. Really.
I use one of my own recipes or another one here on gfe, such as this one. (See more gluten-free waffle recipes here.)
After the waffles cool, I place them on a large baking sheet and stick them in the freezer. Once they are frozen "hard," I put them all in a large Ziploc freezer bag separated by small pieces of waxed paper.
Yes, I still use old school waxed paper on occasion. You can also use parchment paper for this task of course. (In theory, the waffles should not stick together after being frozen hard but sometimes they can still stick together. Hence, the wax paper or parchment paper advice.)
Thanks to a Facebook post from In Johnna's Kitchen, I also saw that Banza now makes gluten-free waffles. As with their pasta, Banza's gluten-free waffles are mainly made from chickpeas, which makes them high-protein waffles. Personally, I can't wait to try them!
And I greatly appreciate the heads up and the review from Johnna!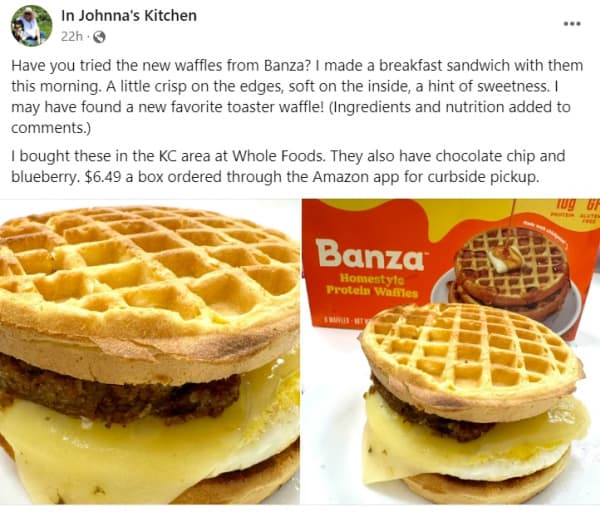 Today's Coconut Macaroons do not contain oats and have nothing to do with waffles but while I had your attention, I thought I would mention these serious concerns. If you follow my gfe Facebook page, you probably already saw the info when I shared it there.
Back To These Flourless Gluten-Free Macaroons
I made the first batch of these Flourless Gluten-Free Macaroons with Bakers Angel Flake Sweetened Coconut and the second batch with Let's Do Organic unsweetened shredded coconut. Both Mom and I preferred them made with unsweetened coconut.
But if you like your cookies sweeter and you want a chewier—and admittedly, a bit stickier—version, you may opt to use the Bakers Sweetened Coconut.
The original recipe, which I adapted slightly, calls for the cookies to be made with glacéed cherries, aka glazed or candied cherries. Decorative cherries which have been cut in half and added to the center of the macaroons before baking.
Such cherries are often added to holiday desserts, usually cookies, during the holidays.
Anyway, I can't wait to hear which version of these Gluten-Free Macaroons you prefer! Last, I think it goes without saying that you should add these cookies to your holiday table later this year.
Perhaps along with a recipe or two from these wonderful gluten-free cookie collections on gfe: 30 Gluten-Free Christmas Cookies That You'll Want To Make Right Now and 30 More Gluten-Free Christmas Cookies That You'll Want To Make Right Now.
For future reference of course. And no, I'm not going to mention anything that might resemble a countdown. You're welcome!
Before we get to the recipe, if you're a longtime gfe reader you know that I love all things coconut! You can find many wonderful gluten-free coconut recipes on gfe, including my beloved Crustless Coconut Pie and even a 3-minute mug version of that pie just for you!
Flourless Gluten-Free Coconut Macaroons Recipe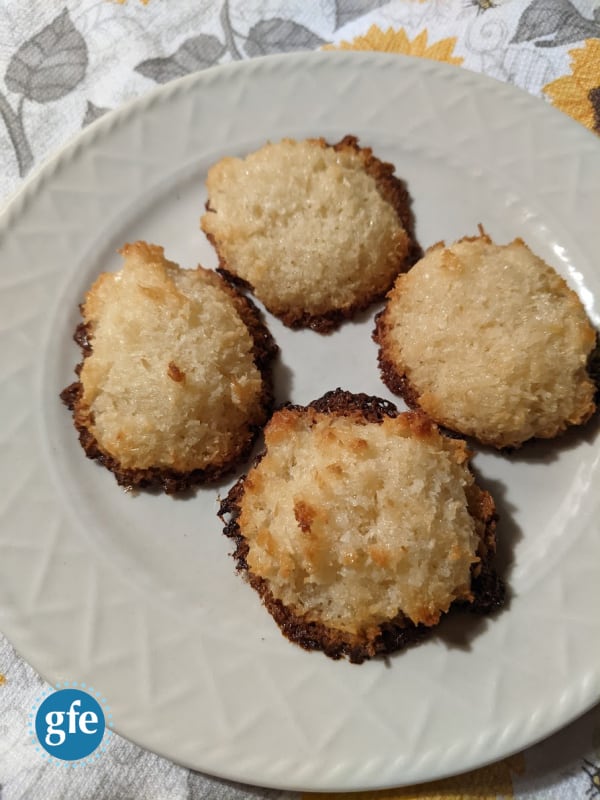 Yield: 2 dozen cookies
Flourless Gluten-Free Coconut Macaroons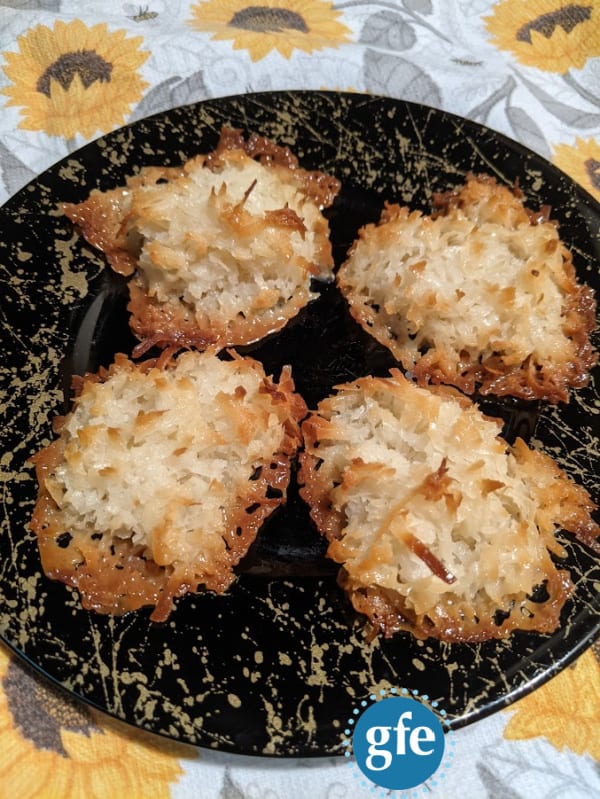 Prep Time 10 minutes

Cook Time 12 minutes

Additional Time 10 minutes

Total Time 32 minutes
Ingredients
3 cups Let's Do Organic unsweetened shredded coconut (8 ounces) or Bakers Angel Flake Sweetened Coconut (14 ounces), packed (please read notes regarding difference in ounces)
1 can (11.5 ounces) Sweetened Condensed Coconut Milk (see notes) 
1 tsp vanilla extract
½ tsp almond extract
dash of salt
Instructions
Preheat oven to 325F degrees.
Line two baking sheets with parchment paper.
Drop by rounded teaspoonful onto baking sheet. (I drop by rounded tablespoonful
so my cookies are larger than those that would be made by using a rounded
teaspoonful.) Be sure to leave an inch or more between cookies as they will spread some during baking.
Bake for about 12 to 15 minutes until the edges of the cookies are golden brown. Do not overcook.
Remove to wire rack to cool if you like. I tend to undercook them slightly so I can leave them on the parchment-lined baking sheet to both finish cooking and then cool.
Notes
Adapted from Ebenezer United Methodist Church cookbook published in 1979, recipe from Norita Smith.

You may look at the greatly differing amounts of unsweetened shredded coconut and sweetened coconut and think how can that be possible. I get it. The fact is the Let's Do Organic unsweetened shredded coconut is really compressed in the packaging but the Bakers Angel Flake Sweetened Coconut is not compressed at all.

I have used Nature's Charm and André Prost brands of sweetened condensed coconut milk in this recipe but any brand should work. 

Originally published August 13, 2023.