For affiliate links and as an Amazon Associate I earn from qualifying purchases.
In my early days of blogging, in addition to my gluten-free recipes and gluten-free discussions I shared a lot of gluten-free news, news like the current Van's Gluten-Free Waffles recall. These waffles were recalled because wheat-based gluten-full waffles were placed in gluten-free packaging. Yeah, that news is worthy of a double take for sure but I'll share much more on that recall in a minute.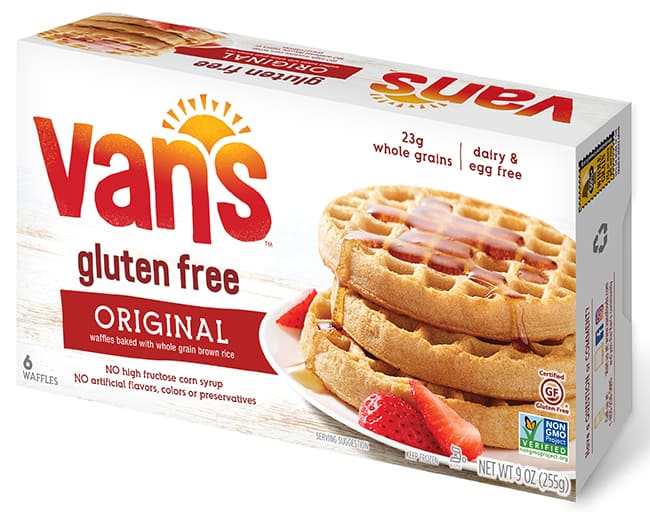 Over time I got away from sharing such news here on gfe because I felt the need was being met elsewhere. Plus, after I created my gfe Facebook page I was more likely to share such information there. It seemed like the news could be dispensed more quickly there.
While there are still some excellent sources of gluten-free news, there are not enough of them to ensure the news gets out to everyone in the gluten-free community. The news doesn't even get out to all of my readers when I limit my sharing to social media. That's particularly true as what you all get to see on Facebook is very limited these days. Therefore, I'm going to return to sharing gluten-free news here on gfe as needed via posts labeled "GFE News Breaks."
Kicking off this occasional series also seems like an appropriate way to kick off May which is National Celiac Awareness Month. While you're here, grab the banner below from my friend Debbie Simpson of DSimpson Books and Gluten-Free Respect and use it as your Facebook header or Twitter header (if you have either of those social media accounts).

You can grab more of Debbie's terrific images here. Take a look. You might see one you like better than the one I've chosen to share here.
I also recommend that you take a look at Debbie's new presentation, Free of Gluten Not Free of Feelings: The Emotional Side of Dietary Differences. This is an outstanding presentation. It will be helpful to you as a gluten-free individual via your own reading but also will prove helpful if you share it with your loved ones and other gluten-free individuals.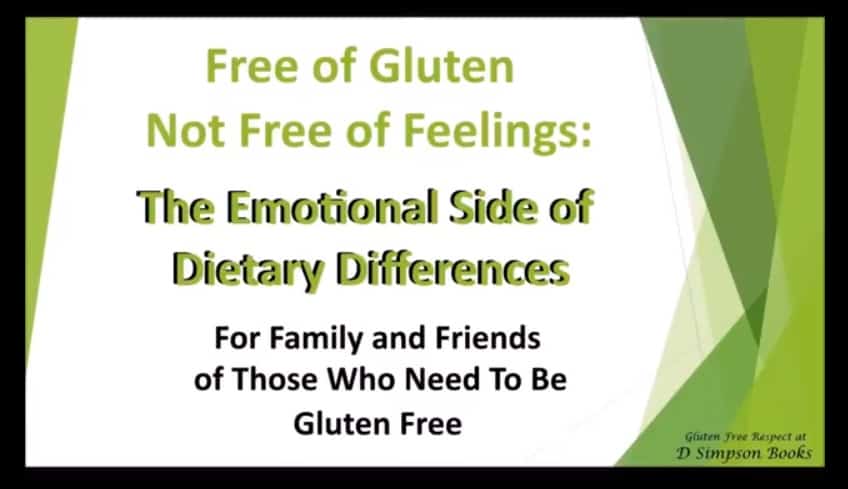 Back to the Van's Gluten-Free Waffles Recall …
Today's news break will focus on just one item; i.e., Van's Foods finally issued a recall of its waffles after news surfaced that consumers found square, wheat-based waffles in their packages labeled "gluten free." As Tricia Thompson of Gluten-Free Watchdog points out, this type of recall is a Class I recall.
Why? As Tricia explains, "Because if you mistakenly place a wheat-based waffle or a wheat-based pretzel in packaging labeled gluten-free this poses a serious health threat to folks who have celiac disease and folks who are allergic to wheat." (Read more in this second post in Tricia's Gluten Free Watchdog Bite series in honor of Celiac Disease Awareness month here.)
Van's Gluten-Free Waffles Recalled for Undeclared Gluten (Wheat) and Undeclared Milk
A week ago, the Celiac Community Foundation of Northern California and Gluten-Free Watchdog shared on social media that some gluten-free consumers had found square waffles in their gluten-free packages of Van's waffles. Note that Van's Foods actually makes both gluten-free and gluten-full waffles. Normally, Van's gluten-free waffles are round, not square. In fact, all of Van's waffles—both the gluten-free waffles and gluten-full waffles–are round EXCEPT for its wheat-based, "gluten-full" Belgian waffles. Therefore, the concern from the beginning was that the square waffles were, in fact, the "regular" wheat-flour based waffles. It turns out that's exactly what they were!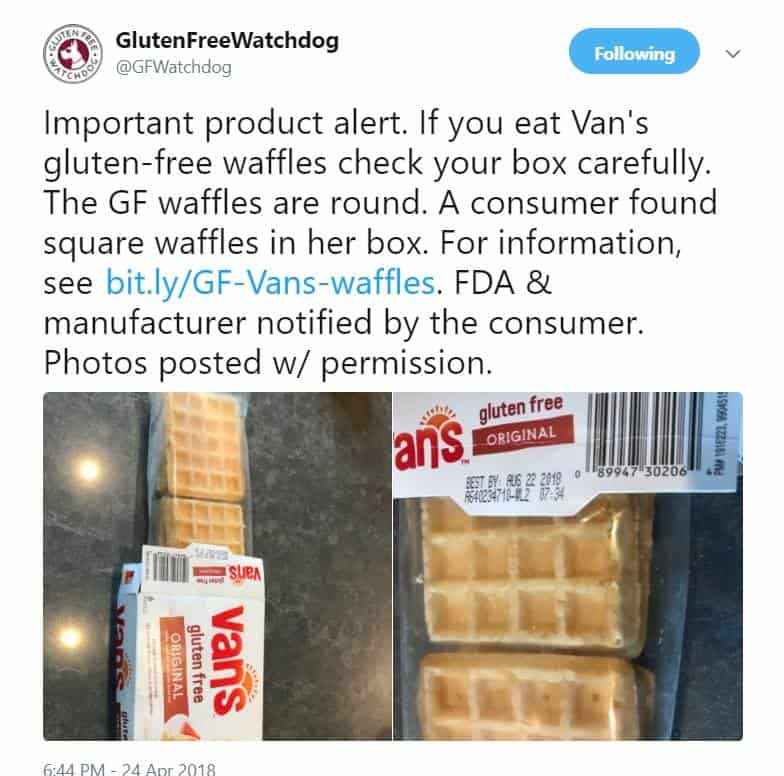 Although these reports of suspect waffles just recently surfaced, one gluten-free consumer had reported this issue to both Van's and the FDA in January. Yes, I said January. And it's now May. Friday, April 27, the notice of a voluntary recall by Van's was posted on the FDA site. You can read the official recall notice here.
I urge you to read the recall notice because I want you to take note of the specific wording—and lack thereof—but, first, here's the specific information on the packages that is what you really need to avoid these gluten-full waffles and stay safe:
"Van's Foods is voluntarily recalling approximately 1,584 cases of Van's Gluten Free Waffles with a lot code date of #A640234710–WL2, BEST BY AUG 22, 2018 and UPC CODE 8994730206. The products were distributed solely to food retailers in Arkansas, California, Colorado, Georgia, Illinois, Michigan, New Jersey, New York, Pennsylvania, Texas and Wisconsin."

First, the recall notice states that "a limited number of the wrong packaging were used during the production of Van's Belgian Waffles." Let's consider the adjective used to describe the scope of this recall, "limited." The number of cases being recalled is 1,584.
As my friend Johnna and I discussed, this is not a limited or insignificant number. Per Amazon, there are 12 boxes in each case of waffles. That means 19,008 boxes have been recalled. Within each box, there are six waffles. That means that a total of 114,048 waffles have been recalled. Personally, I wouldn't call that a "limited number." In fact, I feel that the "limited number" term is deliberately misleading and I've seen Van's personnel continue to use that term in response to gluten-free individuals asking about this recall.
The recall notice on the FDA site is also not accurate in its wording as it should state that Van's gluten-free waffles may contain both "undeclared wheat" and "undeclared milk." Instead, the recall notice references "gluten" and "undeclared milk."
It's important to remember that "gluten-free" labeling is voluntary and is a ruling—versus a law—per FDA's definition. However, both wheat and milk are among the Top 8 allergens and per the Food Allergen Labeling and Consumer Protection Act (FALCPA)—which actually is a law—those ingredients must be identified on any product packaging. Therefore, the recall should cite both "undeclared wheat" and "undeclared milk."
It is also important to remember when reading packaging when purchasing products that per the FALCPA, the Top 8 allergens can be identified on a product's label either in a "Contains" statement or in the ingredients listing itself. Some products identify the Top 8 allergens in both the "Contains" statement and the ingredients listing, but only one of those is required. Therefore, you can't simply look at the "Contains" statement and bypass the ingredients listing or vice versa. You must read both to know all the allergens are in any given product.
That information aside, again, the wording in the Van's recall on the FDA site and on its own site here does not adhere to current FDA law.
Van's Also Had a Gluten-Free Pancakes Recall in 2009
In researching this current recall, I learned that Van's had a similar recall in August 2009. You can read all the details here but the bottom line is that they had placed wheat-based, gluten-full pancakes in gluten-free packaging. In that case, it was implied that the issue had been discovered by Van's own operations:
"The voluntary recall was initiated immediately after a packaging operator error, limited to one shift, was discovered. The company has immediately reinforced its Quality Assurance and Packaging procedures and believes that the problem was a one-time incident."
The recall notification included the following: "Our customers have trusted Van's with their special dietary needs for more than 20 years, and their health and safety are our first priority," said CEO of Van's International Foods, Eric Kufel. "Van's has immediately implemented advanced quality procedures above and beyond what we already have in place to ensure the continued safety of our products."
Clearly, Van's Foods "advanced quality procedures" have failed and, to date, I've not read any similar statements of concern and commitment to avoid a repeat in regard to the current recall of Van's Foods gluten-free waffles.
The current recall and all the articles I've seen online sharing the recall state: "To date, Van's Foods has received no reports of illnesses or adverse reactions associated with the effected products." (The word "effected" obviously should be "affected.")
So far, I've seen one comment on Twitter from a gluten-free consumer who was made very ill by these waffles. I have no doubt that others were sickened as this "packaging error" (Van's term) has gone on at least since January of this year.
While I have not eaten Van's gluten-free waffles in a very long time, I hate to think what my reaction would have been if I'd eaten "full gluten" waffles, considering that I react so strongly to even a small amount of gluten via cross contamination. I know many of you experience the same reactions when you've been "glutened," even when you've been exposed to a very small amount of gluten.
How To Report Issues with Gluten-Free Products
It's really important that gluten-free consumers report reactions to gluten-free products or questionable changes in packaging. It's fine to contact the manufacturer but please never stop there. Always also contact the FDA as well. Contact them via the FDA's MedWatch Adverse Reporting System at 1-800-332-1088 (choose option 4) or online here. Please also contact your local FDA Consumer Complaint Coordinator.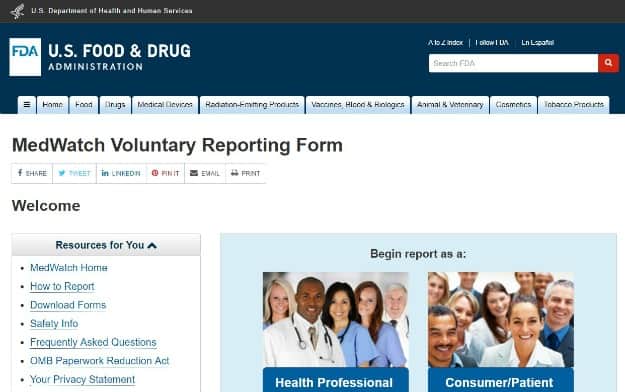 Are the Sites You Support Sharing This Kind of News with You?
Are the sites that you support and feel are your gluten-free advocates sharing this type of information online via social media channels and/or their blogs/websites to ensure your safety? If they're not, they're not your advocates. Seriously. I see who shares this kind of data. Those are the organizations and individuals that deserve your support and readership. I am seeing only a handful of gluten-free resources sharing the Van's Gluten-Free Waffles Recall information, although it should be being shared by anyone who has a gluten-free audience online. We've seen a similar lack of response by members of the gluten-free community regarding other recalls in the past but with this recall, there are even fewer—far fewer; almost nobody really—sharing this important information.
Lack of Action; Lack of Outrage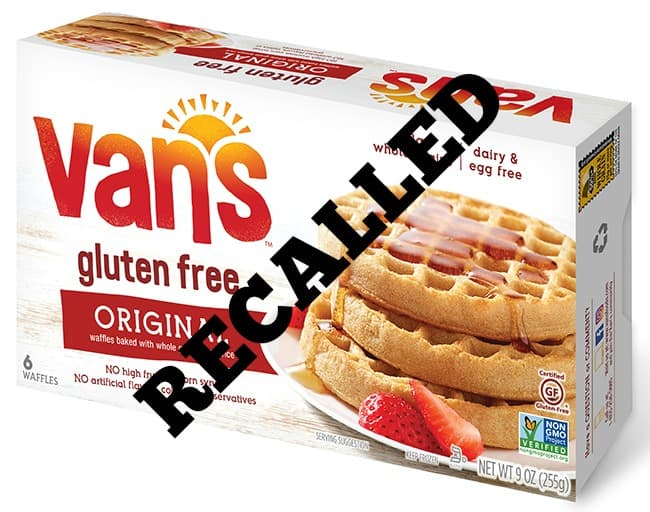 Why isn't this news being spread far and wide?
Why isn't Van's Foods sharing any more information?
Why isn't the certification agent for Van's gluten-free waffles, i.e., the Gluten Intolerance Group's Gluten-Free Certification Organization (GFCO), addressing this recall?
How can such a "failure" happen when manufacturers of certified gluten-free products are supposed to have processes in place, including in-house testing, to ensure that their gluten-free products are truly gluten free?
Why isn't Van's Foods updating its recall notice on the FDA site to meet the FALCPA requirements? (I, and Tricia Thompson— founder/operator of the Gluten-Free Watchdog—have brought this failure to use the required wording to Van's Foods' attention via Twitter.)
Why isn't the FDA speaking out about 114,048 waffles being recalled for undeclared wheat and undeclared milk?
Why isn't there a remedial course of action administered by the FDA for manufacturers that put consumers at the risk of serious or life-threatening allergic or autoimmune reactions?
Why aren't the celiac and gluten intolerance resource organizations sharing this vital recall info with their members and followers?
I urge you to go back and read the previous section and above all, to please spread the news on this Van's Gluten-Free Waffles recall so that nobody who is gluten and/or dairy free because of celiac, non-celiac gluten sensitivity, and/or food allergies accidentally consumes these waffles.
Originally published on May 2, 2018.