For affiliate links and as an Amazon Associate I earn from qualifying purchases.
Today I have the pleasure of sharing Gluten-Free Canteen's Book of Nosh: Baking for the Jewish Holidays & More. If I recall correctly, I believe that I discovered Lisa Stander-Horel's blog Gluten Free Canteen (note: this site is no longer active as Lisa has retired!) a little over a year ago. It's all about gluten-free Jewish cooking and mainstream gluten-free recipes–all recipes that we love!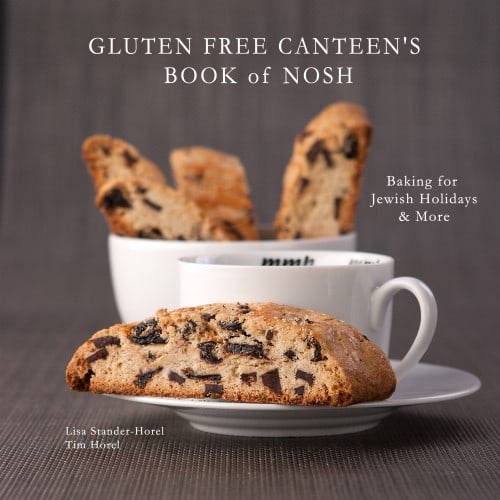 Well, actually it's her and her husband's blog. Lisa bakes amazing recipes and Tim skillfully takes photographs of her baked goods to ensure you see just how amazing they are. They are a delightful dynamic duo for those of us who eat gluten free!
I distinctly remember being dazzled by Lisa's holiday baking creations when I discovered Gluten Free Canteen. But once the holidays were over, her amazing baking creations did not cease. Gluten Free Canteen's focus shifted to other holidays and "every day" sweet treats, but I continued to be dazzled nonetheless.
When I saw that Lisa and her husband had published a cookbook, I got excited. And it turns out that was very much the appropriate response because my excitement was validated once I had Lisa and Tim's cookbook in my hands.
As one description said, Gluten-Free Canteen's Book of Nosh: Baking for the Jewish Holidays & More's "more than 30 tasty and texture-perfect tested recipes ensure no more double-duty baking of both regular and gluten-free desserts in your holiday kitchen. Even Bubbe would be impressed — that alone makes holiday baking a mitzvah!"
Although I'm not Jewish, I very much appreciate the diversity of recipes in this cookbook and am certain that recipes like Lemon Poppy Seed Cookies, Flourless Chocolate Orange Cookies (you know how I love flourless recipes), Honey Cake, and much more will make everyone happy!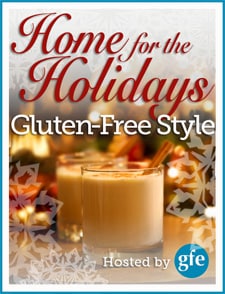 Here's a wonderful interview with Lisa that tells a bit of her history and the evolution of her gluten-free baking. In another interview with BlogHer's GenieGratto, Lisa told how she was inspired to write Gluten-Free Canteen's Book of Nosh: Baking for the Jewish Holidays & More.
Lisa was asked if there was a particular holiday experience that had inspired her to write her cookbook. She responded that growing up in a Jewish home, she was accustomed to seeing her mother making special recipes for all the holidays.
She wanted to carry on the traditions of Jewish cooking, but now with gluten-free Jewish cooking. She developed these recipes over time despite the fact that her mother never wrote down any of her recipes.
Lisa stated that she and her husband began "posting some of those recipes on their blog for Rosh Hashanah and then Passover, and the reception we received was heartwarming, which inspired us to write the book."
In that interview and elsewhere, Lisa has also shared a beautiful quote from her "little brother," Rabbi Seth Stander: "Traditional Jewish baking invites us to lovingly recall the daily lives and passions of our noshing ancestors."
Here are photos of two recipes of Lisa's that I've featured on my desserts site.
And here are two of Lisa's recent fabulous holiday recipes:
Update: This giveaway is now closed.
See more reviews of gluten-free cookbooks and resources on gfe here.
Originally published December 22, 2012; updated June 27, 2018.