For affiliate links and as an Amazon Associate I earn from qualifying purchases.
Last year, Triumph Dining released a two-part series of cookbooks/guidebooks, The Essential Gluten-Free Baking Guide, Part 1, and The Essential Gluten-Free Baking Guide, Part 2. Co-written by Iris Higgins of Your Fairy Angel (formerly The Daily Dietribe) and Brittany Angell, this series is unlike anything else that's available on gluten-free baking. And I mean that in the best possible way! Today I'm sharing The Essential Gluten-Free Baking Guides review.
and
To explain my earlier statement on these gluten-free cookbooks being different from anything else on the market, let's just look at what each part in the series covers. Part I is subtitled "Learn how to use Amaranth, Almond, Quinoa, Garbanzo, Millet and Coconut Flour in 50+ recipes." Part II is subtitled "Learn how to use Sweet Rice, Sorghum, Buckwheat, Teff, Cassava and Potato Flour in 50+ recipes." Each part addresses the flours individually telling you their characteristics and giving you tips on working with them.
There are also "Ask the Experts" sections where experts in the gluten-free world (e.g., Elana Amsterdam, Kelly Brozyna, Ricki Heller, Kim Maes) answer several questions. It's really helpful to hear their differing perspectives and ideas. In some cases, their answers differ because of their specialty area of gluten-free baking (such as coconut flour or almond flour).
Last, there are recipes … lots and lots of wonderful recipes. The ones that appeal to me most just from peeking at these cookbooks are Vanilla Wafers, Oreo-Style Cookies, Molasses Spice Cookies, Gingerbread Angel Food Cake, Yeast, Free Vegan Sandwich Bread, Naan, Italian Style Flatbread, and Soft Pretzels.
That these two cookbooks, each just over 160 pages, contain such a wealth of information and it's all presented in an easy-to-read manner. For the person who wants to understand gluten-free baking and produce amazing baked goods from day one—no matter which ingredients one is required to use—this is the series to buy!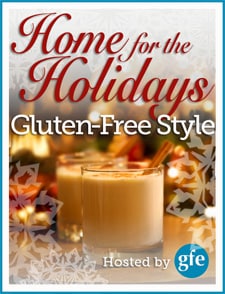 In keeping with my Home for the Holidays series, I asked both Iris and Brittany to share their thoughts on home and holidays.
Iris

What means home and holidays to you? I am one of those annoying people who goes around singing Christmas carols from the end of November until the New Year. I absolutely love the winter holidays. Growing up, we spent every Thanksgiving and Christmas with my maternal grandparents, and it was such a joyous time. We would bundle up in our car and drive an hour to their cozy suburban house where my Grandma would be waiting at the door. My grandpa would sometimes dress up as Santa and "ho ho ho" around the house. He was one of those happy grandpas who always had a twinkle in his eye; he made the perfect Santa. So for me, the holidays is a time for family traditions and being together. Now that our family is growing, I'm so excited to share our traditions with our new family members, and I can't wait to have children of my own someday so that I can share the warmth of the holidays with them.

How has that changed since going gluten-free? My first couple of years being gluten-free, I was determined to show everyone how good gluten-free could taste. I ended up stressing myself out making a gluten-free version of everything, and in the process, completely lost the point of the holidays. This year, I've been approaching it all differently. Of course I'll do lots of cooking, but I'm letting go of the need to make everything be perfect. All I want this Christmas is to make a healthy and tasty dinner for my family that will allow me to actually spend time with them. I'm letting go of any recipes that require a lot of time and sticking to simple dishes. This is the one time of year I get to be surrounded by everyone I love most, and I want to appreciate it. Ultimately, I think going gluten-free has forced me to remember the true meaning of the holidays…and it's not food.
Brittany

What means home and holidays to you? I have fond memories of making sugar cookies and gingerbread men every year with my mom. She always allowed me to invite some of my friends over and we had a ball making an absolute mess of the kitchen getting flour, sprinkles and frosting on every surface possible. Christmas Eve and day always entailed a feast- my favorite was Christmas morning. Growing up we ate very healthy, but on Christmas morning my mother made every indulgent thing that we could dream of. It was the only day of the year that we were allowed to eat as many cinnamon rolls as we wanted. Food is the center of my happiest memories.

How has that changed since going gluten-free? The first year giving up gluten I was still very sick, and didn't have any understanding in how to bake or re-create my favorite dishes. That was the only year that was difficult and that I felt deprived. Since, I have discovered just how much fun, and how wonderful gluten free baking can be (and should be). I now appreciate the holidays more than ever as they give me the excuse to bake around the clock and share everything I make with friends and family. I'm thankful to have my health and to have found my life's passions in the kitchen through having to give up gluten. Life has a way of bringing beauty out of challenges.
To get a little taste from The Essential Gluten-Free Baking Guide series, check out these Lemon Squares.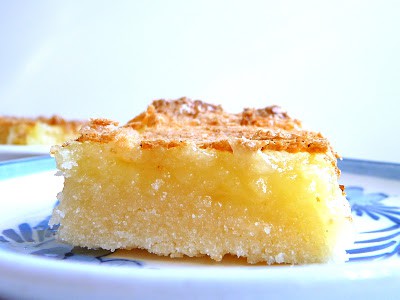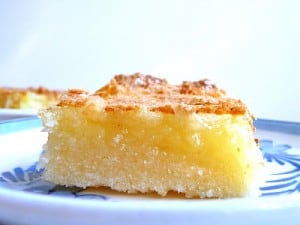 UPDATE:  This giveaway is now closed. Thanks to all who entered and congratulations to the two winners, Vickie and Marcy Cherry! 
Iris and Brittany and their publisher are graciously giving away one copy of this series to one gfe reader. I'm throwing another one in, so two gfe readers will get a copy of The Essential Gluten-Free Baking Guide, Part 1 and Part 2.
***Merry Christmas to all who celebrate! I'll be taking some time off  with my family (and some friends, too). Hope you get to do the same! I'll wrap up Home for the Holidays when I get back!***