For affiliate links and as an Amazon Associate I earn from qualifying purchases.
E-cookbooks continue to gain popularity. They give you instant access to great recipes and are much more portable than most printed cookbooks. Today I'm sharing an e-book with a very specific gluten-free focus that has recently come to my attention. It comes to us from Alyssa of the blog The Queen of Quinoa.
Are you a fan of quinoa? It's a super food, but many of us do not know what about it until we go gluten free. When we learn about naturally gluten-free foods that are "new" to us, especially whole foods, quinoa often comes into our lives. Although not every single recipe on Alyssa's blog contains quinoa, most do! She's really good at both creating recipes that use quinoa and adapting other recipes to use quinoa. Sometimes you'll find quinoa in more than one form in the same recipe. Her new e-book is Baking with Quinoa: 25 Scrumptious Gluten-Free, Dairy-Free, and Refined Sugar-Free Treats. You will find one of her recipes from this e-book, her Double Chocolate Chip Quinoa Cookies, featured over at my other site, All Gluten-Free Desserts … All the Time.
Baking with Quinoa features 25 gluten-free, dairy-free, and refined sugar-free treats. After introducing herself and telling her own personal story (I greatly appreciate personal stories!) in her e-book, Alyssa focuses on all things quinoa with a discussion on the different types of quinoa, toasting quinoa flour, and recipes in the categories of Cookies, Breads & Muffins, Cakes & Tarts, and Other Sweet Treats.
Because this is our Home for the Holidays event, I asked Alyssa about living gluten free during the holidays. I think it's really helpful to find out how others navigate living gluten free during what can be a challenging time of year.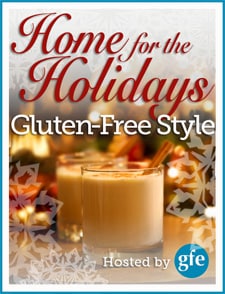 What foods/dishes mean "home and holidays" to you? How do you prepare those foods differently now from when you ate gluten or how have you still filled the "need"/craving for certain holiday dishes over time?

Alyssa:  "For me, the holidays mean time spent with my loud Italian family eating tons of good food. For my whole life, our Christmas dinners have been centered around pasta, bread and cheese, all of which I no longer eat. So what's a girl to do? I've taken the food situation into my own hands. I bring gluten-free brown rice pasta with me and always make sure to bring at least two loaves of gluten-free French bread (the recipe can be found in my e-book). I skip on the cheese, but am able to enjoy a delicious Christmas dinner along side my wonderful family."
Alyssa is running a great special on her e-book right now, plus if you subscribe to her blog you will receive a 20% off discount. But if you're feeling lucky, here's the good part, she is giving THREE gfe readers a copy of Baking with Quinoa.
UPDATE:  This giveaway is now closed. The winners and their comments (selected randomly) are shown below:

lilflower:  "I like quinoa as a compliment ingredient (rather than the main ingredient) to add more protein to what is already in the recipe."

C.M. Cole:  "I just started using quinoa recently. It's so versatile. I've volunteered to help a family in the church convert to gluten free to help their recently diagnosed autistic son. This would be a real blessing to us both."

Cindy W.:  "I have been incorporating more quinoa into my diet. Thank you for the giveaway."

To enter this giveaway, simply leave a comment sharing your favorite quinoa recipe or a recipe you've wanted to try that features quinoa. The giveaway ends Thursday, December 20, at midnight EST.