For affiliate links and as an Amazon Associate I earn from qualifying purchases.
What says Christmas and the holidays more than Pressed Butter Cookies, aka Spritz Cookies? Not much in my opinion. Think Christmas trees, bells, and the like. Jeanne Sauvage (Art of Gluten-Free Baking) made those cookies for a recent support group meeting of mine.
Today is Jeanne Sauvage's birthday so it seems a fitting time to share her first cookbook, Gluten Free Baking for the Holidays: 60 Recipes for Traditional Festive Treats.
I met Jeanne a few years ago when I attended the International Food Bloggers Conference in Seattle, where Jeanne lives with her family. She was a true delight and I started following her blog which was formerly called Four Chickens, but that had already been rechristened Art of Gluten-Free Baking by that time (although Jeanne's Twitter handle remains @FourChickens).
Jeanne's cookbook starts out with her personal story. It ranges from standing on a chair as a toddler to help her mother bake to finding out she was gluten intolerant shortly after her daughter was born to feeling helpless at living gluten free initially to mastering gluten-free baking and sharing her knowledge with others via her recipes for beloved traditional baked goods.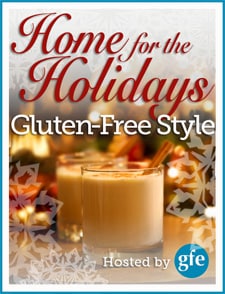 Jeanne traveled cross country for an event with the writer of her cookbook's foreword, Nancy Baggett. While Nancy is not a gluten-free cookbook author, she is a very well-known and well-respected cookbook author herself (she recently published Simply Sensational Cookies).
Nancy shared her own attempts and failures at baking gluten-free treats. So her appreciation of Jeanne for her "remarkable success in cracking the gluten-free code" and her following statement is quite an endorsement!
"I baked Jeanne's gluten-free dinner rolls and her spiced Speculaas cookies and served them in place of my usual wheat-based versions. It was terrific that everybody at my table could once again enjoy the usual holidays treats together without having to offer any explanation or apologies, I might add."
While Jeanne was on the east coast she honored my support group with an appearance and presentation, and, last but not least, with her homemade pressed butter cookies, also known as Spritz cookies. Yes, she traveled cross country—and by plane, train, and car, no less—with her cookie press and customized gluten-free flour mix with her. (Note that her flour mix recipe is both on her blog and in her book.)
I only had to supply the butter and a few short minutes later, she was offering all of us some amazing spritz cookies. She also melted dark chocolate (again, brought with her) and turned some of her cookies into sandwich cookies.
Do you remember Pepperidge Farm Milanos? Jeanne's sandwich cookies were very similar to those and just perfect in their taste, texture, and "indulgence." Not surprisingly, all of Jeanne's cookies were gone in mere minutes. I don't know a better recommendation than that!
However, that said, I will still give you two more recommendations. Jeanne's book was recently rated one of the Top 25 Cookbooks for this year by The Daily Meal. And that was up against all other cookbooks, not just the gluten-free ones! And just today, Laura Russell, author of The Gluten-Free Asian Kitchen (another cookbook you'll want in your kitchen!), posted the following comment on Facebook:
"Last night we made the Thumbprint cookies from Art of Gluten-Free Baking's "Gluten-Free Baking for the Holidays". They're tender, buttery and even better than I remember. Home run!"
So clearly, this is a great cookbook! Note that it is a gluten-free cookbook and does not focus on recipes that are what I call "more free" (e.g., dairy free, sugar free).
However, Jeanne does share a table for Butter and Dairy Substitutions before her recipes. Finally, not only does Jeanne give you her "tried and true" recipes, but she also explains gluten-free baking concepts such as how certain ingredients work with others to empower you to be able to create your own gluten-free recipes or other variations of her recipes. (An example of that type of instruction over at Jeanne's blog is when she discusses baking powders needed for gluten-free baking.)
Here's a listing of the recipes in Gluten-Free Baking for the Holidays! These recipes indicated that this cookbook is a must have, right?
Cookies

Gingerbread Cake With Persimmon

Chocolate-Sunflower Butter Pie

Featherlight Buttermilk Biscuits
Full disclosure: The cookbooks provided for my review and this giveaway were provided free of charge by Jeanne Sauvage and her publisher. However, the opinions expressed here are strictly my own.
Originally published December 17, 2012; updated December 2, 2018.