For affiliate links and as an Amazon Associate I earn from qualifying purchases.
One thing that has remained a constant during my many years of blogging is the feeling of excitement when I create a new recipe, such as today's gluten-free Apple Cinnamon Cake. I can't wait to share it with you all. And I hope that feeling of excitement never ever goes away, no matter how long I've been blogging!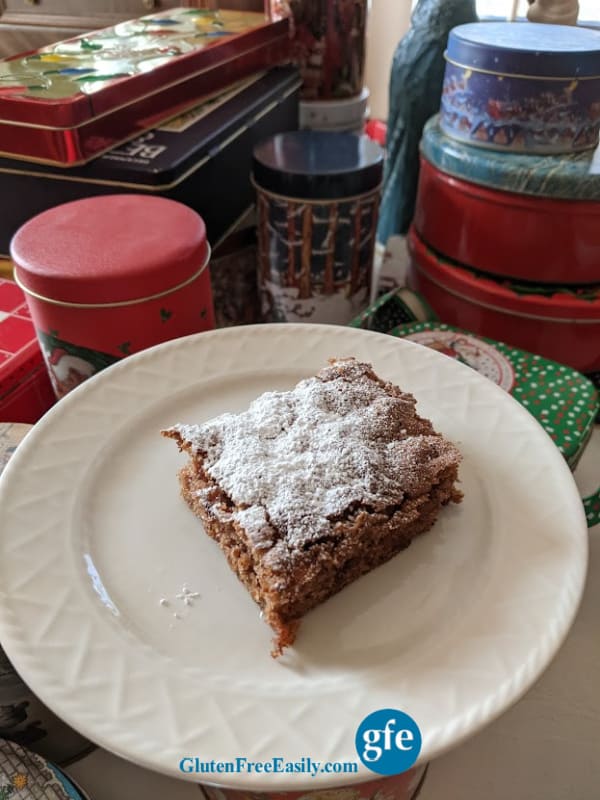 This cake recipe is one that came from a gluten-full recipe I saw online but then pretty much changed almost completely. LOL Hey, that happens to me. A lot. Having over 18 years of being gluten free under my belt and having additional restrictions in addition to gluten plus, personal preferences, of course, means that I either create my own recipes or I tend to adapt liberally.
It all started with a Moist Apple Cake recipe from Misfits Market. Each of my produce boxes always arrives with a recipe card or two tucked in between the fruit and vegetables. Recipes that always feature the ingredients that I have purchased. The recipes are always a nice benefit. I don't often make them but they do sometimes inspire my meals.
As I said, this particular recipe was gluten-full originally. Usually, when "converting" such recipes, I'd simply sub in my Two-Ingredient Gluten-Free Flour Mix for the gluten-full all-purpose flour and add xanthan gum (for binding) if I thought it was needed.
I really wanted to make this cake grain free as well as gluten free though. My body likes grain-free recipes better and I typically like the fact that they're usually a bit more nutritious than "just gluten-free" recipes.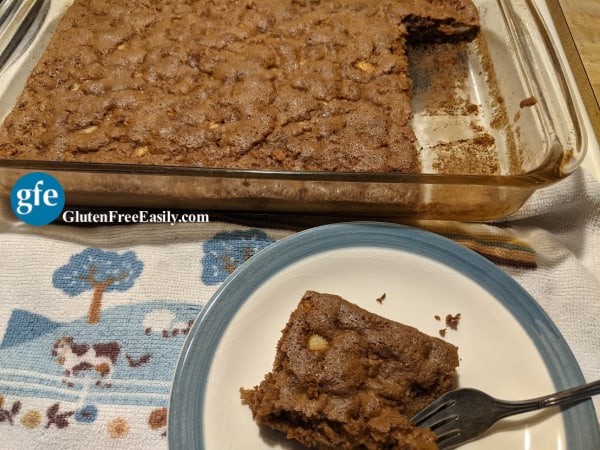 To do so, I used a simple combination of finely ground almond flour, tapioca flour, and coconut flour for my grain-free flour mix. Tapioca flour is also known as tapioca starch. They are one and the same. (Please note that cassava flour is not the same. It comes from the same plant—yuca, which is also known as cassava or manioc—but from a different part of the plant and its properties are different from tapioca flour/tapioca starch.)
This gluten-free Apple Cinnamon Cake recipe is also naturally dairy free. And with the eggs and almond flour included, this cake doesn't even need any additional fat (other than what is used to grease the baking dish; I used olive oil spray).
Honestly, when you taste this cake, you'll realize how kind of amazing that all is. I love its fuss-free goodness. Which was by my own design.
The original instructions were to make the batter using one's food processor or blender. I immediately scratched that idea. I'm one who is not going to dirty my food processor or my blender unless there's a real need to do so.
Plus, I'm not a fan of using either kitchen tool to make a cake—again, unless it's truly necessary. I mean if I were making a flourless cake using quinoa, black beans, or chickpeas (yes, I've done all of those), then yes, I absolutely would use a food processor or blender. And again, I have in the past.
But to use a food processor or blender when making an apple cake that includes chopped apple? That doesn't sound too appealing to me and it negates the benefit of using fresh apples.
It would be sort of like making one's own applesauce cake instead. Not what I was going for.
Applesauce cake (or Applesauce Muffins) is great but I wanted the goodness of the apple pieces to shine so I simply mixed the ingredients with a wooden spoon. So easy and only a mixing bowl and wooden spoon to clean afterward!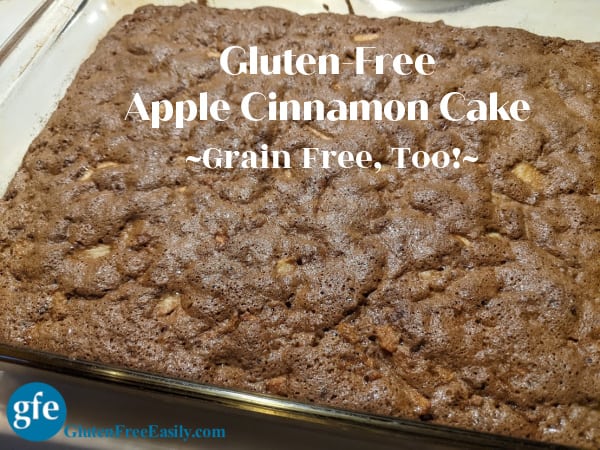 The cinnamon factor in this cake comes from the fact that apples and cinnamon are such a lovely combination. Plus, I've also really been in a cinnamon mood of late.
After my sister mentioned that her current favorite tea is Newman's Own Organics Sweet Cinnamon Spice Herbal Tea, I remembered my love of Bigelow's Cinnamon Stick Black Tea. A tea that I literally had not enjoyed in decades and had not thought of in that many years as well.
My late mother-in-law used to serve it to me. It was my favorite of all the teas that filled her tea box. I remembered Cinnamon Stick tea as so delicious, so comforting. Sharing tea was always a special time for us.
I promptly ordered some after the cinnamon tea discussion with my sister and I've been drinking a giant mug every morning since. It's become a simple but lovely daily ritual.
I still want to try the Sweet Cinnamon Spice tea that is my sister's current favorite but I'll admit that black tea beats out herbal tea for me. Every time. (Another favorite is Bigelow's Constant Comment.)
So, in this recipe, embracing the cinnamon, I not only doubled the amount of cinnamon in the original recipe I also lightly coated the baking dish with Penzeys Cinnamon Sugar before filling it with cake batter. The cinnamon-sugar mixture is optional but I do believe that it adds something special to this gluten-free Apple Cinnamon Cake.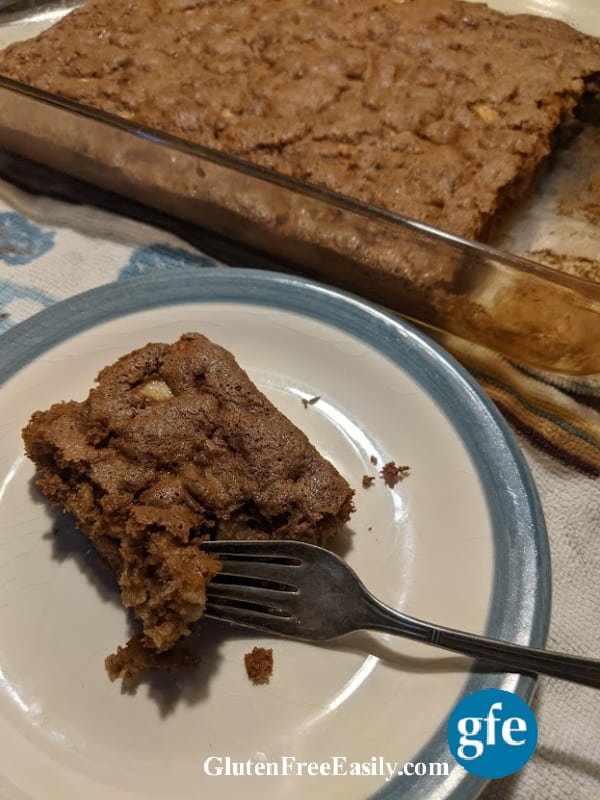 I also believe that you fellow cinnamon lovers could even use more ground cinnamon in this recipe if you wish. Even if you decide to skip coating the baking dish with cinnamon sugar.
Although I find that recipes that use a gluten-free all-purpose flour mix almost immediately absorb any topping of powdered sugar; I've learned that grain-free recipes do not always do that (dependent on the ingredients in the flour mix). That's a good thing if you wish to pretty up your recipe with that little addition!
Eventually, a day or so later, some of the powdered sugar will be absorbed into the cake but you'll have no problem if you wish to dust your cake with powdered sugar a few hours ahead of time. Honestly, this cake doesn't need powdered sugar for taste though. Personally, I prefer my slice without.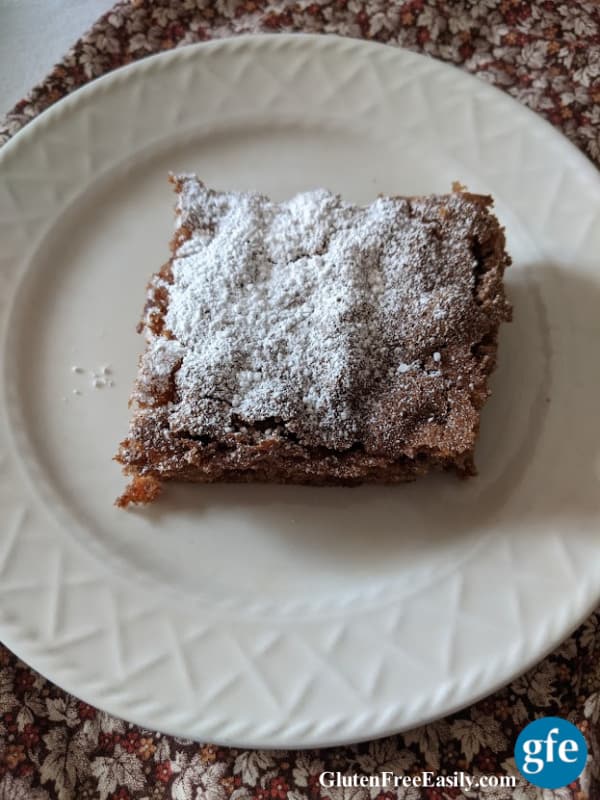 Please give this recipe a try and let me know what you think. I simply love having another tasty way to use the apples on my counter and I hope you will as well!
More Gluten-Free Apple and Sheet Cake Recipes
~ Apple Enchiladas (use gluten-free option)
~ Crustless Apple Pies (three different versions)
~ Flourless Chocolate Quinoa Cake
Gluten-Free Apple Cinnamon Cake Recipe
Yield: 12 servings
Gluten-Free Apple Cinnamon Cake (Grain-Free, Too!)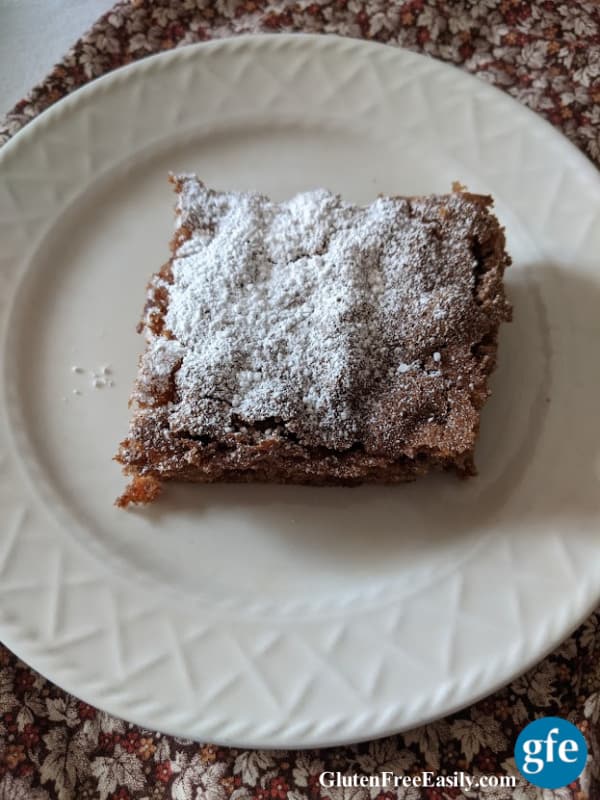 This simple but flavorful gluten-free Apple Cinnamon Cake is a sheet cake that also happens to be gluten free and dairy free. Everyone will love it!
Additional Time
20 minutes
Ingredients
3 large (or extra large) eggs, beaten
1 cup light brown sugar (or coconut sugar), or less to taste (see notes)
1/2 cup tapioca flour (also known as tapioca starch, NOT the same as cassava flour)
3/4 cup almond flour, blanched and finely ground (Wellbee's, Honeyville, or Anthony's brands; NOT Bob's Red Mill)
1 tsp vanilla extract (I use my very economical homemade vanilla extract)
½ tsp salt
1 tsp baking soda
2 tsp ground cinnamon
1 tbsp coconut flour, sifted (I use Nutiva coconut flour; note that this ingredient is the next to last ingredient added to the cake batter for a reason)
2 cups apples, peeled and finely chopped (about 2 large apples or 3 to 4 small apples; I used Pink Lady apples but any apples will work)
Cinnamon-Sugar Coating
About two teaspoons of a premade mix such as Penzeys Cinnamon Sugar (which has a hint of vanilla as they make their mixture with vanilla sugar) or two teaspoons of homemade cinnamon sugar (combine 2 teaspoons of granulated sugar and ½ tsp cinnamon)
Instructions
Preheat oven to 350F degrees and grease 9 x 13 baking dish. If using the cinnamon-sugar mixture, sprinkle it evenly on the bottom of the baking dish and set aside.
To a large mixing bowl, add eggs, light brown sugar, tapioca flour, almond flour, vanilla extract, salt, baking soda, and cinnamon and stir with a large wooden spoon until well combined.
Stir in sifted coconut flour until combined and let sit a few seconds so the batter will thicken slightly (due to the absorbency power of the coconut flour). Then immediately stir in the apples. Mix until apples are coated with batter.
Pour batter into baking dish, spreading evenly with a spatula to fully cover the bottom of the baking dish (it will seem like you don't have enough but you will). Bake for about 25 minutes until cake is browned and baked through. Insert a toothpick into the center of the cake and ensure that it comes out clean.
Cool cake for at least 20 minutes before slicing. See notes for serving with powdered sugar if you like.


Notes
Adapted from Misfits Market's Moist Apple Cake recipe.
The amount of sugar you will need depends on personal preference as well as the sweetness of the apples used. I've used 3/4 cup sugar (instead of a full cup) and thought the results were plenty sweet. I believe I could use even less brown sugar and be perfectly satisfied with the results.
If serving the cake in its entirety immediately, you may sprinkle the entire cake with sifted powdered sugar. Or you may cut individual slices and sprinkle them with powdered sugar right before serving.


Originally published January 13, 2022; updated November 7, 2022.