For affiliate links and as an Amazon Associate I earn from qualifying purchases.
Now that the holidays are behind us and mega snowstorm (in the Top 5 of storms locally according to our electric utility!) is in the past here, I have some "summarizing" and thoughts to share before we move on to the regularly scheduled gfe program so to speak. Let's start with the summarizing! Specifically, the Top 20 Gluten-Free Recipes and More on gfe last year.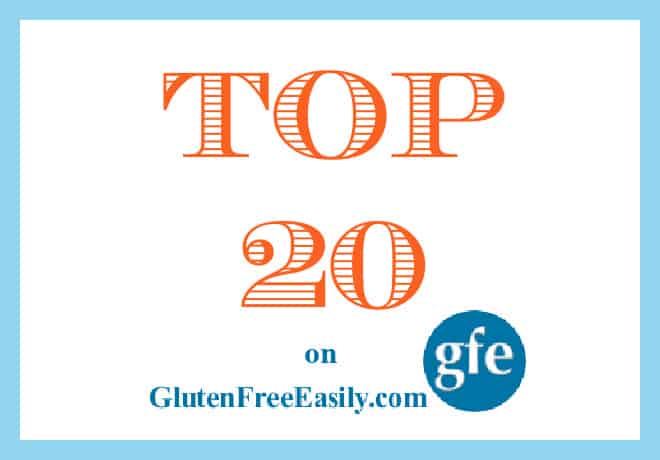 I'm always delighted to take this look back and see what you all searched for and discovered most often during the last year. The "list" remains surprisingly consistent but somehow always surprises me.
Two non-recipe posts cracked the Top 20 list for last year—How To Recover from Being Glutened and the 5-Minute Secret to Cleaning Pots and Pans (and More) Without Harsh Chemicals—and they contain some helpful and timeless info so you'll see them in their spots on this list as well. That means I'm actually sharing 22 posts in total.
Finally, I compared this list to the list of the Top 20 gluten-free recipes of all time on gfe. I was surprised theand even pleased to discover that the entries were almost identical. Admittedly, the placements on the two lists varied and two recipes actually differed but overall the consistency was surprising.
The Bourbon Banana Colada recipe (link in the list below) made the 2021 list but did not make the Top 20 all-time list. Instead, the Green Chile Chicken Casserole was in the all-time Top 20 list. You definitely want to save the link to the latter right now, because it's a stellar recipe and it's not in the list below.
Okay, let's get to it. Here are the Top 20 gluten-free recipes from last year and the two non-recipe posts that also caught your eye! Starting with #20.
20. Turkey Tetrazzini (and More Ways To Use Your Turkey Leftovers ~ If you have turkey leftovers from this past weekend, you'll need to look at this roundup immediately! If you froze your turkey leftovers, you'll want to bookmark (or pin) this one for later. All the recipes are worth making but the Turkey Tetrazzini merits a callout as you cook the pasta in the chicken broth with the celery, green pepper, onion, and more. That fact is a gamechanger as far as the results.
19. No-Roll, Never-Fail, Press-In Pie Crust ~ Some people like rolling out a pie crust, using ice water and/or vinegar to get the perfect pie crust, etc. I am not one of those people. If you're with me and would prefer mixing up a few ingredients right in the pie plate and then pressing the crust into place before you add the filling, this crust is also for you! (Note: I also have an updated version that replaces part of the gluten-free flour mix with almond flour. If that sounds good to you, check out the New No-Roll Never-Fail Press-In Pie Crust.)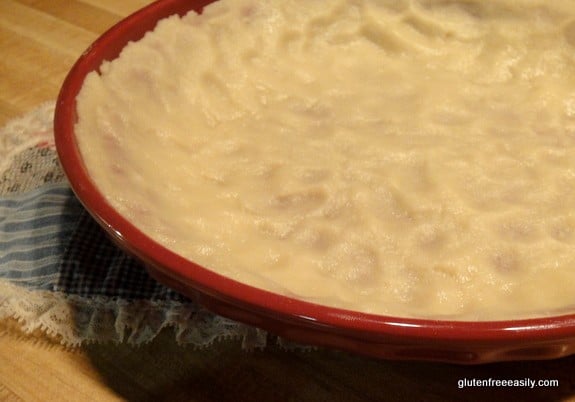 18. Mom's Deviled Eggs ~ Perhaps I should not admit this, but there have been too many times over the years when I would bite into the deviled egg presented to me and then I'd have to put on a fake smile and find a place to discreetly dispose of the remnant of said deviled egg. In my opinion, there are a lot of really bad deviled eggs out there! These deviled eggs are not those. These deviled eggs have very simple ingredients and taste absolutely wonderful. Mom will surely be so happy to know that her deviled eggs made the Top 20 list this year!
17. Best Pumpkin Pie Ever ~ This crustless pumpkin pie is creamy and luscious and also happens to be dairy free. The surprising thing about this pie is that folks who don't normally like pumpkin pie love it. Why? I figured out that the little bit of gluten-free flour that is added changes the texture to be less—for lack of a better word—"wet"—and makes it totally enjoyable for all! The consistency is truly overall perfection.
16. Bourbon Banana Colada ~ The bourbon version of a favorite island drink. Give it a go. Especially if you want to take a little liquid escape to paradise!
15. Cheddar Cheese Bread ~ This recipe from Carol Fenster make a delightful mini loaf of cheddar cheese "quick" bread (i.e., there's no yeast involved) that serves two. The thing is gfe readers have fallen so much in love with this cheese bread that they often double, triple, or quadruple the recipe. Some folks then cut the loaves into individual slices which they wrap in plastic and then freeze. Pull a slice out of the freezer in the morning and it will be thawed and ready to re-heat and eat for dinner. Yum.
14. Crustless Apple Pie ~ This easy and delicious apple pie is called "crustless" because you don't have to make a traditional crust. Instead you make a batter that you pour over apple slices that becomes both a bottom and top crust as the pie bakes. Some readers have said that the crust tastes like a sugar cookie. They're not wrong!
13. Perfect Pound Cake ~ You will only find only one other recipe on gfe that I have labeled "perfect." It's not a designation that I take lightly. This pound cake is incredible. My gfe readers—and their gluten-full family members—agree. Make it exactly as stated. Do not sub in any other ingredients. p.s. It also makes a terrific base for an easy and wonderful Strawberry Shortcake.
12. Flourless Chocolate Cake ~ If you're a fan of flourless chocolate cakes, you know that they're intensely rich and ideal for the chocolate lover. A tiny sliver is all that one needs, which makes this cake serve many. Some prefer to freeze their extra slices to pull out later and delight their families! By the way, probably my favorite thing about this amazing recipe is that it's so easy. How easy? You don't even have to separate the eggs for this cake as you do with most flourless chocolate cake recipes.
12a. Honor Your Body: How to Recover After Being Glutened ~ This post is an act of love from the gluten-free community as members share with you how they feel better after being glutened. Most of the tips are remedies that you might use any time you're ill. Others talk about supplements and using such supplements merits a check-in with your healthcare professional before using. Perhaps one of the most surprising things about this post is the comments. Hundreds of readers have shared how they react after being glutened. That alone has been eye opening and helpful to the gfe community. Not everyone recognizes their own symptoms of being glutened.
11. Crustless Coconut Pie ~ There are lots of food photos online that create a food fantasy which reality can't meet. This photo below is not one of them. I totally lucked out with the photo, snapping it as soon as the pie came out of the oven, and the actual pie tastes every bit as amazing as the pie looks in the photo!
10. Top 20 Gluten-Free Bread Recipes ~ These are loaves that are made in "regular" bread pans in your oven. No bread machine needed. Start with your favorite kind of bread (sandwich, French bread, artisanal loaf) and then move on to the rest. See all the gluten-free bread recipes featured on gfe here. So many amazing options!
9. Flourless Oatmeal Cookies ~ Caramelized edges and chewy centers. Need I say more? Be sure to use oats that are both certified gluten free and grown using the purity protocol. Those oats are shown on this list. Any oats that are not on that list are not safe for those who eat gluten free for medical reasons. Read more about such oats in the post.
8. The Top 20 Gluten-Free Challah Recipes ~ If you're Jewish, challah pays an important role in your traditions. If you're not Jewish, it's simply a very delicious bread that you should consider making. I love that there are both grain-free and vegan options in this collection. Tip: Challah makes amazing French toast and bread pudding.
7. Chicken and Rice Casserole ~ This recipe is the gluten-free version of the classic casserole and it's made without canned soups as the original was. Classic comfort food.
6. Gluten-Free Pizza Worth Having Every Night ~ This recipe comes from a loyal gfe reader, Lisa. It has a "secret" ingredient but there's some flexibility in even that ingredient and the flour ingredients used in this pizza. Who doesn't want gluten-free pizza that you'd be happy making every night?
5. Banana Flour Chocolate Chip Cookies ~ I don't push what I call gluten-free specialty products on gfe. I want you all to know that you can live deliciously and safely gluten free without ever buying a single gluten-free specialty product. Truly. That said, I do love using banana flour to make amazing gluten-free and grain-free treats and I've even fed these treats to gluten-full family members who said—wait for it—"they taste the same to me, just as wonderful as always!" Folks, that's a huge win!
4. Flourless Pizza (Low-Carb, Keto-Friendly) ~ This post is one of the most commented on posts/recipes on gfe. Readers are absolutely amazed that they can create a pizza with a crust made of eggs and cheese only that tastes just like the gluten-full pizza they used to know and love. Give it a try! You won't believe how good it is!
4a. 5-Minute Secret to Cleaning Pots, Pans, and More Without Harsh Chemicals ~ There's an ingredient that's in your pantry, likely on the shelf with your spices, that can make cleaning dirty pots and pans, the scorched teapot, and even that sticky silicone baking sheet (aka Sil-pat) a breeze. Seriously. You'll want to buy a big container of this ingredient!
3. Two-Ingredient Gluten-Free Flour Mix ~ If your New Year's wish is to have a gluten-free flour mix that doesn't break the bank and stress you out because of all the ingredients, this is the mix for you! I make a giant batch that lasts me about 6 months but you can make the small batch just to try this mix out. So many gfe readers love and rely on this mix.
2. Crustless Pecan Pie ~ If you love pecan pie, you're going to love this recipe! No special ingredients are needed, just the normal ingredients that you'd use to make pecan pie, to create the Crustless Pecan Pie. I mean who doesn't want delicious pecan pie without having to make a crust?
1. Top 20 Gluten-Free Bread Machine Recipes ~ If you've been less than thrilled with store-bought gluten-free bread (because of taste, texture, size, or price), you're going to love these options! Check out the comparison between a slice of homemade gluten-free bread from your bread machine and a slice of the most popular commercial brand of gluten-free bread and then choose the recipe that works best for your individual needs. You have lots of great choices!
As always, I urge you to subscribe to gfe so you don't miss any recipes because there are so many delicious recipes here on gfe—from me and others in the gluten-free community–as well as key discussions that will help you live gluten free easily.
Bookmark/save on social media/Pin the ones that catch your eye and use my recipe index when you're searching for something specific! Thank you so much for being here at gfe! May this new year bring us more of the good stuff and strength for dealing with the not-so-good stuff.
Originally published January 5, 2022; updated January 8, 2022.