For affiliate links and as an Amazon Associate I earn from qualifying purchases.
The Pepper-Honey Steak that I'm sharing today can be the star of so many meals! One bite and you'll know exactly what I am saying.
"How do you handle a hungry man? Manhandler? Manwich? ("A sandwich is a sandwich, but a Manwich is a meal.") Do those old commercials ring a bell?
When the theme for the June Go Ahead Honey, It's Gluten Free! blog carnival was announced, Manly Food, a few thoughts immediately came to mind, including those silly commercials. However, I decided to go to my man—Mr. GFE. So I asked what he considered manly food.
His first answer was Sloppy Joes … no kidding! I thought a good steak would be much better and decided on Pepper-Honey Steak.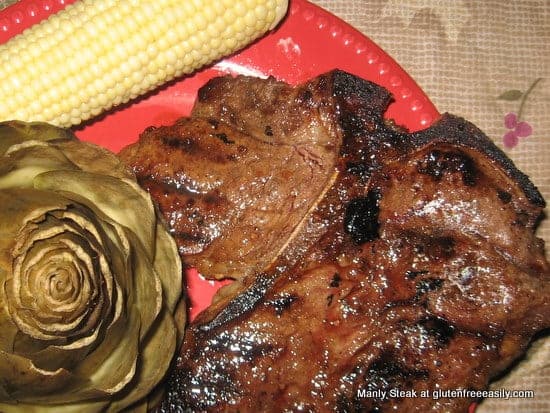 Okay, admittedly, I do make some mean unprocessed Sloppy Joes (without the help of Manwich or other mixes) and a quicker version of Sloppy Joes with the help of a ready-made ingredient as well. But, I wanted to make this particular "manly" dish for his Father's Day meal and Sloppy Joes just didn't measure up.
So, I asked Mr. GFE for more ideas. The answers that I had originally expected from him came forth: prime rib, rib-eye steak, T-bone … meat, meat, and more meat.
Have I mentioned my husband is a real carnivore? Yes, I think I have. LOL
At the store, I found Porterhouse steaks on sale, so that became the manly meal. I am not a huge steak person, but Porterhouse steaks are one of my favorites because they are a "two-in-one" steak and, therefore, one is plenty for both of us.
I eat the small tenderloin part (well, naturally, right?) and Mr. GFE eats the sirloin strip portion.
When I cook steaks, I usually only add some salt and pepper, maybe a little oil or butter, relying on searing and natural flavor to render good results. This time I was looking for something more special.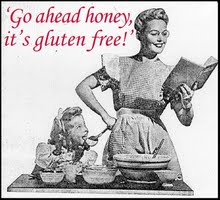 I modified the following recipe from The Splendid Table. Verdict—It has to be the juiciest, most flavorful steak I have ever prepared.
Mr. GFE agreed and didn't find it unmanly in any way. Despite red wine, honey, and smoked paprika being included in the recipe.
Served with corn on the cob and steamed artichokes, it made for a very special Father's Day meal. Not as special as it would have been if Son had been able to make it home, but this meal and a phone call on Saturday and Sunday from him plus a promise for a future trip to the mountains with us worked well enough.
Pepper-Honey Steak Recipe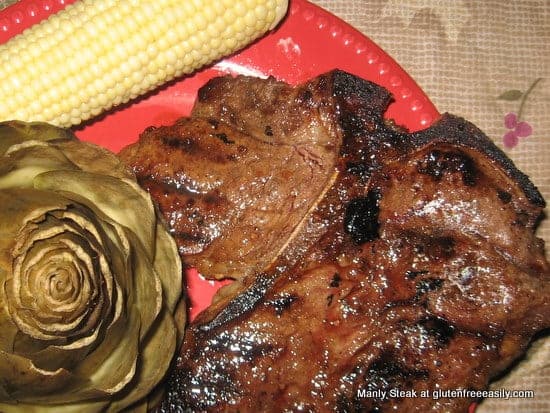 Yield: 2 steaks
Pepper-Honey Steak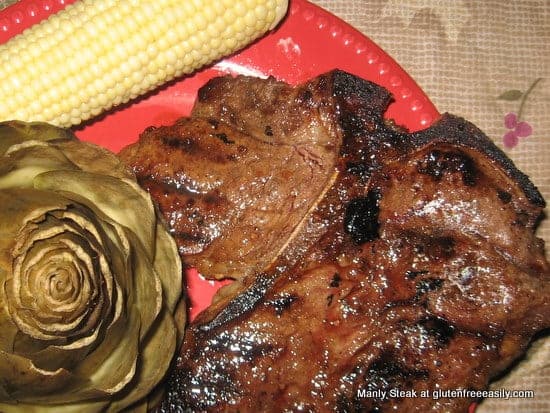 This Pepper-Honey Steak has to be the juiciest, most flavorful steak I've ever cooked. You can't go wrong with this recipe! Great for Valentine's Day, Father's Day, New Year's Eve, or any time you need a celebratory meal!

Prep Time 30 minutes

Cook Time 15 minutes

Inactive Time 40 minutes

Total Time 1 hour 25 minutes
Ingredients
6 tbsp red wine (I used a fairly inexpensive Pinot Noir)
3 tbsp honey (any time we can use our bees' honey is great!)
3 cloves garlic, minced
1 1/2 tsp ground black pepper (freshly ground, if possible)
¼ tsp ground white pepper
¼ tsp smoked paprika
1 tsp coarse sea salt
2 lbs steak
Instructions
Combine ingredients in a glass baking dish and let the steaks marinate while heating grill to high. Turn steak at least once in the marinade. (I marinated the steaks longer than it took to warm up the grill---probably 30 minutes in all.)
Remove the steaks from the marinade and sear quickly on both sides. Turn the grill down or move the steaks to a
lower heat area. Cook additional 10 minutes for medium rare (or longer as desired).
Once the steaks are cooked to your satisfaction, move them to a platter and let them rest for about 10 minutes. This resting period allows the steaks to continue cooking a bit more but also to hold in the flavorful juices.
Notes
Any steak will work in this recipe but T-bones, Porterhouses, and ribeyes will yield especially great results.

Originally published June 27, 2009; updated February 13, 2023.