For affiliate links and as an Amazon Associate I earn from qualifying purchases.
Some of us routinely plan out our weekly meals. Some of us don't, but most of the time we have dinners in mind, calling upon old favorites like Fabulous Pork Butt, taking the opportunity to make a friend's new recipe like Kathi's Great Salad, or using the ingredients in the refrigerator or freezer to make a pot of "Everything" soup. However, sometimes none of that works out, as was the case last night. Here's what transpired.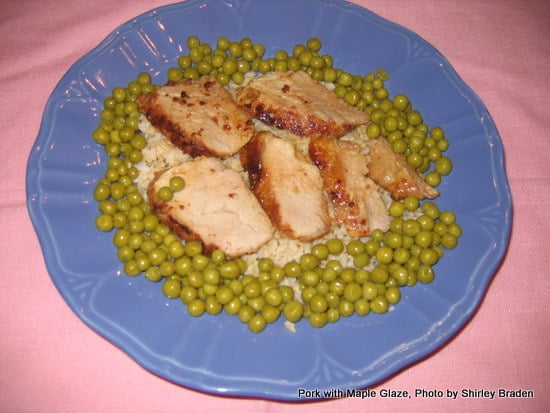 I come home from work. I change my clothes, feed the cats, put wood in the stove, and sit down on the sofa. I look through my snail mail and then power up the laptop to check email and what's new at gfe. In the back of my mind, I am thinking what am I going to serve for dinner? There's that pork tenderloin I purchased half price recently that I just thawed in the refrigerator, but do I really feel like cooking that? I'm feeling lazy. There's baked potato soup from last night and some ham quiche from the night before. Will hubby go for either of those? I wonder. I had the potato soup for lunch. It's very good, but I really don't think I want it again for dinner. The quiche is good, but that's not what I really want either.
So it looks like dinner needs to be the pork loin. I peruse all my pork loin recipes on my laptop, in my recipe box, and a stack of recipes printed out from the computer. Will any of them work? Do any of them sound good? I read through them … marinate 4 hours—definitely not tonight; marinate 2 hours-better, but nope, it's already six o'clock; a crock pot recipe-out; a peppery pork loin recipe that I've made once before—no, not in the mood for that one.
Google to the rescue (I hope) … my search immediately takes me to About.com's Southern Food section and the pork tenderloin recipes. I scan the list. Hmmm, Pork Tenderloin with Maple Glaze—that sounds really good! Will it require ingredients that I have on hand or can adapt? Will it be gfe (naturally gluten free) or easy to convert to gfe? I click on the link hopefully. I scan the ingredients: pork—check! seasoning blend of herbs-check! salt–check! pepper-check! butter—check! olive oil—check! maple syrup-check! apple cider vinegar-check! and, finally, Dijon mustard—check! Score: 100% Fantastic—gfe, it is! Brown rice and cranberry chutney are suggested as side dishes. Hooray! There's leftover brown rice in the fridge. No cranberry chutney (or ingredients to make it), but some leftover peas sound better to me this evening anyway.
I follow the recipe, cooking the pork loin in my largest skillet, removing and returning the loin after making an easy reduction sauce (don't be intimidated by that term if you rarely cook) using the pork loin "juice" and scrapings, apple cider vinegar, maple syrup, and Dijon mustard. As the pork loin cooks, the smell is fantastic … a sort of sweet smokiness that fills the house. I make a few adjustments from the original recipe as I cook.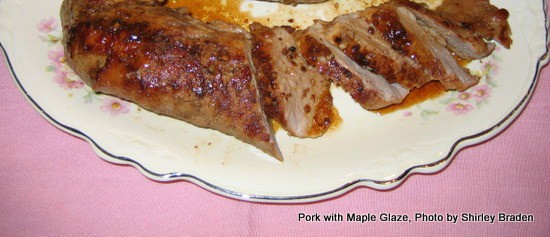 Yield: 2 pork tenderloins (about 3 pounds)
Pork Tenderloin with Maple Glaze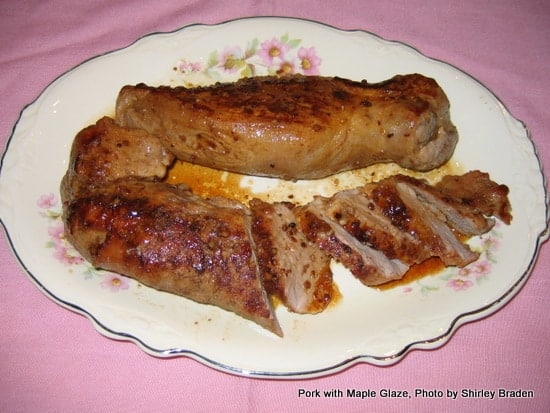 Pork tenderloins are always so good by nature that they can almost turn anyone into a praised chef. But this particular recipe is exceptionally good!
Total Time
1 hour
10 minutes
Ingredients
2 pork tenderloins (total of 2 to 3 pounds)
1 clove garlic, halved
1 tsp herb seasoning blend (or Cajun seasoning blend--I used a seasoned salt that is full of herbs and flavor)
pepper, to taste
salt, if seasoning blend is salt free
2 tsp butter
2 tsp olive oil
6 tbsp pure maple syrup
¼ cup apple cider vinegar
1 tsp Dijon mustard
2 tbsp apple cider vinegar
1 tbsp pure maple syrup
salt and pepper, optional
Instructions
Trim pork of any fat and membrane.
Rub pork tenderloins with garlic halves, then rub seasoning blend all over, and pepper. If seasoning is salt free, sprinkle with little sea salt.
In a small bowl, combine 6 tbsp maple syrup, ¼ cup apple cider vinegar, and the Dijon or brown mustard. Stir to blend thoroughly. Set aside.
Melt butter with oil in large skillet over medium heat until hot and foamy. Add pork tenderloins and cook, turning, until brown on all surfaces, about 12 minutes.
Reduce heat to medium-low, cover, and cook until temperature of pork in the center of loin shows 150 degrees. Turn occasionally as needed. This phase of cooking takes a good 30 minutes longer in my experience.
Transfer pork to platter; cover to keep warm.
Add 2 tbsp vinegar to skillet and bring to boil, scraping up any browned bits (if you can resist eating them all!). Reduce heat to medium-low.
Return pork to skillet; add maple syrup mixture that you set aside and turn pork in glaze to coat well. About 5 minutes works best for coating and further reduction.
Remove from heat. Transfer pork to cutting board. Cut pork into ½-inch slices. Stir 1 tbsp maple syrup into the glaze. Taste and season with salt and pepper if desired.
Arrange sliced pork on plates or platter. Spoon glaze over pork and serve.
Original recipe notes that this pork is wonderful with rice (it was!) and Cranberry Chutney (another naturally gf recipe—and, even though I wasn't in the mood for it last night, it does look very tasty!)
Note again that I didn't have to go to a gluten-free cookbook to find this recipe. It's just a regular recipe that is naturally gluten free. This approach is the gfe one. The ingredients are "real" and simple, and the results, superb.
My husband shared his assessment: "I don't think I've ever had pork tenderloin so tender. There is no English to describe it. You couldn't go to a restaurant and get tenderloin that good." LOL on the "no English" part (I think the man is buttering me up for something!), but; otherwise, I have to agree! Often to get pork this tender, it has to be falling apart. That doesn't affect the taste usually, but it certainly affects the presentation. Fortunately, with this recipe, that is not the case (as you can see from the picture). This is a wonderful and elegant recipe to make when hosting friends or sharing a home-cooked meal with others.
Finally, how about your approach to meal planning … do you ever go through this same process trying to figure out what to cook for dinner? Do you look for that recipe that both appeals and contains the ingredients you have on hand? Do you semi-plan your meals around what's on sale and/or what strikes your fancy that week? How much do the seasons/weather play a role in what you eat? It seems we definitely eat more pork, and meat in general, in the winter.