For affiliate links and as an Amazon Associate I earn from qualifying purchases.
Full disclosure: This product was provided to me free of charge. However, this is not a paid review; the opinions expressed are my own.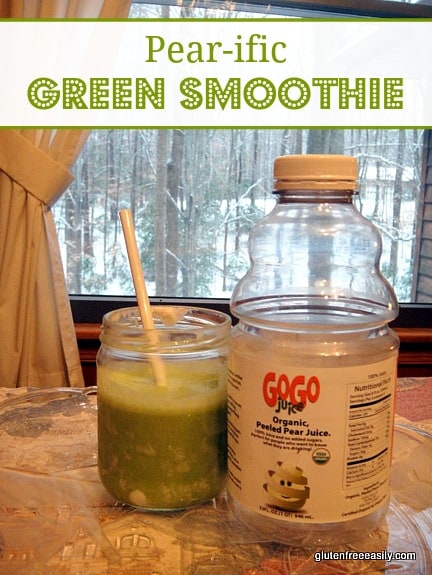 The kind folks who make GoGo Organic Pear Juice asked me if I wanted to review their product. I don't conduct many product reviews, but since it fit into my gfe approach, I readily agreed. Just doing a quick read of the label, I could see it had a lot of "pluses." But, I took one look at the 32-ounce bottle and thought, oh, boy, that won't last long. I was wrong. Here's why. The folks at GoGo advise consumers that one can drink their juice "as is" or dilute with 50% water (or more) to reduce the sugar content. (And, note that the sugar referenced is natural sugar, not added sugar.) So each time I used the pear juice, I only needed to use a small amount. I was amazed how long this bottle of juice lasted for me. Don't misunderstand me though. This is not a "from concentrate" product as so many juices are these days. Read on.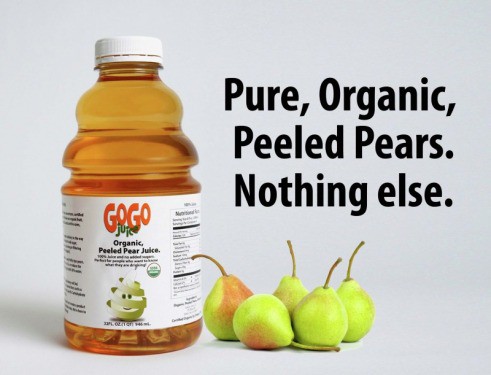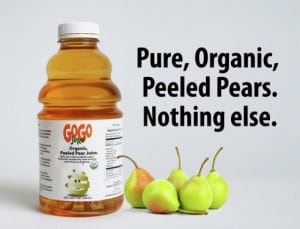 From the bottle label:

Again, "GoGo Juice is a NOT from concentrate, certified organic juice drink. We take our organic fruit, peel them, remove the seeds and the cores, and juice them.

GoGo's products are made similarly to the way you would at home. We don't add sugar, coloring, preservatives, pressing or filtering chemicals (no fossilized algae!).

Our juices are taken from only fully ripe pears. You can drink our juice as is, or reduce the sugar content by diluting it with 50% water, or more.

GoGo's products are (and always will be) suitable for families on special diets such as Gluten Free/Casein Free, Specific Carbohydrate Diet, and many others."
Let's emphasize and expound upon that last feature again by sharing the other information on the label under "Good Information to Know":
Ripe Pears.

Do you know how to tell if a pear is ripe? Use the "thumb" method. If the flesh just below the point where the stalk joins the fruit yields to even gently pressure, it's time to eat your pear.

No Added Sugars.

Our juice only contains natural sugars, but it doesn't hurt to reduce it further. The juice will still taste great, and diluting also means you'll have more juice for your money. A double win!

Specific Carbohydrate Diet.

We know how hard it can be to find foods that suit a restrictive diet so we created our company and our juices to help those on SCD.

Low Oxalate Diet.

Typically, pears would be considered "Medium" for a low oxalate diet, but as we peel the pears, the oxalate level is reduced, making it rated "Low".

Gluten Free and Casein Free (GFCF)

Yup—we're GFCF, corn free and soy free too.

Low in Salicylates

Peeled pears have negligible amounts of salicylate. This also complies with Feingold Diet recommendations.
Oh, and GoGo pear juice also contains fiber, 4 grams per serving (before dilution). Most juices don't include any fiber these days.
Reading how this juice is suitable for a number of different special diets, you might have wondered if the founder of GoGo pear juice has a personal interest in such diets. Yes, she does. You can read how Betty Chen came to create GoGo organic pear juice here.
When I first received my jug of GoGo pear juice, I used some to make a holiday punch for my support group's December meeting. I called it Pomtridge in a Pear Tree, because the main ingredients were—obviously—pear juice and pomegranate juice. This punch was the lovely golden color of a partridge, and the taste was just as delicious as you might imagine with those fruit flavors. Since we're well past the 2010 holiday season though, I'll have to save that recipe for much later this year. I sure don't want to rush that or even think about it right now. Wendy (Celiacs in the House) just pointed out on Monday that there were 48 days until spring. That means there are only 46 days left now—woohoo! I'm ready for spring, too (and there are buds on my snowdrops already!) but let's not rush the year too much. You can wait for the punch recipe until next holiday season, right?
We drank some of the pear juice slightly diluted, as juice. It had a fresh clean taste, with no artificial overtones or aftertastes like some pear and apple juices have. However, I used most of the pear juice to make green smoothies. My very first green smoothie was a recipe from Tom Malterre and Ali Segersten's The Whole Life Nutrition Cookbook. As I've shared before, I started making that great smoothie and have never looked back. The key to the success of that green smoothie—especially for a newbie like myself at the time—was the fruit, namely apples and pears. Using GoGo organic pear juice is an easy way to get the delicious pear flavor without having to have a supply of pears on hand. Along those lines, here's one recipe below that I made and enjoyed.
Oh, cost? GoGo Organic Pear Juice sells for $4.99 for a 32-ounce container. That's a reasonable price considering that the juice can be diluted and that it's healthy, organic juice that offers the lovely taste and nutrition of pears and nothing else.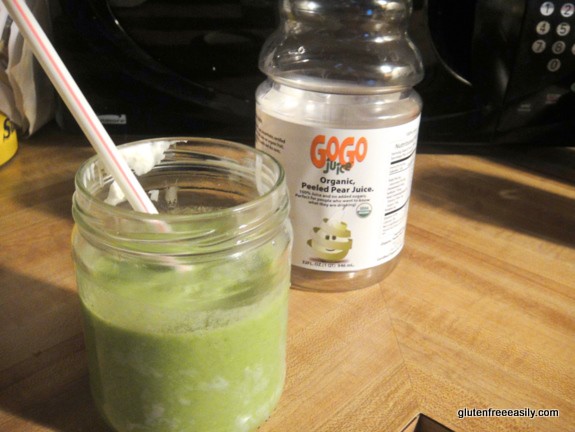 Yield:
Pear-ific Green Smoothie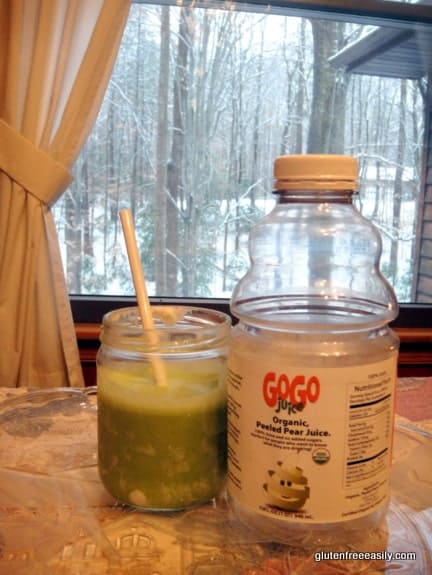 Ingredients
1 ripe apple, peeled and cored
1 tbsp coconut manna (or coconut cream)
2 large leaves of kale (with or without stalks)
1 handful of shredded green cabbage (about a cup)
1 cup pear juice
1 cup filtered water
2/3 cup full-fat coconut milk
Several ice cubes, if desired
Instructions
Add ingredients to blender or Vitamix/Blendtec in approximate order shown. Mainly, it's important to add solid ingredients to your blender before liquid ingredients so you don't have any messy splashing action. Blend a minute or two until all ingredients are fully incorporated.
Notes
A very ripe pear and ½ cup of water may be substituted for the pear juice. I don't always add ice to my smoothies. Most of my ingredients are usually cold at the start, but if yours are not and/or you prefer your smoothies to be icy cold, then add ice cubes.
I had leftover coconut milk that I had stored in a glass jar, so as you can see I poured my smoothie right into that instead of dirtying another glass, which reminded me of my friend, Heather (Heather Eats Almond Butter), and her love of treats in jars. There's no need for a fancy glass for a quick morning smoothie. Enjoy this smoothie and go go check out GoGo Organic Pear Juice! (Sorry, couldn't resist.)