For affiliate links and as an Amazon Associate I earn from qualifying purchases.
Longtime gfe readers know that I love flourless recipes. They're usually naturally gluten free and pretty magical in my opinion. So I'm very happy to be sharing these gluten-free Low-Carb Cinnamon Swirl Muffins with you for March Muffin Madness (MMM) today. These muffins also work for the keto diet. I made a variation of these muffins for my family for Easter and we all loved them. Son even snagged the last two for his road trip back home. I couldn't fault him for that!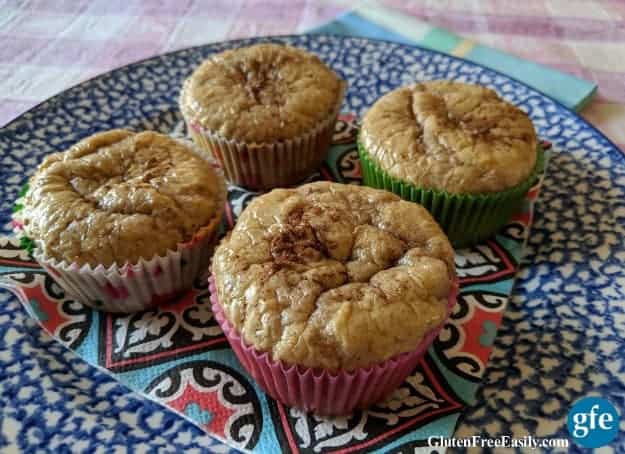 Read on so I can tell you more about the keto recipe creator behind these muffins and her cookbook, which is one of today's daily prizes (plus more keto cookbooks and one of the magical ingredients in today's recipe), and, as always, remind you to make sure you have all your entries for the amazing grand prize giveaway.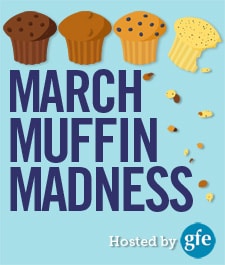 See the whole lineup of bloggers, blogs, and muffin recipes here.
The Nourished Caveman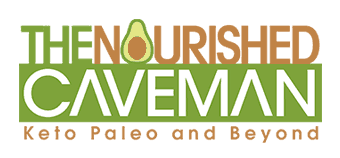 Vivica Menegaz of The Nourished Caveman site and author of The Keto Paleo Kitchen is another gluten-free blogger/author who is new to me. She is the creator of "The Healing Foods Method" and a nutritionist. Vivica says it's her "purpose and mission to ensure that you reclaim your health and quality of life." She works with individuals on the ketogenic diet for weight loss and as a therapeutic diet. Read more about Vivica here.
Vivica's book is a gorgeous display of colorful, real food dishes, which are always my favorites. I find that when I'm eating food like that I don't even want dessert—most of the time anyway. Knowing that many of her readers are like me and that the keto diet is not about desserts 24/7, Vivica only has a handful of sweet recipes for you in her cookbook but they're really all you'll need. In the spirit of keto and paleo, they're simply satisfying treats like her muffins recipe. Let's get to that, shall we?
Low-Carb Cinnamon Swirl Muffins (Keto)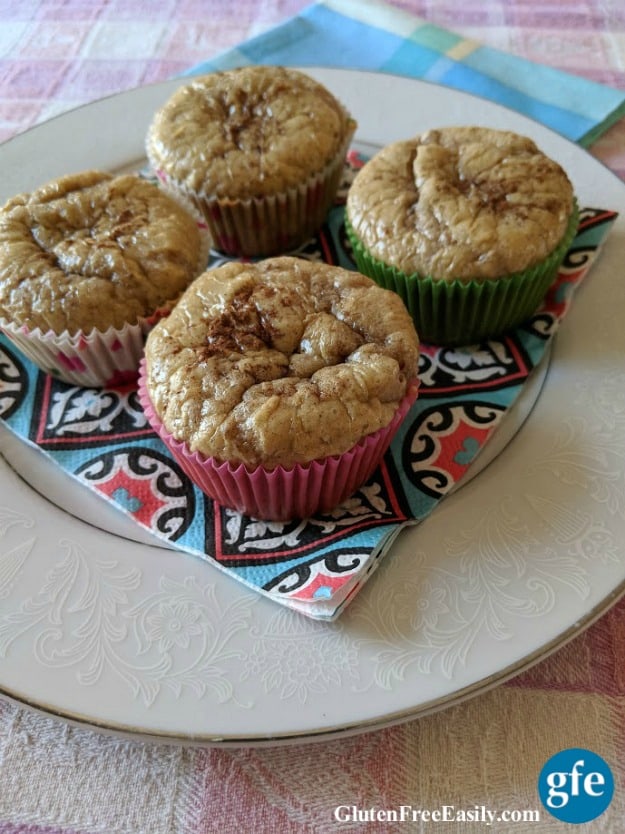 Vivica says: "This is a great variation of the classic cinnamon swirl bread … with none of the sugar or gluten! You will love these muffins for breakfast or on the go."
There was no photo of this particular recipe in The Keto Paleo Kitchen (although there are photos of most of the recipes), so the photos shared in this post are the ones that I took when I made Vivica's gluten-free, keto, and Low-Carb Cinnamon Swirl Muffins.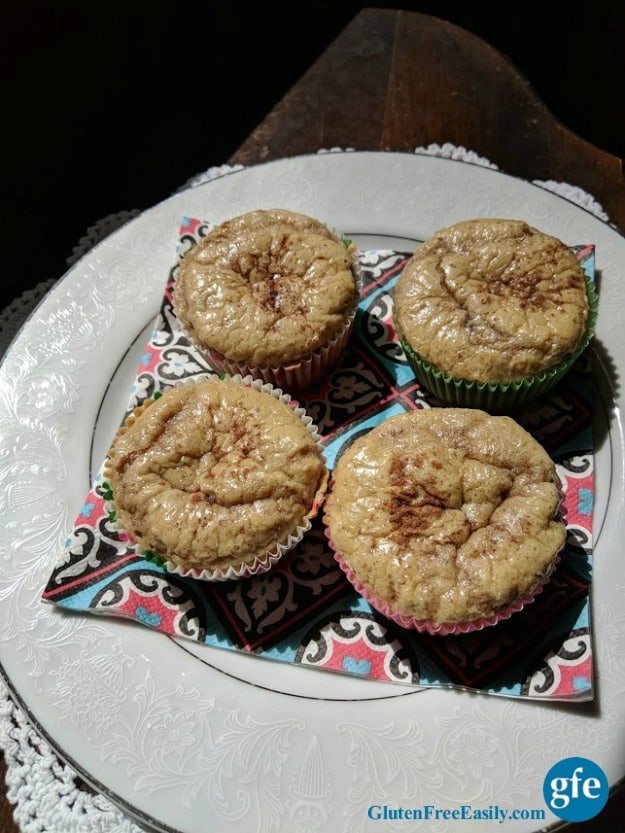 Yield: 8 muffins
Low-Carb Cinnamon Swirl Muffins (Keto)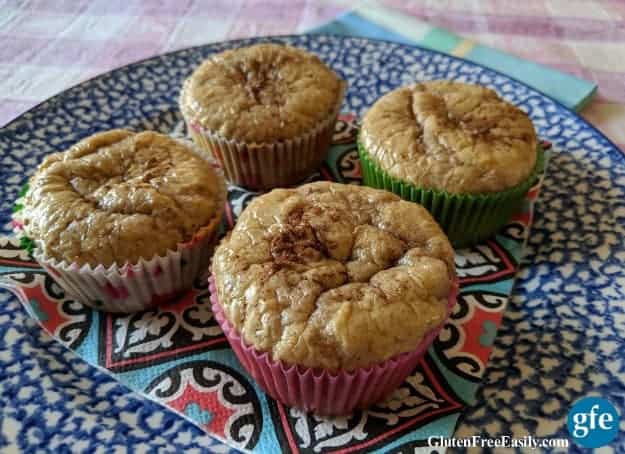 Vivica says: "This is a great variation of the classic cinnamon swirl bread … with none of the sugar or gluten! You will love these muffins for breakfast or on the go."
Ingredients
4 large eggs
½ cup (135 g) cashew butter
½ cup (50 g) crushed pecans
3 tbsp (36 g) Lakanto or erythitrol, divided (see notes)
2 tsp (10 g) aluminum-free baking powder
1 tsp ground cinnamon
1 tbsp (12 g) coconut oil, melted
Instructions
Preheat oven to 300F degrees (149C degrees).
In a food processor, mix the eggs, cashew butter, pecans, 2 tablespoons (24 g) of sweetener and baking powder until a smooth batter is formed.
In a small bowl, mix 1 tablespoon (12 g) of sweetener, cinnamon, and coconut oil until well blended, for the swirl.
Place 8 paper muffin cups in a muffin pan. Put about ½ tsp of the swirl mixture in the bottom of every cup. Fill the cups evenly with the batter, then pour another ½ teaspoon of swirl on top of the batter and carefully swirl the batter with a toothpick.
Bake for about 15 minutes, or until toothpick comes out clean from the middle of the muffin. Do not overbake or the muffins will be dry.
Cool completely before removing from muffin tin.
Notes
Makes 8 muffins.
LAKANTO and erythritol are both natural sugar substitutes known to cause little or no insulin response when consumed, as sugar does. Both are readily available in health food stores, the health food section of most commercial grocery stores as well as online through Amazon and other sources. LAKANTO is a brand name sugar substitute that included erythritol. Erythritol is something different, as is Swerve, and they are used for different purposes, usually regarding desired sweetness level.
Reprinted with permission from The Keto Paleo Kitchen by Vivica Menegaz, Page Street Publishing Co. 2017.
Shirley here:
If you don't eat low carb/keto, you can substitute any granulated sugar for the sweetener. I used light brown sugar.
I also doubled the amount of the swirl ingredients and sprinkled additional cinnamon on top of the batter in each muffin cup before baking.
I used a hand mixer instead of a food processor to mix ingredients. That worked just fine.
"Old school" wisdom says to never bake muffin cups empty because doing so can cause your muffin tin to warp so I add a little water to each empty cup (about 1/2 inch).
The longer these muffins cool, the more they will look and taste like a flour-based recipe.
More Gluten-Free Muffin Recipes (and More) from The Nourished Caveman That You Should Check Out
~ Keto Meat Pizza, Italian Style
~ Poppyseed Orange Almond Cupcakes
Today's Giveaway
Update:  All the giveaways are now closed. Congratulations to the winners and thanks to all who participated!
~ Cookbooks:
The Keto Paleo Kitchen by Vivica Menegaz (2 winners, co-sponsored by Page Street Publishing and gfe)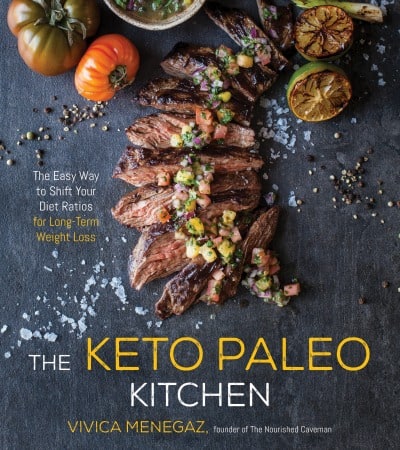 As I indicated above, The Keto Paleo Kitchen is a beautiful cookbook full of mouth-watering, gluten-free recipes. Subtitled "The Easy Way To Shift Your Diet Ratios for Long-Term Weight Loss" can obviously be used for weight loss, and therapeutic healing (per Vivica's ongoing mission) as well. Do take a peek inside via the link above but I'll tell you several of the recipes that called my name:  Butter Poached Scallops with Meyer Lemon Gremolata, Homemade Chicken Sausage, Instant Bolognese Sauce, Slow Cooker Indian Butter Chicken, Stuffed Chicken Thighs with Macadamia Pesto, Keto Paleo Chocolate Granola, Portobello Benedicts, Keto Paleo Almond Butter Bread, and Chocolate Halvah (similar to fudge).
Easy Keto Dinners by Carolyn Ketchum (2 winners, co-sponsored by Victory Belt Publishing and gfe)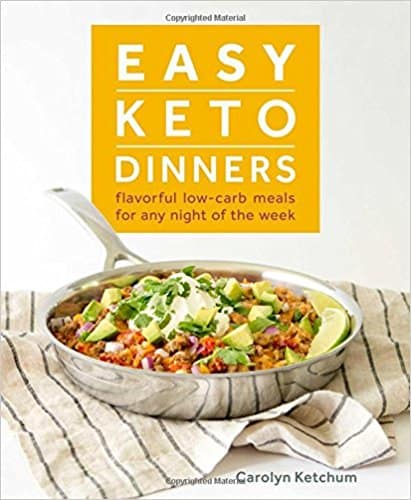 Subtitled "Flavorful Low-Carb Meals for Any Night of the Week," this cookbook from popular gluten-free, low-carb blogger Carolyn Ketchum (All Day I Dream About Food) is hot off the presses! Just released at the end of March, it's Carolyn's second cookbook. Like her first cookbook (which will be featured in tomorrow's giveaway), it gets all 5-star reviews on Amazon. Phrases like "out of this world," "quick and delicious," and "tasty and easy" are repeated over and over again. Using the "Look Inside" feature on Amazon, I can see why as I see so many appealing recipes that are naturally gluten free, naturally low carb, and quick to prepare. I love that!
~ Baking/Cooking Ingredient:
Cashew Butter (1 winner, sponsored by gfe) (Note: Brand name may vary depending upon availability at time of prize award.)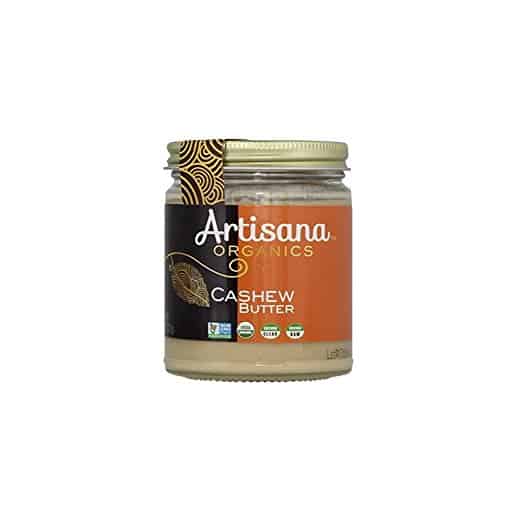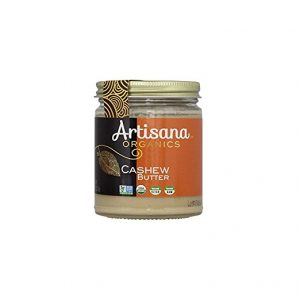 Grand Prize Giveaway
See all 10 prizes here. Shown are the top six prizes (per monetary value—they're all tops in my opinion). Again, this giveaway is open to everyone, everywhere!