For affiliate links and as an Amazon Associate I earn from qualifying purchases.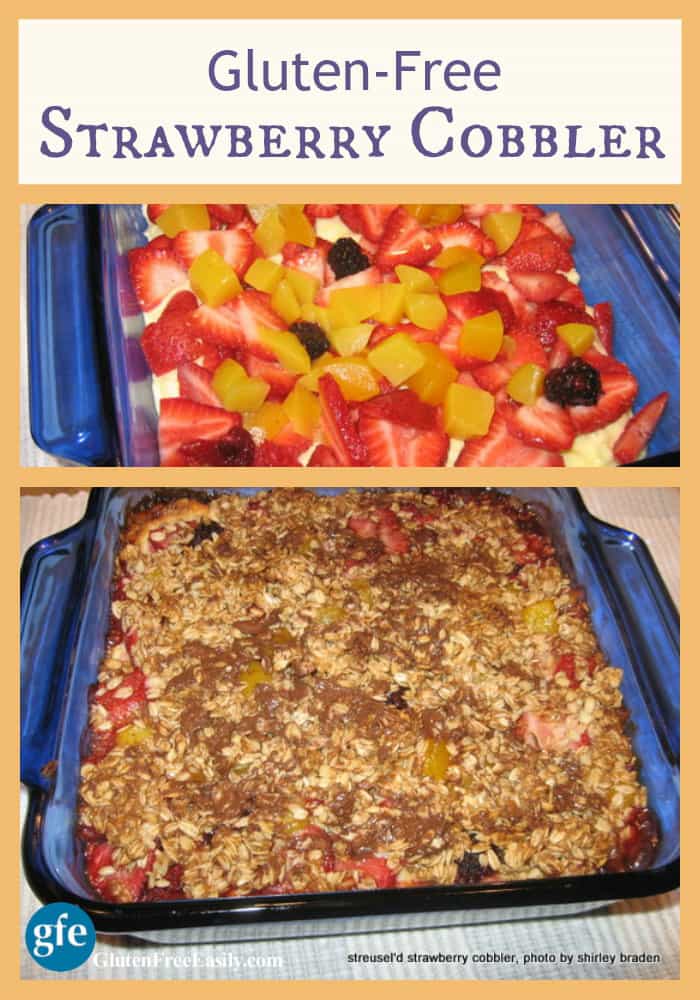 I really do make other foods besides baked goods (honestly, I do), but Diane's ingredient of the week for the W.H.O.L.E. Gang's Friday Foodie Fix is strawberry. So, I had to come up with a strawberry recipe. The following admission may shock you, but I don't eat strawberries. They are still on my list of foods that I want to learn to eat. I know, I know … I'm an anomaly. It's that whole texture thing. Seriously. But, I will drink them. Throw some strawberries in a blender with a little rum, etc., and I'm there! That annoying texture issue disappears and I can somehow overlook the seeds. LOL
Earlier this week, I was preparing a meal for my husband's aunt and uncle, so I decided to make strawberry cobbler as their dessert. Strawberry cobbler would be a nice ending to a dinner of garlic lime chicken and mashed potatoes, don't you think? I did not get to taste this dessert, so I solicted their feedback. The reviews were very good—lovely cake base, good flavor, right amount of sweetness, and nice topping.
The only recommendation was to add more fruit. I had used less than the amount in the recipe that's shown here, because I had used some leftover strawberries from a family event and there were not quite enough. (And, there was no way I was going to the grocery store that day.) I had added some peaches, but still the recipe was a bit short of fruit so that was a reasonable assessment. Of course, when you make this recipe, you'll start with the right amount of fruit, right?
Yield: 9 servings
Strawberry (Fruit) Cobbler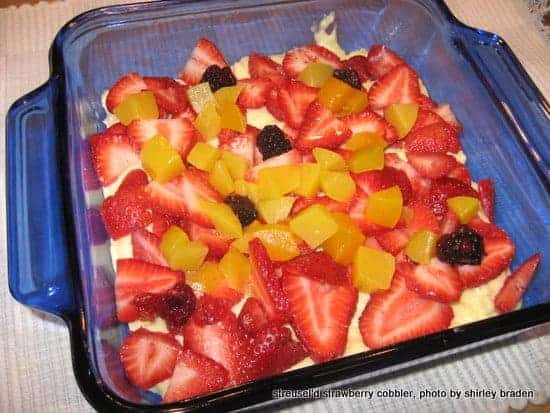 Adapted from a reader-submitted adaptation (in review comments) of a recipe posted on cooks.com

Prep Time 10 minutes

Cook Time 35 minutes

Total Time 45 minutes
Ingredients
1 cup gluten-free flour mix
½ tsp xanthan gum
3 tbsp granulated sugar
1 1/2 tsp baking powder
pinch of salt
4 tbsp butter (or dairy-free equivalent)
1 egg (I used a jumbo brown egg from a happy chicken)
1 cup of milk (or dairy-free equivalent, or a combination of milk and fruit juice—about half of my "milk" was actually peach juice)
3 cups strawberries (hulled and sliced, other fruit or fruit combinations can be used; I added peaches and blackberries**)
Streusel Topping
1/4 cup light brown sugar
4 tbsp butter, cut into slices or melted
1 tsp cinnamon (I used a strong Vietnamese one
Instructions
Mix the dry ingredients together. Cut in the butter. (I decided to soften my butter a tad in the microwave and---surprise! (well, not really)---ended up with melted butter. However, when mixed into the dry ingredients with a wooden spoon, I still got the perfect consistency. So, I'll use melted butter the next time; it's much easier than cutting in the butter. But, if you're a traditionalist, you can use cold or room temperature butter.)
Add the egg and milk, stirring until it's all blended.
Pour into a greased 8x8 buttered pan or 9-inch deep-dish pie pan. Top with fruit.
Combine the streusel topping ingredients and then put over the fruit.
Bake at 400F degrees for 35 minutes.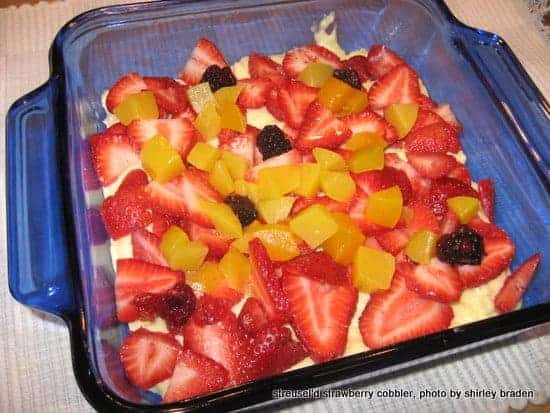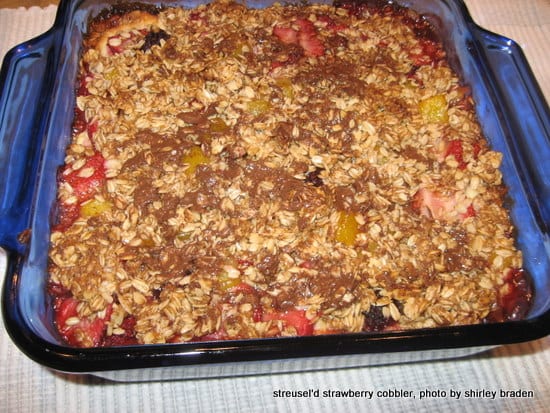 As far as the poem part, Anali posted the other day about April being National Poetry Month. She also mentioned that April 30 is Poem in Your Pocket Day. Okay, I realize today is May 1, but I'm sharing my own poem today (yeah, yeah, yeah … "day later, dollar short"). Mine is more along the lighthearted poetic lines of Dr. Seuss or Shel Silverstein. Well, I wish anyway—my apologies to both those immortal geniuses. (Disclosure: I used to be an elementary school teacher and I am still crazy over children's books.)
It's gfe for me
I'm gfe and as happy as can be!
Being gfe means really being free …
Free of having tons of packaged products on hand.
(On that issue, I take my stand!)
No cornmeal or brownie mixes in my pantry
No boxes and boxes of cereal—gluten free
No loaves of gf bread in my freezer
(Life without bread really is easier!)
No stash of protein bars that might taste "okay"
No inventory of pretzels, cookies, ____ (you fill in the blank), to maintain each day.
When I fall to sleep each night …
There's a memory foam pillow under my head
But, no case of gluten-free pancake mix under my bed.
And, somehow that just feels right.
(gfe, and feng shui, you know …)
Oh, my, you ask … how can you live that way?
It's simple I say …
I eat mostly real food every day.
Eggs, apples, avocados, artichokes, nuts, fish, shrimp, crab, pork, chicken, romaine, spinach, cabbage, potatoes … the list goes on
My "pantry" is full of ingredients to make easy appetizers, salads, entrees, side dishes, cookies, and cakes
A little prep, a little mixing, and maybe some cooking/baking is all it takes
Then you can skip those processed fakes.
How do you have the time you say?
Not much time is really needed each day
But, I'd rather cook a gfe meal or bake a crustless gfe pie,
Than on the sofa lie—
Watching bad TV,
Propped up with my laptop,
Or 24/7 on the cell.
(I truly love my friends and readers
Who are online
But, I also find my "disconnected" time quite fine!)
Hey, eat the good gluten free food—the real kind—and become gfe-ers!
Originally published May 1, 2009; updated November 30, 2019.