For affiliate links and as an Amazon Associate I earn from qualifying purchases.
For Day 17 of March Muffin Madness, we have Gluten-Free Light and Fluffy Orange Muffins with Orange Glaze (and Poppy Seed Option) from Kristin Domike of Successfully Gluten Free.
Will you opt for poppy seeds in these delicious muffins? I know that I definitely will!
But I'm sure I'll enjoy them without poppy seeds as well. Because. Light. Fluffy. Orange. Glaze.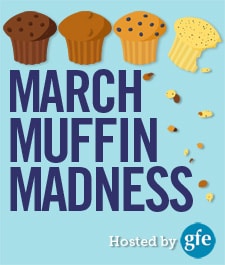 I just discovered Kristin and Successfully Gluten Free back in November when I was looking for excellent gluten-free sourdough recipes for a yet unpublished collection on gfe. As you can see below, I hit the mother lode with Kristin's site! Several of these recipes she actually shared in 2013, the year she launched her blog.
~ Easy Sourdough Cinnamon Swirl Rolls
~ Chocolate Chip Sourdough Waffles
~ Lemon Blueberry Sourdough Waffles
~ Thin & Crispy Sourdough Pizza Crust
Kristin is Dr. Kristin Domike. She says: "Believe it or not, I really am a doctor, just in physics, not food science. I love putting my MIT and U. of Cambridge degrees to work in the kitchen, testing GF recipes and modifying recipes so they are GF. My primary goal has been, and continues to be, making fabulous-tasting food that leaves people questioning how something so delicious could possibly be gluten-free."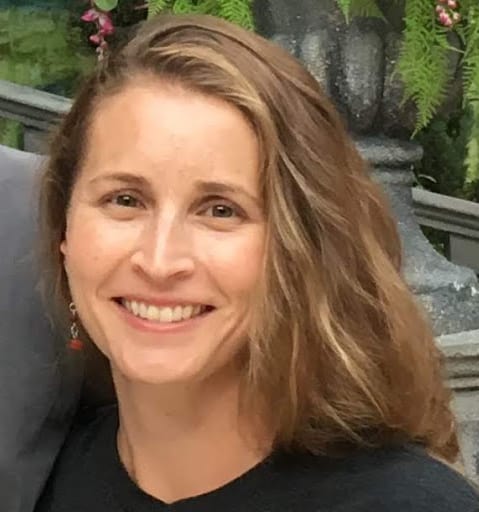 You can find not only Kristin's gluten-free (and "more-free") story but also her family's story here.

Folks, Kristin has so many mouth-watering recipes on her site! Set aside some time if you plan to peruse all the gluten-free goodness there.
Some of the recipes that have caught my eye are her Gluten-Free Pizza Crust (with egg-free option), Mini Blueberry Bagels, Family-Sized Quiche with Buttermilk Biscuit Crust, Versatile Cream Sauce for Pasta, Easy French Baguettes, Mini Sponge Cakes (for Strawberry Shortcake),Amazing Marshmallow Brownies, Chocolate Paris-Brest Birthday Cake, her version of Tate's Gluten-Free Chocolate Chip Cookies, and all her Cinnamon Roll and Danish recipes.
Follow Kristin on her blog or Facebook.
Now back to Kristin's Gluten-Free Light and Fluffy Orange Muffins with Orange Glaze. With poppy seeds if you're a poppy seed lover!
Gluten-Free Light and Fluffy Orange Muffins with Orange Glaze (and Poppy Seed Option)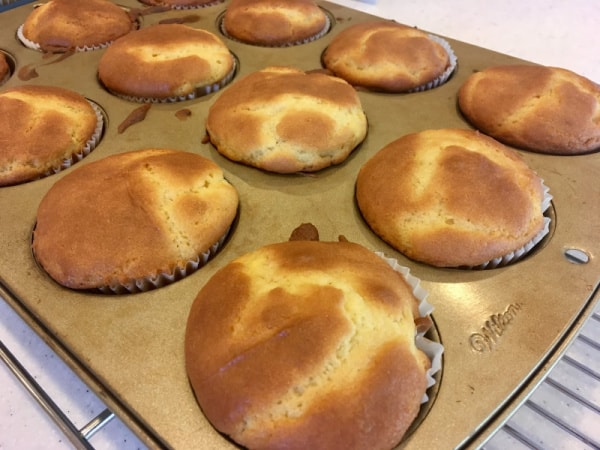 Kristin's Light and Fluffy Orange Muffins with Orange Glaze easily become Light and Fluffy Orange Poppy Seed Muffins with Orange Glaze. She created her recipe after seeing a friend's classic lemon poppy seed version.
There are many who love lemon but not everyone (shocking for all the lemon lovers, I know!) and while I personally would never turn down a gluten-free lemon poppy seed muffin, I'm excited about Kristin's light and fluffy orange version. Especially when topped with the beautiful and tasty orange glaze!
I'm also happy that I can still make and enjoy these muffins if I happen to be out of poppy seeds or want to make them for someone who doesn't eat poppy seeds.
Kristin reports: "These are seriously so delicious. They never last long in my house and are eaten for breakfast, lunch, dinner, and snacks."
Yield: 24 muffins
Gluten-Free Light and Fluffy Orange Muffins with Orange Glaze (and Poppy Seed Option)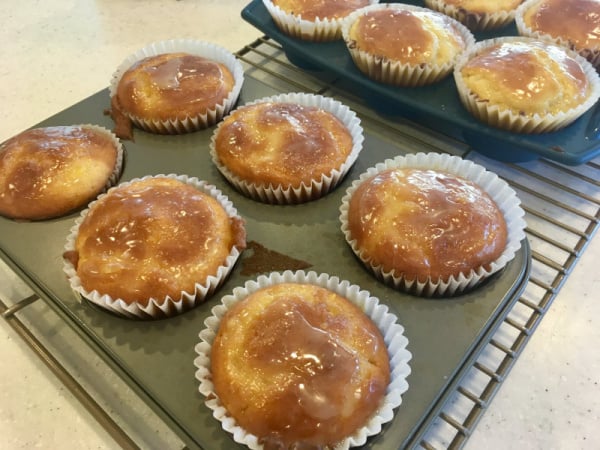 Additional Time
5 minutes
Ingredients
Muffin Batter Ingredients
1 cup brown rice flour
3/4 cup white rice flour
1/4 cup + 2 Tbsp arrowroot starch/flour or cornstarch
1/4 cup potato starch
1/4 cup tapioca starch
1 1/2 tsp xanthan gum
1 tsp salt
1 Tbsp baking powder
2 tsp baking soda
2 Tbsp poppy seeds (optional; add if you want to make orange poppy seed muffins)
4 eggs
2/3 cup sour cream
2/3 cup milk
1 - 1 1/2 cups sugar (see notes)
1 cup butter, softened
1/4 cup orange juice
zest of 1 orange
zest of 1 to 2 more oranges (or 15 drops wild orange essential oil)
Orange Glaze Ingredients
3/4 cup powdered sugar
3 Tbsp orange juice
Instructions
Preheat oven to 350 F. Line two 12-cup muffin tins with paper liners or spray with GF nonstick cooking spray.
In a large mixing bowl, whisk together brown rice flour, white rice flour, arrowroot starch/flour, potato starch, tapioca starch, xanthan gum, salt, baking powder, baking soda, and poppy seeds.
Add eggs, sour cream, milk, sugar, butter, orange juice, and orange zest and beat for 2 to 3 minutes using your whisk attachment until nice and smooth.
Divide batter into prepared muffin cups. (see notes)
Bake muffins for 15 to 20 minutes until golden brown on top.
While the muffins are still warm out of the oven, whisk together glaze ingredients and spoon over the top of the muffins.
Notes
These muffins are more of a dessert if you add the extra sugar, but we like them made with the lower amount of sugar.
If you have concerns about your muffins sinking in the middle, you can let the batter rest in the muffin tins for 20 minutes before baking.  I've tried it both ways and never had issues, but I do find the muffins rise a little more if you let the batter rest in the tins before baking. 
Today's MMM Prizes
All giveaways are now closed. Thanks to all who participated!
~ Cookbook
~ The Mediterranean Meal Plan Cookbook (one winner; sponsored by Page Street Publishing) ~
This cookbook is by Neda Varbanova (Healthy with Neda). It's full of gorgeous and appealing recipes, almost all of which are naturally gluten free. The recipes that immediately call my name are Fluffy Greek Yogurt Pancakes (made with almond flour), Shrimp Scampi Linguine (use gluten-free pasta), Zucchini Ravioli, Fresh Artichoke Dip, Apple Cinnamon Muffins (made with almond flour), and Flourless Chocolate Cake with Walnuts. There's been a lot of publicity on the health benefits of the Mediterranean diet. For a long time, not just recently. Honestly, I love most of the foods that make up the Mediterranean diet, especially olive oil!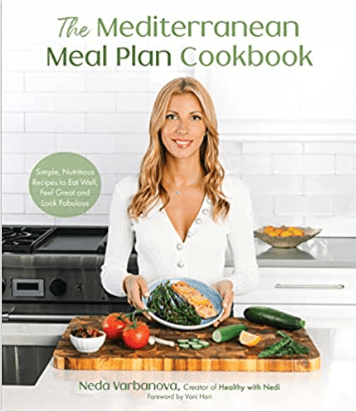 In the recipes that include gluten, you can easily skip the gluten-full phyllo, pita, and sourdough or sub in gluten-free versions. Recipes with oats and oat milk are also included in this cookbook. Remember that we need brands of both that are certified gluten free and purity protocol.
My main caution about this book being used by gluten-free individuals is that there are brief mentions of sourdough bread being lower in gluten. Regular wheat-based sourdough bread. While sourdough bread may be slightly lower in gluten for gluten eaters, the difference is so small that it barely seems worth mentioning to them in my opinion.
Worse, the myth that regular sourdough bread is safe for those who eat gluten free because of the fermentation process has been circulated seemingly nonstop over the years. Sourdough wheat-based bread is no more safe for those who eat gluten free than any other bread made from gluten grains.
Gluten-Free Watchdog has repeatedly shared testing results of gluten-full sourdough bread to inform and keep gluten-free consumers safe. One product that had been labeled and marketed as "Sourdough for Celiacs" tested at 104,000 parts per million of gluten. Food that is 20 parts per million gluten or less is the level that is actually safe for those who eat gluten free for medical reasons.
To be clear, the author of this cookbook is not advising that gluten-free consumers eat regular sourdough but this topic is a hot button for me and any time there's an opportunity to caution gfe readers that gluten-full sourdough is not safe, I will take that opportunity. If you want sourdough bread for the recipes that include it in this cookbook, please make one of Kristin's gluten-free sourdough recipes linked above (or find another terrific and truly gluten-free sourdough bread recipe online) or purchase gluten-free sourdough bread from Bread SRSLY (their products are delicious).
~ Baking Ingredients
~ Authentic Foods Superfine Brown Rice Flour (one winner; sponsored by gfe) ~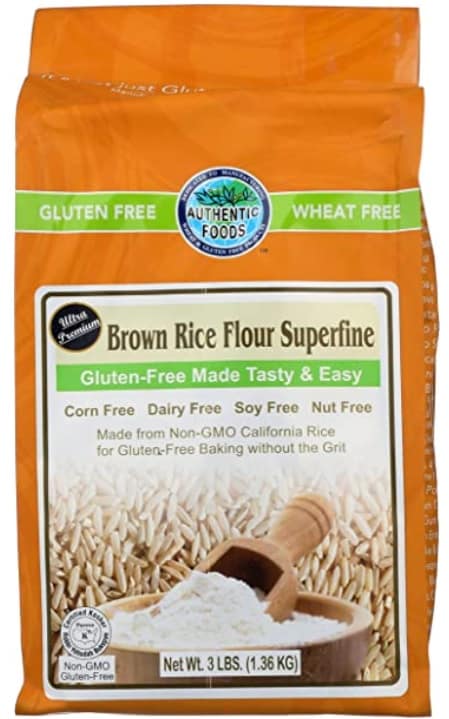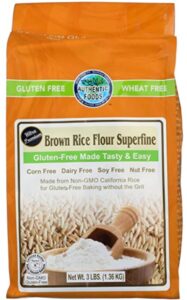 If I'm going to use brown rice flour, this is the brand I use. (I also use Authentic Food's white rice flour to make my Two-Ingredient Gluten-Free Flour Mix.) It makes a huge difference in gluten-free baking when the flour is finely ground as this brand is. Don't settle for any gluten-free flours that are not finely ground, folks. They're sub-par and the baked goods you make with them will be as well. Gluten-free baked goods should never be gritty. Never ever. If you start out with flours that aren't finely ground, your results will be gritty and there's no getting rid of that. I know about the advice to let your batter sit to "soften" gritty flour mixes and I'm sure that may be helpful but your best route is to always use high-quality finely-ground gluten-free flours and flour mixes.
Grand Prize Giveaway
All giveaways are now closed. Thanks to all who participated!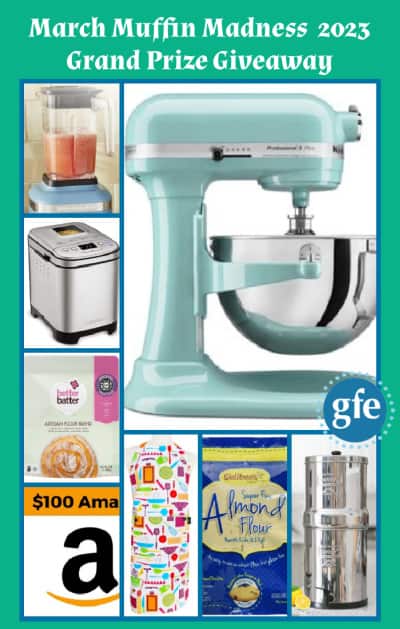 Originally published March 30, 2023; updated April 8, 2023.