For affiliate links and as an Amazon Associate I earn from qualifying purchases.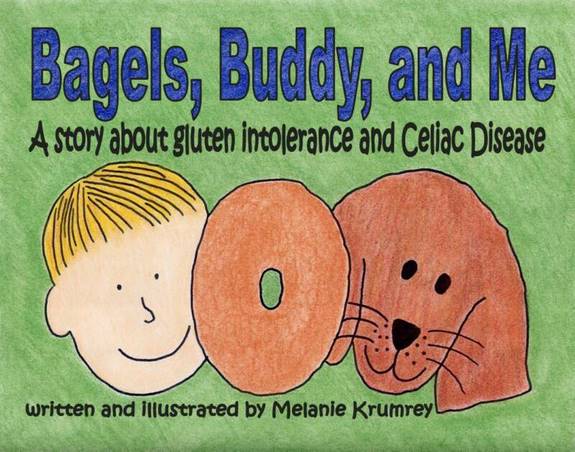 Update: This giveaway is now closed. Congratulations to Kahri (Our Peculiar Life)! Kahri's comment was: "Would love to win this! I am GF and my daughters are just going GF. My 9 year old is having problems understanding it. I would love to show her this book!" Thanks so much to all who participated. Ihope you'll join us again for more giveaways that fit the gfe approach.
You may have read my post on my main page on Melanie Krumrey and her blog, Gluten-Free Krums, for Sea's (Book of Yum) Adopt a Gluten-Free Blogger event. In it I mentioned that I'd become a fan of Melanie's through her wonderful book, Bagels, Buddy, and Me. This is a terrific book that offers an easy-to-read introduction to celiac and gluten intolerance. Both written and illustrated by Melanie, it offers her family's personal story. (Melanie's shares some more here at the Bagels, Buddy, and Me site.) While geared towards children, this book is also helpful for adults who don't necessarily want to read about statistics or studies, but want a simple understanding of celiac and gluten intolerance. As you can see from the cover above and one of the illustrations below, it's a very appealing book.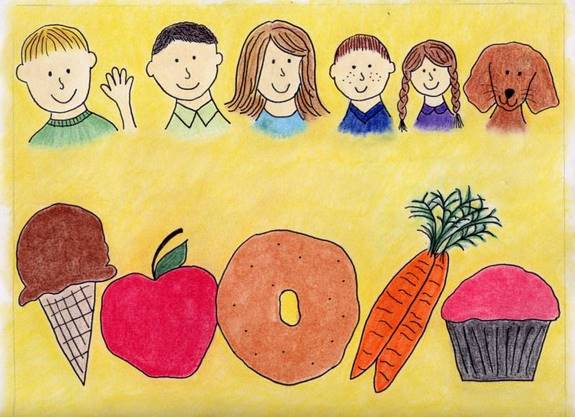 Sandra Robbins' (The Gluten-Free Optimist) eight-year old daughter has been reviewing children's books from time to time on Sandra's site. Her daughter's write-ups are just what one wants to read—well-done, honest reviews that get to the point. After reading some of her daughter's earlier reviews, I mentioned to Sandra on Twitter that Melanie's book was an especially worthy one. Sandra was unfamiliar with Bagels, Buddy, and Me, but she contacted Melanie and soon received a complimentary copy. You can read Sandra's daughter's very positive review here. (You can read some Amazon reviews here.)
Melanie has graciously offered a copy of her lovely book to one lucky gfe reader. The giveaway will be open through midnight (Eastern), Wednesday, June 16. Here are the following ways you can enter:
1. Leave a comment below.
2. "Like" my Facebook page and leave a comment.
3. Subscribe to my feed either via RSS or e-mail, and leave a comment.
4. Follow me on Twitter and leave a comment.
5. Become a friend on Facebook and leave a comment.
6. Tweet about the giveaway sharing the link and leave a comment saying that you did.
7. Post a message on your Facebook page about the giveaway and leave a comment saying that you did.
8. Post about the giveaway on your blog and leave a comment saying that you did, with your link.
All entries will be tracked by the individual comments, so you must enter a separate comment to get an additional entry; e.g., "I tweeted!" and another comment, "I posted on Facebook. Here's the link: …" If you leave one comment showing you did all these things, unfortunately it will only be counted as one entry, so please remember to note each by separate entries.
Best of luck!
Shirley
Not just gf, but gfe!