For affiliate links and as an Amazon Associate I earn from qualifying purchases.
Today's recipe for gluten-free Chocolate Almond Cherry Power Cookies comes from my friend Danielle Walker of Against All Grain. I've been "across the pond" as they say (I'll be sharing details soon) and I am trying to get back to normal life—which by the way includes posting more often—so I'm thankful to Danielle for helping me out today. Plus, chocolate, almond, and cherries are a truly heavenly trifecta, so I bet you're as excited about this recipe as I am!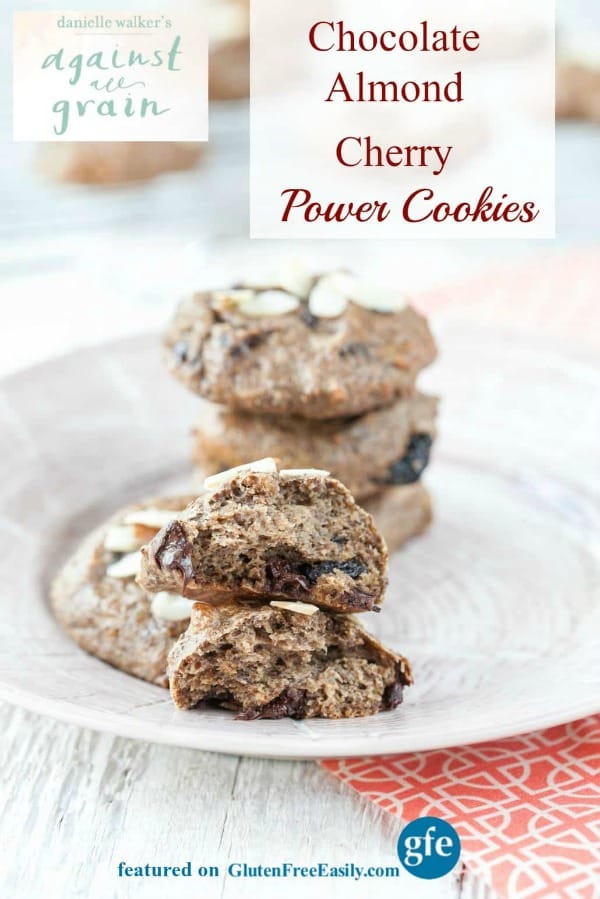 Danielle's recipes are always gluten free, grain free, and dairy free. These cookies are actually flourless and if you read gfe regularly, you know that flourless recipes are my absolute favorite!
Why? Well, you can usually make them with ingredients you have on hand, there are often less steps required, and flourless baked goods are so full of flavor because the flour doesn't get in the way of the other ingredients.
Danielle uses chia seeds to provide the "power" component of this recipe and also to make this recipe egg free. That also makes this recipe naturally vegan, so it's a great treat option for so many of you reading!
Chia gel eggs, similar to flax gel eggs, are a great egg replacement. Because I happen to be intolerant of chia seeds (I know … my body is strange), I'll actually make this recipe using a chicken egg in place of the chia gel egg.
Danielle is also the author of several New York Times bestsellers:  Against All Grain: Delectable Paleo Recipes to Eat Well & Feel Great, Danielle Walker's Against All Grain: Meals Made Simple: Gluten-Free, Dairy-Free, and Paleo Recipes to Make Anytime, and Danielle Walker's Against All Grain Celebrations: A Year of Gluten-Free, Dairy-Free, and Paleo Recipes for Every Occasion.
All of Danielle's cookbooks garner 5 stars on Amazon and—good news—she'll have another cookbook coming out soon! You can always see all of Danielle's cookbooks on Amazon here.
You can watch Danielle make these cookies with her son in the video below if you'd like. It's a totally charming demonstration and just might inspire the children in your life to happily join you in your baking!
Now let's get to this delightful cookie recipe so you can enjoy the chocolate almond cherry power!
Gluten-Free Chocolate Almond Cherry Power Cookies (Grain-Free) Recipe 

Yield: 16
Gluten-Free Chocolate Almond Cherry Power Cookies (Grain-Free)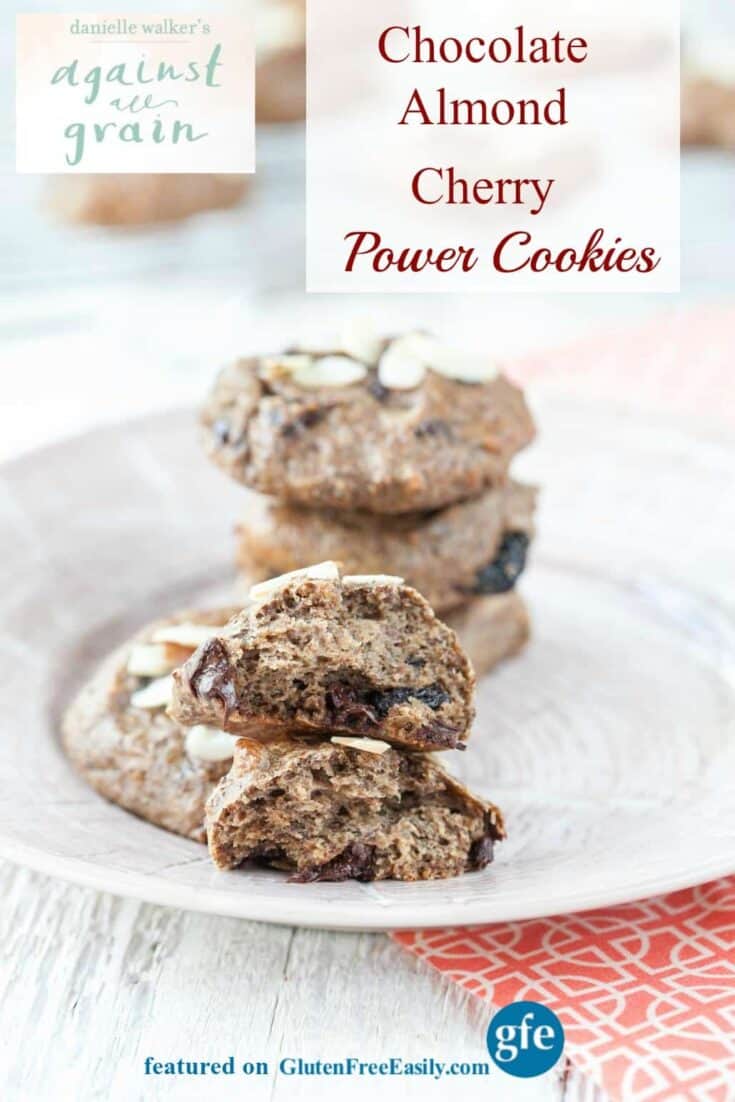 These gluten-free Chocolate Almond Cherry Power Cookies from Danielle Walker of Against All Grain are terrific treats! Gluten free, grain free, dairy free, egg free, refined sugar free, paleo, and vegan; they work for many special diets. 
Ingredients
1/2 cup hot water
2 tablespoons ground chia seeds
1/2 cup unsalted natural almond butter
1/2 cup ground flaxseed
1/2 cup arrowroot powder
1/2 cup unsweetened applesauce
1 tablespoon pure maple syrup
2 teaspoons ground cinnamon
1 teaspoon lemon juice
3/4 teaspoon ground nutmeg
1/2 teaspoon ground ginger
1/4 teaspoon sea salt
1/2 teaspoon baking soda
1/2 cup unsweetened dried cherries, chopped
1/4 cup dark chocolate pieces (80% cacao)
1/4 cup sliced almonds
Instructions
Preheat the oven to 350°F and line two baking sheets with parchment paper.
Whisk together 1/2 cup hot water and ground chia seeds and let sit at room temperature for 15 minutes to thicken.
Meanwhile, in the bowl of a stand mixer, combine the almond butter, flaxseed, arrowroot, applesauce, maple syrup, cinnamon, lemon juice, nutmeg, ginger and sea salt. Mix on medium speed to combine fully.
Add the thickened chia mixture to the bowl with the baking soda and beat again until fully combined. Stir in the cherries and chocolate pieces.
Using a cookie scoop or a large spoon, drop dough onto the lined baking sheets. Wet fingers slightly with warm water and gently press the mounds down to flatten slightly. Sprinkle the tops of the cookies with sliced almonds.
Bake for 15 minutes, until golden brown around the edges and the almonds are lightly toasted. Cool on a wire rack completely before serving.
Notes
Recipe reprinted with permission from Danielle Walker of Against All Grain.
Originally published July 23, 2015; updated June 9, 2018.