For affiliate links and as an Amazon Associate I earn from qualifying purchases.
Simone at Zenbelly (who is also the author of The Zenbelly Cookbook:  An Epicurean's Guide to Paleo Cuisine and Paleo Soups & Stews:  Over 100 Delectable Recipes for Every Season, Course, and Occasion, and co-author of The New Yiddish Kitchen:  Gluten-Free and Paleo Kosher Recipes for the Holidays and Everyday) has succeeded beautifully in creating what she calls a Paleo No Joke Dark Chocolate Layer Cake.
This grain-free, Paleo Dark Chocolate Layer Cake does not require "beaucoup eggs" as many paleo recipes do. Making a cake that requires six or more pastured eggs at a crack—which is the usual way to go with paleo cakes—can get expensive! So Simone created a chocolate layer cake made of almond flour, coconut flour, and arrowroot with the standard amount of eggs to keep down the costs.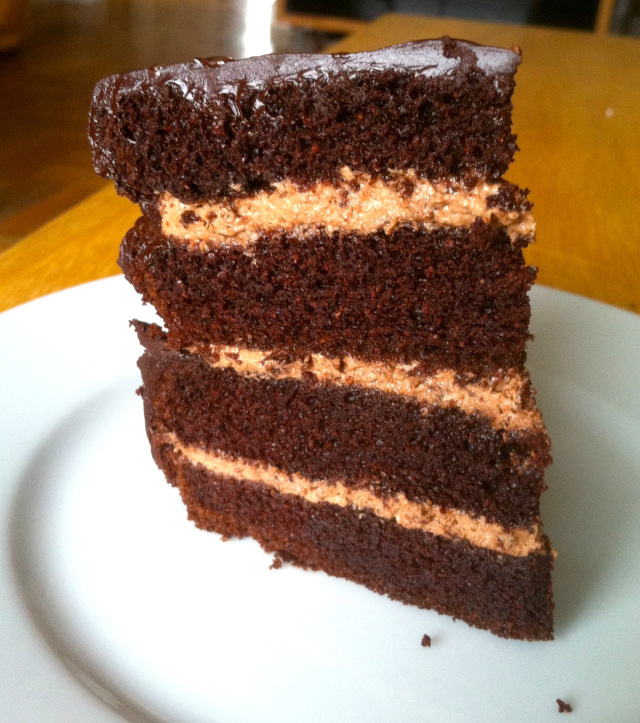 Simone succeeded in creating a more frugal cake that's still grain-free, dairy-free, and paleo, and pretty amazing. Filled with Chocolate Whipped Cream and topped with a barely sweet Ganache Glaze, this Paleo No Joke Dark Chocolate Layer Cake is sure to make more than a few hearts skip a beat. Oh, and dairy-free folks … not to worry … Simone's recipe also includes instructions on how to easily make this cake dairy free.
Click here for Simone's No Joke Dark Chocolate Cake recipe over at Zenbelly.