For affiliate links and as an Amazon Associate I earn from qualifying purchases.
Yes, it's time to share some gluten-free Thanksgiving recipes here on gfe, 100 gluten-free Thanksgiving recipes, in fact. I know some of you think I'm behind the game as we're only a week away from Thanksgiving!
Hey, how did that happen? It's like this every year though. The passing of time always seems to accelerate even more once we hit November.
If you haven't figured out what you're making yet or want to try something new, here are some gfe recipe ideas for you, plus a few more "with a little help from my friends." Note that all of these recipes will work just fine for rest of the holiday season, too, and some you'll definitely want to enjoy all year long!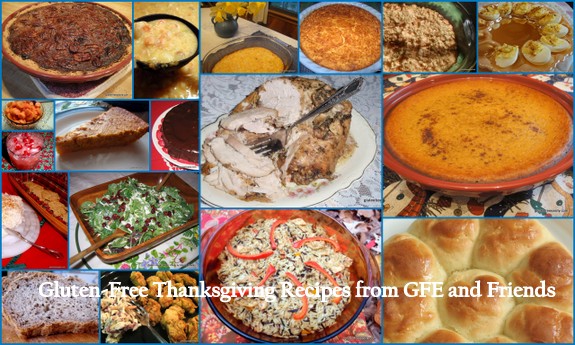 A word of gfe advice … please don't stress too much over this event. I'm not talking about worrying about staying gluten free, of course. That's critical. (For that topic, see my post on staying safe and gluten free and my series on dealing with gluten-full friends and family.)
I'm just talking about not letting the quest for the perfect holidays get to you. Try to have fun and roll with the punches, so to speak. The Thanksgiving celebrations that are remembered are not the "perfect" ones; they're the imperfect ones.
We still talk about the Thanksgiving at our house where suddenly there were no rolls left and nobody wanted to say anything lest someone was being a roll hog. When the meal was over, we found most of the rolls on the floor under the table. We had absolutely no idea how that happened, but we still laugh about it with delight!
Here's another example of how non-perfect moments can become the best, most worthy memories. Last year, I was hosting our family Thanksgiving and running behind. I knew I had to make my Brown Sugar Chocolate Chip Cookies to keep everyone happy.
My family so loves these cookies as part of our special occasion meals. I had already mixed up the dough, but had run out of time to actually bake the cookies. So I set the bowl of cookie dough on the porch to stay cool.
Once our meal was done, I put my apron back on and baked the cookies while we all chatted and sipped our seasonal beverages. As you can imagine, getting to enjoy beloved chocolate chip cookies warm right out of the oven was a very special treat for all. Now whenever I'm hosting, that will be part of the ritual—and a very welcome one indeed!
Thanksgiving has become my favorite holiday over the years because it focuses on the most important things in life—dear family and friends, delicious and nourishing food, love, laughter, and all life's blessings. I am thankful for each and every one of you, my gfe readers. Hope you all have a truly wonderful Thanksgiving with your family and friends!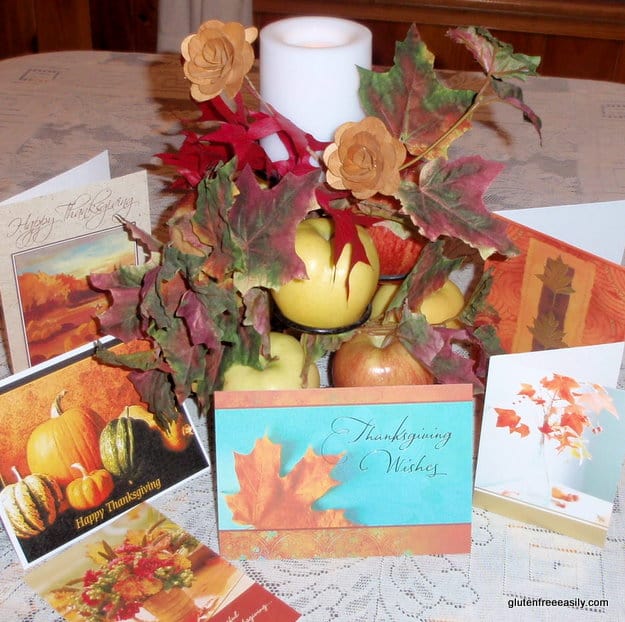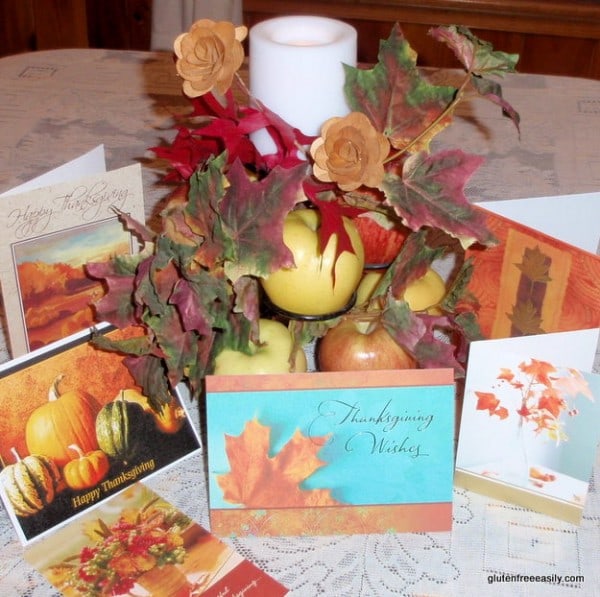 Thanksgiving Appetizer Recipes
Pumpkin Hummus (*verify all ingredients are gluten free and make substitutions if needed)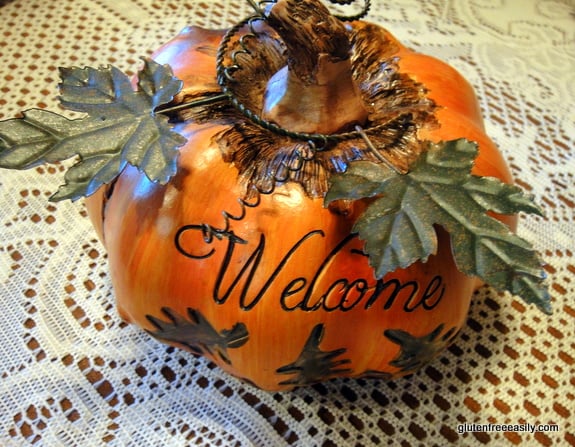 Thanksgiving Beverage Recipes
Wassail (Sweet and Spiced Hot Apple Cider-Based Punch)
Reindeer Antlers Punch (our family's kickoff to that other upcoming holiday!)
Velvety Pumpkin Spice "Latte" (Kid Friendly)
Thanksgiving Entrée/Main Dish Recipes
Prosciutto-Wrapped Turkey Roulade
Slow Cooker Turkey Breast Stuffed with Ricotta, Tomato, and Basil
Slow Cooker Special Zesty Turkey Breast
Slow Cooker Super Easy Turkey Breast
Thanksgiving Salad Recipes
Ten Favorite Deliciously Healthy Salads That Are Perfect for Thanksgiving (*verify all ingredients are gluten free and make substitutions if needed)
Thanksgiving Soup Recipes
Quick and Easy New England Clam Chowder
Thanksgiving Dressing and Stuffing Recipes
Crunchy Long Grain and Wild Rice Dressing
Paleo Bacon "Cornbread" Stuffing
Surprise Tortilla Chip Stuffing
Other Thanksgiving Side Dish Recipes
Chipotle Mashed Sweet Potatoes
Corn and Butter Bean (or Lima Bean) Casserole
"Grown-Up" Green Bean Casserole
Roasted Green Beans and Red Bell Pepper with Garlic and Ginger
Ten Favorite Deliciously Healthy Sweet Potato Recipes for Thanksgiving (*verify all ingredients are gluten free and make substitutions if needed)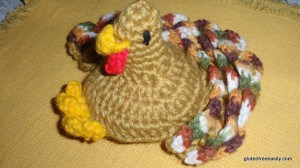 Thanksgiving Bread Recipes
A Bountiful Bread Basket Part 1:  Top 20 Gluten-Free Bread Recipes:  Loaves
A Bountiful Bread Basket Part 2: Top 40 Gluten-Free Bread Recipes: Basic Rolls and Biscuits
Thanksgiving Dessert Recipes
Best Ever Dairy-Free Crustless Pumpkin Pie
Brown Sugar Chocolate Chip Cookies
Brown Sugar Chocolate Chip Cookies (Dairy Free)
Crustless Apple Pie (Grain-Free, Paleo Version)
Honey Cinnamon Grand Marnier Ice Cream
No-Joke Dark Chocolate Layer Cake
Real Deal Paleo Chocolate Chip Cookies
Toll House Chocolate Chip Cookies
Vanilla Bundt Cake with Vanilla Bean Glaze
Vegan Simple and Good Chocolate Cake
And if you need a crust for your pies (and any of my crustless pies will actually work just fine in a crust if you prefer):
No Roll, Never Fail, Press-In Pie Crust

Plan for Thanksgiving Leftovers
Here's your plan for leftovers (there's even a way to use your leftover stuffing):
Black-Eye Pea Soup with Ham and Turkey
Turkey Tetrazzini (and more leftover ideas)
Gluten-Free Cookbooks That Are Perfect for the Holidays
Here are some other sources of terrific gluten-free recipes for the holiday season:
~ Jeanne Sauvage's (Art of Gluten-Free Baking) first cookbook, Gluten-Free Baking for the Holidays.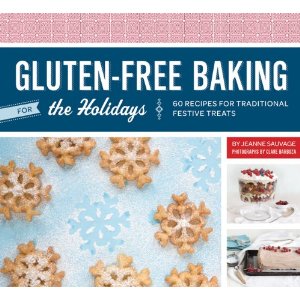 ~ Danielle Walker's (Against All Grain) Celebrations cookbook, Celebrations: A Year of Gluten-Free, Dairy-Free, and Paleo Recipes for Every Occasion.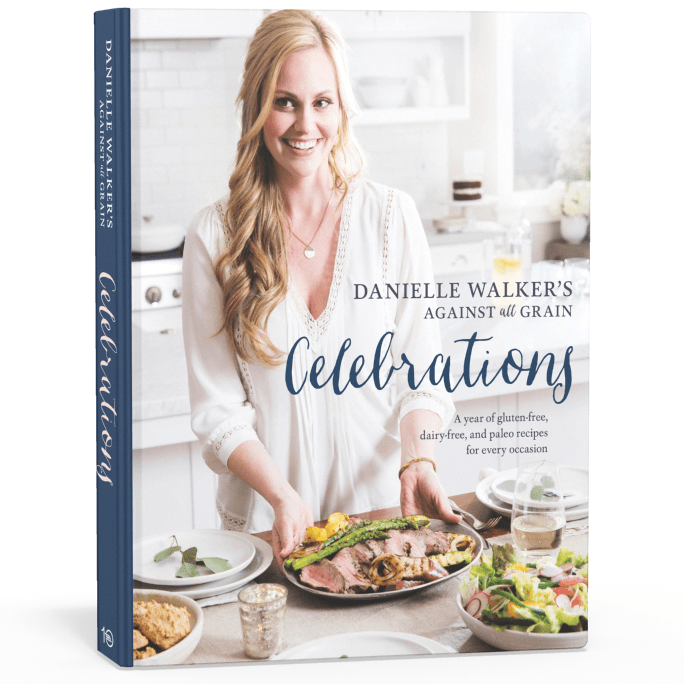 ~ Hayley Mason and Bill Staley's (Primal Palate) Gather: The Art of Paleo Entertaining.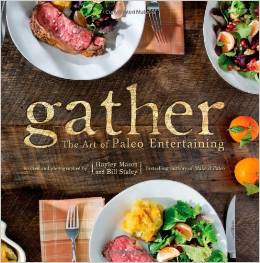 ~Simone Miller (Zenbelly) and Jennifer Robins (Predominantly Paleo) The New Yiddish Kitchen: Gluten-Free and Paleo Kosher Recipes for the Holidays and Every Day.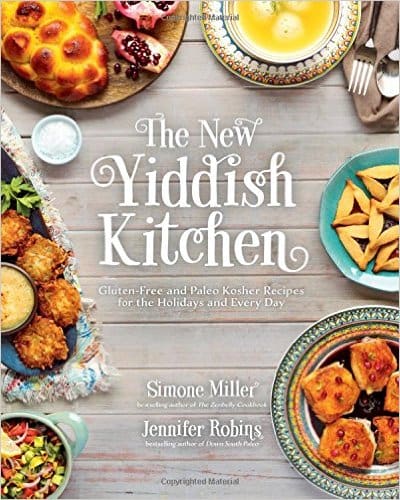 More Recipes, Ideas, and Tips You Can Use for Thanksgiving
~ 5 Tips for a Safe, Gluten-Free Thanksgiving (or Any Holiday/Group Event)
~ A GFE Thanksgiving All The Way
~ A Gluten-free, Vegan Thanksgiving
~ Gluten-Free Galore and More (dozens of bloggers share gluten-free Thanksgiving dishes)
~ Gluten-Free Thanksgiving Recipes
~ Over 50 Gluten-Free Pumpkin Pie Recipes
~ They Just Don't Understand—Dealing with Gluten-Full Friends and Family Series
~ Your Gluten-Free & Allergen-Friendly Thanksgiving Menu & Grocery List
Originally published November 21, 2013; updated November 18, 2018.