This post may contain affiliate links. If you purchase through them, your cost will stay the same, but gfe will receive a few cents for every dollar spent. Thanks for supporting gfe!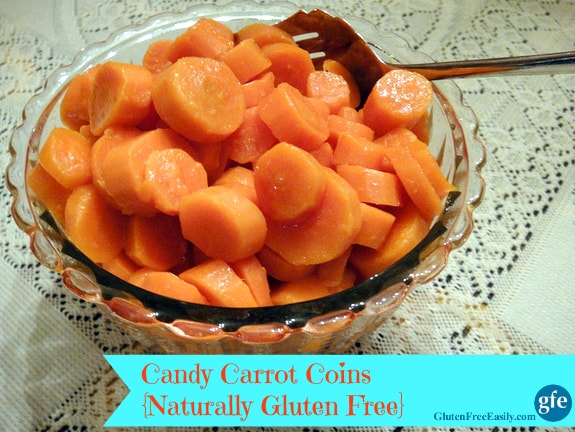 Veggies often get short shrift when it comes to the holidays. I've never seen a holiday magazine that had "20 To Die For Holiday Veggie Recipes" on the cover … have you? That would be nice, but I'm pretty sure it hasn't happened yet. But we still need our veggies. And, while there will be casseroles with veggies on the Thanksgiving table and perhaps even a nice salad, why not go for a simple veggie recipe that has an indulgent name, but is still healthy, and will appeal to kids and adults alike? Candy Carrot Coins. Doesn't that sound indulgent? And aren't they colorful and appetizing? This recipe is also gfe—gluten free easily.
In this case, it's a naturally gluten-free recipe. Those are my favorites. There's no conversion required and no doubt whether the ingredients are gluten free or not. In this case, we're talking real food ingredients: carrots, water, salt, butter, and honey. It doesn't get much simpler than that … or much better. Incidentally, if you're anti-candy—or even using the expression for this healthy dish— you can certainly just refer to them as Carrot Coins—that sounds good, too! With just the right amount of "sweet" and requiring little preparation, Candy Carrot Coins make a great addition to any special meal. Of course, you can make them for your family any time and everyone will feel like they've had a special treat, but unless you have a large family or big-time carrot eaters, you may want to halve the recipe.
I'm offering these Candy Carrot Coins as my contribution to the Gluten-Free Thanksgiving event that Shauna and Danny (Gluten-Free Girl and the Chef) are hosting this year. Dozens of bloggers are all contributing gluten-free recipes for this lovely, virtual dinner. For many, it has been the first time they've intentionally cooked gluten free. Emails have been flying back and forth the last few days between participants to ensure that all ingredients were gluten free. What a great event for gluten-free awareness! Shauna and Danny and others included the recipes and tips that everyone wants to know for a wonderful gluten-free Thanksgiving. Oh, and they are having an amazing giveaway for those who want to blog about having a gluten-free Thanksgiving. Imagine how many resources will be online once all these posts are up … that's way cool! Before you head to the table to enjoy some Candy Carrot Coins, you probably want to keep reading for this gfe recipe and lots of other events in our gluten-free world to join in and be thankful for. (I'll keep the Carrot Coins warm for you.)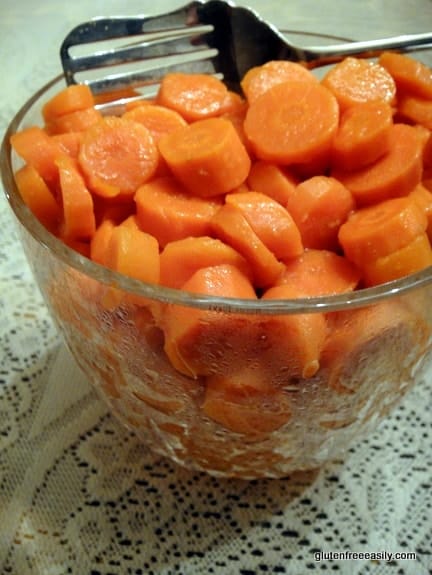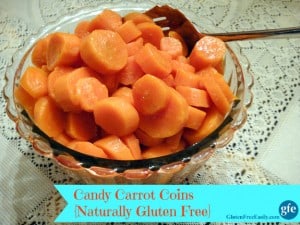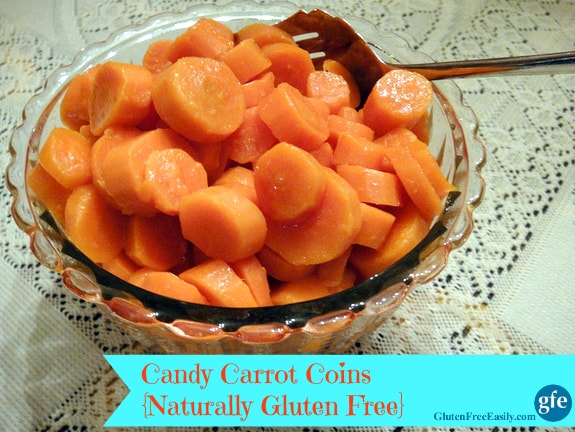 Print
Candy Carrot Coins
Ingredients
1 pound carrots
water for saucepan (see instructions)
1/2 tsp salt
1 tbsp butter (dairy or non-dairy)
2 tbsp raw honey
1 tsp water
Instructions
Peel carrots, cut off ends, and slice into about ¼-inch to 1/2-inch thick rounds. These are your carrot "coins." Set aside.
In a large saucepan, add water to 1-inch level. Add salt. Bring to a boil.
Add carrot coins. Bring water to a boil again and reduce heat slightly, stirring often. Cook about 15 minutes or until tender, but not mushy. (You don't want carrot coins to have a mushy texture if you want the best taste, and because they will fall apart and no longer be coins.) Drain.
In a large skillet, melt the butter on medium-low and then stir in honey and water. Cook for about a minute. Add the carrot coins and stir well to coat with honey mixture. Cook on medium-low about 4 minutes until carrots are glazed well. Serve.
Notes
Adapted from Family Fun magazine Carrot coins should be shiny and appealing. If they are not shiny enough for your liking, you can drizzle a tiny amount of honey over the top of the serving bowl immediately before serving. The amount of honey in this recipe is not a large amount at all, but it adds just the right sweetness and flavor to naturally sweet carrots. This recipe makes a lot in my opinion. For serving a large crowd, I usually divide the carrot coins into two serving bowls and place one on each table for guests, unless we are eating buffet style.
Courses Side Dish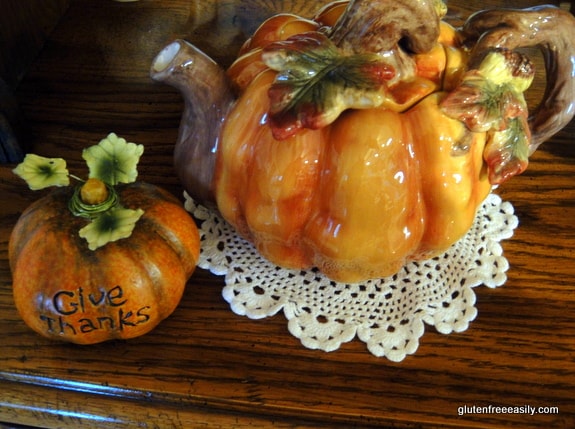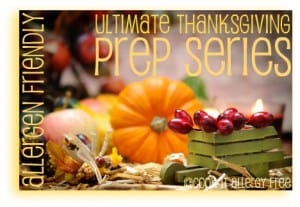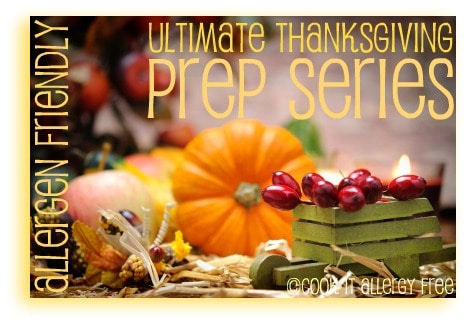 Kim (Cook IT Allergy Free) is continuing her Ultimate Thanksgiving Prep Series with this post on stuffing with a secret ingredient. This is a series that can really help you get your "ducks in a row" for a successful and delicious Thanksgiving!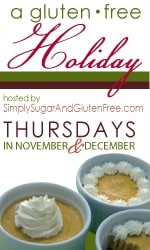 Here at gfe, you  can read more tips, check out more Thanksgiving favorites (including my Never Fail Pie Crust), link up your own favorite recipes (if you like), and enter to win one of two awesome cookbooks  (Stephanie O'Dea's Make It Fast, Cook It Slow, and Kelly Brozyna's The Spunky Coconut Cookbook–6 copies total) here at our Gluten-Free Holiday event! If you are gluten free, get out the word and show folks how easy and delicious it is to eat gluten free! Last, don't forget to give thanks as you celebrate this wonderful holiday that is all about family and friends and counting our blessings. Have a happy Thanksgiving all!
p. s. Can you identify the  sterling silver serving utensil in the photo? We received it as a wedding gift from a distant relative of Mr. GFE's 28 years ago and have never found out its true purpose. We use it like a slotted spoon (for veggies) or as a serving spatula (for lasagna). But, we'd love to know what it really is intended for. It's engraved and beautiful, so we enjoy it, but it's always perplexed us a bit, too.
This post is linked to Savoring Saturdays and Saturday Night Fever.