For affiliate links and as an Amazon Associate I earn from qualifying purchases.
This recipe for Chipotle Mashed Sweet Potatoes was inspired by a recipe shared on celiac.com. I tweaked the amounts, made the recipe dairy free and refined sugar free, and used chipotle chili seasoning (fresh grinding it at the time of making the recipe) versus a whole chipotle pepper. I really love the results … mashed sweet potatoes that have a smoky cinnamon-type flavor versus a truly spicy kick. If you're into spiciness, you can use more ground chipotle powder or you can use a whole chipotle pepper in adobo sauce. However, when using whole chipotle peppers, please be especially cautious and read labels because sometimes chipotle peppers in adobo sauce contain gluten.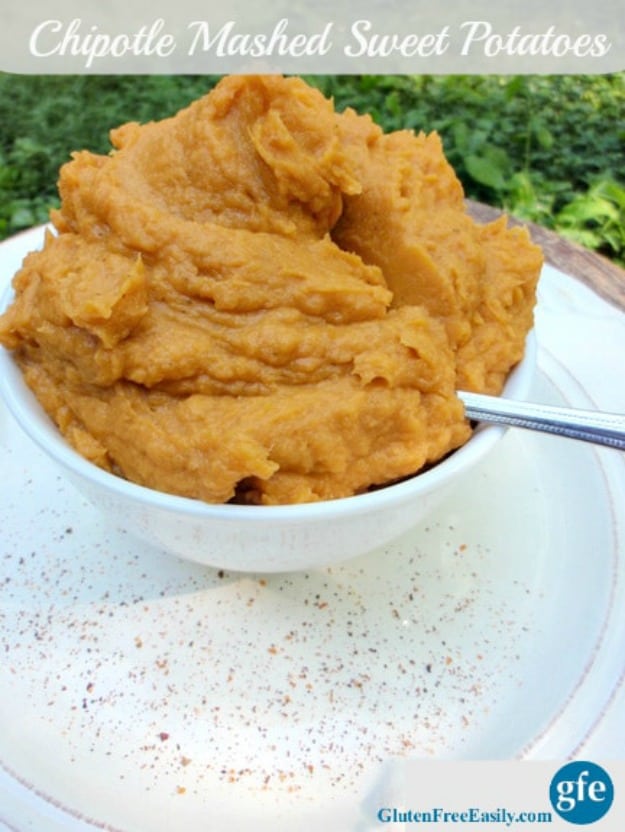 Again, I really think you'll enjoy these mashed sweet potatoes. In fact, the only thing better than these Chipotle Mashed Sweet Potatoes might be Chipotle Mashed Sweet Potato Cakes made from the leftovers. That's what's on the gfe menu next!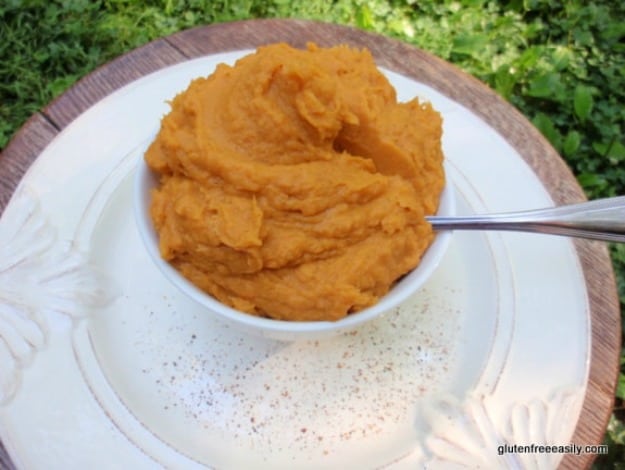 Chipotle Mashed Sweet Potatoes Recipe
Yield:
Chipotle Mashed Sweet Potatoes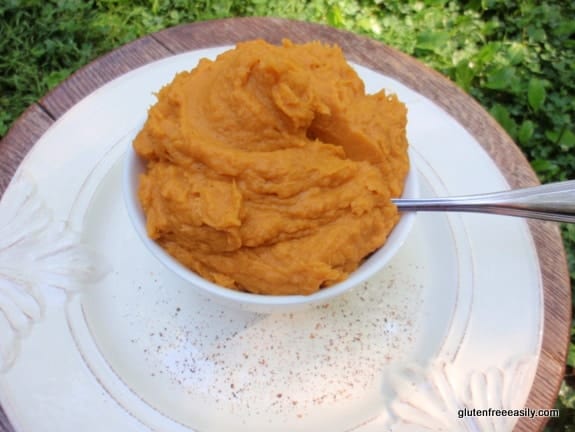 Ingredients
3 large sweet potatoes, cooked, preferably still hot
up to 2 tbsp coconut palm sugar (see notes)
1 tbsp coconut oil, liquefied
½ cup full-fat coconut milk, or more depending upon how you like your mashed potatoes (thick or thin)
½ tsp chipotle chili seasoning, freshly ground (I use this one, but don't even consider paying that price for it)
Pinch of sea salt, or more to taste
Instructions
Add sweet potatoes to large bowl. Use hand mixer on highest speed about a minute or so to mash/whip potatoes until all lumps are gone.
Add coconut palm sugar, coconut oil, coconut milk, chipotle chili seasoning, and sea salt to the bowl of mashed potatoes. Mash/whip an additional minute or so until all ingredients are incorporated and the mixture is mashed/whipped to the consistency you desire. Taste as you go, if needed.
Makes 4 to 6 servings.
Notes
Two tablespoons of coconut palm sugar seemed just right to me while I was eating these mashed potatoes while still hot, but the next day the flavors had melded/intensified and the mashed potatoes seemed much sweeter. So if you're making this recipe to have leftovers or you don't regularly use much sweetener, you might want to use the lesser amount of coconut palm sugar. Jefferson Adams recommended using oven-baked sweet potatoes for the best color and texture. I'm not doing much baking at the moment so I can't say if that will provide better results. I'll have to give that method a try when cooler weather arrives, but for now sweet potatoes that are boiled or baked in the microwave work just fine for me.
Originally published August 2, 2013; updated May 10, 2018.