For affiliate links and as an Amazon Associate I earn from qualifying purchases.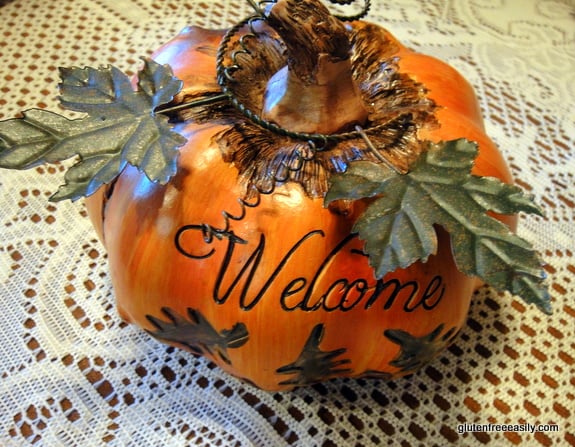 Maybe you caught a few of the recipes submitted for the Gluten-Free Thanksgiving Baking Challenge Event hosted by Shauna and Danny (gluten-free girl and the chef). Quite frankly, there were some pretty amazing entries from lots of bloggers. Most do not usually cook gluten free, but eagerly accepted the challenge. A few bloggers made entire Thanksgiving meals, but I have to say that all excelled with their recipes! Some recipes were so impressive that I threatened to become BFFs with these bloggers—most of whom I've never met before (even online)—just to be invited over to sample their recipes! One of the recipes that totally wowed me was Maple Sweet Potato Cheesecake with Gingerbread Bottom from Irvin at Eat the Love. Yeah, I know. Now you want to be Irvin's BFF, too. I expect he's gotten a lot of those type of responses, and might have quite the waiting list by now. But there's no reason you or I can't make any of these wonderful recipes ourselves. Here's the complete listing below. If you get a moment, please stop by and give these folks a little comment love for taking part in the Gluten-Free Thanksgiving Baking Challenge and reaching out to those of us who are gluten free.
A Baking Life | gluten-free gingerbread cake
Adventures of a Gluten-Free Mom | gluten, dairy and egg free crescent rolls and cinnamon rolls
Andrea's Recipes | gluten-free pumpkin scones
Art and Lemons | gluten-free rustic squash tarts
Bellalimento | Gluten Free Pumpkin Roll with Mascarpone and Nutella Filling
Blue Bonnets and Brownies | apple and pear cobbler
CakeSpy | turkey meatloaf cupcakes
Cannelle Et Vanille | sweet potato and crabapple clafoutis
Cook 4 Seasons | gluten-free pumpkin mousse
Cook It Allergy Free | Cornbread and (Shauna's) Crusty Bread Stuffing
Dish Towel Diaries | kale Caesar slaw.
Eat the Love | Gluten Free Maple Sweet Potato Cheesecake with Gingerbread Bottom
Food for My Family | gluten-free apple pie cheesecake
Gluten-Free Doctor Recipes | gluten-free sourdough rosemary rolls and gluten-free mincemeat cookies
Gluten Free Easily | candy carrot coins (moi)
Gluten Free for Good | gluten-free cherry cobbler
Kitchen Gadget Girl | gluten-free pumpkin strata
Lexie's Kitchen | dairy-free, egg-free, gluten-free, no-bake pumpkin pie filling
Mom Food Project | an entire Thanksgiving, gluten-free
My Madeleine | butternut squash soup.
Not Without Salt | gluten-free chocolate biscotti
Recipe Girl | an entire Thanksgiving menu, gluten-free
Rookie Moms | chocolate peanut butter brownies
Smith Bites | gluten-free celery root soup with cashew cream
Sophisticated Gourmet | cranberry-almond-coconut macaroons topped with chocolate
The Art of Gluten-Free Baking | gluten-free pumpkin pie
The Mommy Bowl | gluten-free bread
The Sensitive Pantry | gluten-free brown sugar hand pies
The Whole Life Nutrition Kitchen | Pumpkin Quinoa Cornbread
Tiffin Tales | gluten-free Thanksgiving torte
Two Peas and Their Pod | gluten-free apple cranberry crisp
Wasabimon! | gluten-free butternut squash pie
Wenderly | sweet and savory prosciutto cups
What's Cooking with Kids | gluten-free apple crisp
What's Gaby Cooking | gluten-free molasses cookies
White on Rice Couple | Turkey Sloppy Joes on Rosemary Rolls
Who Ate My Tomato | gluten-free squash tart
Zest Bakery | warm pumpkin polenta with goat cheese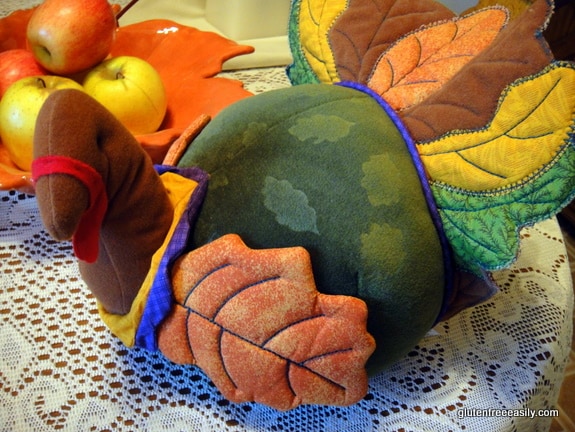 Some of you only have to make one or two things to take to someone else's home for Thanksgiving or maybe you're hosting, but still looking for that one special item. Maybe it's stuffing, maybe it's a beverage, maybe it's a dessert.  Whatever it might be, maybe you'll find it in a roundup by some of my other favorite gluten-free bloggers—Carol, Elana, Heather, Iris, Kim (Bouldin), and Linda, or in this Thanksgiving Ultimate Prep Series by Kim (Maes).
Are you a gluten-eating individual who is hosting Thanksgiving with gluten-free attendees? Diane (The W.H.O.L.E. Gang) just shared a comprehensive post, How to Cook Gluten Free For Guests, featuring her own tips as well as those from other gluten-free bloggers (including yours truly). If you're gluten free and have a few tips of your own to share on how others can feed you safely, Diane asks that you add yours in comments as well.
Rachel (The Crispy Cook), whom I had the pleasure of meeting at the General Mills Gluten-Free Bloggers Summit, just did a roundup of gluten-free blogs. You can check that out here. I'll be surprised if you don't find a new gluten-free blog there. If you are a gluten-free blogger yourself, make sure your blog is listed. Just leave a comment for Rachel to add you if your blog isn't on the list yet. I love Rachel's descriptions of everyone and their blogs. Rachel's a true delight. She has a lovely sense of humor and warm and inviting manner, writes from the heart, and shares "real food" recipes on her blog. Incidentally, Rachel also just shared some great gift ideas in this post.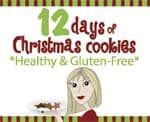 Maggie (She Let Them Eat Cake) is hosting 12 Days of Christmas Cookies. Everyone loves Christmas cookies, right? I sure do and that's reason enough to check out the series featuring some of our favorite gluten-free bloggers. But, as an added bonus, Maggie also has giveaways as part of this event, including one for a two-day pass to the Gluten and Allergen Free Expo in Spring 2011. Jen Cafferty, the founder and director of this popular and ever-growing annual event, has donated this ticket. It's a $350 value! The Expo is being held right outside Chicago in Lisle. Note that lodging and airfare will be paid by the winner. It's exciting to know that I'll get to meet whoever wins as I am thrilled to be one of the presenters at the Expo. You can see the schedule and all the info here at the Expo website. (Honestly, whether you win or not, I hope to see you at the GFAF Expo!) Be sure to join in the fun at 12 Days of Christmas Cookies. The kickoff event will be over at Amy's (Simply Sugar & Gluten Free). Amy is asking the gluten-free community which of their favorite, "old" gluten-filled recipes they'd like converted to gluten free. If there's a cookie recipe that's stumped you when it comes to a gluten-free version, head over to Amy's and put in your request.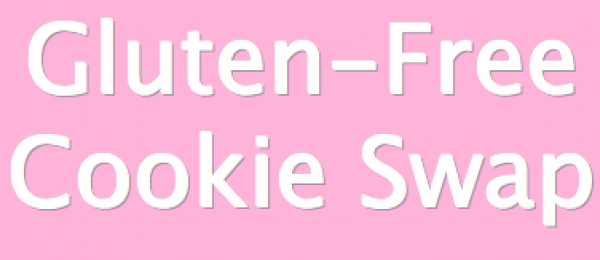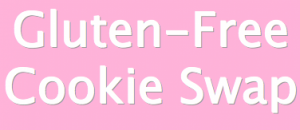 Jules of Jules Gluten Free (Jules Gluten-Free Flour Mix and baking mixes); her new book, Free for All Cooking; and her new blog, Jules Speaks Gluten Free; is also hosting a gluten-free cookie event. It's a Facebook event that's open to all with "yummy prizes." Read all about Jules' Gluten-Free Cookie Exchange here.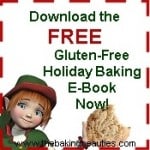 Jeanine of The Baking Beauties has put together a holiday baking e-book as a thank you to her readers/fellow "gf eaters."  It's a collection of recipes from your favorite gluten-free bloggers. There are 55 recipes in all! Click here or on the button to visit Jeanine's site to download this e-book for free. Thanks to Jeanine and all the contributors!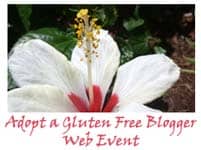 Adopt a Gluten-Free Blogger adoptions for this month are open over at Sea's Book of Yum. Read more and sign up here. To get a "visual" of how the adoptions works, check out the roundup from the October adoptions here. Sea's monthly event is a fun way to get to know fellow bloggers through their recipes. My previous adoption experiences have taught me how to make Pete and Kelli's Gluten-Free Pasta, Wendy's Crepes (both Sweet and Savory), Breakfast and Sandwich waffles from Iris, Avocado Salsa from Melanie, and most recently, Ricki's flourless Cashew Chocolate Chip Cookies. Now, don't you want to sign up? You can do so here.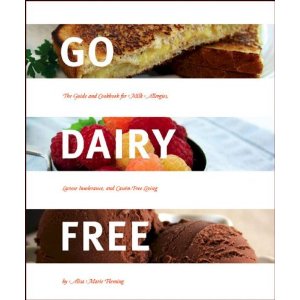 Many who are gluten free also eat dairy free. If you're in that group, you're probably already familiar with Alisa Fleming's Go Dairy Free site, and her guide and resource book by the same name. Go Dairy Free is a tremendous resource for dairy-free folks any day, but especially this time of year as Alisa rounds up the best recipes for the holidays. Check out her annual Thanksgiving recipes roundup here. Many in the listing are gluten free (a few gfe recipes are included), and there are nearly 150 in all! Also, be on the lookout for Alisa's roundup post on recipes for Thanksgiving leftovers; that's always much needed info! Last, have you checked out Alisa's blog, Alisa Cooks? It's a favorite of mine. Many of the recipes that Alisa shares there are also gluten free, or easily adapted to gluten free. In fact, one of Alisa's recipes inspired me to make some new seasonal muffins that work great for Thanksgiving.
I hope to be back with one more recipe—that muffin recipe—before I head off on a Thanksgiving holiday trip with Mr. GFE. I want you to have this recipe in time for the Thanksgiving holiday, so you can serve it with your holiday meal or for breakfast the next morning. However, if you're heading out early to be with family and friends, please be safe and enjoy this special time of year when the most important things are being with the ones you love and eating scrumptious food! Like I've said before, Thanksgiving is my absolute favorite holiday, and it's for those very reasons!