For affiliate links and as an Amazon Associate I earn from qualifying purchases.
I'm a distractible girl. You know the one. When she's supposed to be getting ready for a big party or event, suddenly she decides that she must clean out her closet from top to bottom and then she thinks hey, why not defrost the freezer, too, because it really needs it, right? Yes, that's me! So it should come as no surprise that when I'm supposed to be sharing a Thanksgiving recipe roundup (I've been thinking about it and talking about it for days on Facebook, right?), that instead I decided to create these Flourless Triple Nut (or Seed) Brownies and I'm sharing those with you instead!
Don't worry … the Thanksgiving post is still coming, but in the mean time you can check out other suitable gfe Thanksgiving recipe posts—a gfe Thanksgiving all the way, gluten-free galore and more (dozens of bloggers share gluten-free Thanksgiving dishes), a gluten-free, vegan Thanksgiving, over 40 gluten-free pumpkin pie recipes, a No Roll, Never Fail, Press-In Pie Crust, and even get 5 critical tips on enjoying a safe, gluten-free Thanksgiving.

Back to These Flourless, Naturally Gluten-Free, Grain-Free, Dairy-Free, Egg-Free, Sugar-Free, Paleo, and Vegan Brownies …
These are "less sweet" brownies (than say these Double Chocolate Peanut Butter Chip Brownies), but they are still plenty sweet to me. Taste your batter before baking and feel free to add a very small amount of maple syrup, honey, or stevia if you like. I say very small amount because the banana adds its own nice sweetness without giving too much of a banana flavor (I know some of you will especially appreciate that latter fact) and too much added liquid will not result in the right consistency and texture for your brownies.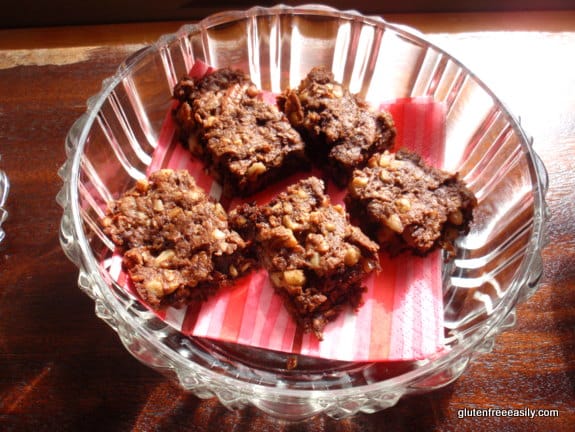 These are not heavy brownies. Despite the triple nut factor, they feel fairly light in weight and taste. I simply love them. The fact that they are flourless and naturally gluten free, grain free, dairy free, egg free, sugar free, paleo, and vegan—and even nut free if needed—is just a fabulous bonus! Let's all sit down to enjoy a treat together, shall we?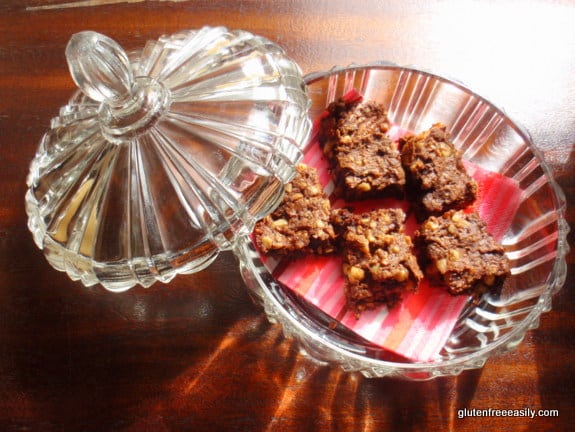 Yield:
Flourless Triple Nut Brownies (Gluten Free, Grain Free, Paleo, and Vegan)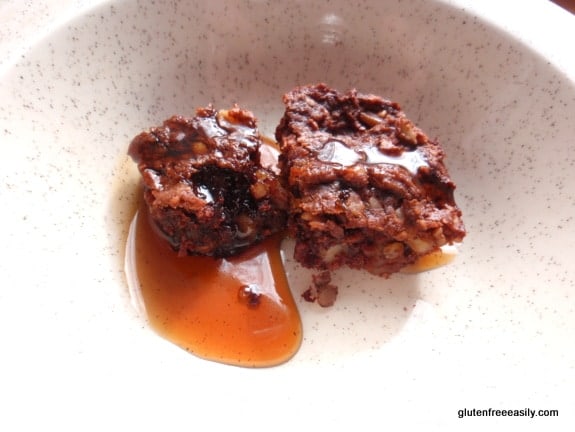 Ingredients
1 large ripe banana, mashed
2 cups nuts (or seeds) of choice, I used pecans and walnuts---you want a mixture of large chopped pieces, small chopped pieces, and ground nuts (my mini chopper gives me this mix naturally and a food processor will, too)
½ cup almond butter or Sunbutter (use slightly more if you are not getting a spreadable mixture)
1 tbsp raw cacao powder or cocoa powder (or more to taste)
1 tsp baking soda
Instructions
Preheat oven to 350 degrees Fahrenheit. Grease 8 x 8 square baking dish.
Mix ingredients in medium-sized bowl. Taste to see if you need any additional sweetener and add, if desired (see notes).
Spread mixture evenly in greased baking dish using spatula.
Bake for about 20 minutes. Test for doneness with a toothpick. Cool in pan for at least 30 minutes.
Cut into 16 (or more) squares.
Notes
You can substitute a combination of seeds for the nuts (like pumpkin seeds and sunflower seeds) and use SunButter to create a nut-free version of these. Measure nuts or seeds before processing/chopping. Taste batter before baking. If you feel it is not sweet enough, you can add a very small amount of maple syrup, honey, or stevia. You just don't want to add too much liquid to this recipe or it will change the consistency/texture and overall brownie factor. Also, instead of adding additional sweetener to the recipe, you can opt to add a drizzle of maple syrup or honey to the brownies when they are done. Just don't get "heavy handed" with the jug of maple syrup like I did. Well, at least not unless you really want to! Adding a drizzle of sweetener at the end makes for a really special treat and individuals can adjust amounts to their own needs.Only loosely cover these brownies for storage (otherwise these brownies will get too soft).
This post is linked to 5-Ingredient Mondays, Gluten-Free Tuesdays, Gluten-Free Wednesdays, Allergy-Free Wednesdays, Gluten-Free Fridays, Wellness Weekend, Whole Food Fridays, Healthy Christmas Cookies 2013, and Savoring Saturdays.